The U.S. Securities and Exchange Commission (SEC) has filed a lawsuit against Ripple. The FinTech company is accused of selling unlicensed securities in the form of its XRP tokens. Exchanges and asset managers are removing the cryptocurrency from their offerings.
Last week, the U.S. Securities and Exchange Commission (SEC) filed a lawsuit against Ripple, CEO Brad Garlinghouse and co-founder Chris Larsen. It claimed the company violated laws against the sale of unregistered securities when it sold XRP to investors. The community mainly sided with the SEC in this case, as the cryptocurrency is highly centralized and Ripple has already fired against Bitcoin and Ethereum several times.
ETPs removing the asset
Swiss crypto asset manager 21Shares has removed XRP from all exchange-traded products (ETPs). The two ETPs affected are HODL and KEYS, which are baskets of various cryptocurrencies. It is possible that their XRP ETP (AXRP) will also be removed, but a decision has not yet been made.
Although none of the products are listed on U.S. exchanges, CEO Hany Rashwan told The Block that the company's index rules prohibit it from including tokens that are classified as securities or may have liquidity issues.
"The risk on both sides is high, especially with a number of large over-the-counter (OTC) trading desks exiting the XRP market, specifically Jump Trading and Galaxy Digital" – Hany Rashwan, CEO 21Shares
Delisting on Coinbase
The largest U.S. exchange Coinbase also reacted to the SEC complaint against Ripple after a few days and temporarily stopped XRP trading.
"We will continue to monitor legal developments related to XRP and update our customers as more information becomes available." – Paul Grewal, Chief Legal Officer Coinbase.
Coinbase added that the XRP wallets will remain accessible to users, so deposits and withdrawals will not be affected. They will also still support the upcoming airdrop of Spark tokens.
Impact on the price of XRP
Since the SEC filing, several exchanges have stopped offering XRP for trading, including Bitstamp, OSL, CrossTower, and Beaxy. The XRP price on Coinbase plummeted from $0.28 to $0.24 within the first 20 minutes of the announcement. Since the announcement of the SEC's lawsuit last week, the price has crashed by over 65%.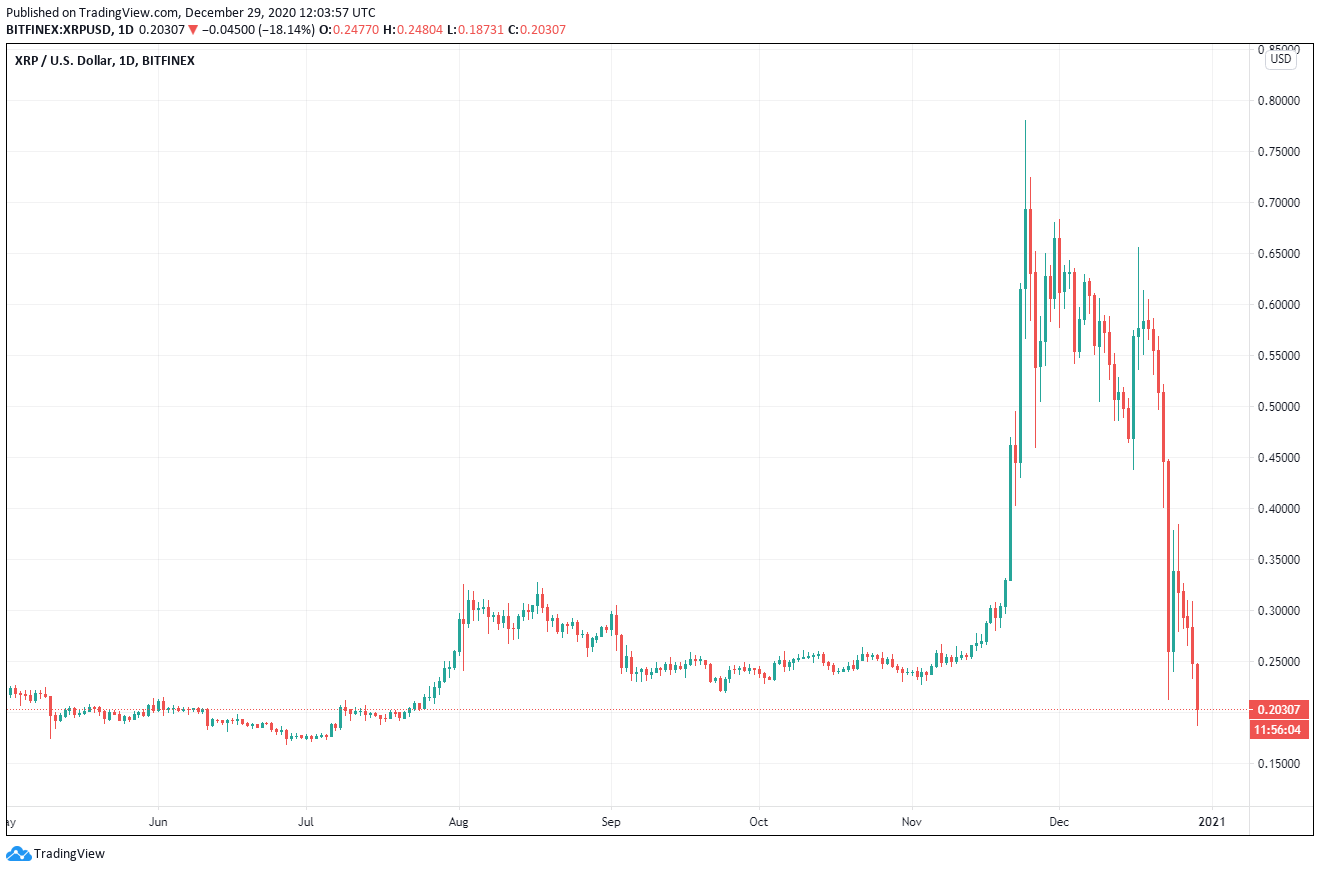 Exchanges that continue to offer the trading of XRP without registering with the SEC as a securities exchange may face potential consequences, including harsh sanctions and fines.