An overview of the trading activities on the cryptomarkets. Studies on traded volumes, supply and demand situations, as well as periodic technical analysis of the most important crypto-currencies and indices, including the perspective of professional Traders.
Technical Analysis
Good Morning!
Currently, many tokens are trading in a wide price range, but the uptrend is still intact. Nevertheless, during the last two weeks, the entire crypto market seems to have lost momentum. However, the crypto market is not alone. Traditional stock markets are also behaving cautiously, and, according to surveys, three quarters of investors see potential price setbacks of 5% – 10%.
I see the current consolidation more as a healthy pause before a potential Christmas rally. As soon as the September expiries in futures and options are over, we could see further price rises. I also see the monetary policy side as supportive until the end of the year. The central banks are currently making little effort to tighten the money supply.
But let us now move on to our TA-Tuesday, and the tactical levels and signals.
Bitcoin BTC (4h)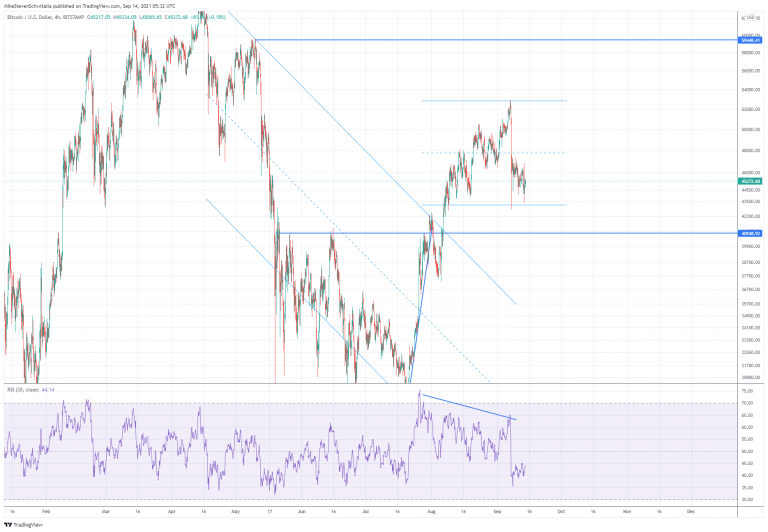 The price is currently moving in a broad range between 43'000 and 53'000. Interesting trading setups could arise if the price breaks out of this range. If the price breaks through the 43'000 level, 41'000 forms the next support. In the event of an upward breakout, 60'000 will be the next important resistance.
Ethereum ETH (4h)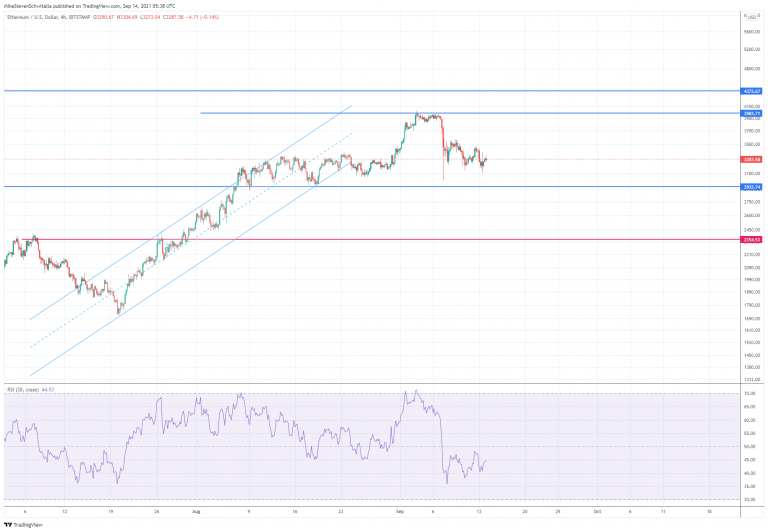 A similar picture can be seen in ETH. Here the price range is between 2'930 and 4'000. After a breakout, 2'350 is the important next support, and 4'370 is the next resistance to the upside.
Solana SOL (4h)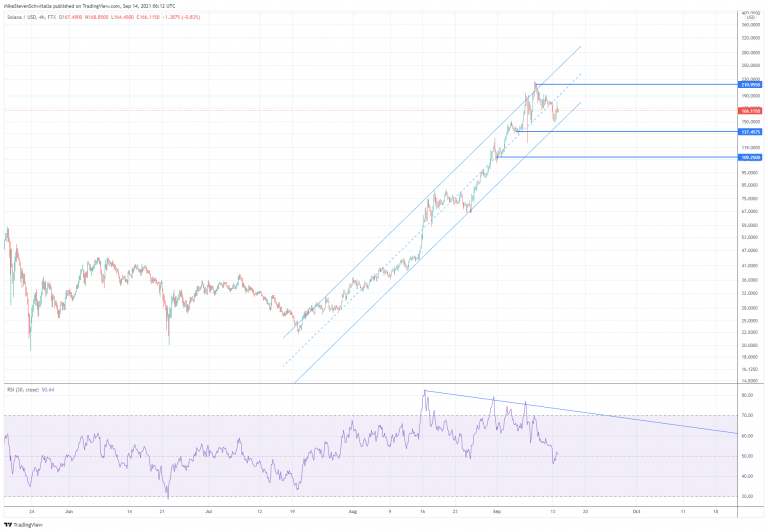 An interesting trading setup seems to be forming against USD in everybody's darling: SOL. No, I do not see any new all-time highs in the medium to short term, but rather a potential price loss of 20% (or even 35%) should the overall market show weakness.
SOL has shot up from $22.5 to $215 within two months. Currently trading at $167, Solana is rightly seen as a potential ETH killer. Nevertheless, the speed of the price increase is not sustainable. On the one hand, there are currently technical differences that could make a price decline likely. Since mid-August, for example, the RSI has formed a striking technical divergence from the actual price trend. We are also seeing FOMO tendencies. I use Google search interest as a proxy indicator.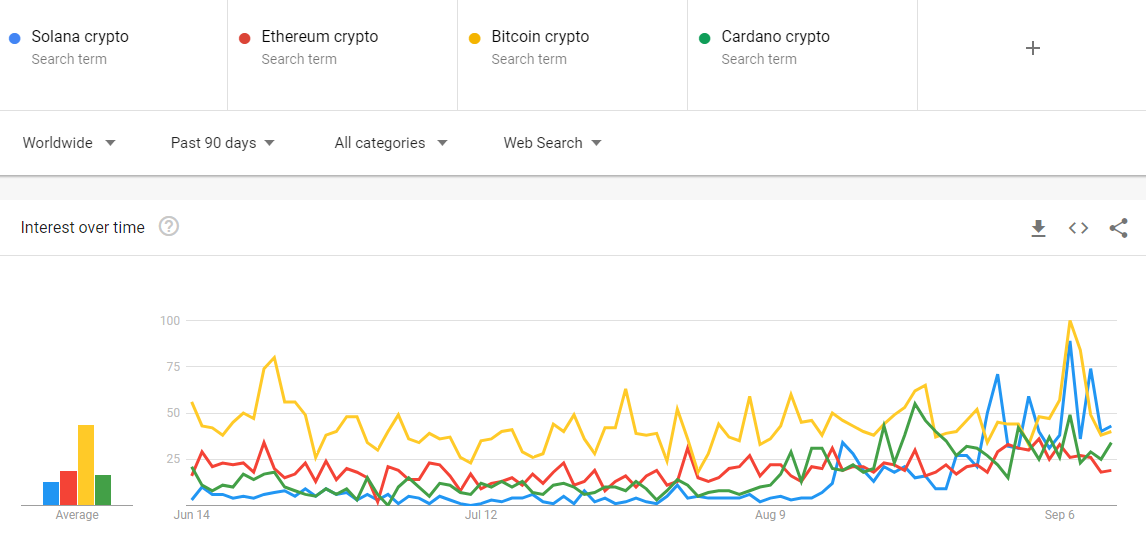 You can see how the search interest in Solana has risen sharply in the last two months, and is currently even higher than the search interest in ETH and ADA. Moreover, the search interest is currently at a similar level as "BITCOIN CRYPTO". If we look at the search interest at a higher frequency (past 90 days), we see that the momentum is now turning in SOLANA. The level of the FOMO proxy against other tokens and the recent weakening of this indicator in combination with the technical divergence in the RSI leads me to formulate the following scenarios.
Overall market bullish: price target $140; Overall market neutral/negative: $110; I'm off the mark: breakout above USD 210.
Happy Trading!
---
Copyright © 2021 | Crypto Broker AG | All rights reserved.
All intellectual property, proprietary and other rights and interests in this publication and the subject matter hereof are owned by Crypto Broker AG including, without limitation, all registered design, copyright, trademark and service mark rights.
Disclaimer
This publication provided by Crypto Broker AG, a corporate entity registered under Swiss law, is published for information purposes only. This publication shall not constitute any investment  advice respectively does not constitute an offer, solicitation or recommendation to acquire or dispose of any investment or to engage in any other transaction. This publication is not intended for solicitation purposes but only for use as general information. All descriptions, examples and calculations contained in this publication are for illustrative purposes only. While reasonable care has been taken in the preparation of this publication to provide details that are accurate and not misleading at the time of publication, Crypto Broker AG (a) does not make any representations or warranties regarding the information contained herein, whether express or implied, including without limitation any implied warranty of merchantability or fitness for a particular purpose or any warranty with respect to the accuracy, correctness, quality, completeness or timeliness of such information, and (b) shall not be responsible or liable for any third party's use of any information contained herein under any circumstances, including, without limitation, in connection with actual trading or otherwise or for any errors or omissions contained in this publication.
Risk disclosure
Investments in virtual currencies are high-risk investments with the risk of total loss of the investment and you should not invest in virtual currencies unless you understand and can bear the risks involved with such investments. No information provided in this publication shall constitute investment advice. Crypto Broker AG excludes its liability for any losses arising from the use of, or reliance on, information provided in this publication.