An overview of the trading activities on the cryptomarkets. Studies on traded volumes, supply and demand situations, as well as periodic technical analysis of the most important crypto-currencies and indices, including the perspective of professional Traders.
Good Morning!
"Winter is Coming" or "Winter is Here"? Hard to say. This video is a real representation of crypto investors now. At the time of writing, Bitcoin (BTC) is trading at $36,322.97 (-14.32% in 7 days), Ethereum (ETH) is trading at $2,425.8 (-23.34% in 7 days), and Ethereum vs. Bitcoin (ETH/BTC) is trading at 0.066 (-11.46% in 7 days). The major indices have underperformed bitcoin over the past week: Alts -25.55%, Mids -21%, and Shits -29.85%. Macro concern over the Fed's monetary policy is the main driver of this sell-off, which, as expected, excludes no one.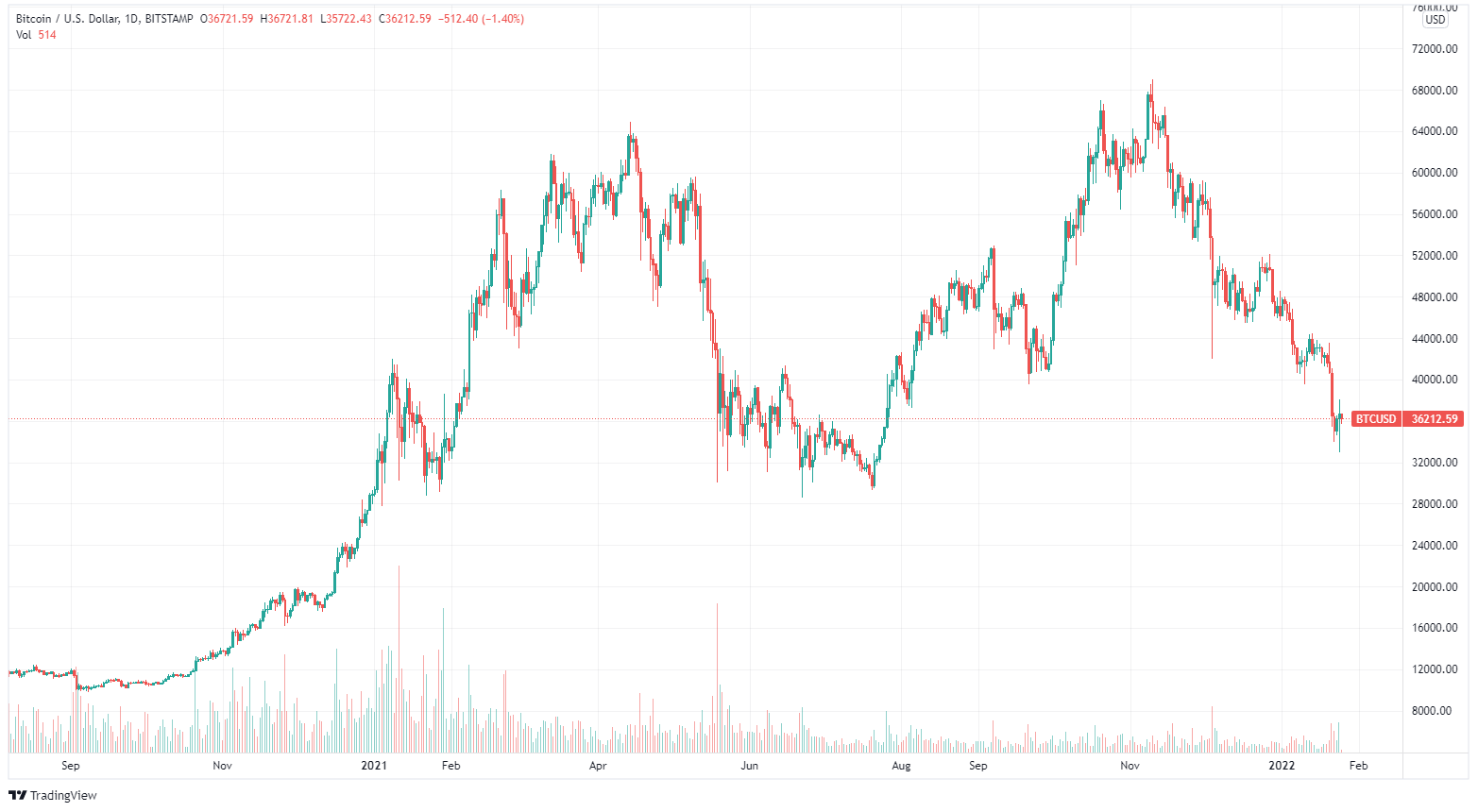 I think markets are overreacting to the tightening financial conditions, but as one of my mentors once said: "Markets are always right." On Friday, the S&P500 hit one of its highest intraday lows at -3.7%; the 10-year bond yields climbed to 1.73%; and the SPDR Gold shares, the largest bullion-backed ETF, had the largest net inflow (in dollar terms) since the 2004 listing – worth $1.63 billion. Selling pressure is still high and is driven by spot markets. Derivatives follow what is happening on the spot side and then try to adjust.
Derivatives dynamics
The funding rates are very different from platform to platform: during the week, the average BTC funding rates on an 8-hour basis were 0.0068% on Binance, but -0.0025% on Deribit. Investors enter futures on Binance primarily to take leveraged positions, while on Deribit primarily to delta-hedge their options portfolio.
Since early 2022, 25D-skews up to one month have been bouncing from 20% to 0% really quickly, allowing traders, on the one hand, to play the mean-reversion skew, while increasing the selling pressure and lowering the funding rates.
On the other hand, a positive skew means that there is more interest around puts than calls, and this is definitely not a good sign. The term structure is currently particularly flat as traders are now trying to figure out what the direction will be. Over the next few days, I expect volatility to be persistent, and I won't be surprised to see huge intraday shifts. The key support level for BTC is $30,000, but the fear of falling below it is very high.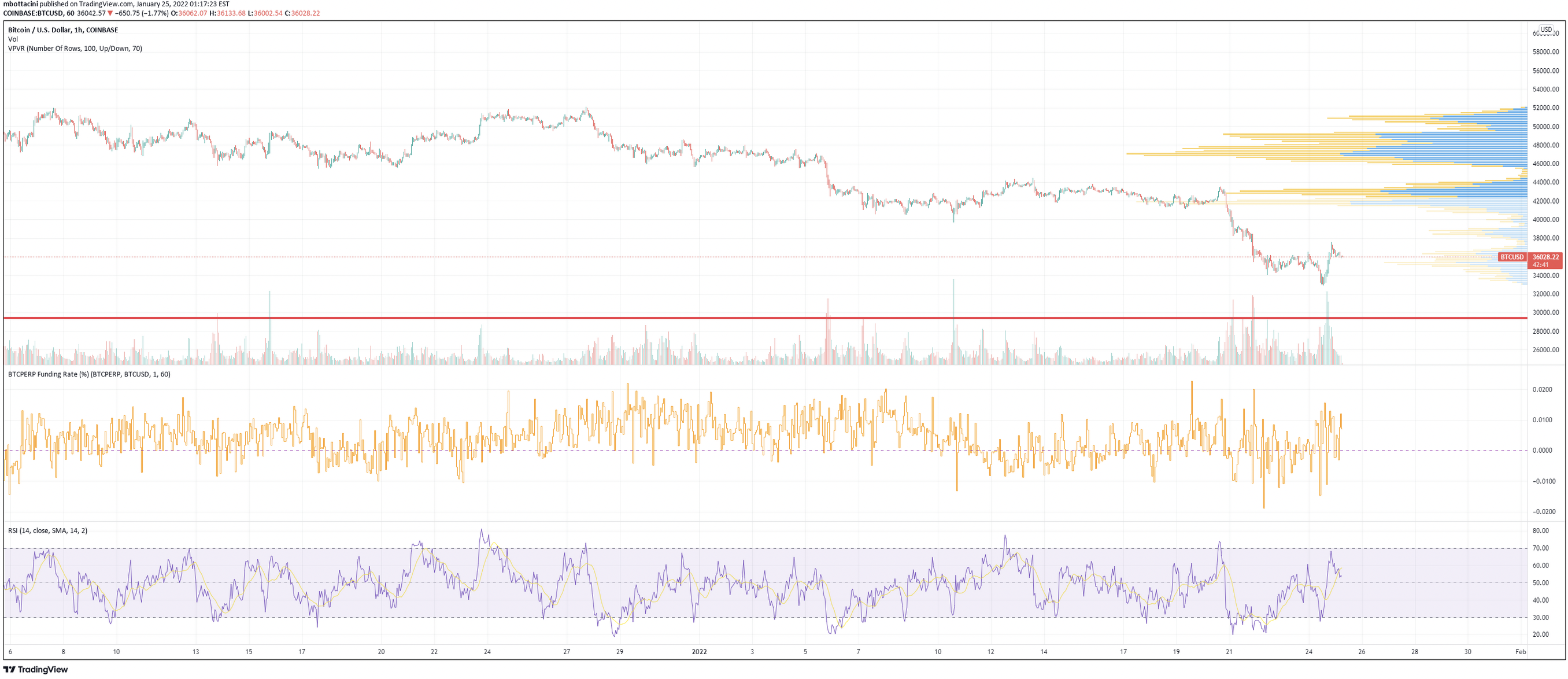 In other news:
The Biden administration will release an executive order on crypto by early February
The Salvadoran President Nayib Bukele announced that he bought 410 BTC worth $13.49 million, and is enjoying himself on Twitter
NFTs on OpenSea are priced in ETH or Matic, and given the current price drop, their dollar values have also decreased. It will be interesting to see how these less liquid assets react.
The Fantom Network (FTM) reached a total value locked (TVL) of $12.2 billion over the weekend, overthrowing Binance Smart Chain, Solana, and Luna.
The best is yet to come.
Happy trading!
---
Copyright © 2021 | Crypto Broker AG | All rights reserved.
All intellectual property, proprietary and other rights and interests in this publication and the subject matter hereof are owned by Crypto Broker AG including, without limitation, all registered design, copyright, trademark and service mark rights.

Disclaimer
This publication provided by Crypto Broker AG, a corporate entity registered under Swiss law, is published for information purposes only. This publication shall not constitute any investment  advice respectively does not constitute an offer, solicitation or recommendation to acquire or dispose of any investment or to engage in any other transaction. This publication is not intended for solicitation purposes but only for use as general information. All descriptions, examples and calculations contained in this publication are for illustrative purposes only. While reasonable care has been taken in the preparation of this publication to provide details that are accurate and not misleading at the time of publication, Crypto Broker AG (a) does not make any representations or warranties regarding the information contained herein, whether express or implied, including without limitation any implied warranty of merchantability or fitness for a particular purpose or any warranty with respect to the accuracy, correctness, quality, completeness or timeliness of such information, and (b) shall not be responsible or liable for any third party's use of any information contained herein under any circumstances, including, without limitation, in connection with actual trading or otherwise or for any errors or omissions contained in this publication.

Risk disclosure
Investments in virtual currencies are high-risk investments with the risk of total loss of the investment and you should not invest in virtual currencies unless you understand and can bear the risks involved with such investments. No information provided in this publication shall constitute investment advice. Crypto Broker AG excludes its liability for any losses arising from the use of, or reliance on, information provided in this publication.