An overview of the trading activities on the cryptomarkets. Studies on traded volumes, supply and demand situations, as well as periodic technical analysis of the most important crypto-currencies and indices, including the perspective of professional Traders.
Good Morning!
As of writing, Bitcoin (BTC) is trading at $42,346.61 (-7.88% in seven days), Ethereum (ETH) is trading at $3120.56 (-17.56% in seven days), and the Ethereum vs. Bitcoin (ETHBTC) spread is trading at 0.0736 (-10.79% in seven days).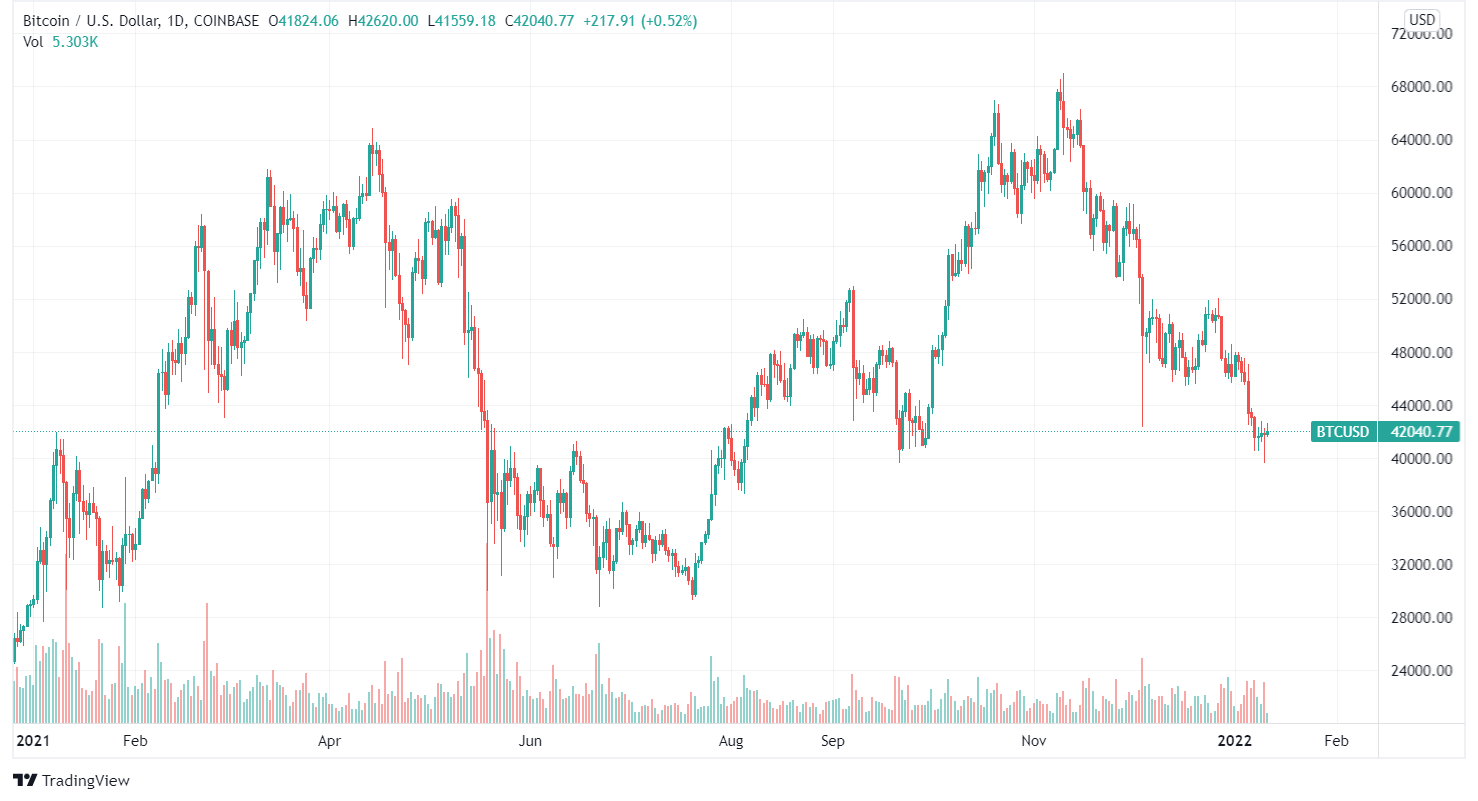 As markets go down, the correlation between cryptocurrencies and the stock market often increases. When things are going right, however, digital assets tend to be independent. But when things are going wrong, there does not seem to be a way out. E.g.: 30-day rolling correlation between bitcoin and Nasdaq is now 60% (the highest it has been in a one-year interval).
Macro and derivatives
In macro terms, tightening financial conditions are expected to negatively impact risky assets such as stocks and cryptocurrencies as they become less attractive than safe haven bonds. From a technical standpoint (and in my own personal view), derivatives markets are currently driving spot prices and making as many profits as possible.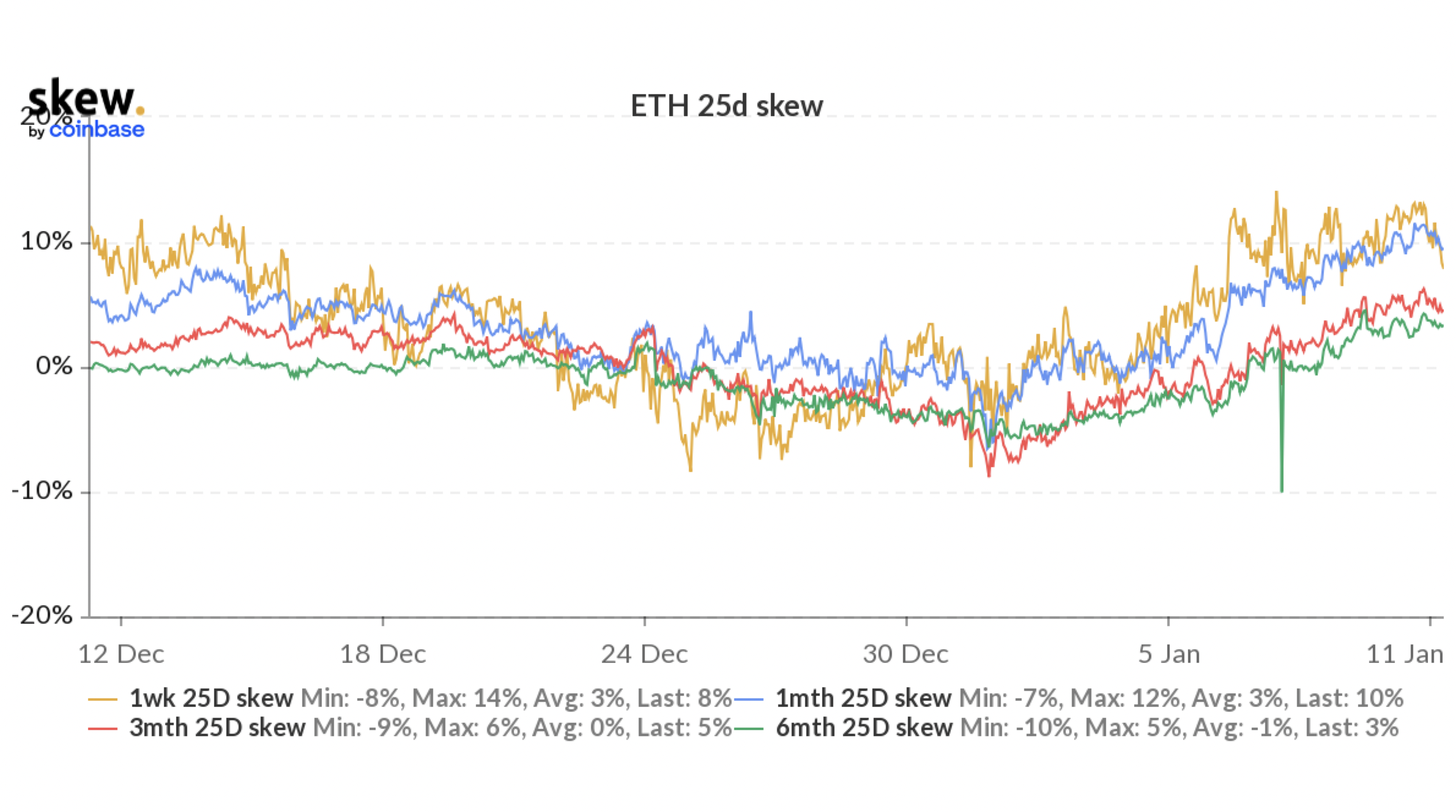 Let us start with ether. The skews are positive for maturities up to 180 days. The weekly skew is the most positive (currently at 11%), but the 25-day skew is almost the same (currently at 10%). This means that the risk reversal game could be executed with one-month options until expiration.
Skew trading
Skew trading is betting that the spread in implied volatility (IV) between the lower strike and higher strike options will reverse driving the skew to 0, or even negative. Traders are now writing an out-of-the-money (OTM) put, and then buying, in part with the collected premium, a call in-the-money (ITM). Since the net delta is positive, they are also selling the underlying (most likely the Perpetual Future), leaving them to play with the gamma and the vega.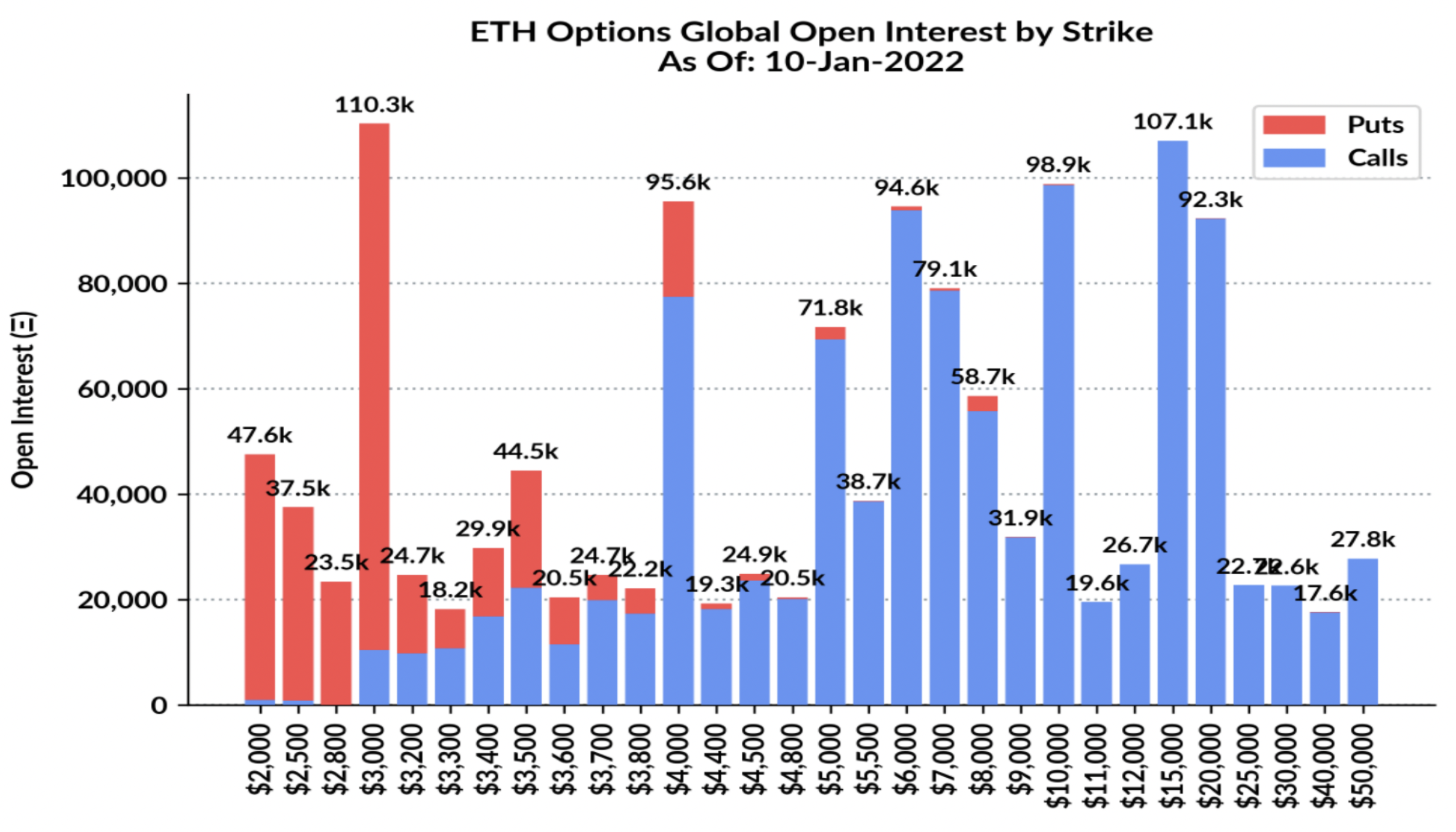 The monthly expiration on February 25th and the quarterly expiration on March 25th are currently popular with traders. Popular strikes are $2,800 for put and $3,900 for call. With the future term structure remaining nearly identical, selling perpetuals allows them to earn on funding rates as well. Until I see the skew go to 0 (or near negative), I see spot prices holding support levels at $2,800, and there being a limited upside near $4,000.
Bitcoin
The situation is similar for that of bitcoin. The skews are positive for maturities of less than 180 days. Popular strategies are selling a put at $35,000 and buying a call at $55,000. On the 4-hour chart, BTC is holding short-term support at around $40,000, and the upside appears to be limited near $45,000.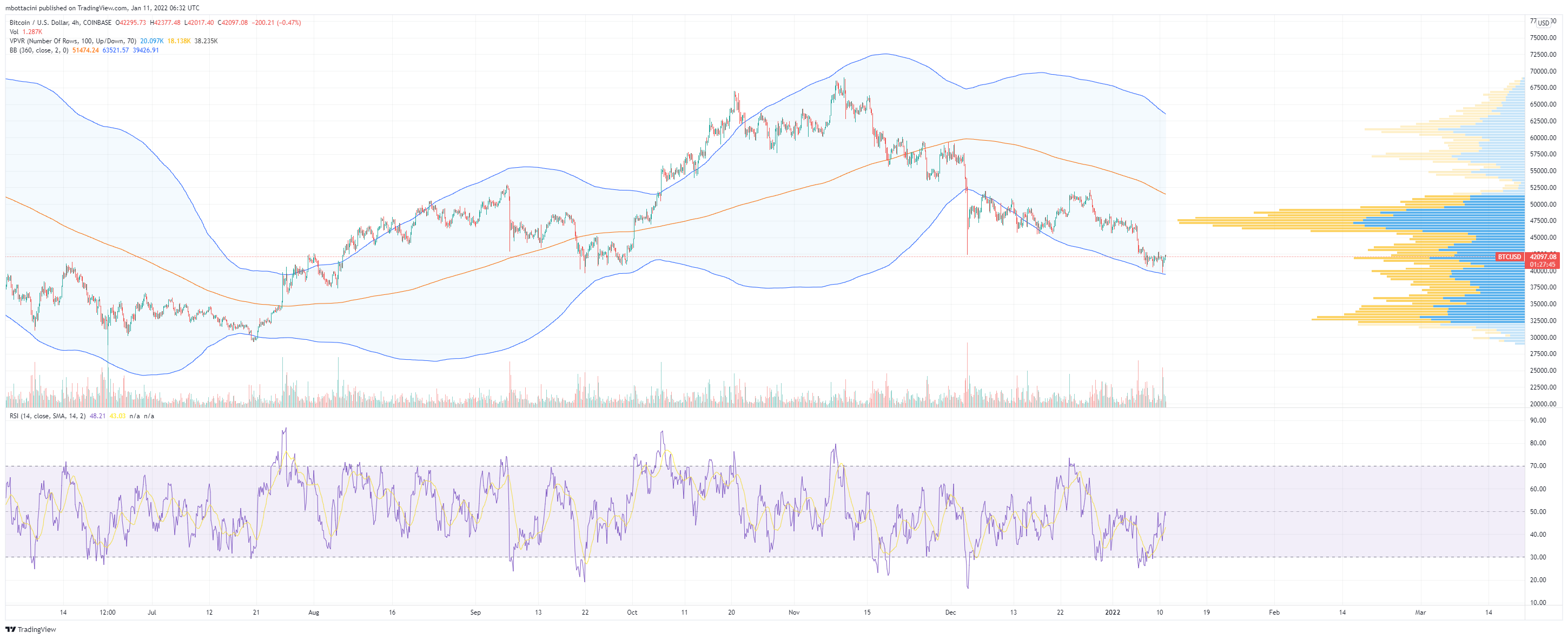 The Relative Strength Index (RSI) is currently rising from oversold levels, and this typically precedes a brief price rebound. Given the low momentum, I expect sellers to remain particularly active around the resistance levels.
Other coins
Most coins are now far from their all-time highs (ATHs), and this may be a good time to buy. I always like to remind people that we usually shop when things are on sale, so why not do the same with investments? Maybe, prices haven't reached their lowest, but the discounts are still great.
Currently in my trading list, the most appealing trades are the following:
ICP: currently $35.8, and 93% down from ATH
CRV: currently $4.37, and 92% down from ATH
HT: currently $9.08, and 77% down from ATH
AVAX: currently $86.07, and 41% down from ATH
And this as a side note…
This time today 13 years ago Hal Finney wrote the very first tweet about bitcoin.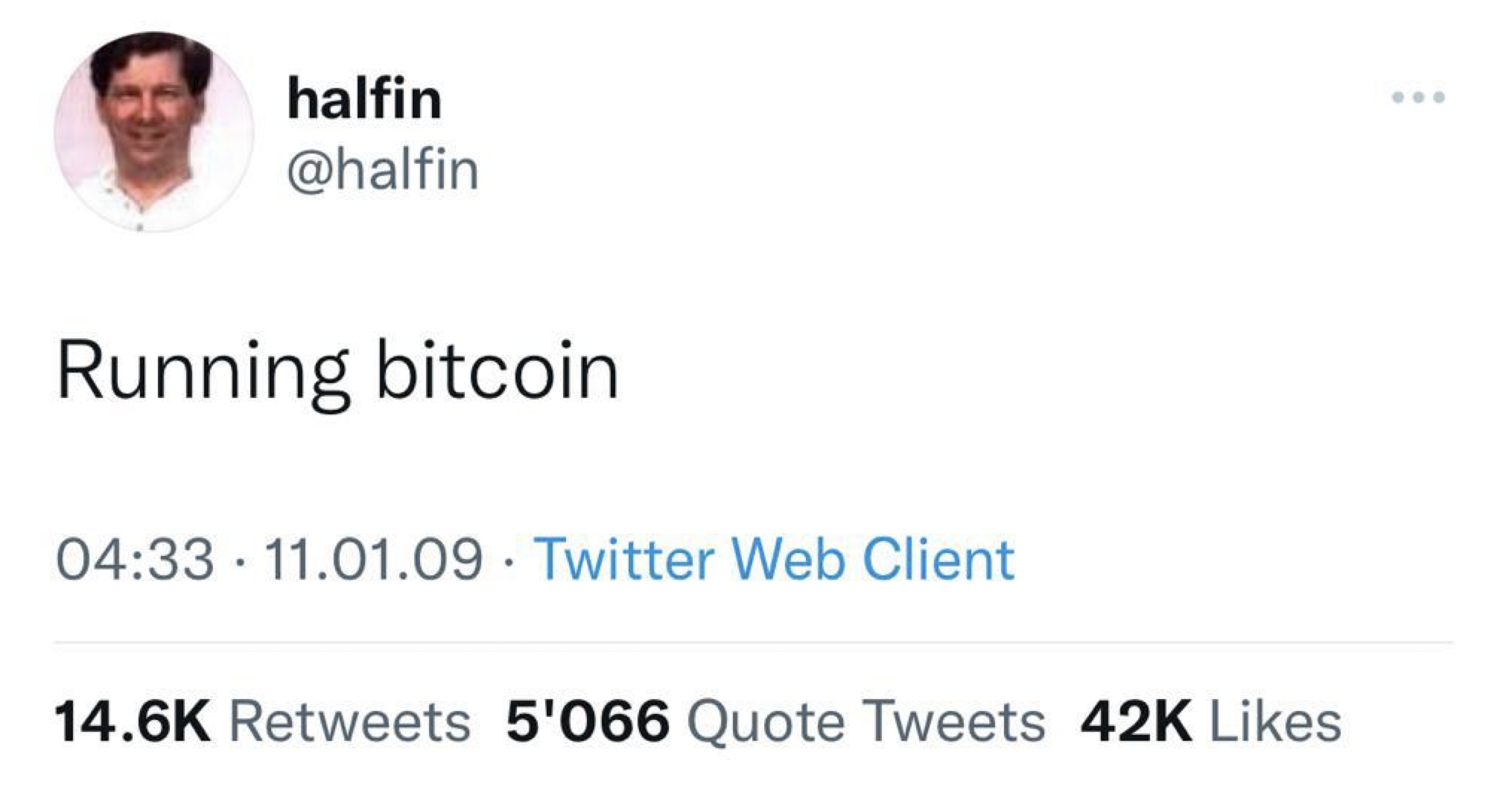 Happy Trading!
---
Copyright © 2021 | Crypto Broker AG | All rights reserved.
All intellectual property, proprietary and other rights and interests in this publication and the subject matter hereof are owned by Crypto Broker AG including, without limitation, all registered design, copyright, trademark and service mark rights.

Disclaimer
This publication provided by Crypto Broker AG, a corporate entity registered under Swiss law, is published for information purposes only. This publication shall not constitute any investment  advice respectively does not constitute an offer, solicitation or recommendation to acquire or dispose of any investment or to engage in any other transaction. This publication is not intended for solicitation purposes but only for use as general information. All descriptions, examples and calculations contained in this publication are for illustrative purposes only. While reasonable care has been taken in the preparation of this publication to provide details that are accurate and not misleading at the time of publication, Crypto Broker AG (a) does not make any representations or warranties regarding the information contained herein, whether express or implied, including without limitation any implied warranty of merchantability or fitness for a particular purpose or any warranty with respect to the accuracy, correctness, quality, completeness or timeliness of such information, and (b) shall not be responsible or liable for any third party's use of any information contained herein under any circumstances, including, without limitation, in connection with actual trading or otherwise or for any errors or omissions contained in this publication.

Risk disclosure
Investments in virtual currencies are high-risk investments with the risk of total loss of the investment and you should not invest in virtual currencies unless you understand and can bear the risks involved with such investments. No information provided in this publication shall constitute investment advice. Crypto Broker AG excludes its liability for any losses arising from the use of, or reliance on, information provided in this publication.