Weekly Rotationreport CW20 from Patrick Heusser, Crypto Finance AG
Content
1 Rotation Analysis
2 Altcoin Futures Basis Analysis
3 Top Ten Comparison
4 Volatility and Correlation Comparison
5 ETHBTC 4h Technical Chart Analysis
6 Market Cap Overview
Glossary
1. Rotation Analysis
A tight trading range
Bitcoin traded in a narrow range alongside the traditional markets. Short-term support remains between 9,200 and 9,300; longer-term support is at 8,500. The short-term resistance is between 10,200 and 10,300; a longer-term and important resistance is at 10,500.
Despite the rather low chance of a second wave of coronavirus hitting us later this year, attention is only gradually shifting to other topics, e.g. the US presidential elections; relations between the US and China; European politics, incl. the cumbersome Brexit negotiations with the UK; and Italy's new Euro-skepticism.
The stretched political situation between China and the US is also notable in the mining business. A Texas bitcoin mining startup has announced that it aims to steal China's crypto crown in the future.
Another important and very interesting topic that will keep up busy is the new formation of several companies entering and building up the prime brokerage business. We have talked about this on more than one occasion in our morning commentaries.
In the charts below, you can see the technical analysis for the Alt/Mid/Shit Indices. Attached you will also find our short-term view on support and resistance levels for all three Indices: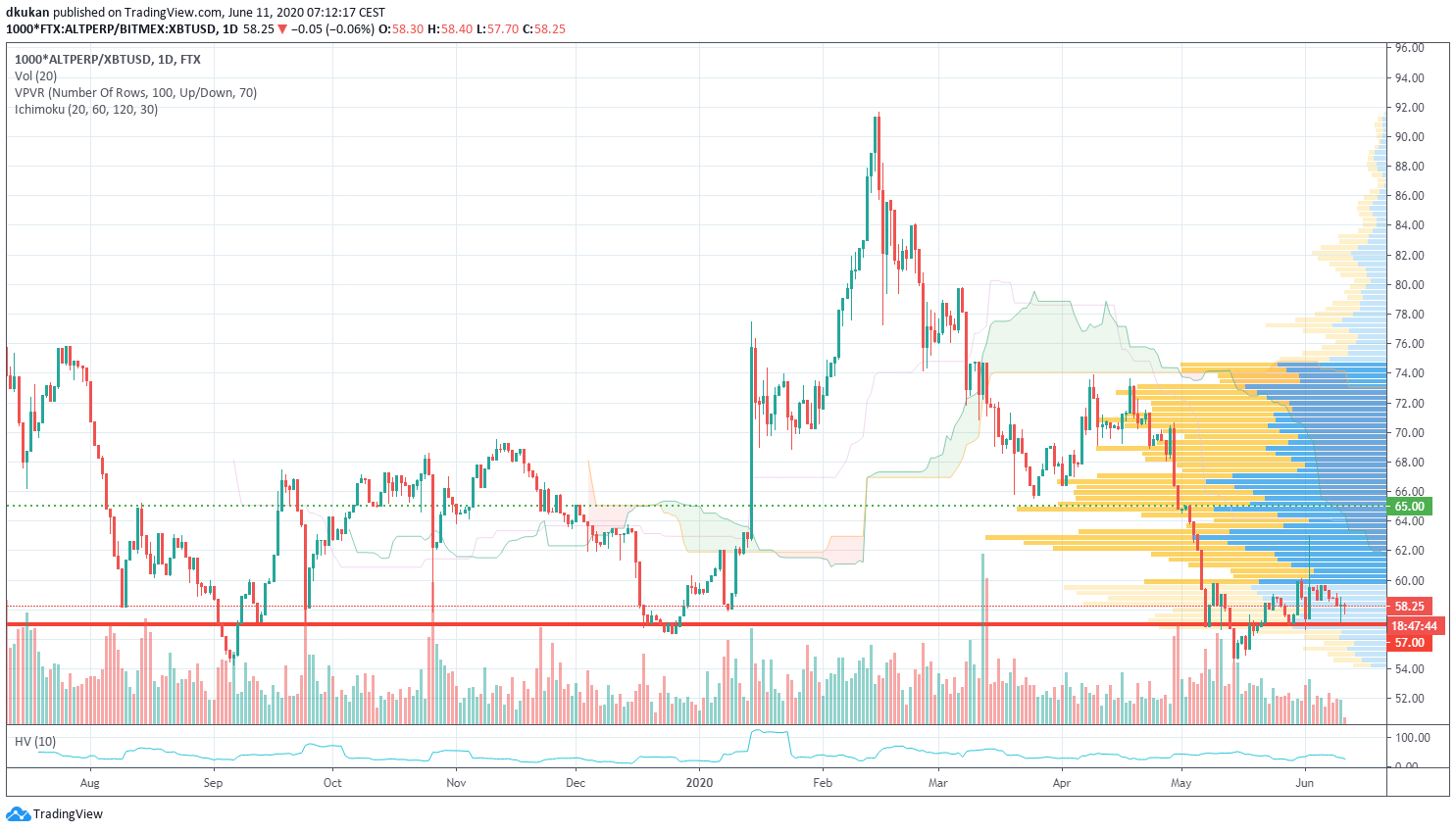 Alt: Support 57.00 / Resistance 65.00 / Alt (4h)
Mid: Support 58.00 / Resistance 65.00 / Mid (4h)
Shit: Support 82.00 / Resistance 100.00 / Shit (4h)
Bitcoin and the Shit Index were the dominant players last week. The Shit Index easily broke the resistance level of 90 and is trading at almost an all-time high against BTC. The Alt Index remains neutral, whereas the Mid Index performed well and is trading around the resistance level.
There are only a few sector winners: Exchange performed at 15%; IoT at 9%; and Privacy at 5% better relative to the Index. The losing sectors were Entertainment with a minus of 9%; SoV with 7%; and Payment with 4%. The remaining sectors traded neutral.
The top performing coins are yet again constituents of the Shit Index. KNC, LRC, and ZIL noted a USD performance of 58%. Only a few coins out of the FTX Index universe performed negatively, such as THEAT with a minus of 13% and Grin with a minus of 7%. Coins from the Alt Index have not changed a great deal and more or less performed alongside the Index.
The MACDs for BTC and coins ranked between 2 and 10 remain in the neutral zone, with upside potential. Coins ranked between 11 and 50 are highly overbought right now, and a short-term correction is to be expected.
Please keep in mind that the FTX Indices will be rebalanced and adjusted yet again now in June at the end of Q2 2020.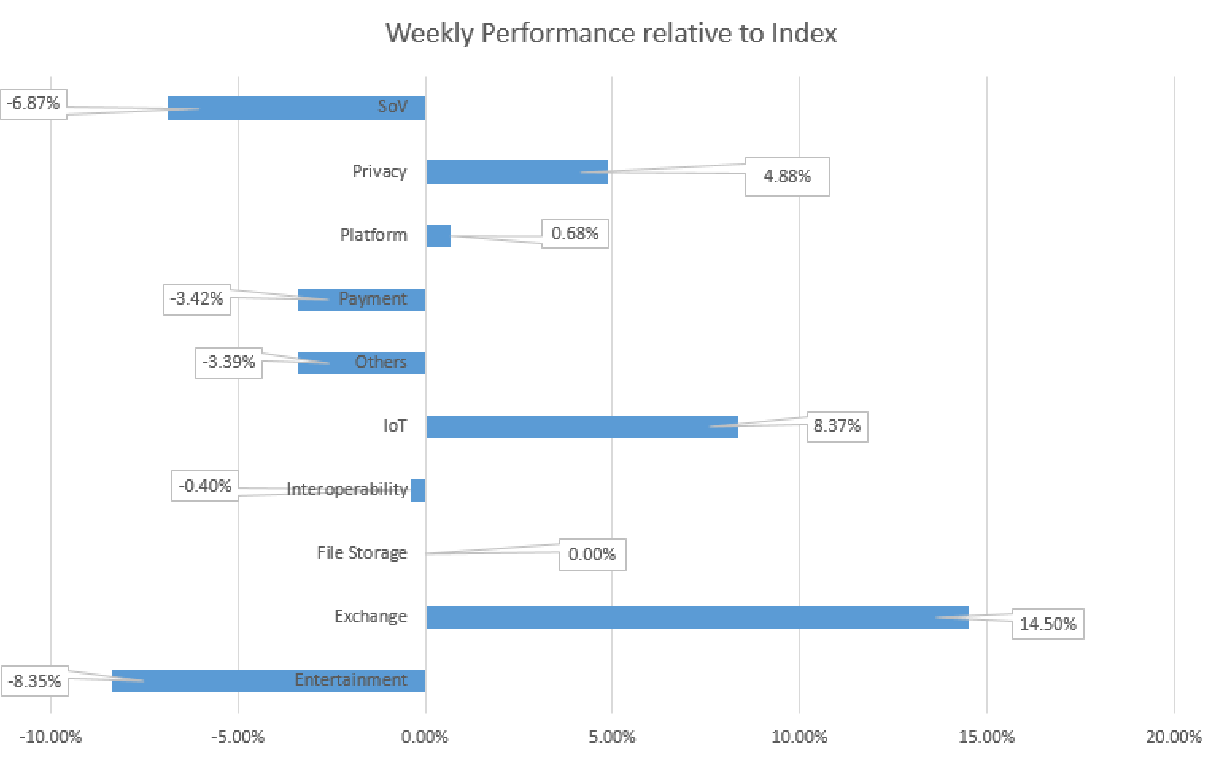 2 Altcoin Futures Basis Analysis
The futures basis has increased slightly over the past few trading days. The June futures basis is trading with a premium between 0.5% and 1%. The September futures basis is trading with a premium between 1.5% and 2.0%. Funding rates in general have not changed a great deal and remain between 5 and 10bps. Overall trading volume is steadily rising towards the next expiry.
BTC has been trading in a tight range, meaning that implied volatility trended down mostly in the short dates as traders did not want to pay the decay bills. BTC 1 month ATM 65%; 2 month ATM 69%; 3 month ATM 74%. ETH 1 month ATM 69%; 2 month ATM 75%; 3 month ATM 79%.
Open interest in derivatives has steadily increased and remains at record high levels. As the market traded in a narrow range, there were not many liquidations. BTC long vs short statistics indicate a slight overhang in favour of long positions on all major exchanges.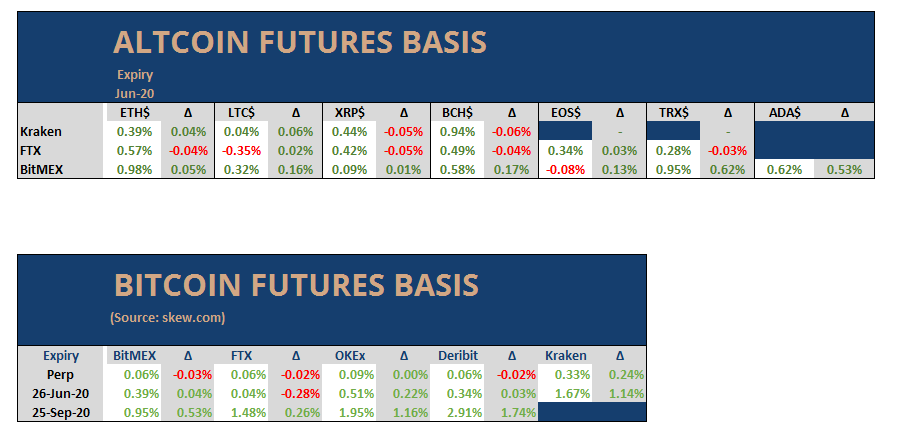 3 Top Ten Comparison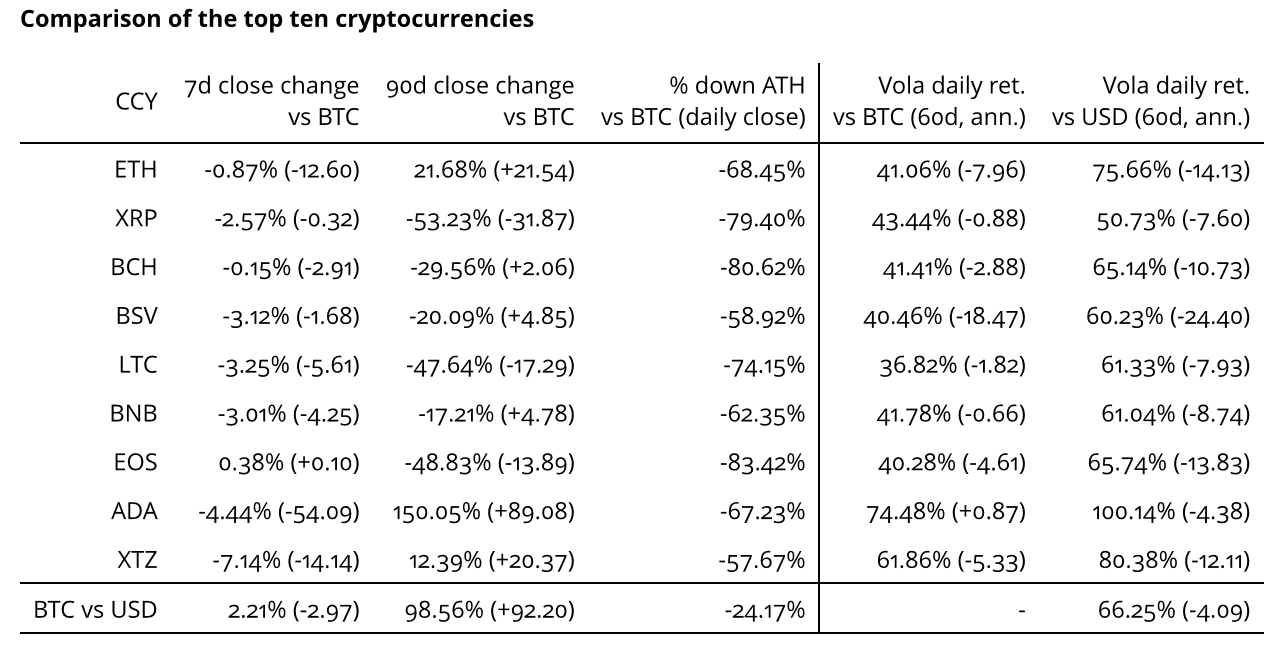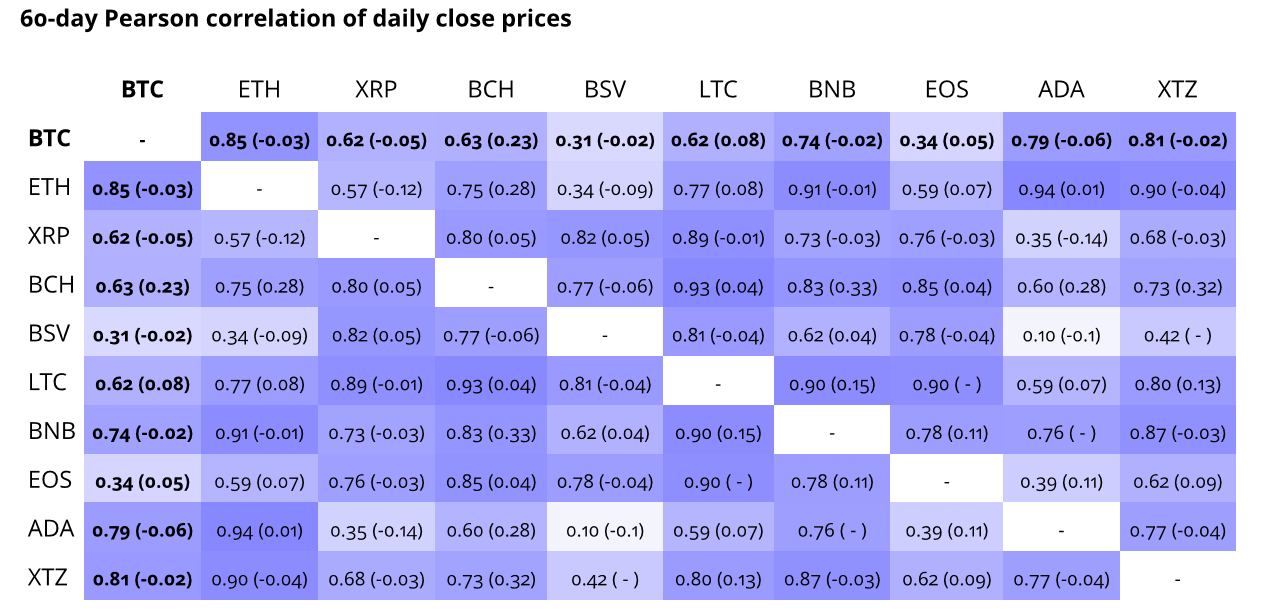 4 Volatility and Correlation Comparison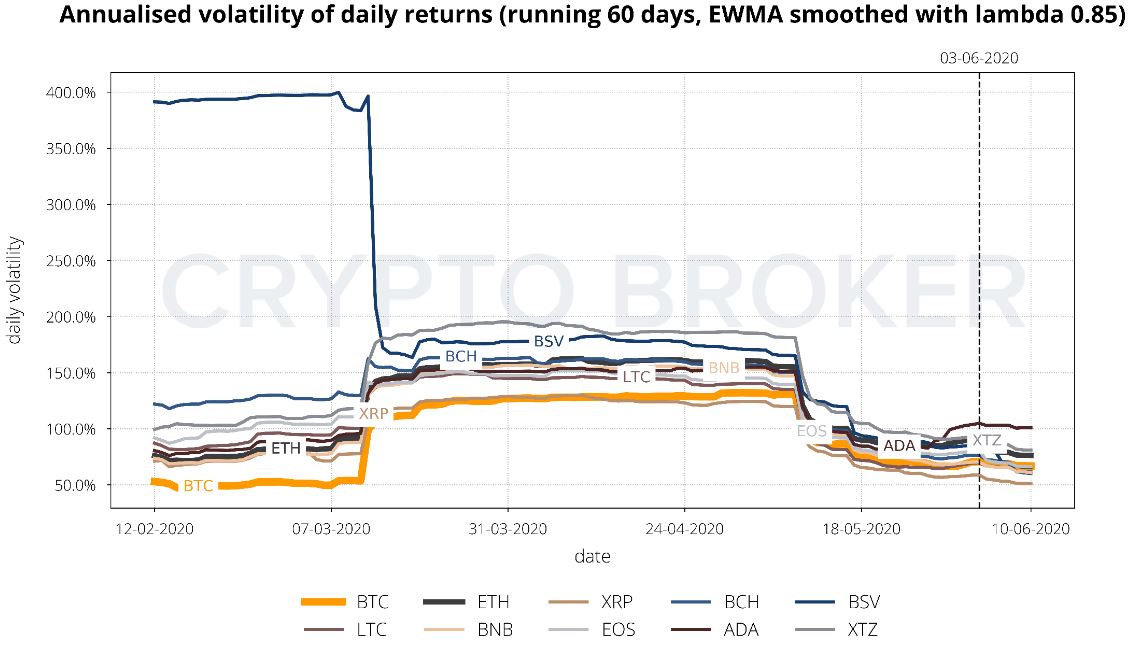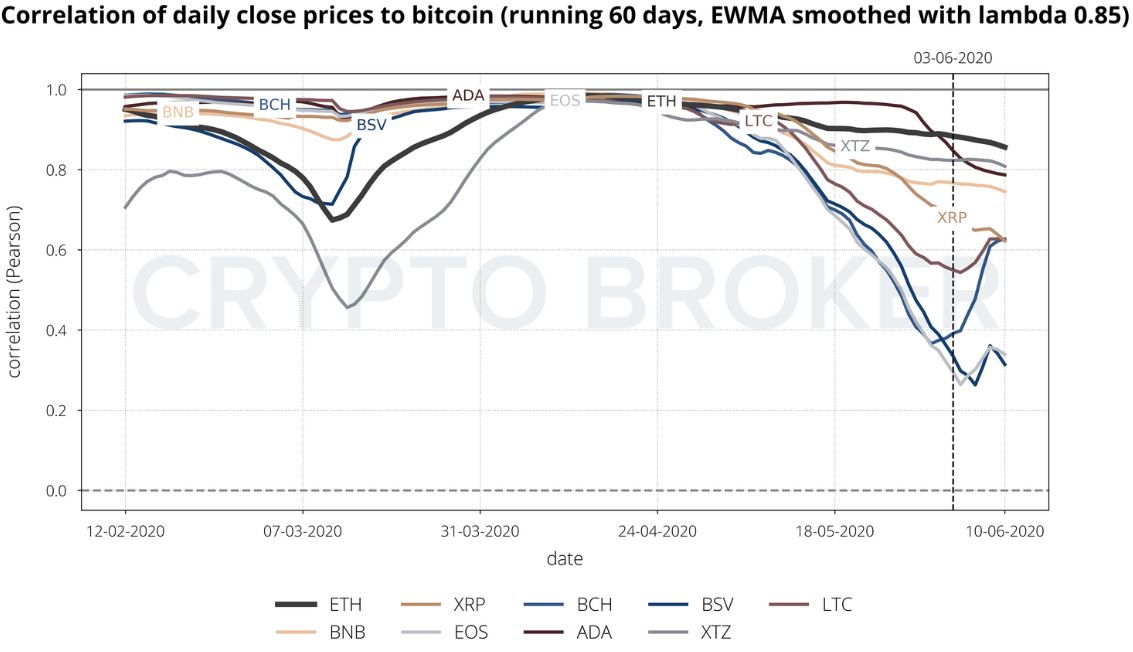 5  ETHBTC 4h Technical Chart Analysis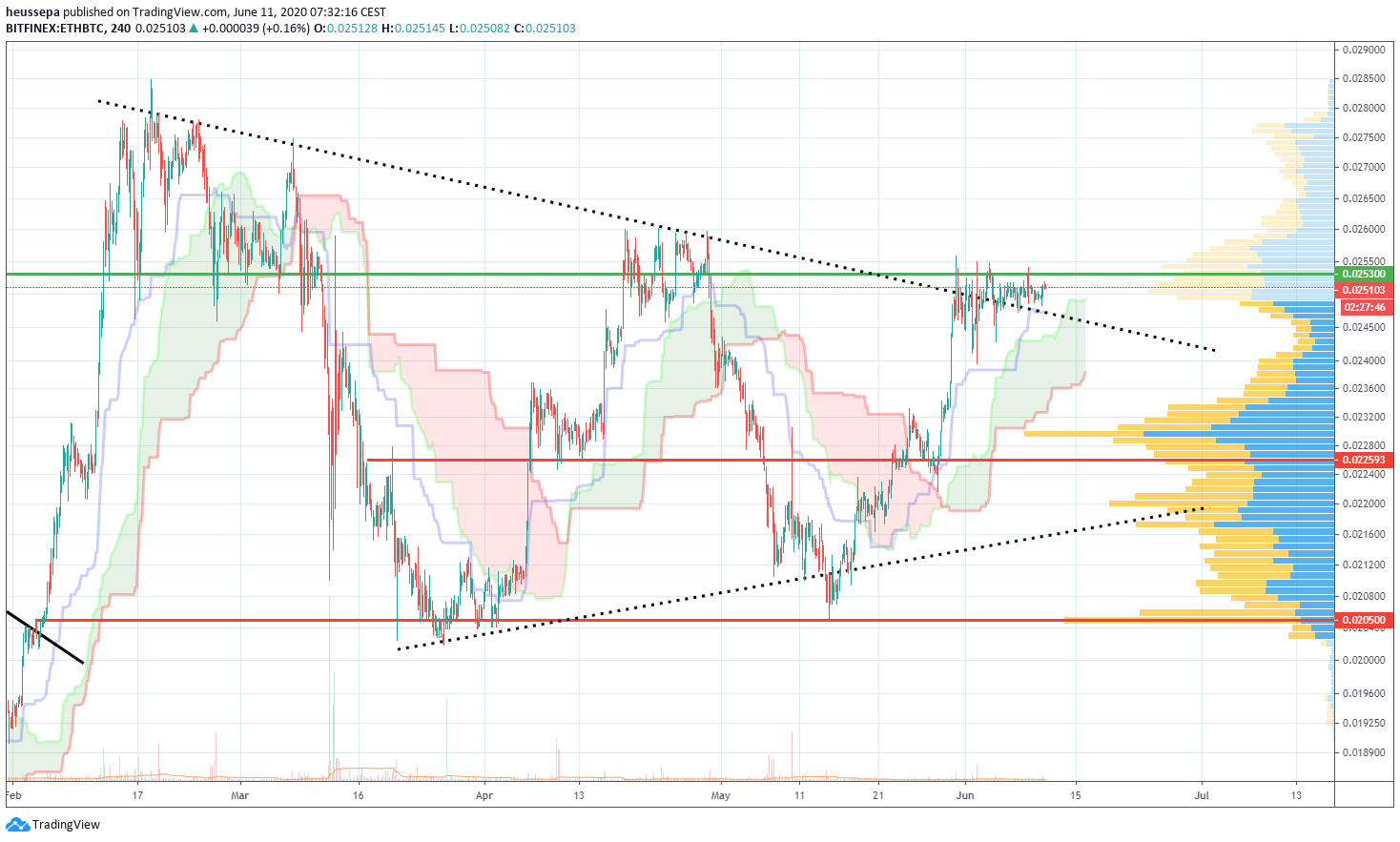 Consolidation continues
The price seems to be glued to the 0.02500 level, with nearly no volatility. In terms of volume, things are not looking outstanding, but there is definitely a respectable liquidity pool there. The Ichimoku cloud is starting to catch up with the price bars. I expect to see some reaction in the event that we touch the upper band of the cloud.
It was slightly disappointing to see the muted reaction after we broke through the upper leg of the potential triangle. This is why I have changed this line into a dotted one as well. I am losing confidence that this is a symmetrical triangle.
Nevertheless, the 0.02530 resistance level is growing in importance. I feel confident that if we break it to the upside, with a daily closing level above it, the path will be clear for our next target (which we already mentioned in last week's report) of 0.03060.
View the charts: ETHBTC 4h
6 Market Cap Overview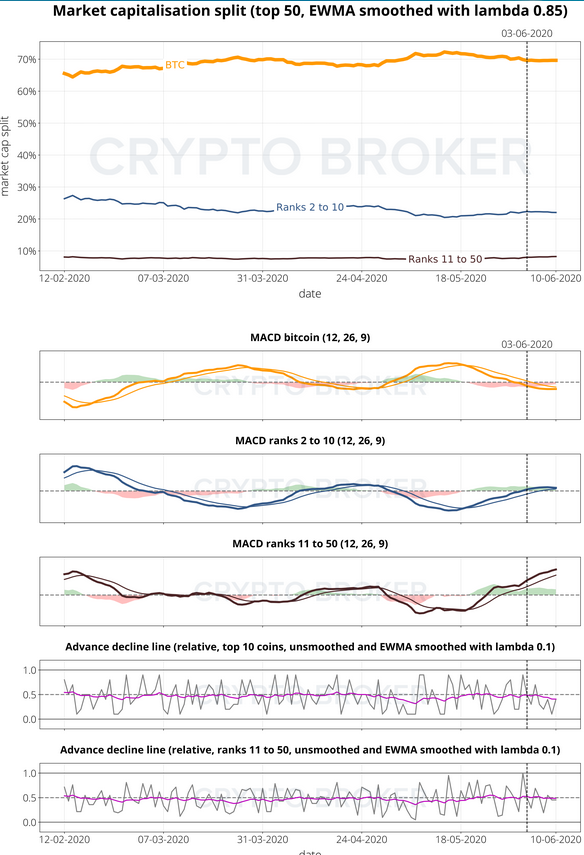 Glossary
Advance Decline Line - the Advance Decline Line shows the ratio of coins for which the market cap increased relative to the market cap of BTC for each day.
ATH - all time high (maximum lookback period of 730€ days).
Data Source - tables and charts are based on daily close prices provided by Coinmarketcap.
EWMA - exponentially weighted moving average.
MACD - moving average convergence/divergence is a popular technical indicator to identify trends in the underlying instrument. It consists of the MACD and signal line, and the area shown in the background. The MACD line (strong) is the difference of two exponential moving averages, which are defined by the first and second parameter of the indicator. The signal line (weak) is the exponential moving average of the MACD line defined by the third parameter. The area in the background illustrates the difference between the MACD line and the signal line.
Pearson Correlation - quantifies the linear relationship between two variables.
Spearman Correlation - quantifies the monotonic relationship between two variables. As such, the Spearman Correlation is based on the ranked values of each variable and is used to detect non-linear relationships between the two.
---
Copyright © 2021 | Crypto Broker AG | Alle Rechte vorbehalten.
Diese Publikation und ihr Inhalt, einschliesslich aller Namen, Logos, Designs und Marken sowie aller damit verbundenen Immaterialgüter- und sonstigen Rechte sind Eigentum der Crypto Broker AG oder Dritter. Sie dürfen ohne deren vorherige Zustimmung nicht vervielfältig oder weiterverwendet werden.

Haftungsausschluss
Alle Angaben in dieser Publikation erfolgen ausschliesslich zu allgemeinen Informationszwecken. Die in dieser Publikation zur Verfügung gestellten Informationen stellen keine Anlageberatung dar und sind auch nicht als solche beabsichtigt. Diese Publikation stellt kein Angebot und keine Empfehlung oder Aufforderung für eine Anlage in ein Finanzinstrument einschliesslich Kryptowährungen und dergleichen dar und ist auch nicht als solches Angebot, Empfehlung oder Aufforderung beabsichtigt. Diese Publikation ist nicht für Werbezwecke bestimmt, sondern dient nur der allgemeinen Information. Die in der Publikation enthaltenen Inhalte stellen die persönliche Meinung der jeweiligen Autoren dar und sind nicht als Entscheidungsgrundlage geeignet oder beabsichtigt. Alle Beschreibungen, Beispiele und Berechnungen in dieser Publikation dienen nur der Veranschaulichung. Obwohl bei der Erstellung dieser Publikation mit üblicher Sorgfalt darauf geachtet wurde, dass die Angaben zum Zeitpunkt der Veröffentlichung zutreffend und nicht irreführend sind, übernimmt die Crypto Broker AG keinerlei Gewähr oder Garantie, weder ausdrücklich noch stillschweigend, in Bezug auf die darin enthaltenen Informationen, deren Marktfähigkeit oder Eignung für einen bestimmten Verwendungsweck oder hinsichtlich ihrer Genauigkeit, Richtigkeit, Qualität, Vollständigkeit oder Aktualität. Die Crypto Broker AG schliesst jede Haftung und Verantwortlichkeit für die Verwendung der in der Publikation enthaltenen Informationen, auch durch Dritte, im Zusammenhang mit Handels- oder anderweitigen Aktivitäten aus und ebenso für allfällige Fehler oder Unvollständigkeiten, welche in dieser Publikation enthalten sind.

Risikohinweis
Anlagen und Investitionen, insbesondere in Kryptowährungen, sind grundsätzlich mit Risiko verbunden. Der Totalverlust des eingesetzten Kapitals kann nicht ausgeschlossen werden. Kryptowährungen sind sehr volatil und können daher in kurzer Zeit extremen Kursschwanken ausgesetzt sein. Eine Nutzung der Informationen aus dieser Publikation erfolgt ausschliesslich und einzig auf eigenes Risiko des Nutzers. Ein Nutzer sollte sich in jedem Fall vor einer Anlage- und Investitionsentscheidung über die damit verbundenen Risiken im Klaren sein und sich bei Bedarf geeignet beraten lassen.