Recurring market commentary on what's happening in the crypto markets, summarized by the Crypto Broker team at Crypto Finance AG.
Good Morning!
Bitcoin is up 10% since last Friday morning, and is now trading just above USD 23,000. ETH is lagging and only trading 2% higher; market participants still seem to be trying to figure out how to position themselves for the upcoming Shanghai upgrade. As a consequence, ETHBTC reached 0.0676 and is coming closer to the lows we saw last October. BTC dominance also continued its upward trend and increased one percentage point from 43.3% to 44.4%. This marks an impressive increase from the 1-year low we saw last September at 38.8%, especially considering all of the bad press proof-of-work was getting in the recent past.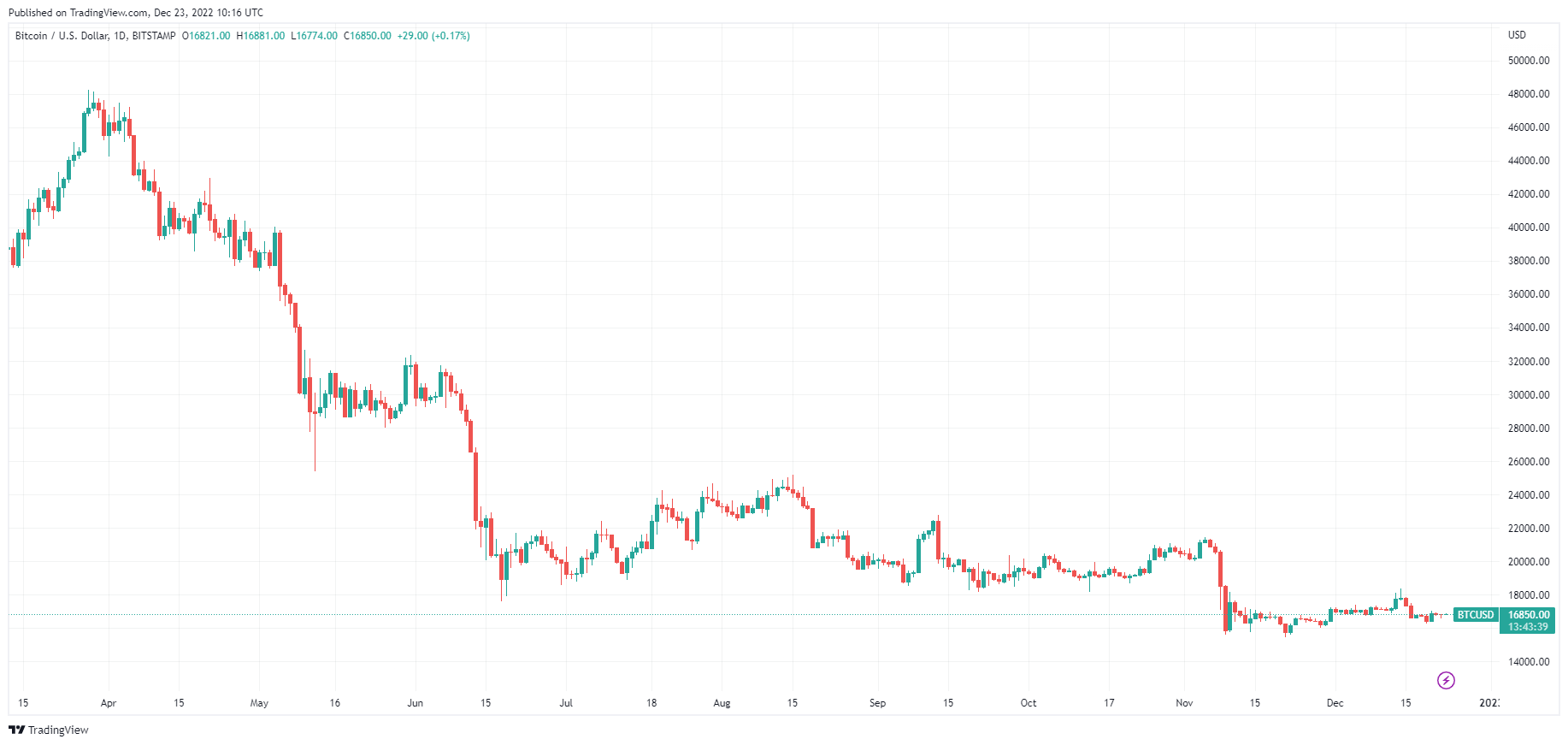 DYDX rallied a stunning 67% over the week on account of the news that the planned unlock of its token for investors will be delayed. Originally, an unlock of 150 million tokens, which would have doubled the current circulating supply, was planned for February 3rd. Under the new schedule, the unlock will now take place on December 1st. The announcement squeezed all short sellers who were betting on falling markets around the unlock out of the market.
Other developments
In other news, Coinbase was fined 3.3 million euros by the Dutch central bank for offering services in the Netherlands without obtaining registration. Certainly, Coinbase can afford the fine. Having said this, though, this is not the first fee: Coinbase just recently was fined USD 100 million in New York (half of the fine they were required to invest into their internal compliance). If this is just the beginning, and fines will become a part of "normal business" (much like in TradFi), it would be worrisome for many crypto institutions who often neglect proper compliance and governance.
Signature Bank seems to continue pulling back from their crypto business. Last weekend, Binance said that their banking partner will no longer be handling SWIFT transactions below USD 100k. Although it is not clear yet, this move might mark the beginning of Signature Bank pulling completely out of crypto. Unlike Silvergate, their crypto deposits only account for less than a quarter of total deposits, and their CEO already stated last December "we are not just a crypto bank".
Happy Trading!
---
Copyright © 2021 | Crypto Broker AG | All rights reserved.
All intellectual property, proprietary and other rights and interests in this publication and the subject matter hereof are owned by Crypto Broker AG including, without limitation, all registered design, copyright, trademark and service mark rights.

Disclaimer
This publication provided by Crypto Broker AG, a corporate entity registered under Swiss law, is published for information purposes only. This publication shall not constitute any investment  advice respectively does not constitute an offer, solicitation or recommendation to acquire or dispose of any investment or to engage in any other transaction. This publication is not intended for solicitation purposes but only for use as general information. All descriptions, examples and calculations contained in this publication are for illustrative purposes only. While reasonable care has been taken in the preparation of this publication to provide details that are accurate and not misleading at the time of publication, Crypto Broker AG (a) does not make any representations or warranties regarding the information contained herein, whether express or implied, including without limitation any implied warranty of merchantability or fitness for a particular purpose or any warranty with respect to the accuracy, correctness, quality, completeness or timeliness of such information, and (b) shall not be responsible or liable for any third party's use of any information contained herein under any circumstances, including, without limitation, in connection with actual trading or otherwise or for any errors or omissions contained in this publication.

Risk disclosure
Investments in virtual currencies are high-risk investments with the risk of total loss of the investment and you should not invest in virtual currencies unless you understand and can bear the risks involved with such investments. No information provided in this publication shall constitute investment advice. Crypto Broker AG excludes its liability for any losses arising from the use of, or reliance on, information provided in this publication.