Recurring market commentary on what's happening in the crypto markets, summarized by the Crypto Broker team at Crypto Finance AG.
Good Morning!
Bitcoin (BTC) is currently trading at around $16.4k (-1.44% in 7 days) while Ethereum (ETH) is sitting at $1.17k (-1.68% in 7 days). The Ethereum vs. Bitcoin ratio (ETH/BTC) is trading at the 0.0716 mark (-0.29% in 7 days).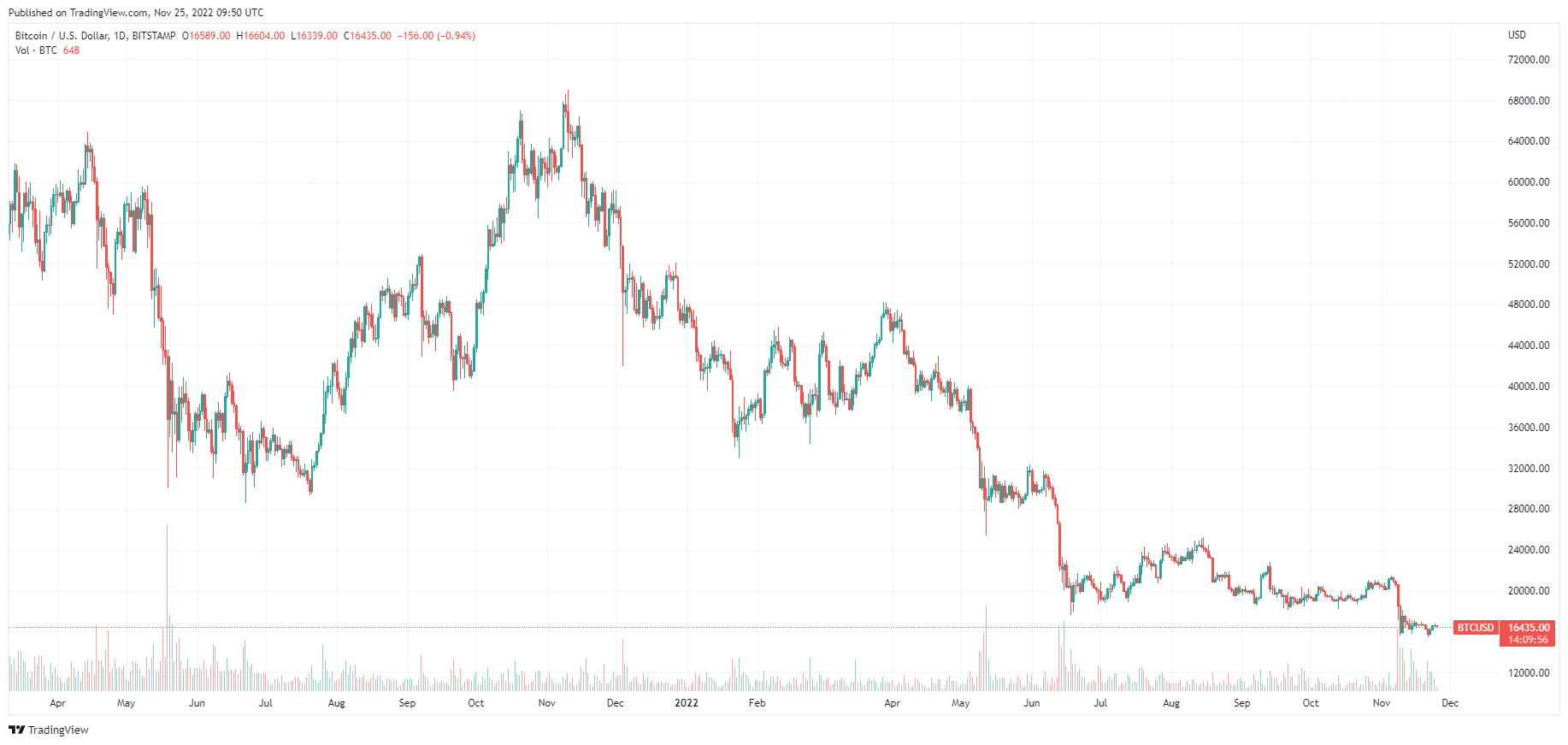 Aside from the continued Grayscale and Genesis uncertainties, the FTX hacker was in the spotlight this week. The hacker, who shortly after the Chapter 11 filing withdrew around 245k ETH from the exchange wallet, started selling on Sunday. They first sold 65k ETH, and bought renBTC, a bridged version of BTC. ETH dropped by 10% over the course of two days. They then transferred the remaining 180k ETH to 12 newly created wallets. In order to profit from this trade, we could imagine that the hacker opened short positions on a centralised exchange before selling ETH, and causing hysteria across the market.
Stress test for DeFi platforms
Furthermore, this week we saw a "known" trader test DeFi and its users. Whether intentional or not, Crypto Twitter assumed he was attempting to liquidate a 110m CRV collateral position at $0.24 on Aave. According to on-chain data, he borrowed 92m CRV tokens and sold them on OKEx. The large CRV position was not liquidated as the price dropped 25% to $0.4. Subsequently it exploded +85% in eight hours. Similarly to the FTX hacker, we can make some assumptions about how the trader capitalised on this play.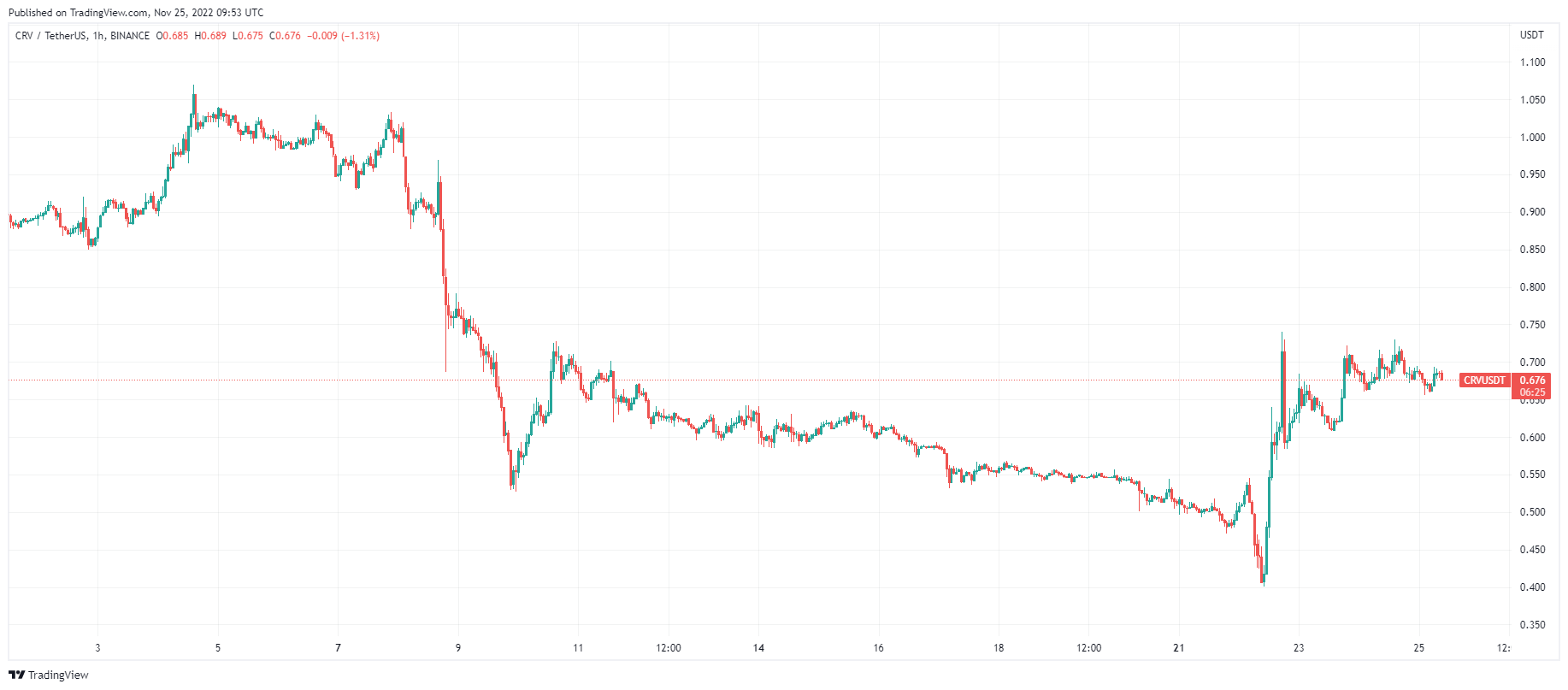 Once the trader was done borrowing and selling curve, he flipped long through perpetuals on centralised exchanges, let his borrowed CRV positions be liquidated, which resulted in the Aave liquidation engine buying back CRV with his collateral, causing a short squeeze. Unfortunately, Aave was not able to cover the entire position, leaving them with around $1.6m in bad debt. This is a cause for concern, as this is likely possible with many other lower volume currencies on various lending and borrowing platforms. A proposal was already put forth to reduce the liquidation threshold for Aave.
Happy Trading!
---
Copyright © 2021 | Crypto Broker AG | All rights reserved.
All intellectual property, proprietary and other rights and interests in this publication and the subject matter hereof are owned by Crypto Broker AG including, without limitation, all registered design, copyright, trademark and service mark rights.

Disclaimer
This publication provided by Crypto Broker AG, a corporate entity registered under Swiss law, is published for information purposes only. This publication shall not constitute any investment  advice respectively does not constitute an offer, solicitation or recommendation to acquire or dispose of any investment or to engage in any other transaction. This publication is not intended for solicitation purposes but only for use as general information. All descriptions, examples and calculations contained in this publication are for illustrative purposes only. While reasonable care has been taken in the preparation of this publication to provide details that are accurate and not misleading at the time of publication, Crypto Broker AG (a) does not make any representations or warranties regarding the information contained herein, whether express or implied, including without limitation any implied warranty of merchantability or fitness for a particular purpose or any warranty with respect to the accuracy, correctness, quality, completeness or timeliness of such information, and (b) shall not be responsible or liable for any third party's use of any information contained herein under any circumstances, including, without limitation, in connection with actual trading or otherwise or for any errors or omissions contained in this publication.

Risk disclosure
Investments in virtual currencies are high-risk investments with the risk of total loss of the investment and you should not invest in virtual currencies unless you understand and can bear the risks involved with such investments. No information provided in this publication shall constitute investment advice. Crypto Broker AG excludes its liability for any losses arising from the use of, or reliance on, information provided in this publication.