Recurring market commentary on what's happening in the crypto markets, summarized by the Crypto Broker team at Crypto Finance AG.
Good morning!
At the moment, Bitcoin (BTC) is trading at $29.4k (-3.58% in 7 days), Ethereum (ETH) is trading at $1.98k (-5.2% in 7 days), and the spread ETH/BTC is trading at 0.0675 (-1.67% in 7 days).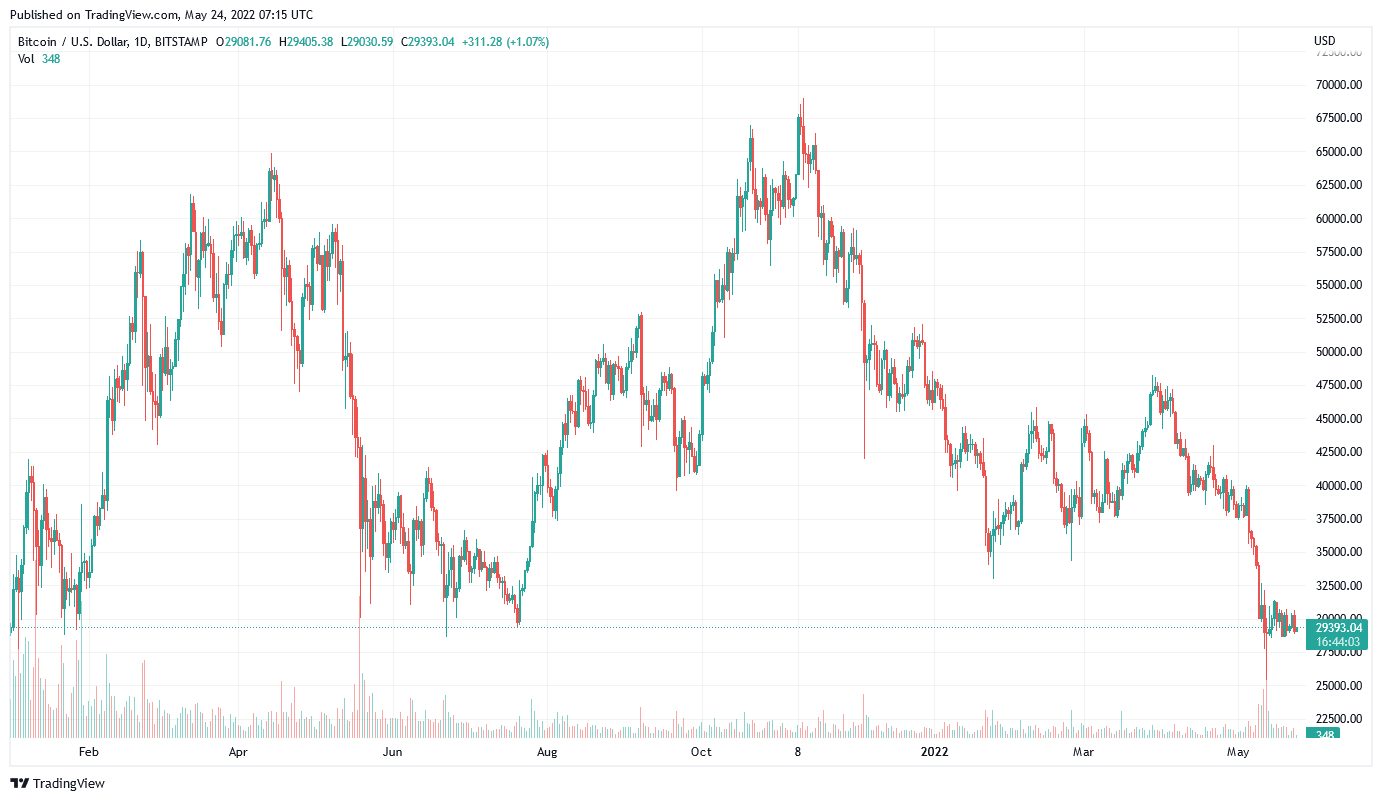 The week was marked by choppy price actions as the market re-assessed risk and position imbalances. There were some fireworks here and there, which were mainly driven by rumours/news, and some tokens bounced back (notably: $FTM +23%, $LRC +14%). Looking ahead with the two major US events will occur this week:
PMI data on Wednesday
PCE inflation data on Friday
USD demand increases due to high inflation rates
The market is seeing higher inflation numbers, which coupled with negative – or near zero – interest rates on safe heaven currencies (e.g. CHF) is causing the demand for USD to increase. The USD Currency Index (DXY) went from 96 on January 2022 to 104 on May 14. It is now at 102 and if it takes a greater pullback, crypto will benefit as well. I still think that real inflation numbers are way worse from the ones of the CPI. I believe that the interest rate market is largely underestimating the real impact of tighter monetary policies. We could therefore see the 10y US Gov Yield well above 3%.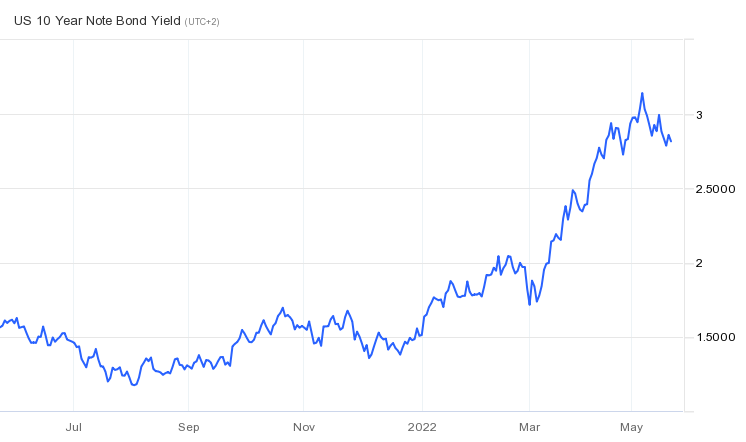 Bitcoin analysis
On the BTC spot side the spot has been range bound, but as realised vol dropped. The BTC market cap dominance went from 40% on January 1, 2022 to 44.78% as of writing. As the price action is not clear yet, volumes dropped as traders are opting to watch events decouple. Looking at the Volume Profile (VPVR):
Supports: $30k and $20K
Resistance: $35k
While on the derivatives side futures trading is unchanged WoW and the vol space has moved in an interesting way. As the BTC spot price seems to be unable to hold $30k, the ATM IV term structure is currently flat and trading at 70% IV. The market is too well protected for downside risk, and I really think that traders are now overpaying for low strike puts as the 3-month 25 delta skew is still trading at 15%. In my mind, being bullish in the medium-term makes it reasonable to sell OTM put, profiting from a lower skew while accumulating a bit. Looking at the open interest profile outside of the put calendar spread, the short-term strikes sold at $25k and $26k. This has led me to believe that market makers have a positive gamma. And this means we could find a major support here.
Happy Trading!
---
Copyright © 2021 | Crypto Broker AG | All rights reserved.
All intellectual property, proprietary and other rights and interests in this publication and the subject matter hereof are owned by Crypto Broker AG including, without limitation, all registered design, copyright, trademark and service mark rights.

Disclaimer
This publication provided by Crypto Broker AG, a corporate entity registered under Swiss law, is published for information purposes only. This publication shall not constitute any investment  advice respectively does not constitute an offer, solicitation or recommendation to acquire or dispose of any investment or to engage in any other transaction. This publication is not intended for solicitation purposes but only for use as general information. All descriptions, examples and calculations contained in this publication are for illustrative purposes only. While reasonable care has been taken in the preparation of this publication to provide details that are accurate and not misleading at the time of publication, Crypto Broker AG (a) does not make any representations or warranties regarding the information contained herein, whether express or implied, including without limitation any implied warranty of merchantability or fitness for a particular purpose or any warranty with respect to the accuracy, correctness, quality, completeness or timeliness of such information, and (b) shall not be responsible or liable for any third party's use of any information contained herein under any circumstances, including, without limitation, in connection with actual trading or otherwise or for any errors or omissions contained in this publication.

Risk disclosure
Investments in virtual currencies are high-risk investments with the risk of total loss of the investment and you should not invest in virtual currencies unless you understand and can bear the risks involved with such investments. No information provided in this publication shall constitute investment advice. Crypto Broker AG excludes its liability for any losses arising from the use of, or reliance on, information provided in this publication.