Recurring market commentary on what's happening in the crypto markets, summarized by the Crypto Broker team at Crypto Finance AG.
Good morning!
At the moment, Bitcoin (BTC) is trading at $30.3k (-2.29% in 7 days), Ethereum (ETH) is trading at $2.07k (-11.58% in 7 days), and the spread ETH/BTC is trading at 0.0683 (-9.53% in 7 days).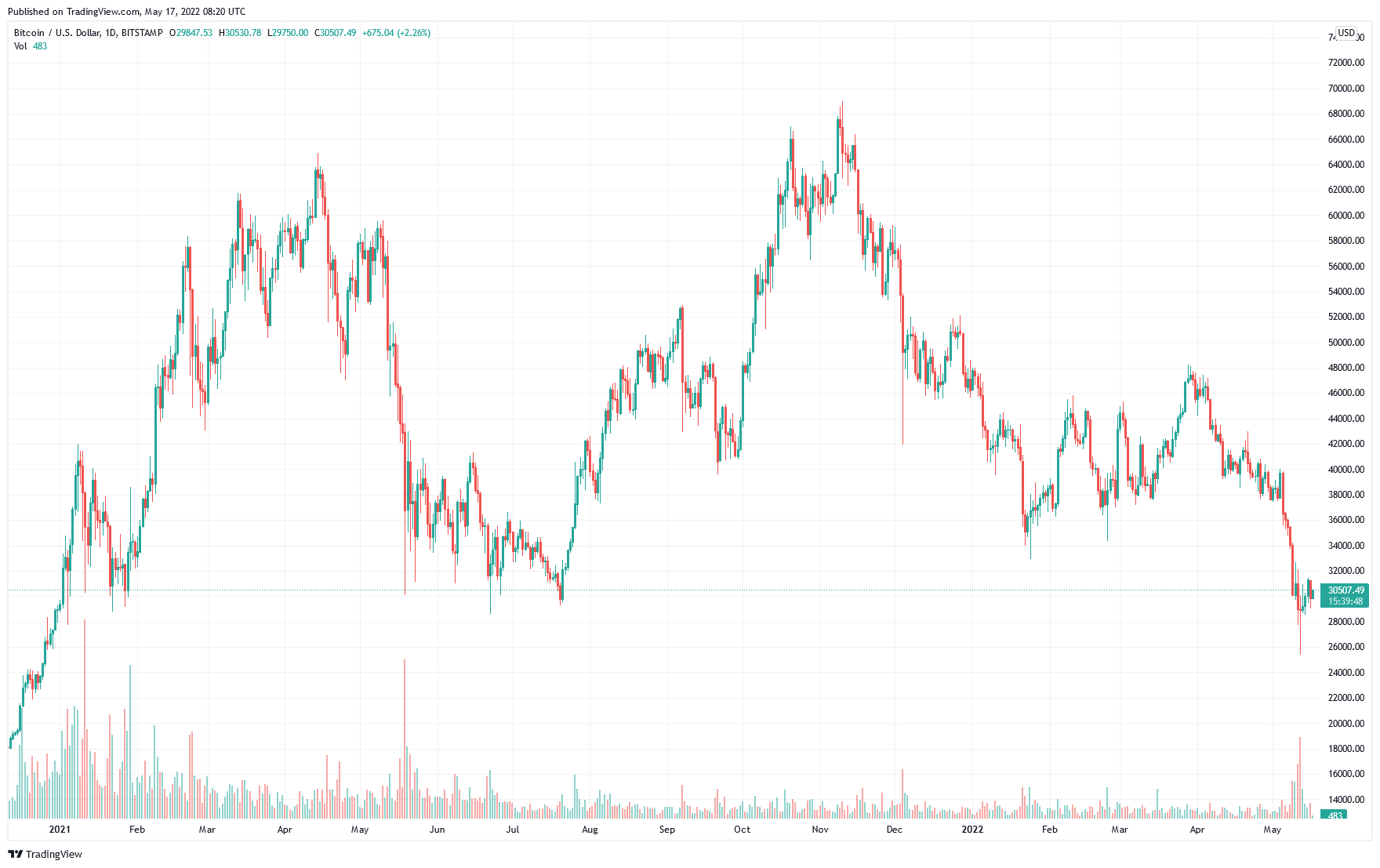 While BTC seems to have found a strong support on the $30K level, a major rotation in all the other digital coins is still ongoing. If macro keeps being hostile and the ETH merge does not materialise, we are going to see greater BTC dominance as ETH is likely to bounce back.
Bitcoin technical analysis
On the futures side despite the spot sell-off, the BTC Basis is holding particularly well, with the 3m basis on CME trading at a 2.07% premium. Excluding ETH, GRT, AAVE, and DOGE, all the other futures traded on FTX are now in backwardation. Should things get even worse, carry trades will be out of the game. Looking at the VPVR:
Support: $30k (indicative)
Resistance: $35k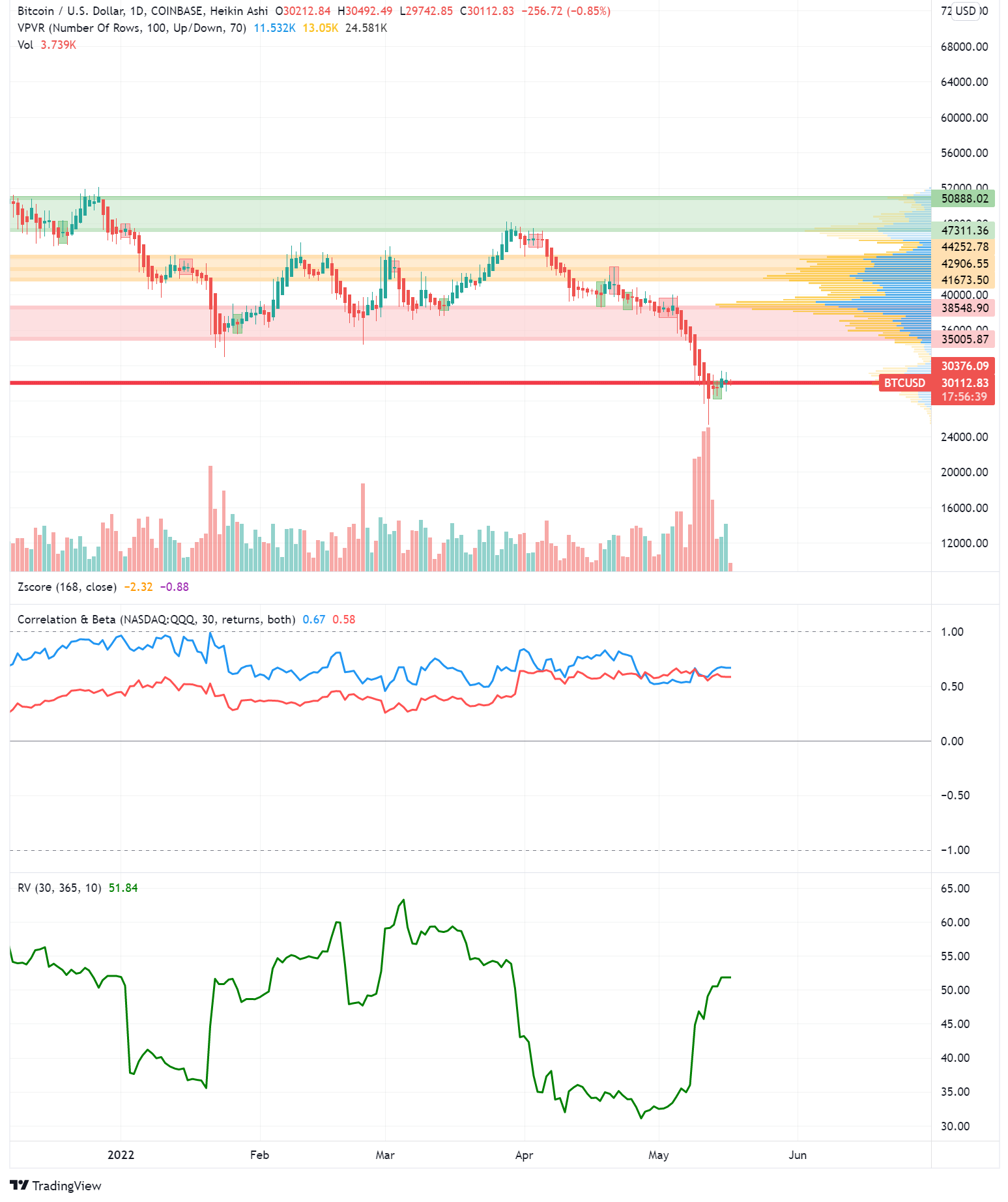 Important to note is that as USDT decoupled on May 12, the funding rates on Binance and FTX flipped, as traders were getting long leveraged positions on BTC-PERP within FTX and short positions within Binance. This strategy left traders long USDT/USD to bet on the USDT re-peg, leveraging the positions with low funding and borrowing costs and greater liquidity and scalability.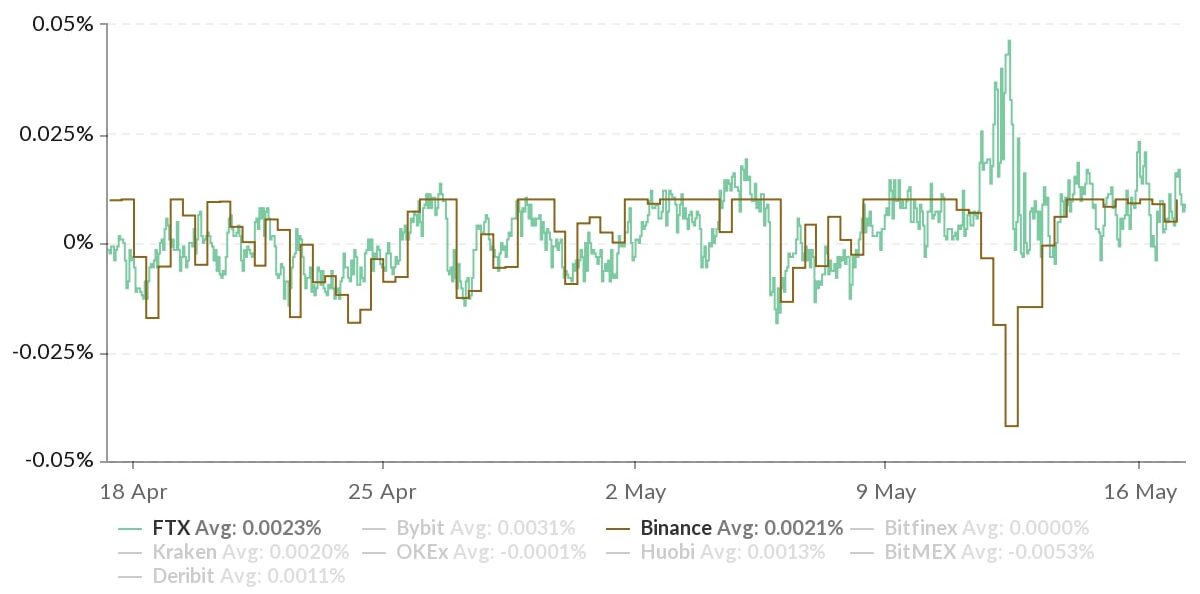 Vol spikes during sell-off
On the options side I have been calling for long vol strategies for a month now, but I was not expecting something like this. BTC 3m ATM IV went from 56% to 100%, and the 3m skew went from 9% to 20%. The BTC ATM IV term structure is still inverted with short-term maturities trading at 77+ IV and the long-term ones slightly above 70%.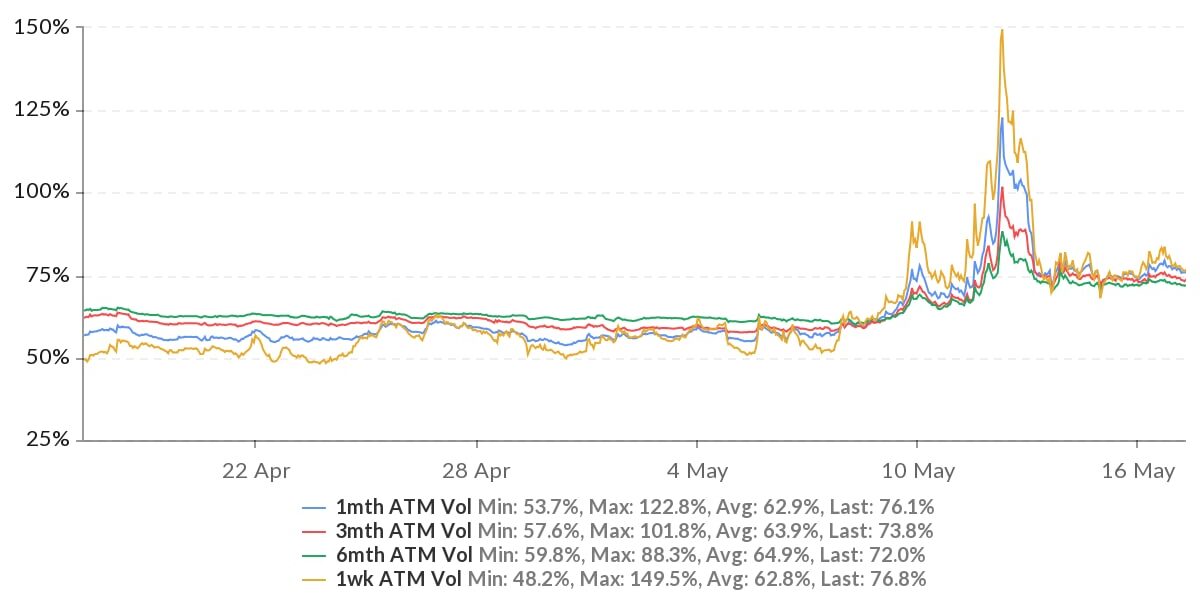 As most of the long vol positions outperformed, most of the traders unwinged their positions, and the market is now normalising. As spot prices have likely bottomed (at least in the short term), volatility has likely peaked. It is therefore time to short vol and let the term structure revert again.
Happy Trading!
---
Copyright © 2021 | Crypto Broker AG | All rights reserved.
All intellectual property, proprietary and other rights and interests in this publication and the subject matter hereof are owned by Crypto Broker AG including, without limitation, all registered design, copyright, trademark and service mark rights.

Disclaimer
This publication provided by Crypto Broker AG, a corporate entity registered under Swiss law, is published for information purposes only. This publication shall not constitute any investment  advice respectively does not constitute an offer, solicitation or recommendation to acquire or dispose of any investment or to engage in any other transaction. This publication is not intended for solicitation purposes but only for use as general information. All descriptions, examples and calculations contained in this publication are for illustrative purposes only. While reasonable care has been taken in the preparation of this publication to provide details that are accurate and not misleading at the time of publication, Crypto Broker AG (a) does not make any representations or warranties regarding the information contained herein, whether express or implied, including without limitation any implied warranty of merchantability or fitness for a particular purpose or any warranty with respect to the accuracy, correctness, quality, completeness or timeliness of such information, and (b) shall not be responsible or liable for any third party's use of any information contained herein under any circumstances, including, without limitation, in connection with actual trading or otherwise or for any errors or omissions contained in this publication.

Risk disclosure
Investments in virtual currencies are high-risk investments with the risk of total loss of the investment and you should not invest in virtual currencies unless you understand and can bear the risks involved with such investments. No information provided in this publication shall constitute investment advice. Crypto Broker AG excludes its liability for any losses arising from the use of, or reliance on, information provided in this publication.