Recurring market commentary on what's happening in the crypto markets, summarized by the Crypto Broker team at Crypto Finance AG.
Good Morning!
Switzerland is making progress in the central bank digital currency (CBDC) space. First off, I would like to provide some background information about the CBDC project – just to make sure that the scope and purpose are clear to everyone.
Central Bank Digital Currencies (CBDCs)
For all of you who follow my market commentaries, you might recall that I have written a few reports on the Chinese CBDC project. That project operates according to a three-circle framework. The first circle is on a central bank level. The second one is between the central bank and the commercial banks (wholesale CBDC). And the last circle is between commercial banks and their customers (the citizens of China).
The Swiss National Bank project is about wCBDC (wholesale CBDC). It is comparable to the second circle of the Chinese project. What makes it different (and more progressive) than the Chinese project is the inclusion of both domestic Swiss banks and foreign banks (e.g. Goldman Sachs and Citibank).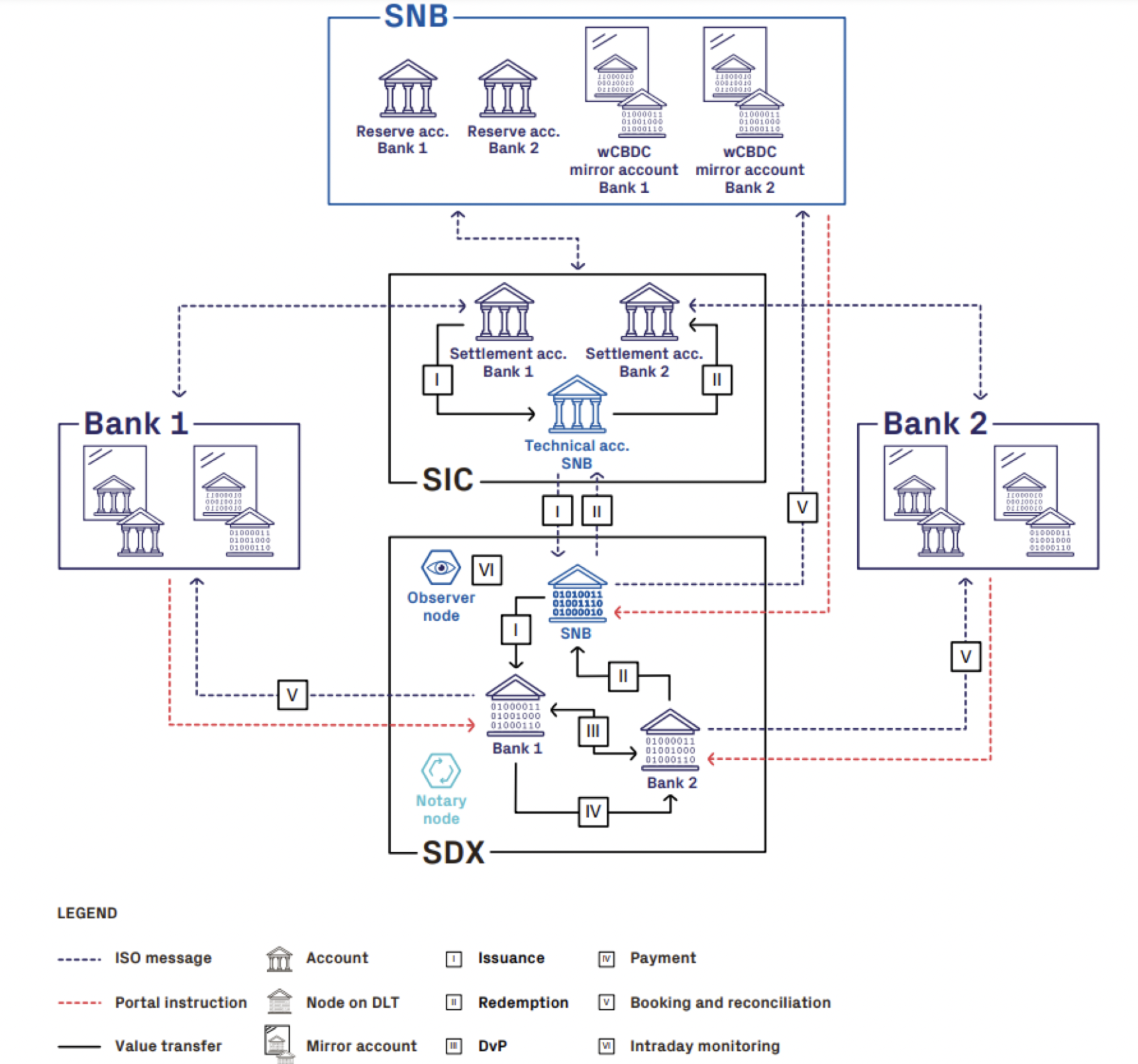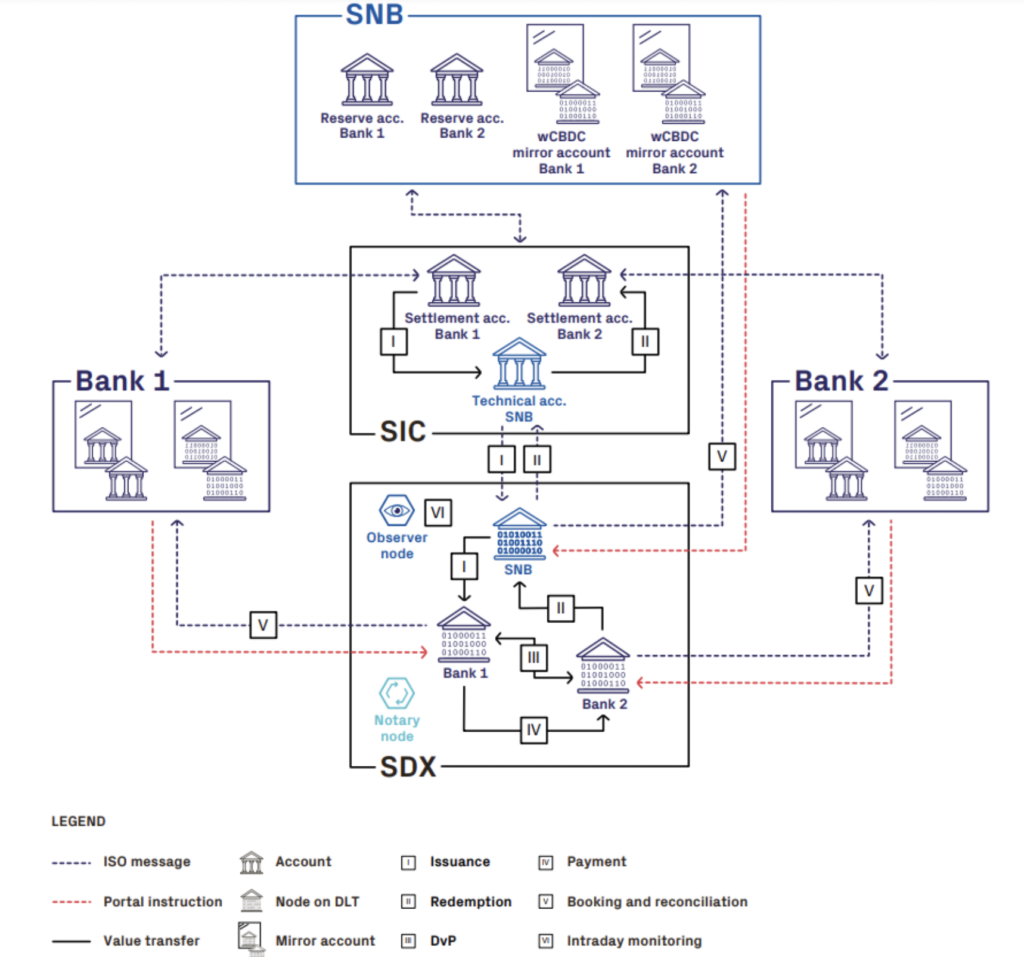 Monetary policies and their frameworks – in combination with the underlying infrastructure – is not something the normal citizen is very knowledgeable about. This applies to both the current system in the traditional markets and even less for the upcoming DLT framework and infrastructure. However, many people do seem to have some deeper knowledge on how DLT (blockchain) technology works, which means that they will not struggle as much in understanding the content that the Swiss National Bank posted a few days ago.
Crypto and CBDCs
I would also like to reiterate one important point: CBDCs and their use cases have nothing to do with permissionless, decentralised crypto assets. However, they do share some of the same infrastructure components, and certain concepts also show similarities. I am of the firm belief that when CBDCs become mainstream, and the financial market infrastructure has adapted to them, the traditional financial market asset universe will start moving closer to the crypto asset universe.
Have a good week!
---
Copyright © 2021 | Crypto Broker AG | All rights reserved.
All intellectual property, proprietary and other rights and interests in this publication and the subject matter hereof are owned by Crypto Broker AG including, without limitation, all registered design, copyright, trademark and service mark rights.

Disclaimer
This publication provided by Crypto Broker AG, a corporate entity registered under Swiss law, is published for information purposes only. This publication shall not constitute any investment  advice respectively does not constitute an offer, solicitation or recommendation to acquire or dispose of any investment or to engage in any other transaction. This publication is not intended for solicitation purposes but only for use as general information. All descriptions, examples and calculations contained in this publication are for illustrative purposes only. While reasonable care has been taken in the preparation of this publication to provide details that are accurate and not misleading at the time of publication, Crypto Broker AG (a) does not make any representations or warranties regarding the information contained herein, whether express or implied, including without limitation any implied warranty of merchantability or fitness for a particular purpose or any warranty with respect to the accuracy, correctness, quality, completeness or timeliness of such information, and (b) shall not be responsible or liable for any third party's use of any information contained herein under any circumstances, including, without limitation, in connection with actual trading or otherwise or for any errors or omissions contained in this publication.

Risk disclosure
Investments in virtual currencies are high-risk investments with the risk of total loss of the investment and you should not invest in virtual currencies unless you understand and can bear the risks involved with such investments. No information provided in this publication shall constitute investment advice. Crypto Broker AG excludes its liability for any losses arising from the use of, or reliance on, information provided in this publication.