Recurring market commentary on what's happening in the crypto markets, summarized by the Crypto Broker team at Crypto Finance AG.
Good morning!
Last week's lower than expected CPI and PPI numbers helped momentum remain high both in crypto and traditional finance, while volatility and cross-asset correlation continue their meltdown.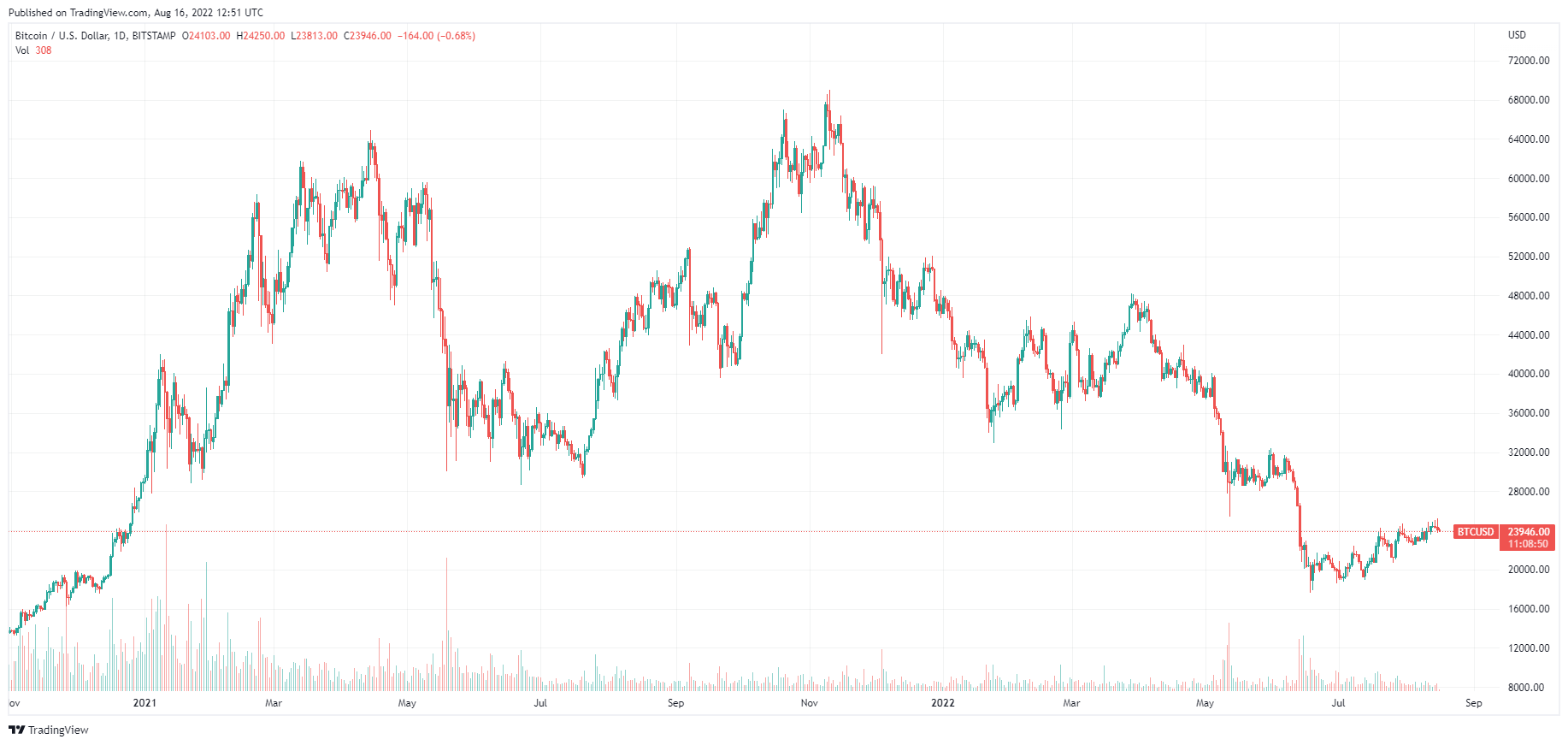 Risk-on at traditional markets
Looking at traditional markets on the macro side, risk-on momentum continues despite economical concerns and geopolitical tensions. In my view, the next key events thar need to be "solved" are the China recession and the relations between China and Taiwan.
The People's Bank of China (PBoC) cut key rates to stimulate the economy as most of the economic figures are negative. I do not expect domestic demand (borrowing) nor exports to increase that much given the current economical concerns and relations with the West. I would rather say that China's economic slowdown is consistent with longer-term trends of GDP, and there are few reasons to start panicking.
More important is the tension between China and Taiwan. For the most advanced semiconductors, Taiwan accounts for 92 percent of production (92%!!), according to a report by Boston Consulting. Chips are literally everywhere, and sanctions/shortages over these products will likely halt the economy in general and even more so in the crypto space – given the high dependence on miners and their graphic cards. While it is hard to quantify the price impact, it will surely slow down mining activities as well as efficiency.
Momentum staying high
Digital assets are lagging traditional markets as 30-days correlation between Bitcoin (BTC) and Nasdaq melt down to 0.44. Realised volatility remains low (30-day realised vol: 53.94%), and I see no reason for a spike. RSI is breaching the overbought territory, which means that a short-term correction is feasible.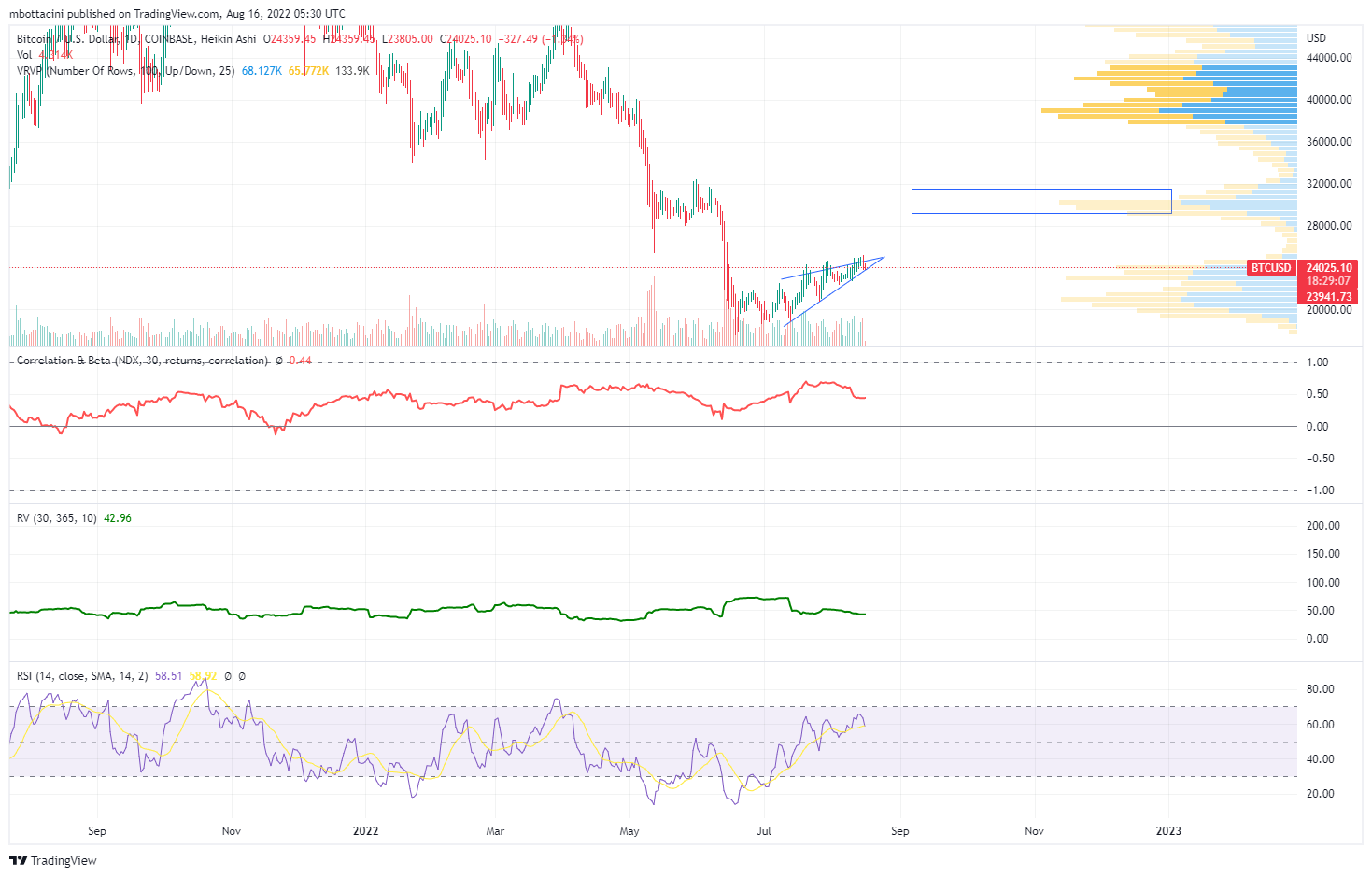 BTC is testing the upside triangle; a break above the $25k resistance may pave the way for BTC to reach $30k before mid-September. The VPVR between $25k and $30k is almost nothing.
ETH keeps outperforming
The price action is in-line with the Elliot Triangle Wave (ABCDE in the figure) and the upside triangle. Ethereum (ETH) momentum is staying high and driving up the L2s and crypto in general. $2.3k is my current price target if it breaks the $2k resistance. At the moment, I am in the "buy the rumours, sell the news" mode, and I am likely going to take profit/closing my position into the merge event as a "worse than expected" PoS scenario is very likely.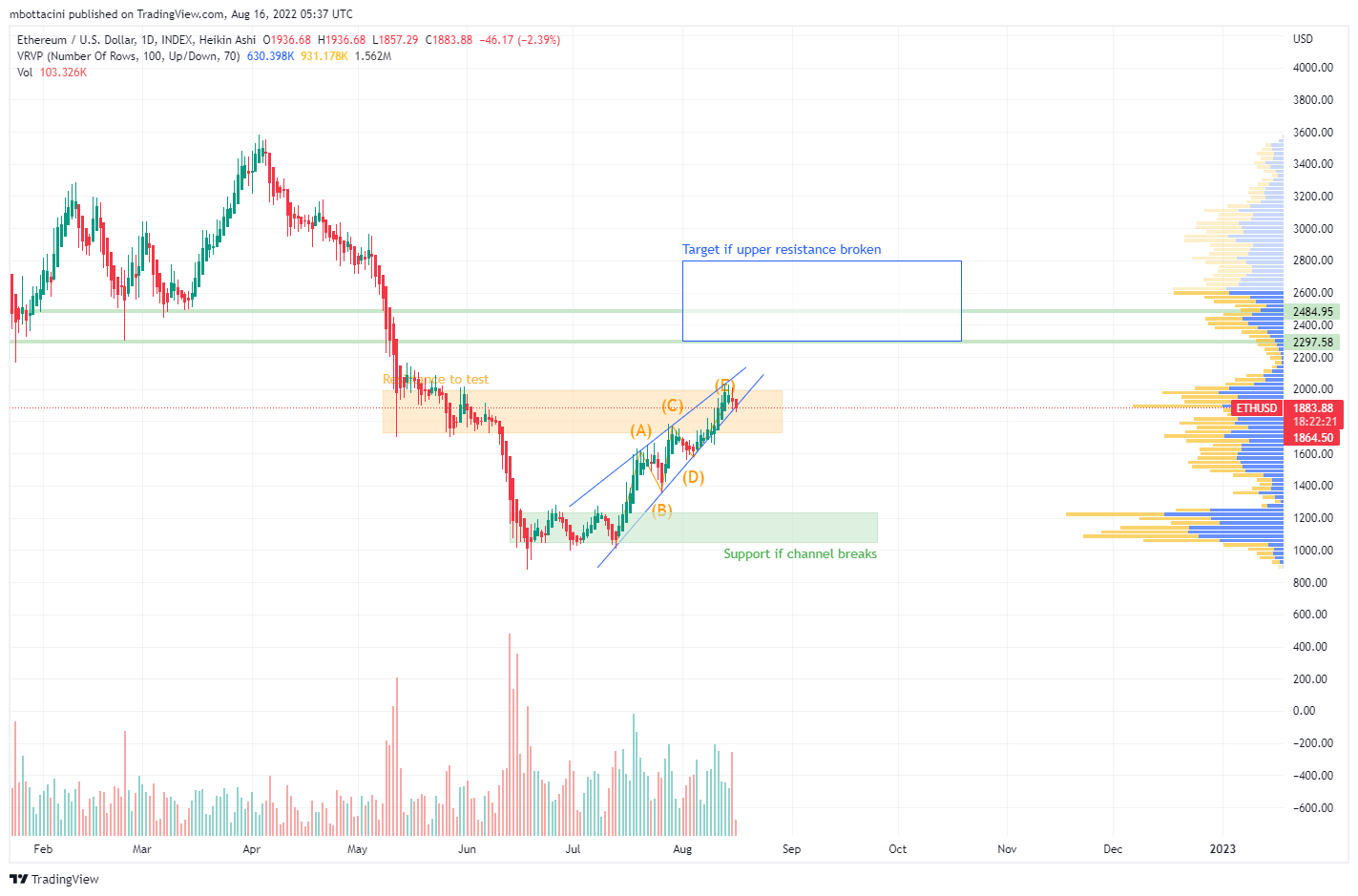 ETH/BTC is trading at 0.078, and I see the new spread trading above 0.085 soon. The derivatives market keeps pricing a higher ETH and a lower BTC, and I keep feeling comfortable in taking on more risk in high betas (SOL, MATIC, MIDs, etc.) now going into the merge.
Happy Trading!
---
Copyright © 2021 | Crypto Broker AG | All rights reserved.
All intellectual property, proprietary and other rights and interests in this publication and the subject matter hereof are owned by Crypto Broker AG including, without limitation, all registered design, copyright, trademark and service mark rights.

Disclaimer
This publication provided by Crypto Broker AG, a corporate entity registered under Swiss law, is published for information purposes only. This publication shall not constitute any investment  advice respectively does not constitute an offer, solicitation or recommendation to acquire or dispose of any investment or to engage in any other transaction. This publication is not intended for solicitation purposes but only for use as general information. All descriptions, examples and calculations contained in this publication are for illustrative purposes only. While reasonable care has been taken in the preparation of this publication to provide details that are accurate and not misleading at the time of publication, Crypto Broker AG (a) does not make any representations or warranties regarding the information contained herein, whether express or implied, including without limitation any implied warranty of merchantability or fitness for a particular purpose or any warranty with respect to the accuracy, correctness, quality, completeness or timeliness of such information, and (b) shall not be responsible or liable for any third party's use of any information contained herein under any circumstances, including, without limitation, in connection with actual trading or otherwise or for any errors or omissions contained in this publication.

Risk disclosure
Investments in virtual currencies are high-risk investments with the risk of total loss of the investment and you should not invest in virtual currencies unless you understand and can bear the risks involved with such investments. No information provided in this publication shall constitute investment advice. Crypto Broker AG excludes its liability for any losses arising from the use of, or reliance on, information provided in this publication.