Recurring market commentary on what's happening in the crypto markets, summarized by the Crypto Broker team at Crypto Finance AG.
Market commentary
Good Morning!
Another regulatory storm shook the crypto market last week, as if the crypto space was not under constant regulatory pressure already. The overall market calmed down for a short period over the weekend, and some altcoins (e.g. ATOM and XTZ) continued their slow recovery from last week's lows. Bitcoin (BTC) is trading in the last range between $44'000 and $52'000 again, not so far away from the important $40'000 support mark.
Bitcoin BTC (daily)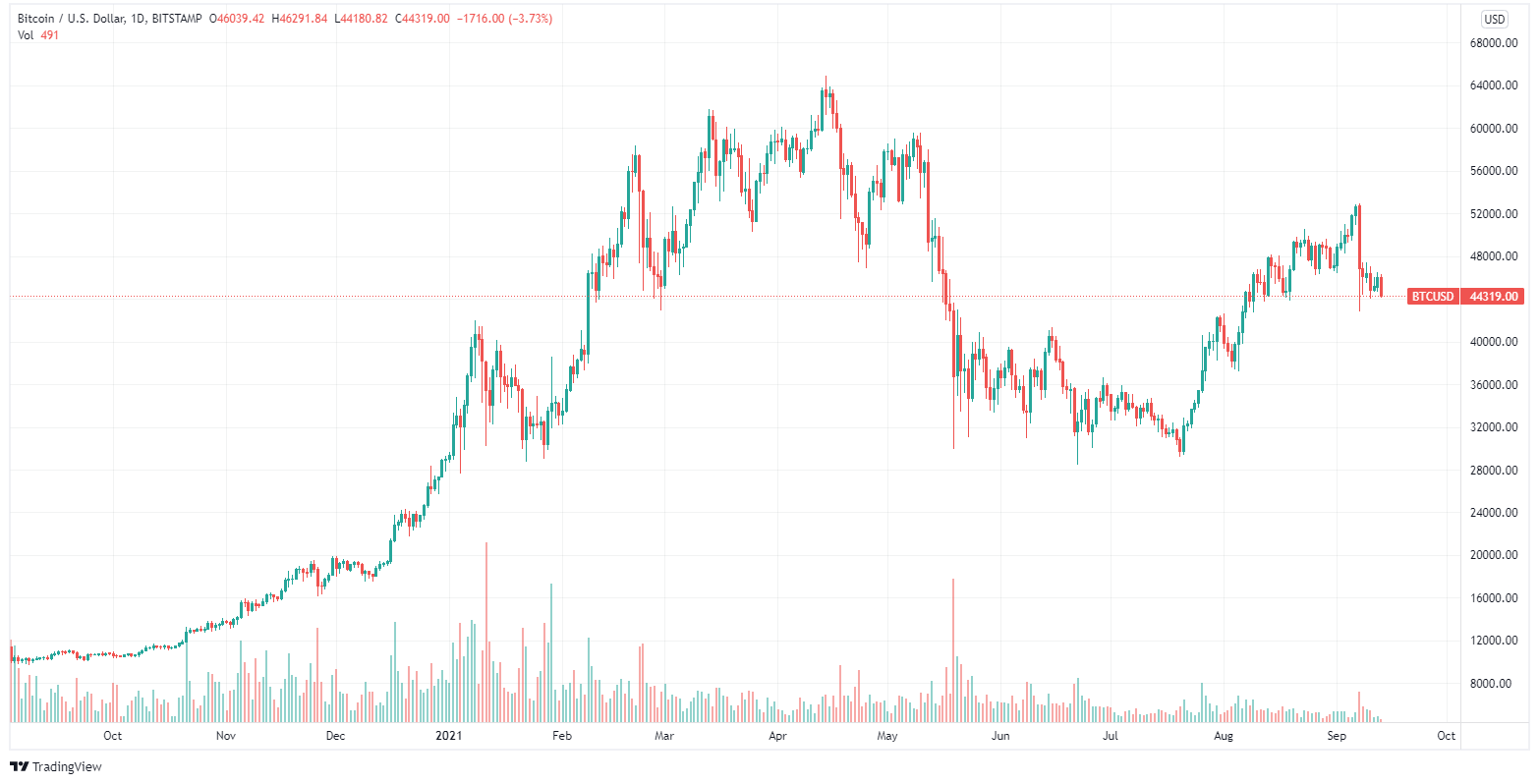 Ethereum (ETH) seems to have stronger support between $3'000 and $3'200, and short-term resistance at $4'000.
Ethereum ETH (daily)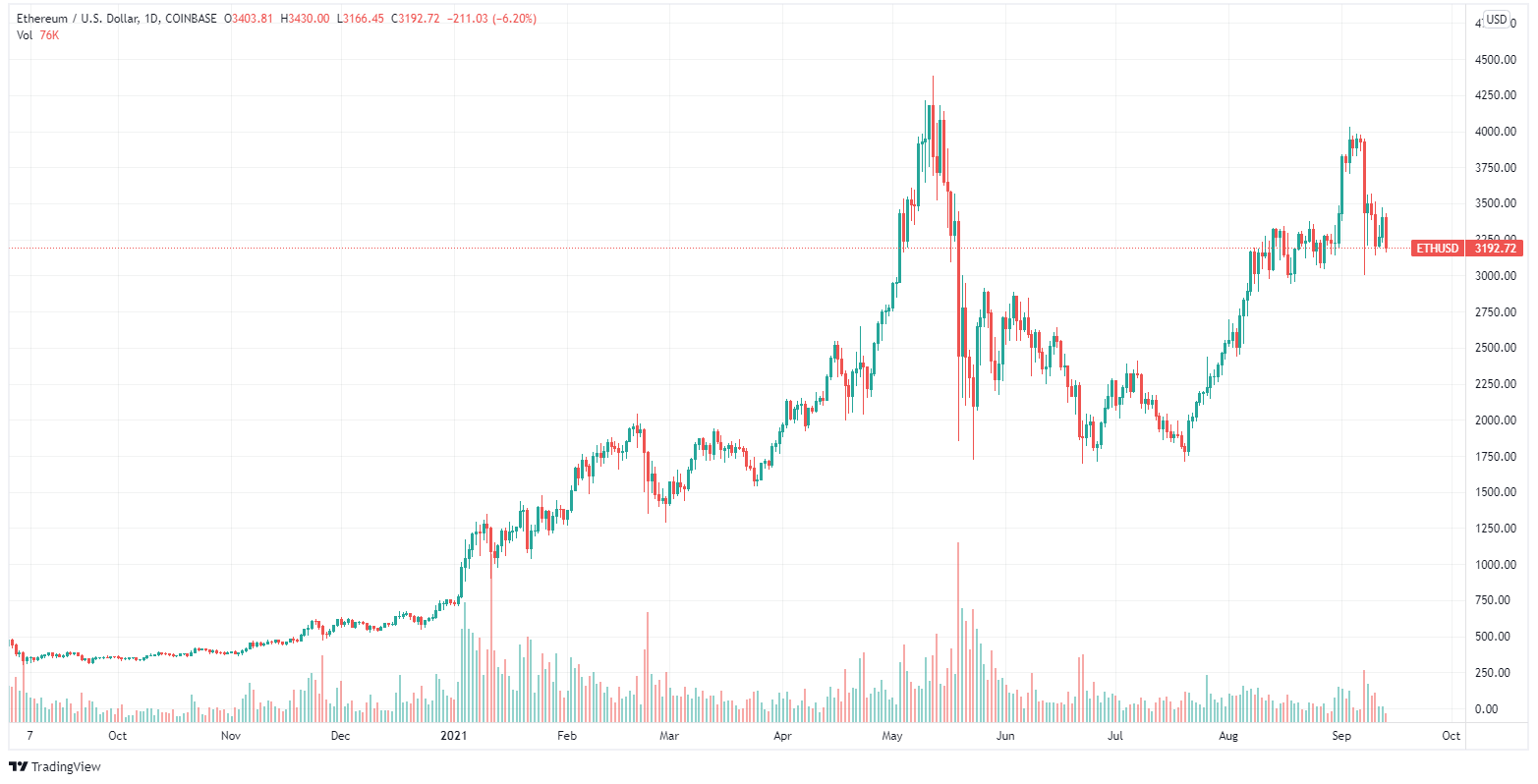 The spread between ETH and BTC also recovered and is currently trading at around 0.073.
Ethereum/Bitcoin ETHBTC (daily)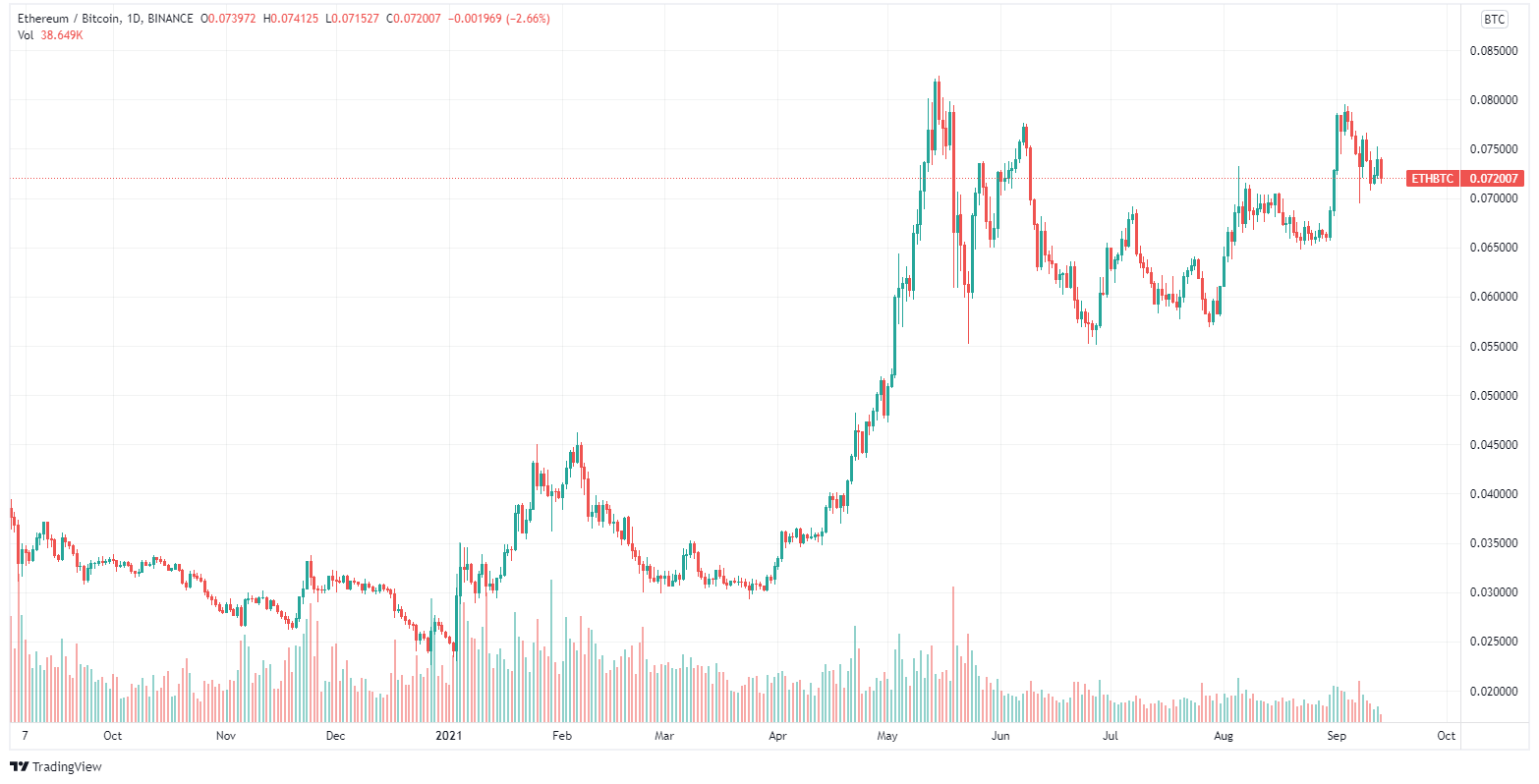 The derivatives premium has actually not changed a great deal and is still trading within a healthy (and not too overly stretched) region. One should not forget the quarterly upcoming September derivatives expiry, expecting a massive 4bn USD worth of options set to expire on Deribit soon. Prior to the sell-off, which we saw last week, will most likely be a rich derivatives premium in perpetual and term futures, as well as high spiking short-term volatility, which was not exactly the case this time. Anyway… as crypto in general has been seeing increased adoption over the last couple of months, speculative and investment money has also entered the market in great volume, and, therefore has automatically become more liquid on a daily basis.
Excesses in derivatives premiums seem to belong to the history as more professionals play the arbitrage game between the spot and any kind of futures or synthetic forwards. To see insane premiums and even discounts again will definitively require a more distracted market. Maybe a general financial short-term collapse/sell-off will cause a chaotic situation as we saw on numerous occasions until 2020. Crypto has definitively grown up and the margin pressure keeps on ongoing.
Institutions getting more involved
Europe's largest futures and options exchange, EUREX, announced to launch and list Bitcoin ETN Futures starting on September 13th (today). The futures contract is based on ETC Group's BTCetc, which is listed on the Frankfurt Stock Exchange and has been one of the most heavily traded ETF/ETN contracts on the German exchange, Deutsche Börse XETRA, since its launch in June 2020. The new futures contract will be traded in euro, and physically delivered in BTCE, which is fully backed by bitcoin and investors can redeem it for the underlying bitcoin.
More and more traditional financial global banks are getting involved in crypto as the rapidly growing institutional interest in digital assets has become unstoppable. Standard Chartered initiated a research report covering crypto assets.
See their investment guides for Bitcoin & Ethereum here:
Happy Trading!
---
Copyright © 2021 | Crypto Broker AG | All rights reserved.
All intellectual property, proprietary and other rights and interests in this publication and the subject matter hereof are owned by Crypto Broker AG including, without limitation, all registered design, copyright, trademark and service mark rights.
Disclaimer
This publication provided by Crypto Broker AG, a corporate entity registered under Swiss law, is published for information purposes only. This publication shall not constitute any investment  advice respectively does not constitute an offer, solicitation or recommendation to acquire or dispose of any investment or to engage in any other transaction. This publication is not intended for solicitation purposes but only for use as general information. All descriptions, examples and calculations contained in this publication are for illustrative purposes only. While reasonable care has been taken in the preparation of this publication to provide details that are accurate and not misleading at the time of publication, Crypto Broker AG (a) does not make any representations or warranties regarding the information contained herein, whether express or implied, including without limitation any implied warranty of merchantability or fitness for a particular purpose or any warranty with respect to the accuracy, correctness, quality, completeness or timeliness of such information, and (b) shall not be responsible or liable for any third party's use of any information contained herein under any circumstances, including, without limitation, in connection with actual trading or otherwise or for any errors or omissions contained in this publication.
Risk disclosure
Investments in virtual currencies are high-risk investments with the risk of total loss of the investment and you should not invest in virtual currencies unless you understand and can bear the risks involved with such investments. No information provided in this publication shall constitute investment advice. Crypto Broker AG excludes its liability for any losses arising from the use of, or reliance on, information provided in this publication.