Recurring market commentary on what's happening in the crypto markets, summarized by the Crypto Broker team at Crypto Finance AG.
Good Morning!
At the moment, Bitcoin (BTC) is trading at $31,486 (-16.48% in 7 days), Ethereum (ETH) is trading at $2,379 (-14.5% in 7 days), and the spread ETH/BTC is trading at 0.07539 (+2.27% in 7 days). Also to be considered: Solana (SOL) is trading at $69.57 (-18.98% in 7 days), and Terra (LUNA) is trading at $30.55 (-64.22% in 7 days).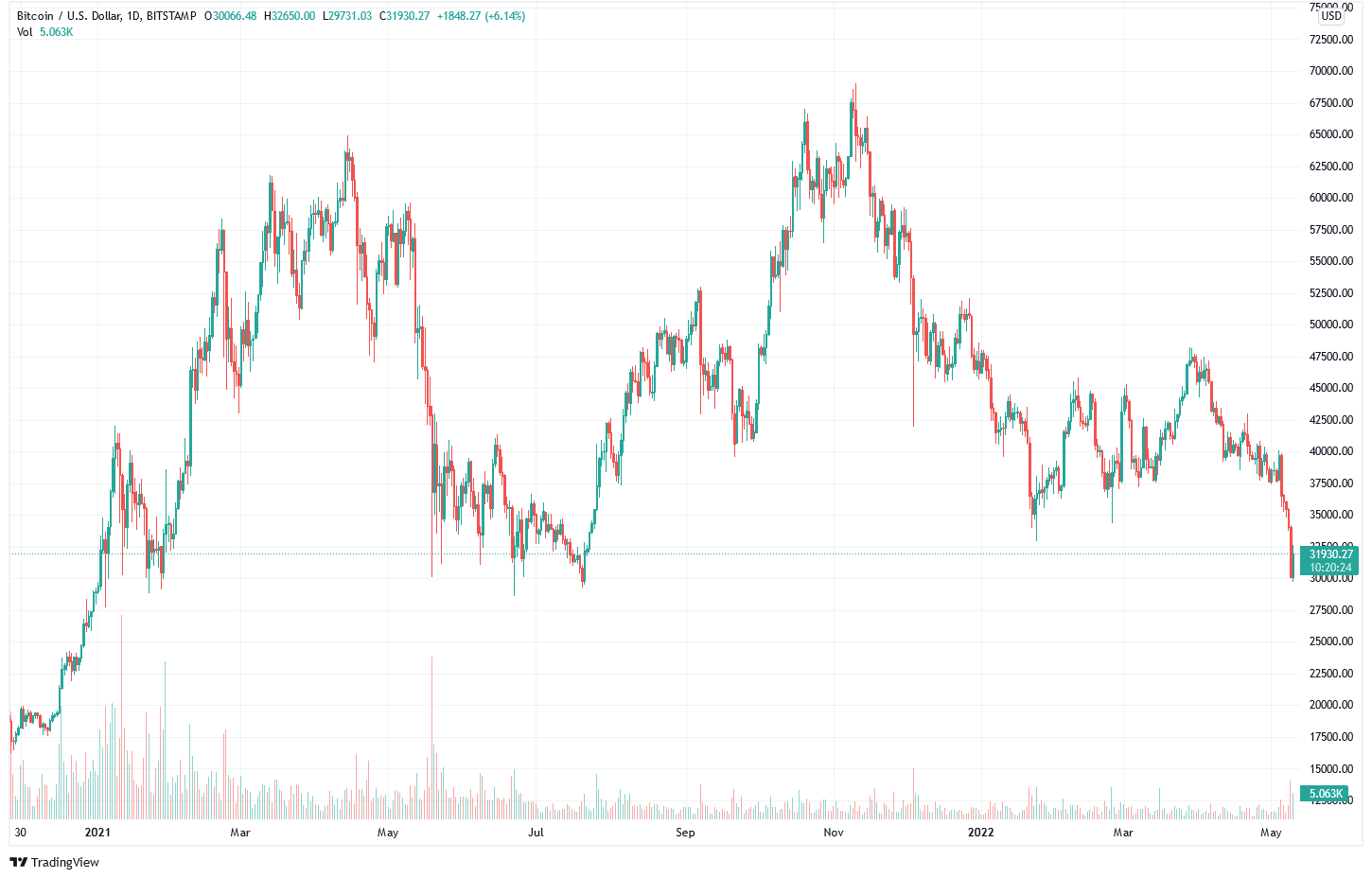 The total crypto market capitalisation has fallen to its lowest level in ten months. Over the course of the week, $230B left the crypto space, resulting in a global market cap of $1.5T.
Bitcoins current state
Looking at the spot side of BTC during the week, our trading desk was skewed on the sell side, with a Buy/Sell Ratio of 0.19:1. Starting at 12pm CET, our clients started buying with many limit and market orders as the market found support at $30k. From a statistical point of view, BTC returns are distributed around the mean with fat tails and skewed on the left side. Thus, today we might see a rebound but not as much as we lost yesterday. We also saw huge volumes in the market around $30k, thus calling support (at least a local support).
On the Futures side however on May 7th BTC's Futures Open Interest (OI) on CME doubled, but the positioning of both Market Makers (MMs) and Funds is still not clear. Despite the spot rally, the bases did not really move as they are almost unchanged WoW.
While on the options side the vol market reacted quite drastically to the spot moves, with the front end of the implied volatility rallying from 60% to 90%, and the back end from 61% to 69%, thus inverting the ATM term structure. As a negative correlation, vol/spot continued, skews inched even higher (1m skew from  9% to 15%) as the market is looking for downside protection. Also, as DOVs and short-vol strategies keep being popular, it is worth looking at the maturities and the open interest profile as a vol rally is likely to squeeze many players.
Crypto market development over the last few days
On May 4th, as soon as Powell said "75bps isn't something FOMC is actively considering", BTC flirted with the $40K resistance level.
On May 5th, the Bank of England (BoE) stated that UK inflation could reach 10% in Q4, that GDP would likely be -1%, and that we would see full-year contraction in 2023. BTC neared the upper $35K resistance level.
On May 8th, UST de-pegged for the first time and it traded as low as $0.9821. BTC traded at $33K and LUNA at $60.
On May 10th (early CET hours), the UST de-peg continued and was trading as low as $0.6018. At the same time, BTC bridged $30k and $LUNA touched $23.48.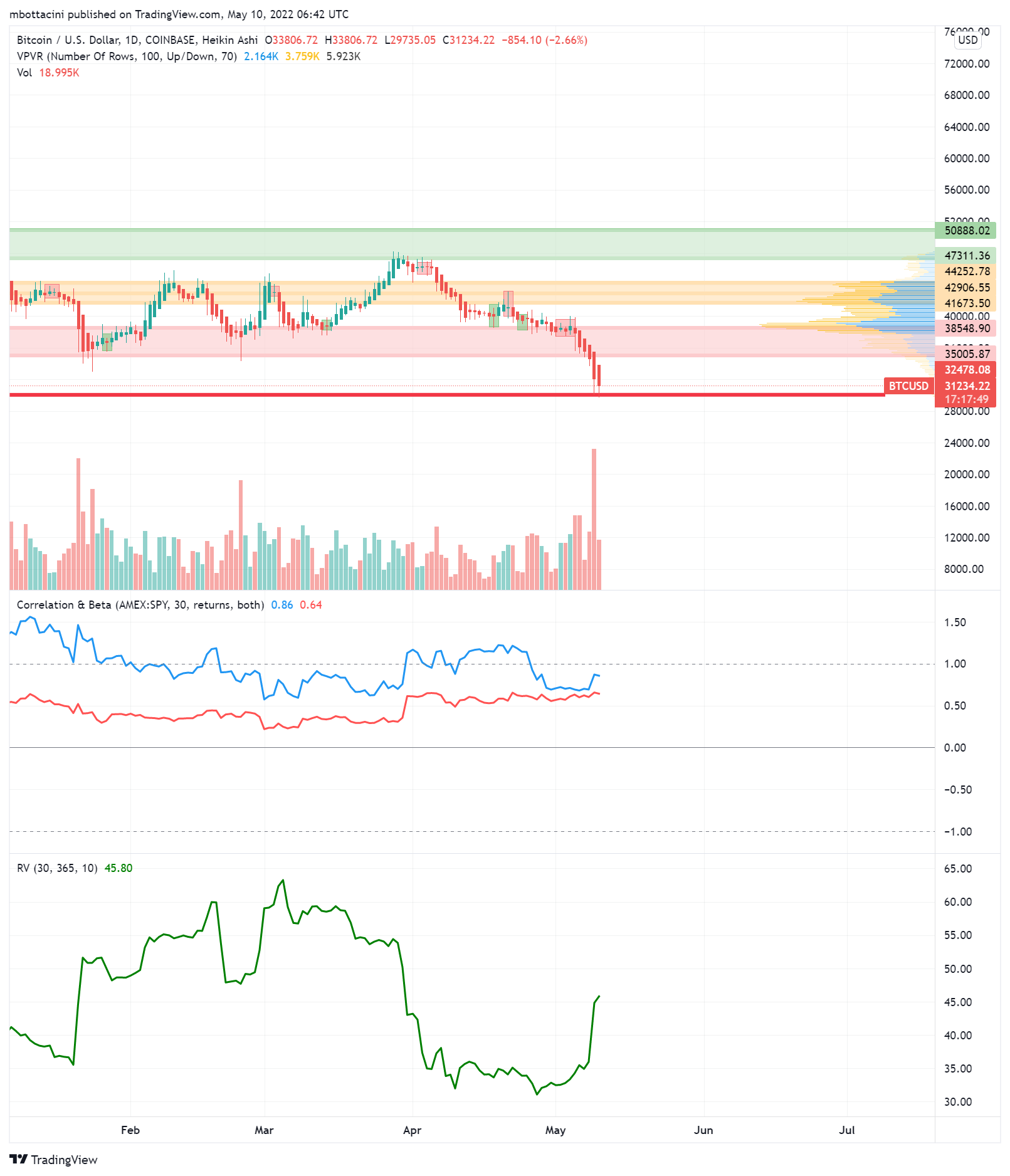 Looking at the Volume Profile Visible Range (VPVR):
Support: $30k
Resistance: $35k – $38k
Happy Trading!
---
Copyright © 2021 | Crypto Broker AG | All rights reserved.
All intellectual property, proprietary and other rights and interests in this publication and the subject matter hereof are owned by Crypto Broker AG including, without limitation, all registered design, copyright, trademark and service mark rights.

Disclaimer
This publication provided by Crypto Broker AG, a corporate entity registered under Swiss law, is published for information purposes only. This publication shall not constitute any investment  advice respectively does not constitute an offer, solicitation or recommendation to acquire or dispose of any investment or to engage in any other transaction. This publication is not intended for solicitation purposes but only for use as general information. All descriptions, examples and calculations contained in this publication are for illustrative purposes only. While reasonable care has been taken in the preparation of this publication to provide details that are accurate and not misleading at the time of publication, Crypto Broker AG (a) does not make any representations or warranties regarding the information contained herein, whether express or implied, including without limitation any implied warranty of merchantability or fitness for a particular purpose or any warranty with respect to the accuracy, correctness, quality, completeness or timeliness of such information, and (b) shall not be responsible or liable for any third party's use of any information contained herein under any circumstances, including, without limitation, in connection with actual trading or otherwise or for any errors or omissions contained in this publication.

Risk disclosure
Investments in virtual currencies are high-risk investments with the risk of total loss of the investment and you should not invest in virtual currencies unless you understand and can bear the risks involved with such investments. No information provided in this publication shall constitute investment advice. Crypto Broker AG excludes its liability for any losses arising from the use of, or reliance on, information provided in this publication.