Recurring market commentary on what's happening in the crypto markets, summarized by the Crypto Broker team at Crypto Finance AG.
Good Morning and Happy Friday!
At the moment, Bitcoin (BTC) is trading at $36.5k (-7.5% in 7 days), Ethereum (ETH) is trading at $2.75k (-5.9% in 7 days), and the spread ETH/BTC is trading at 0.0753 (+3.21% in 7 days).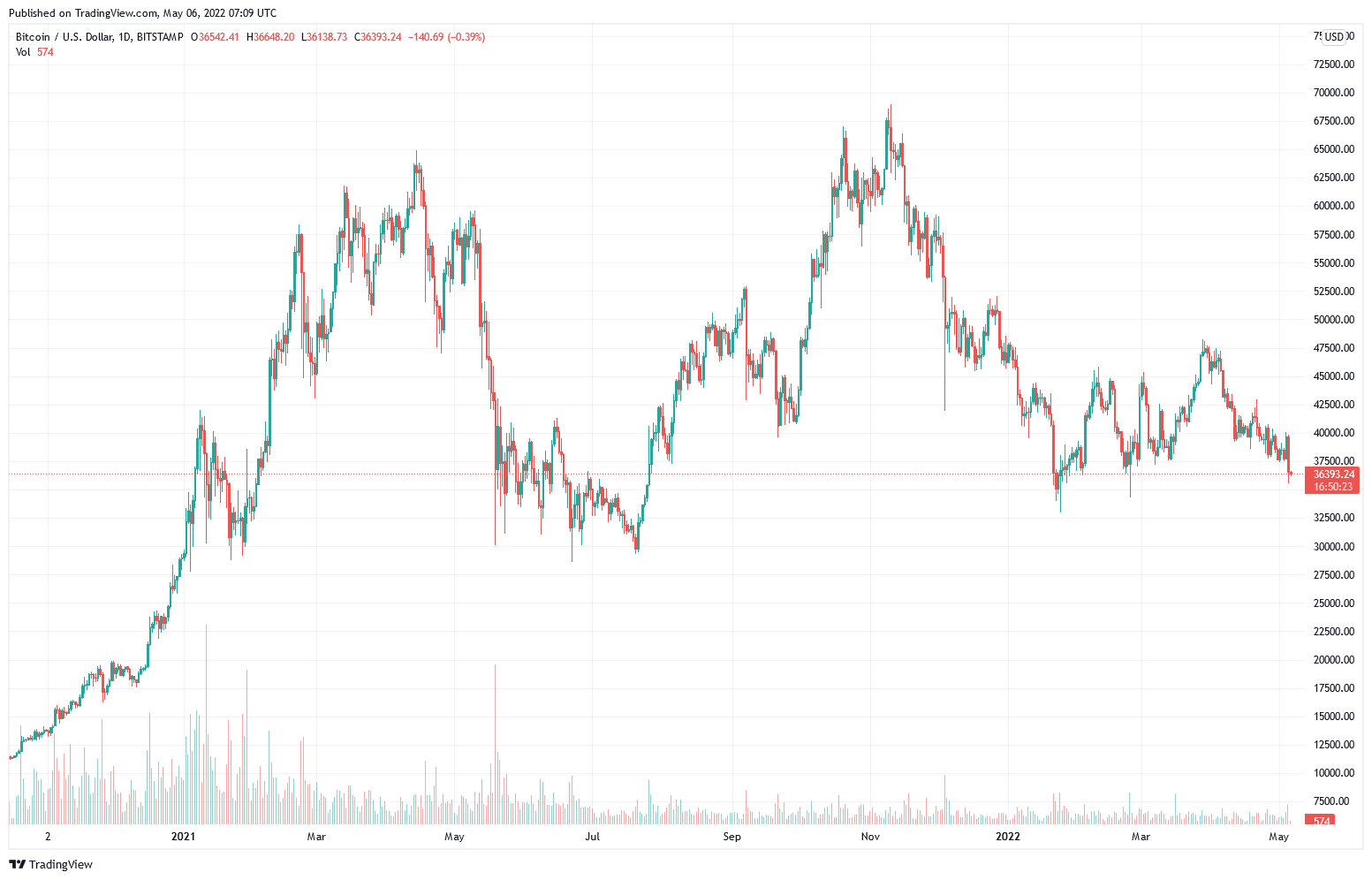 We saw another week deep in the red for the crypto market. The week began with macro figures that turned out to be on the negative side. On Monday, the ISM Manufacturing PMI for April in the US was 2.2 points behind expectations at 55.4, but still in the growth zone. Similarly, the ISM Service April PMI print on Wednesday came in at 57.1 vs. the expected 58.5, and ADP Employment Change for April was +247k vs. a consensus at around +400k.

Market plunges despite Powell's appeasement
The biggest event of the week was, of course, the two-day FOMC meeting, which ended with a press conference on Wednesday. The FED delivered on market expectations with a 50bps rate hike and an announced reduction of their securities holding of $47.5bn a month starting in June, with a maximum monthly reduction of $95bn after three months. This represents about double the amount compared to their last attempt to reduce the balance sheet between 2017 and 2019.
There was a surprise at the Q&A, where Powell stated that the FED is not considering an (already priced in) 75bps hike for the June meeting. He also sounded confident that inflation will soon flatten out, and that he believes inflation can be brought under control without causing a jump in unemployment.
The market rallied in reaction to Powell's comments: Nasdaq closed 3.2% higher and Bitcoin jumped almost 4%. The market apparently believed Powell's words as the priced in rate hike for the June meeting was now only 25bps. At least until the next day. That is when markets turned 180 degrees. After the US opening, and without any obvious trigger or market news, stock and crypto markets started crashing, and rates rallied. The day ended with the Nasdaq losing -4.99%, the Dow Jones -3.12%, and BTC over -9%. US 10-year rates spiked to 3.1%, and the market is now again pricing in a 75bps rate hike for the June meeting. It is rare to see such a swift change in market expectations, and it is puzzling what exactly triggered it. The awaited clarity from the FED guidance is gone for the moment and it will be interesting to see how they react to the recent price action.
Tron launches UST competitor "USDD"
In terms of the crypto market one of the best performing coins this week was Tron (TRX), up 24% over the past seven days. TRX launched their algorithmic stablecoin USDD this week and has seen significant inflows. The market cap at the time of writing is already $127m. This is still small, of course, compared to its biggest competitors: Luna with UST ($18.7bn), DAI ($8.1bn), and Waves USDN ($0.9bn). However, USDD's early growth rate is impressive.

Happy Trading!
---
Copyright © 2021 | Crypto Broker AG | All rights reserved.
All intellectual property, proprietary and other rights and interests in this publication and the subject matter hereof are owned by Crypto Broker AG including, without limitation, all registered design, copyright, trademark and service mark rights.

Disclaimer
This publication provided by Crypto Broker AG, a corporate entity registered under Swiss law, is published for information purposes only. This publication shall not constitute any investment  advice respectively does not constitute an offer, solicitation or recommendation to acquire or dispose of any investment or to engage in any other transaction. This publication is not intended for solicitation purposes but only for use as general information. All descriptions, examples and calculations contained in this publication are for illustrative purposes only. While reasonable care has been taken in the preparation of this publication to provide details that are accurate and not misleading at the time of publication, Crypto Broker AG (a) does not make any representations or warranties regarding the information contained herein, whether express or implied, including without limitation any implied warranty of merchantability or fitness for a particular purpose or any warranty with respect to the accuracy, correctness, quality, completeness or timeliness of such information, and (b) shall not be responsible or liable for any third party's use of any information contained herein under any circumstances, including, without limitation, in connection with actual trading or otherwise or for any errors or omissions contained in this publication.

Risk disclosure
Investments in virtual currencies are high-risk investments with the risk of total loss of the investment and you should not invest in virtual currencies unless you understand and can bear the risks involved with such investments. No information provided in this publication shall constitute investment advice. Crypto Broker AG excludes its liability for any losses arising from the use of, or reliance on, information provided in this publication.