A summarizing review of what has been happening at the crypto markets of the past week. A look at trending sectors, liquidity, volatility, spreads and more. The weekly report in cooperation with market data provider Kaiko.
This week in the cryptomarkets:
Bitcoin's 2017 all time high varies significantly depending on the exchange, ranging from $18,240 to $21,163 across 10 USD trading pairs.
A new 6-month high for Bitcoin-Dollar trade volume was reached this week, surpassing $2 billion in a day.
Order book depth on the ask side of the book collapsed as traders bought the dip during Bitcoin's sharp mid-week pullback.
XRP volatility jumped above 200% as prices surged to multi-year highs.
Why is an ATH so important for Bitcoin?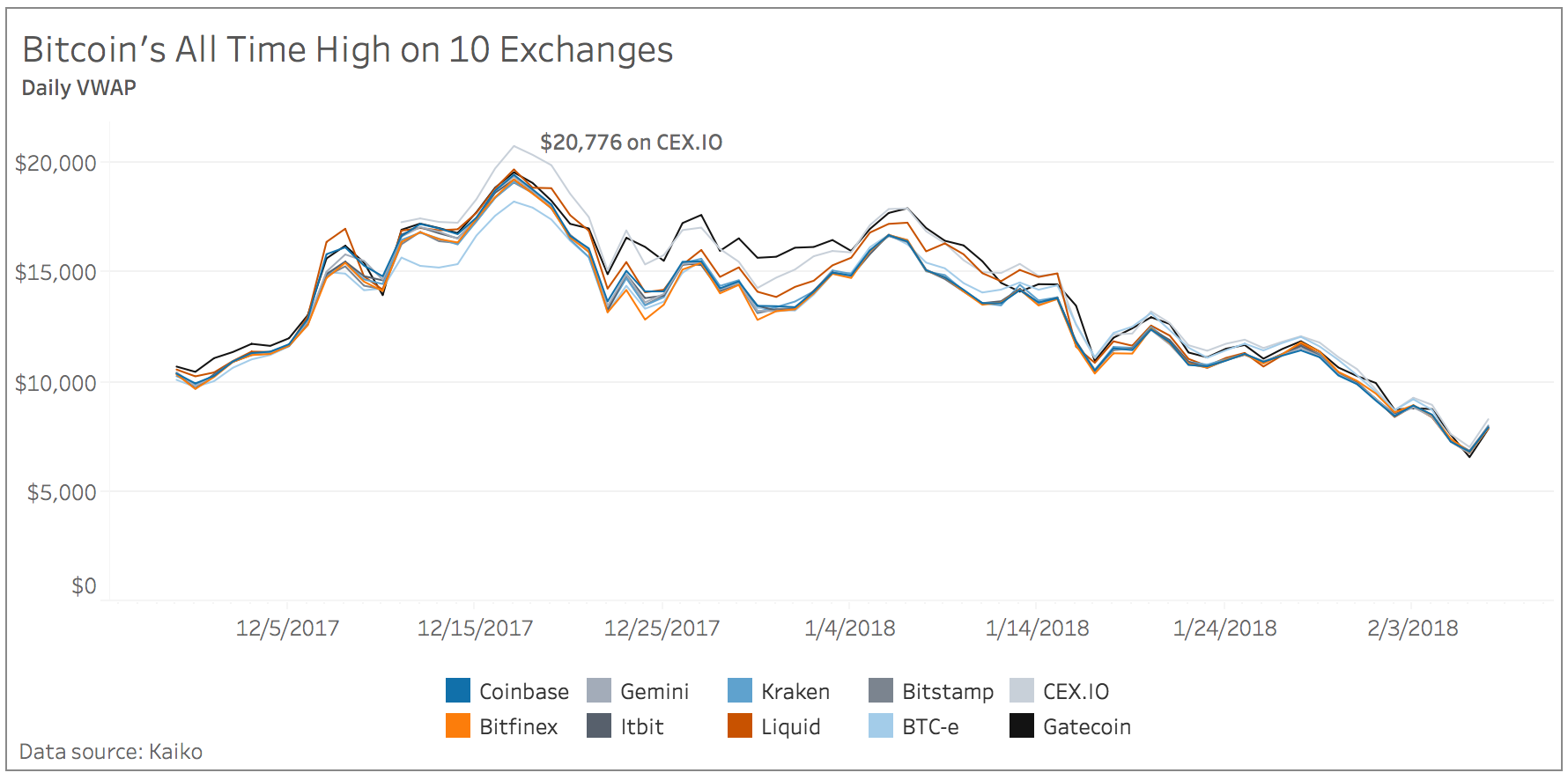 What does an ATH even mean? Almost every ATH is quoted in USD, and popular lore cites it as greater than $20k. But the reality is that Bitcoin never reached $20k on most exchanges. In fact, only three exchanges in Kaiko's collection recorded an ATH greater than $20k. The price of Bitcoin is often subjective, rather than objective, because it requires a pricing methodology that varies depending on the data provider. Ultimately, there is no definitive ATH—rather, there are a range of ATHs dependent on the time interval, exchanges, and aggregation methodology used in the calculation.
Volumes keep climbing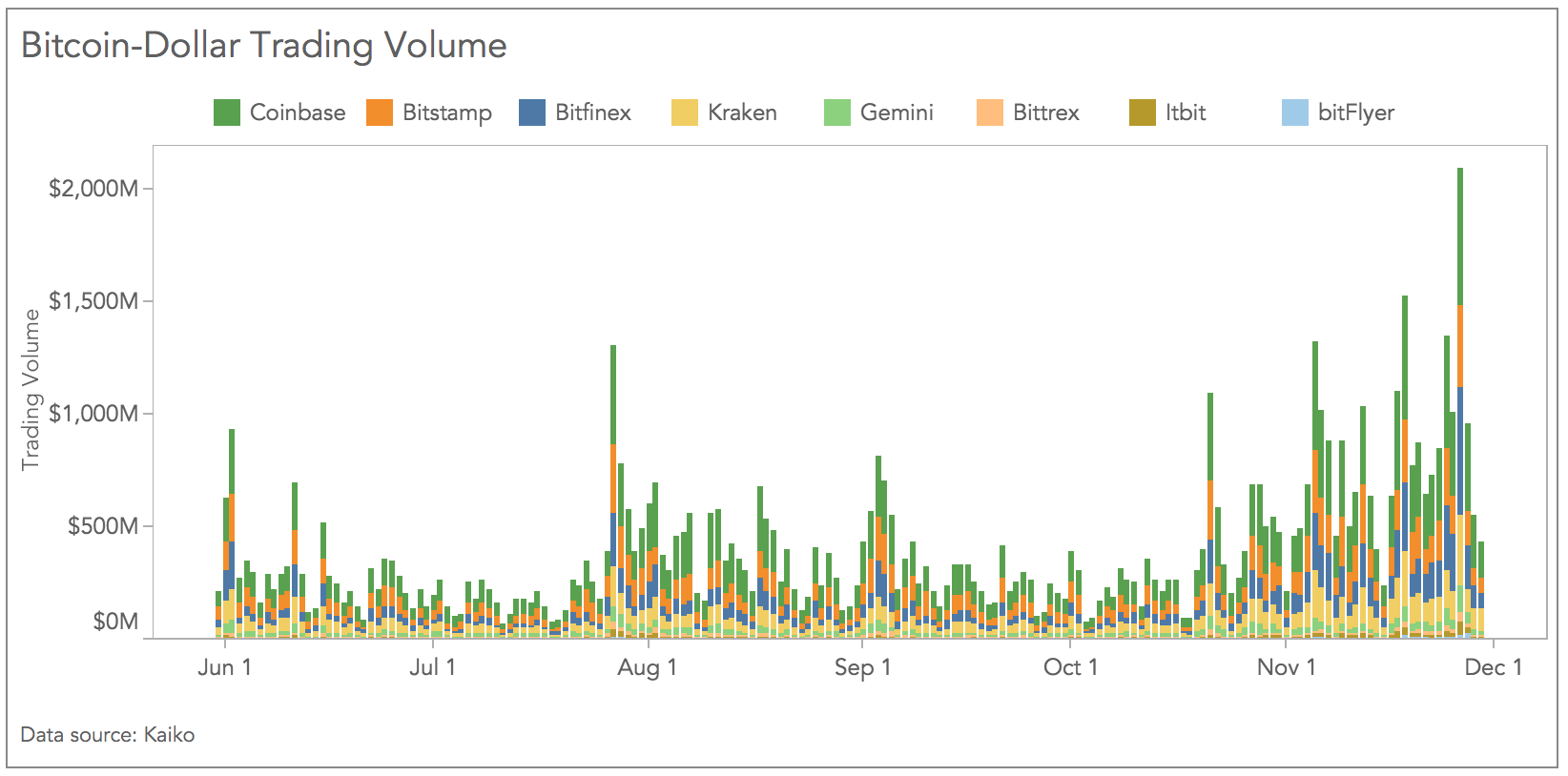 Bitcoin's extreme price swings this week resulted in a 6-month high for aggregated daily trade volume on eight top exchanges, surpassing $2 billion traded in 24 hours. November volumes are up 124% compared with October as Bitcoin's bull run continues with force. Last week, Coinbase's trading app breached the top 100 most-downloaded apps on the Apple store, a sign that retail interest is growing.
Price crash demolishes ask depth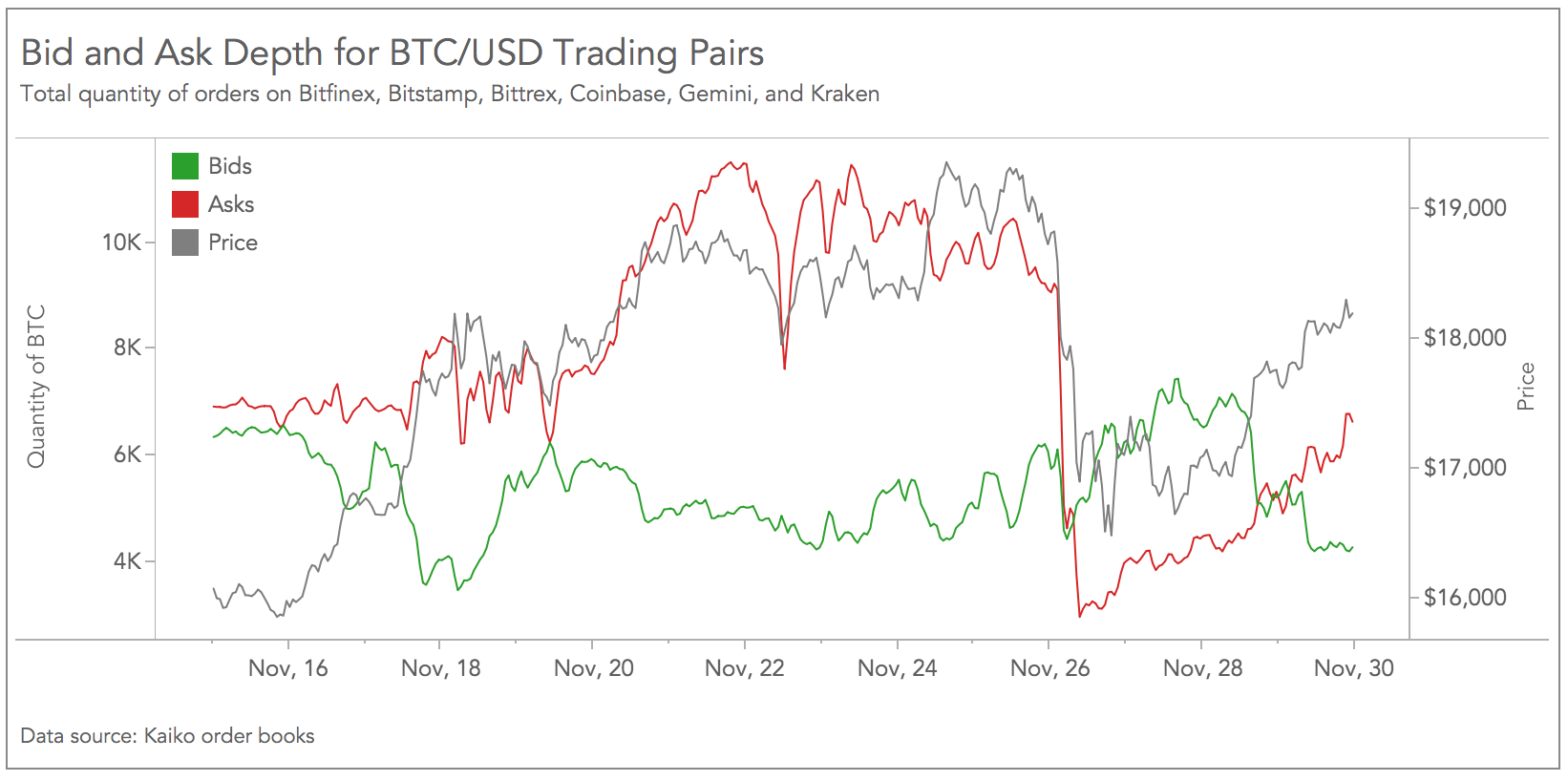 Price volatility has a significant impact on order book liquidity. On November 26th, the price of Bitcoin crashed hard, resulting in a complete decimation of depth on the ask side of the order book. Market makers don't want to get caught on the wrong side of a price swing, and they will frequently pull orders from the book to as a way to manage risk. Another contributing factor to the decimation of ask depth could be "buy the dip" traders, who set automatic market buy orders to quickly pick up Bitcoin as its price falls. Bid depth was unaffected by the price crash.
XRP volatility is through the roof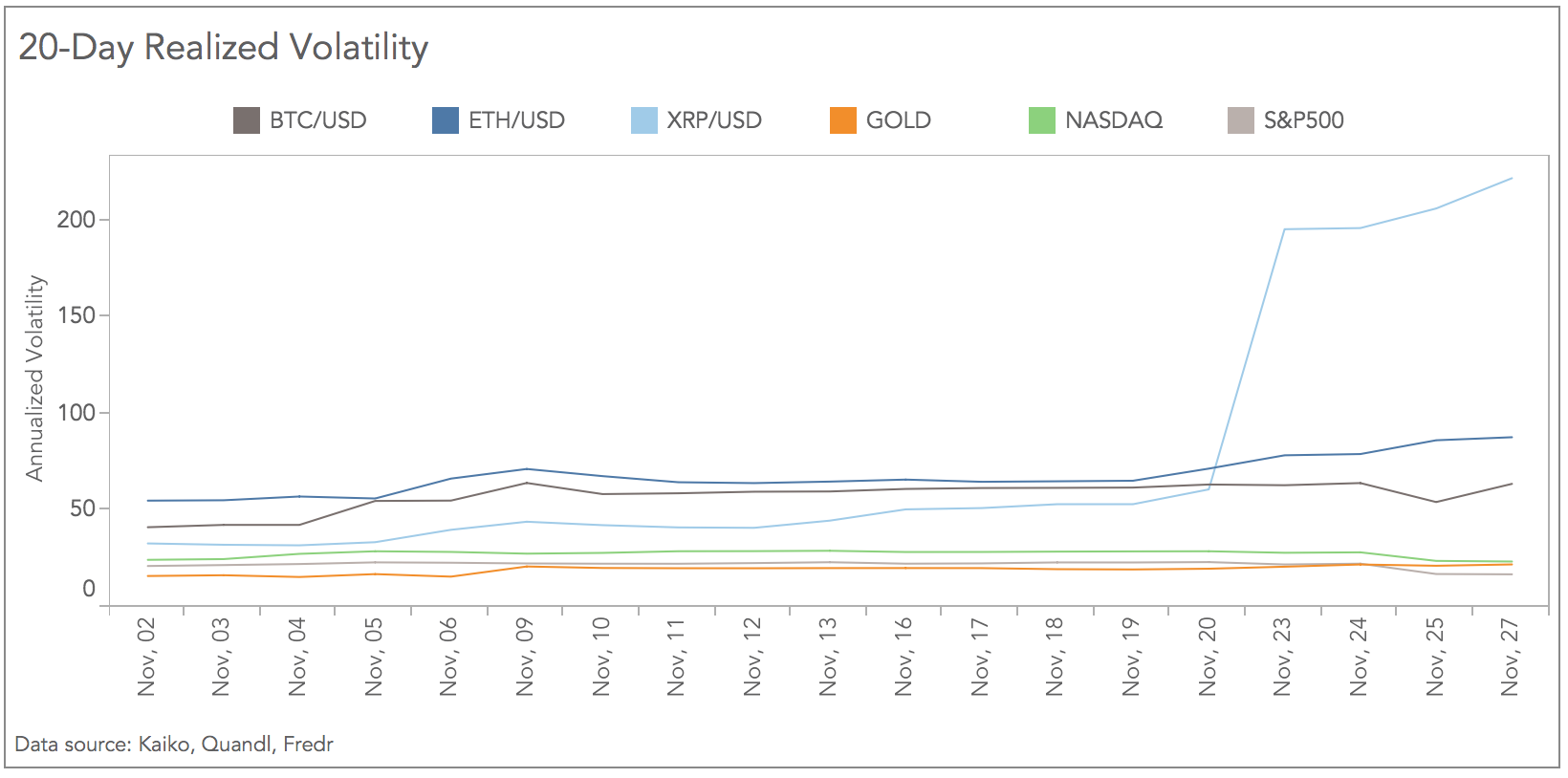 The price of Ripple's XRP token more than doubled last week in one of the largest altcoin price jumps of the year. The price surge occurred amidst an impending XRP airdrop, sparking speculation over the cause of the buying pressure. While the past month's bull run has led to massive gains (and sharp pullbacks) for Bitcoin (BTC) and Ethereum (ETH), volatility has mostly stayed flat. This is because the price gains have been relatively stable day-by-day, apart from last week's sharp correction. In traditional markets, Gold hit a 4-month low while equities rallied.