A summarizing review of what has been happening at the crypto markets of the past week. A look at trending sectors, liquidity, volatility, spreads and more. The weekly report in cooperation with market data provider Kaiko.
This week in the cryptomarkets:
Bitcoin broke $16k for the first time since January of 2018 in a momentous rise spurred (again) by an announcement from PayPal.
Ethereum's YTD returns at +245% is more than double that of Bitcoin's +120% returns.
Bitcoin trading volume undergoes more extreme surges and collapses than Ethereum's, as shown using a 7-day moving average.
Market depth held steady as Bitcoin breached $16k, unlike the previous week which saw bid depth collapse as Bitcoin tore through the $14k and $15k price levels.
Bitcoin breaks $16k
For the first time in 3 years, Bitcoin (BTC) crossed the $16k price level following news that Paypal had launched cryptocurrency trading for all U.S. customers. Nearly all BTC holders are now "in the money" as the price reaches highs not seen since the 2017/18 bull run. Bitcoin retraced to $15.9k over the weekend, but still ended the week up 3%.
Bitcoin outperforms everything (except Ethereum)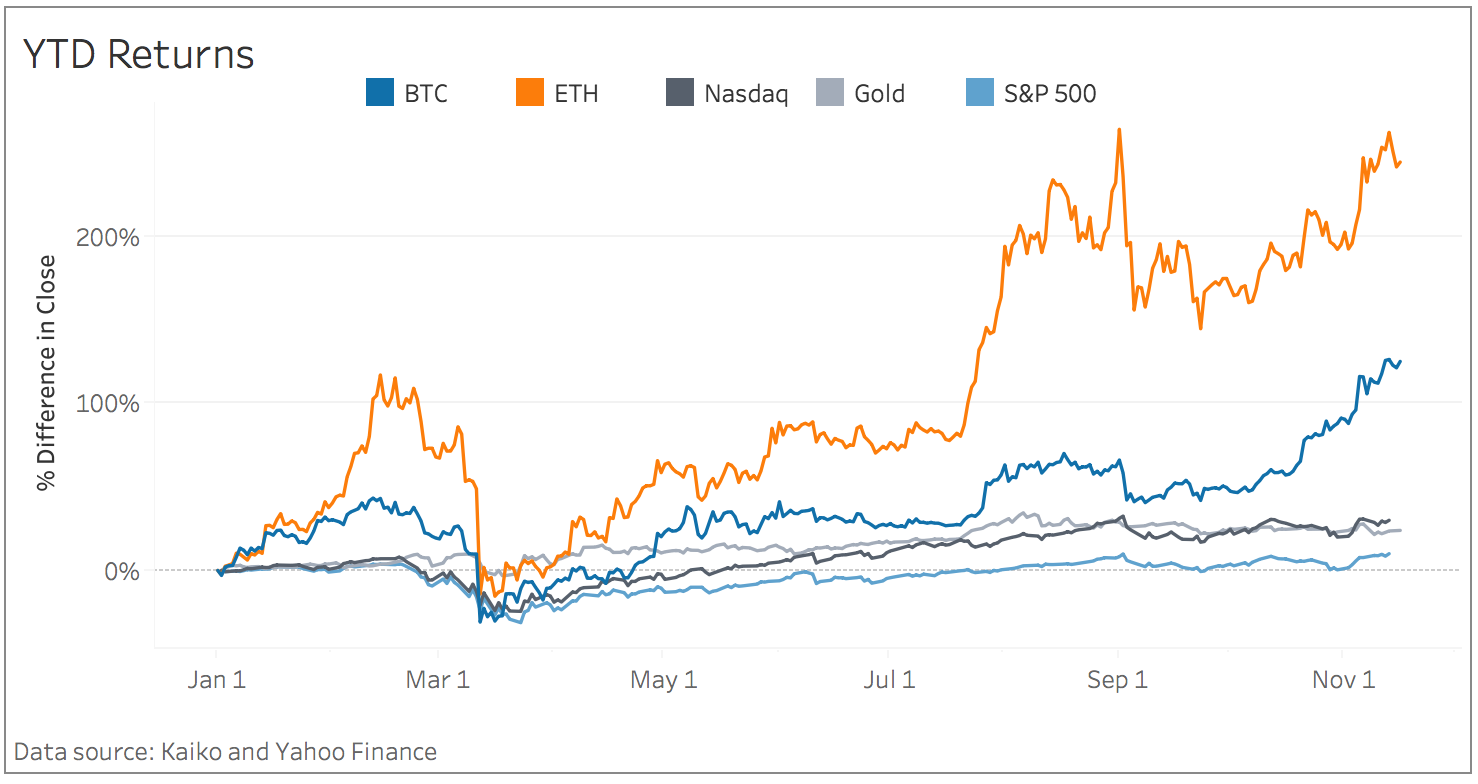 Bitcoin has been dubbed 2020's "Best Performing Asset" but its YTD returns pale in comparison to Ethereum's (ETH) +245%. Yet, the oldest crypto-asset has attracted more attention from traditional financial actors for its +120% returns (compared with +30% for Nasdaq, +10% for S&P, and +24% for Gold).
The "Bitcoin as store of value" narrative gained traction this week following the release of a report by JPMorgan noting that the Grayscale Bitcoin Trust is outperforming Gold ETFs. In addition, billionaire investor Stanley Druckenmiller announced this week that he had placed his bets on Bitcoin saying "if the gold bet works, the bitcoin bet will probably work better because it's thinner and more illiquid and has a lot more beta to it" (not necessarily positive attributes). Square also claimed that its Cash App had sold 1.63 billion of BTC in Q3 2020, wrapping up yet another week filled with positive institutional news.
Bitcoin volume trends up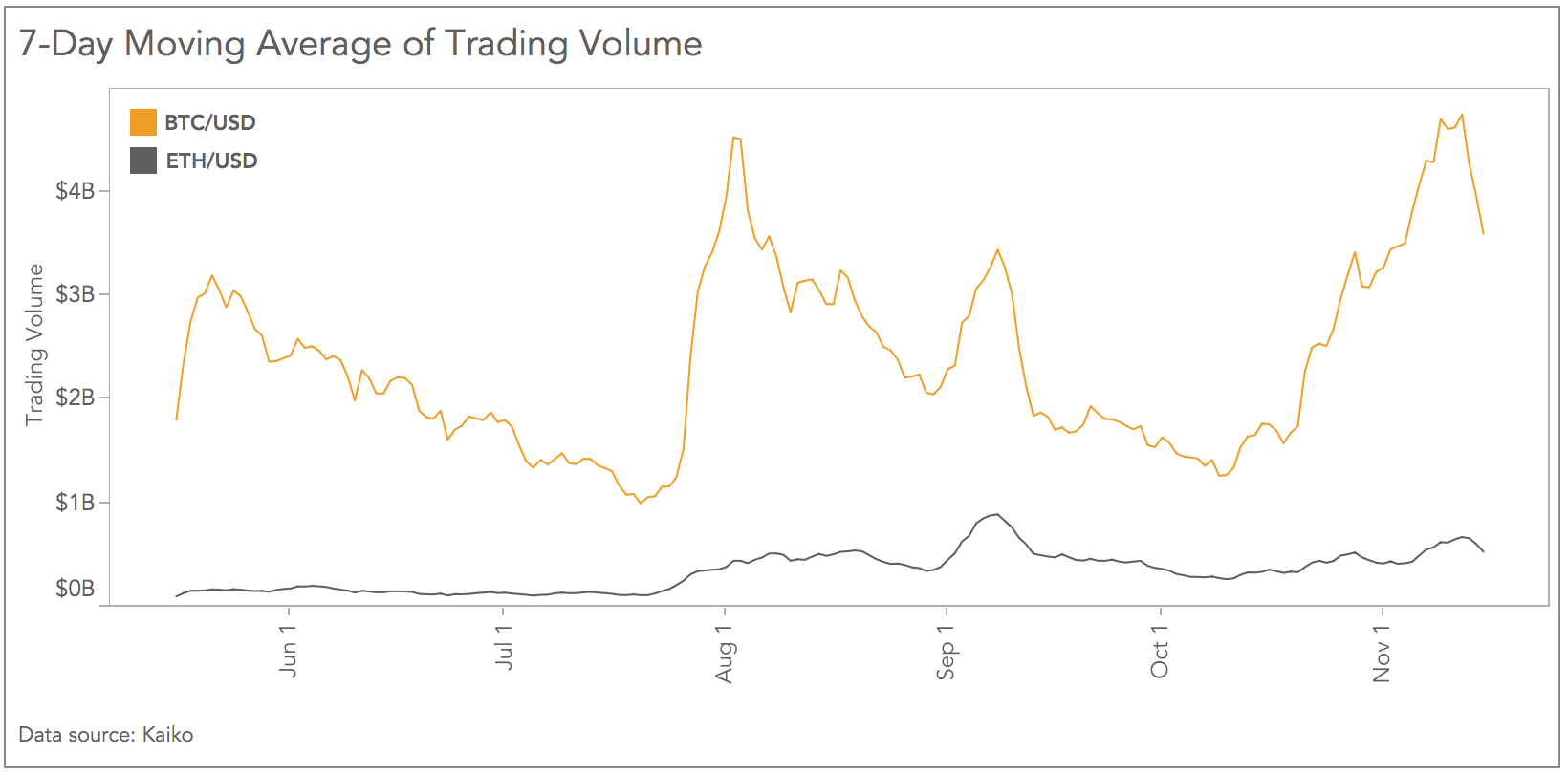 We took the 7-day moving average of daily trading volume to better understand how volume has evolved over the past 6 months for BTC and ETH-Dollar trading pairs. We can observe that BTC volume is far more volatile than ETH volume, and undergoes more extreme surges and collapses over time. ETH volume has seen a sustained increase since mid-July, despite the end of its "summer bull run." While ETH's volume as a percentage of Bitcoin's has fallen since the summer, it has managed to hover just below $1 billion traded daily.
Bid and ask depth converge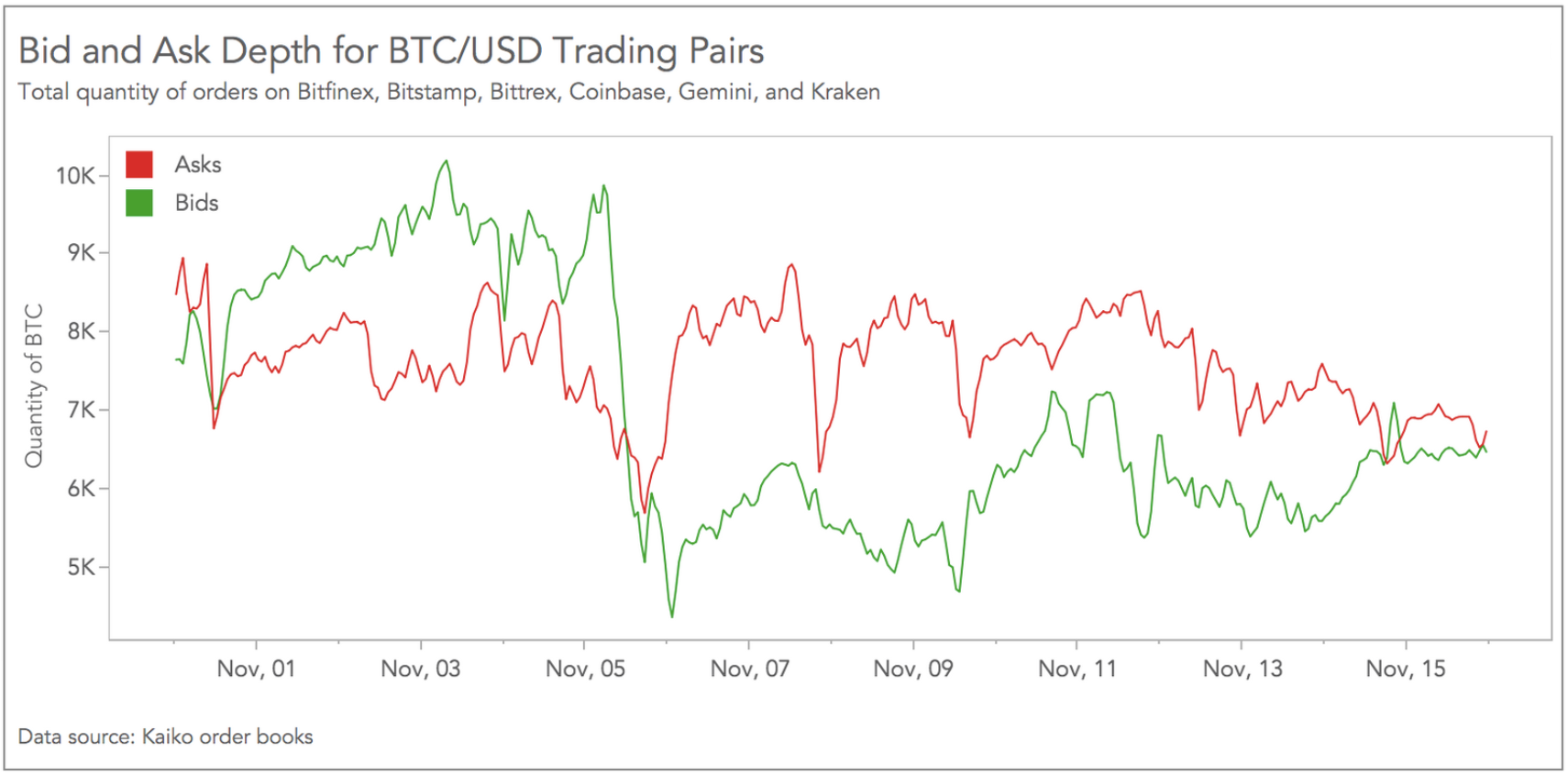 Market depth did not collapse as Bitcoin breached $16k, unlike the previous week which saw bid depth plummet as Bitcoin tore through the $14k and $15k price levels. Market makers often group orders around key price levels, so a sharp drop is expected once the price moves above (or below) a certain level. The convergence of ask and bid depth could indicate that a temporary stabilization has occurred at Bitcoin's current range, as both price takers and market makers absorb the recent price movements.