A summarizing review of what has been happening at the crypto markets of the past week. A look at trending sectors, liquidity, volatility, spreads and more. A weekly report in cooperation with market data provider Kaiko.
This week in the cryptomarkets:
Bitcoin traded above $11k for the 10th day in a row as a new round of traditional financial institutions signaled an interest in the cryptoasset. 

Filecoin had an extremely volatile first few days of trading, falling from a peak above $90 to just $31 as of Monday morning.

20-day volatility for both traditional financial assets and cryptocurrencies has remained virtually unchanged for the past two weeks.

Despite a week-on-week fall in Bitcoin-Dollar trading volume, market depth continued to rise and spreads narrowed, indicating order book liquidity is on the rise.
Bitcoin holds steady
BTC held strong above $11k this week despite a 2% drop on Friday in reaction to the announcement that cryptocurrency exchange OKEx had indefinitely suspended withdrawals. The exchange said that the suspension was because one of the private key holders was cooperating with a security bureau due to a personal matter. Over the weekend, BTC recovered all losses and closed the week up 1.21% at $11,515, marking 10 days trading above $11k.
Filecoin's volatile launch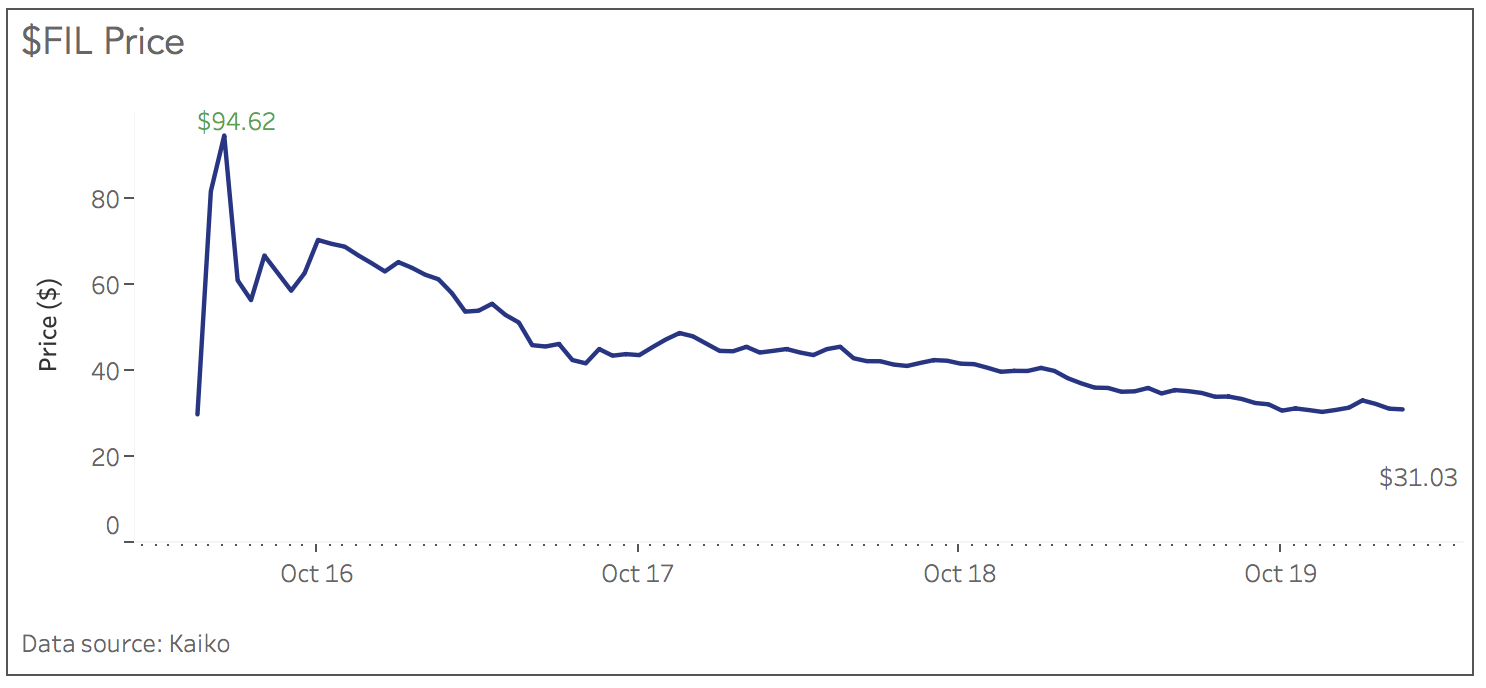 After 3 years of development, Protocol Labs finally launched their heavily anticipated decentralized storage network and Filecoin (FIL) token. The initial coin offering for Filecoin raised more than $205 million back in 2017, generating massive levels of hype as an alternative to centralized data storage. Gemini, Kraken, Huobi, Bitfinex, and Binance have listed FIL spot trading pairs and FTX and OKEx listed derivatives contracts. Immediately after listing, the price of FIL more than tripled in an hour and peaked above $90, before quickly crashing and closing the week at just $31.
Volatility remains low throughout October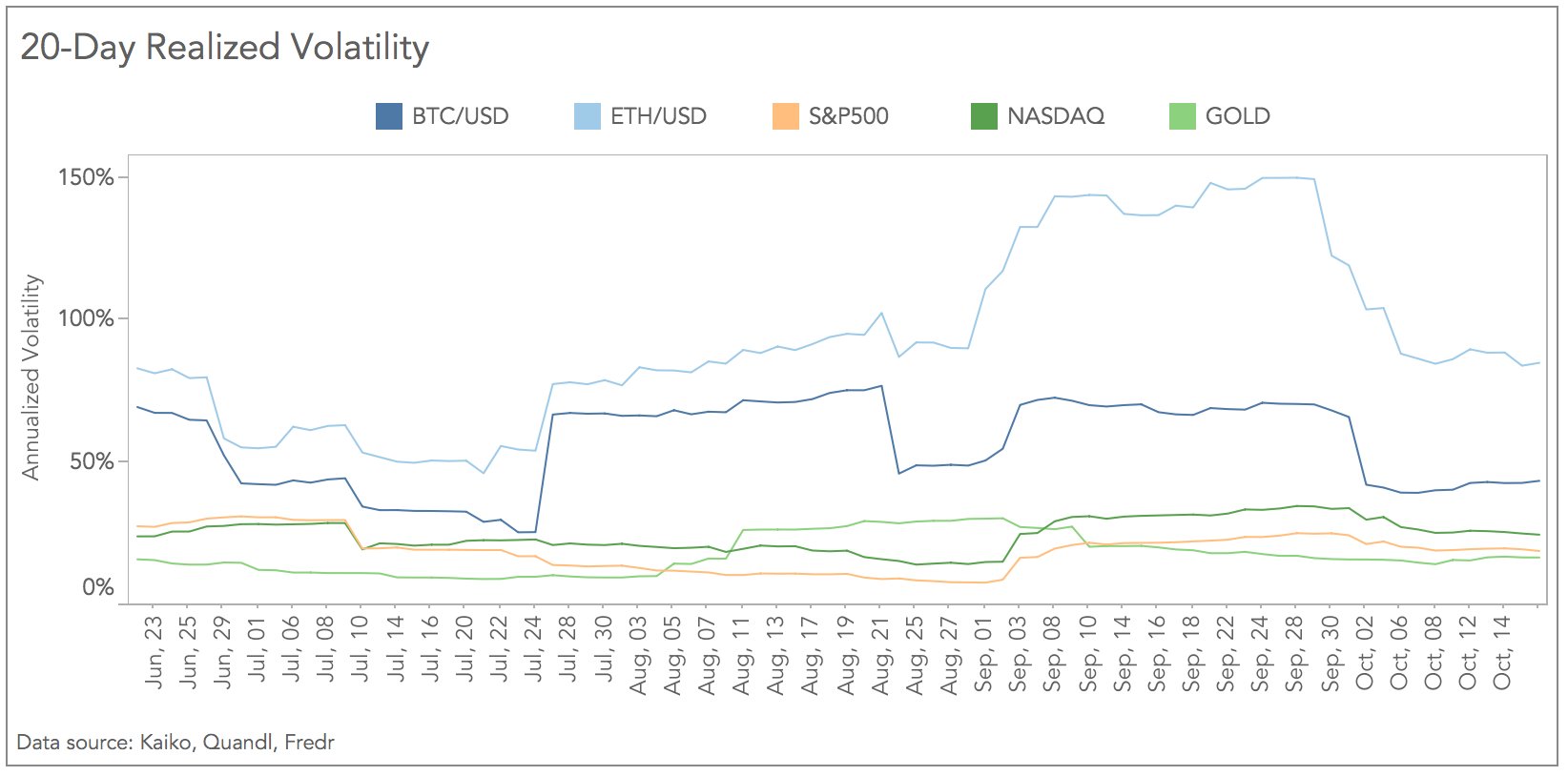 Despite strong returns for BTC and ETH this month, 20-day volatility for the two assets has fallen to about the same levels as mid-July, right before the brief summer bull run commenced. Volatility for Nasdaq and the S&P 500 stayed the same this week as hopes faded (but not entirely) for a new U.S. stimulus package passed before the November presidential elections.
BTC market depth continues to climb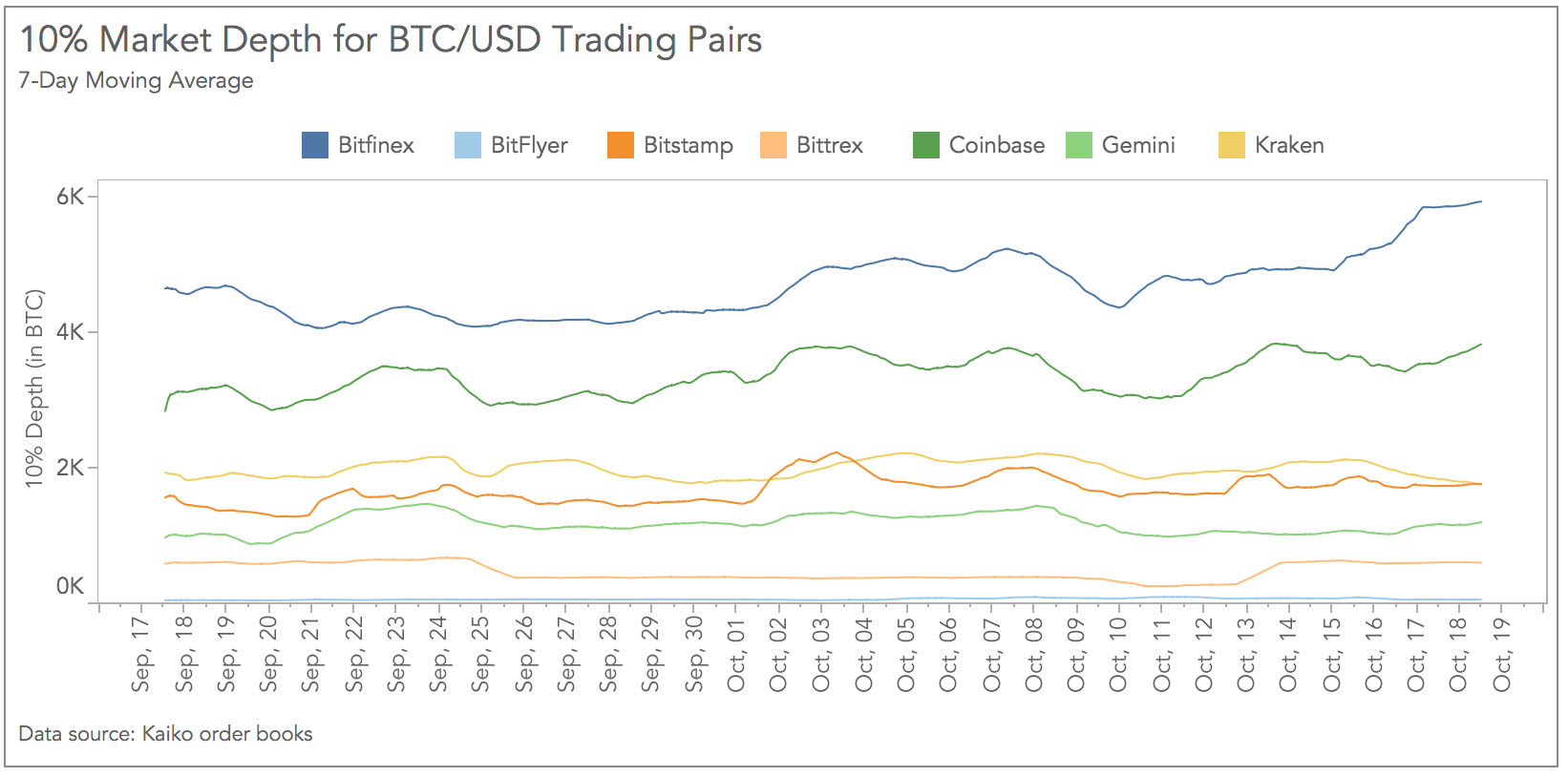 Over the past 30 days, 10% market depth–the sum of all bids and asks placed within 10% of the midprice–has increased on nearly all exchanges analyzed. Market depth on Coinbase and Bitfinex showed the most growth. Market depth often rises in times of low volatility which characterizes the past few weeks (if not months) of Bitcoin price action. A rise in market depth signals that large market buy and sell orders for Bitcoin will encounter less price slippage, which is a positive indicator for overall trading liquidity.