A summarizing review of what has been happening at the crypto markets of the past week. A look at trending sectors, liquidity, volatility, spreads and more. The weekly report in cooperation with market data provider Kaiko.
The last 7 days in the cryptomarkets:
Price Movements: Markets are in full-on price discovery mode with price swings now as extreme as the March market crash.
Trading Volume: While the majority of Bitcoin trade volume occurs against Tether (USDT), the proportion of Bitcoin – U.S. Dollar volume has grown since the bull run commenced, indicating an institutional presence.
Order Book Liquidity: There is a shortage of bids and asks on BTC-USD order books which could explain why Bitcoin has experienced little resistance on the path to record-breaking highs.
Volatility and Correlations: Bitcoin's correlation with gold plummeted this week while its correlation with equities strengthened.
Price discovery causes markets to whipsaw
Soaring returns pushed the total market capitalization of crypto-assets above $1 trillion for the first time amidst one of the most turbulent weeks in U.S. political history. Bitcoin and Ethereum closed Sunday night at $38k and $1.2k respectively, before promptly crashing by double digits in the early hours of Monday morning. Even XRP gained a whopping 39% while facing a lawsuit from the SEC. It is clear that cryptocurrency markets are in price discovery mode, with zero precedents of support and resistance, making technical analysis for future price predictions a near Sisyphean endeavor.
Proportion of U.S. Dollar volume increases relative to Tether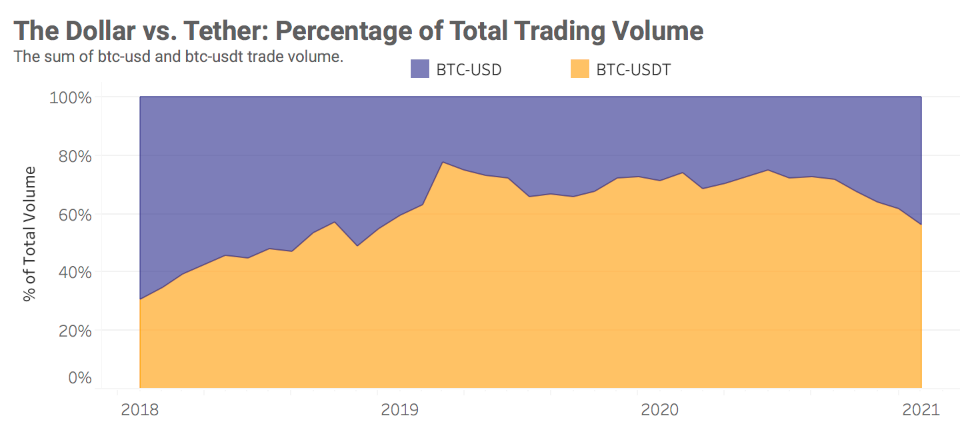 While the majority of Bitcoin trade volume occurs against Tether (USDT), the proportion of Bitcoin – U.S. Dollar volume has grown since the bull run commenced. For the past year, BTC-USD volume has been about 30% compared with Tether's 70%. Since mid-October, that percentage has grown to more than 40%, which indicates an institutional presence in cryptocurrency markets. Institutions typically prefer to transact with fiat currencies, rather than Tether, which poses more regulatory risk although markets are more liquid.
A shortage of bids and asks on Bitcoin order books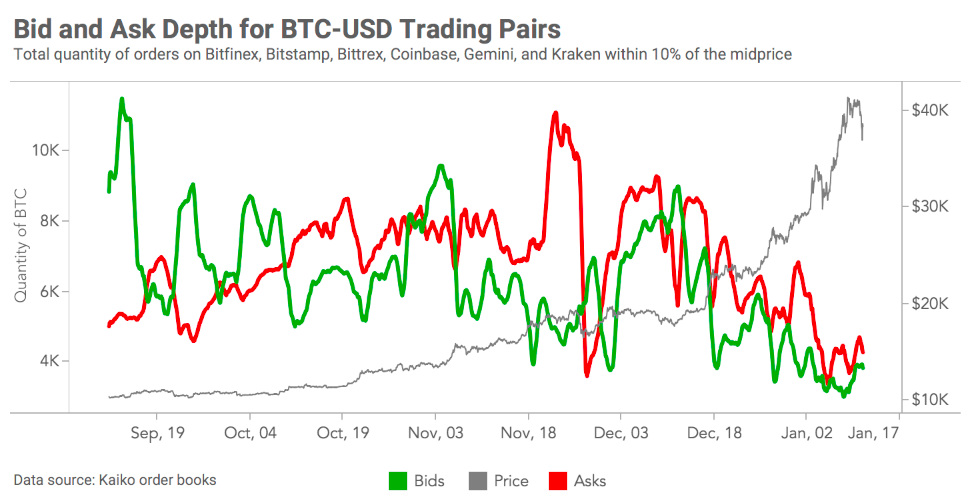 Our friends over at Chainalysis analyzed on-chain data and found that there is likely a shortage of Bitcoin sellers due to low volumes of exchange in-flows. By analyzing exchange market data, we can observe that there appears to in fact be a shortage of bids and asks on Bitcoin-Dollar order books. This could be one reason why the price of Bitcoin has faced little resistance over the past month, resulting in record-breaking highs. The lower the quantity of asks on an order book, the easier it is for large market buy orders to push up the price of an asset. The pace at which Bitcoin has soared to record highs has likely resulted from an influx in new buyers and a deficiency in ask-side liquidity.
Bitcoin's correlation with gold plummets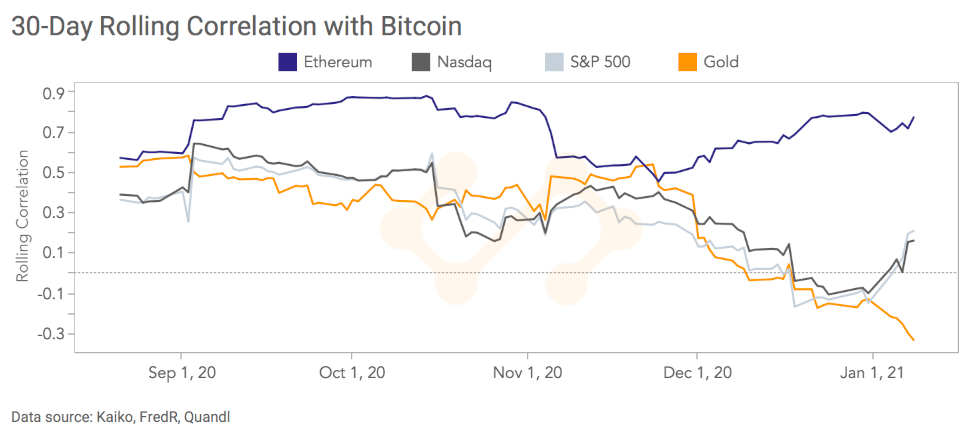 Bitcoin's 30-day rolling correlation of returns with gold is now at -.329, continuing its downward streak that began at the end of November. The crypto-asset's correlation with equities strengthened over the week as markets soared despite Washington's biggest political crisis in a century. The dramatic culmination of this election season ushers in a blue wave that promises to expand government spending and quantitative easing to remedy the economic effects of the pandemic, a prospect that has frayed some nerves in the finance industry. But it seems that these concerns have not yet overflowed to equities markets, which continue to post huge returns in what some are beginning to liken to a bubble, disconnected from the realities of the pandemic-shaken economy.