The crypto tweets of Elon Musk, CEO of Tesla and currently the richest man in the world, gathered a lot of attention over the past few weeks. Now it has been revealed that Tesla has invested $1.5 billion in Bitcoin, and the company plans to accept it as a payment method in the future.
Elon Musk attracted increased attention last week with crypto-related social media activities. He changed his Twitter profile to #Bitcoin and tweeted often about the altcoin Dogecoin (DOGE), a cryptocurrency created from a copy of the Bitcoin code and originally introduced as a joke. He then took a more serious tone on Clubhouse. Although Musk doesn't really take Dogecoin seriously, he is a "big supporter" of Bitcoin. This sparked some speculation regarding a Bitcoin investment.
Tesla invests 8% of its cash in Bitcoin
Now, the US-based company has officially announced an investment. According to an SEC filing, Tesla currently owns $1.5 billion worth of Bitcoins. This represents about 8% of their total cash holdings of 19 billion.
"In January 2021, we adjusted our investment policy to allow more flexibility to further diversify and maximize returns on our cash holdings. […] Under this policy, we have invested a total of $1.50 billion in Bitcoin. In addition, we expect to accept Bitcoin as payment for our products in the near future." – Tesla, SEC filing
They also mentioned further purchases of cryptocurrencies. The fact that Bitcoin will be accepted as a means of payment at Tesla, marks the next milestone.
Increasing institutional interest
Institutional Bitcoin investments could be observed sporadically in 2020. In particular, companies directly related to digitalization, such as MicroStrategy or Square, stood out. MassMutual was the first insurance company to enter crypto assets in December.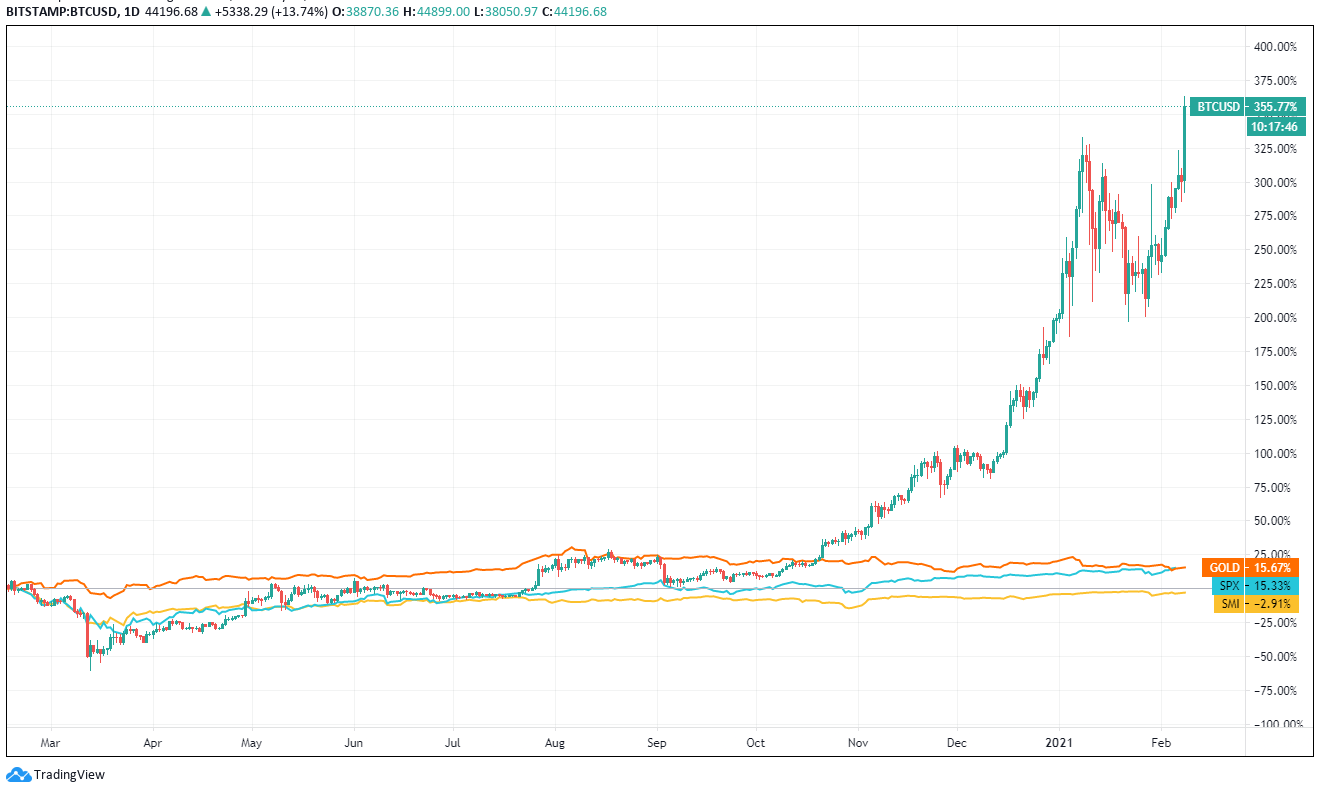 The fact that Bitcoin, in addition to its payment function, is also gaining acceptance as a means of diversification and store of value in the institutional environment is demonstrated by Tesla's investment. This development was also recognized by the world's largest investment bank, JP Morgan. In an analyses, the study authors emphasized the trend and mentioned a potential demand of over $600 billion.