Swiss digital asset specialist Sygnum Bank announces the launch of a new regulated end-to-end tokenization solution. The platform has two components: An emission platform for the primary market and a trading platform for the secondary market.
According to the announcement, Sygnum now becomes the world's first bank with a fully integrated, institutional-grade tokenization offering. This enables issuers to create unique investment opportunities for investors by connecting them seamlessly in one platform, and represents a landmark in the convergence of global public and private markets.
Fast entry-point for issuers to raise capital, build liquidity, and efficiently transfer ownership and manage corporate actions
Unlocks the multi-trillion CHF global market of illiquid and currently hard-to-access assets
Investors can access four high-growth investment verticals: Venture Capital, Mid Cap, Real Estate, and Art & Collectibles
Trading for listed assets available on SygnEx, a regulated digital asset trading facility
Instant 24/7 settlement and reduced counterparty risks via Sygnum's Swiss Franc stablecoin, the Digital CHF (DCHF)
Distributed Ledger Technology works in the background to deliver new levels of customer experience, efficiency, and transparency
Access to unique investment opportunities
Putting tokens on the blockchain was a relatively straight-forward technical challenge that was solved some time ago. However, this was only the "tip of the iceberg" in terms of providing a viable, regulatory compliant alternative to issuing and managing traditional securities. It is the embedding of an end-to-end blockchain-based tokenization solution into existing legal frameworks and operational banking processes and systems that has truly unleashed the potential of tokenized assets for both issuers and investors.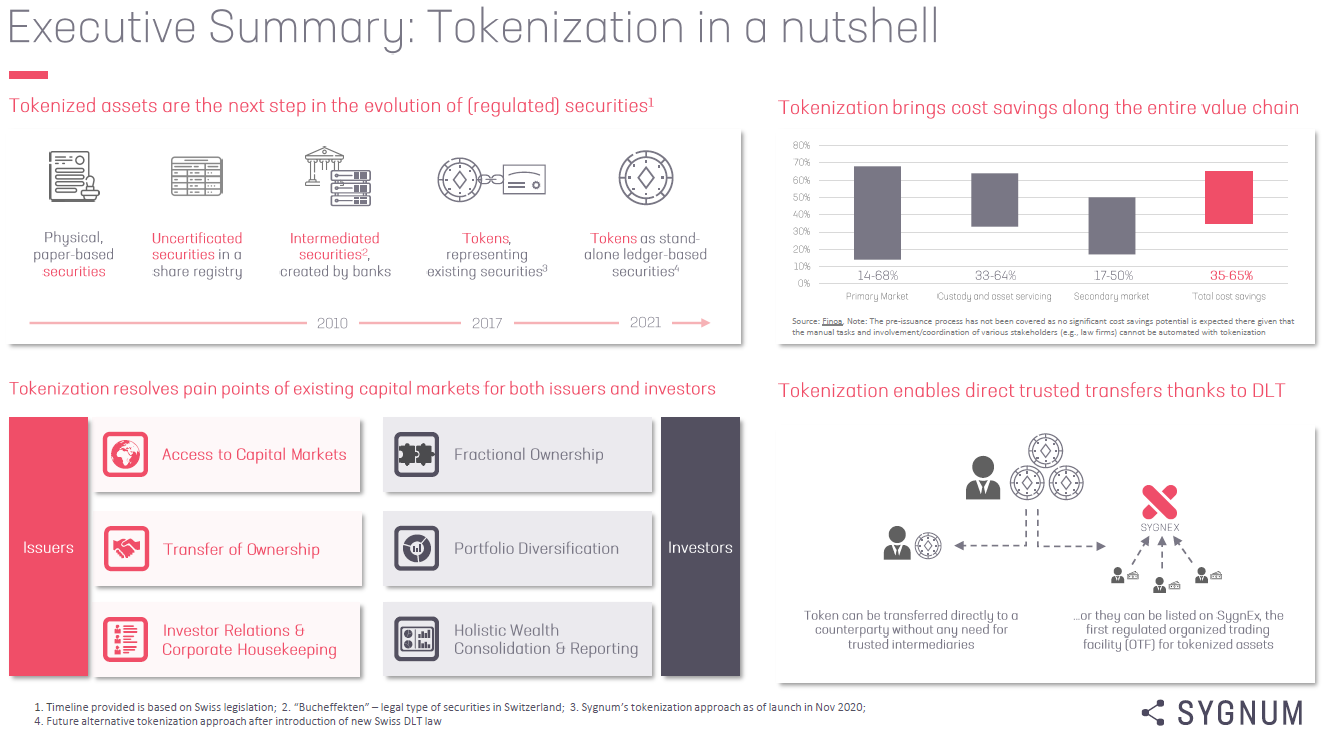 This is a milestone in the development of the digital asset market, which now enables issuers to tokenize new or existing financial and real assets. For example, Switzerland's estimated 600,000 SMEs, and the 45,000 new companies founded each year, can now attract a broader network of investors and raise capital by issuing security tokens, which can be securely traded on SygnEx. This solves many of the challenges startups and SMEs face when raising capital in traditional capital markets: high costs, extensive listing requirements, and resource-intensive processes. Similar benefits apply for the CHF 60 billion annual global Art and Collectibles market, which can now make its unique assets more widely accessible, affordable by fractional ownership, and easily tradeable.
Tokenization of "Non-Bankable Assets"
Investors can now profit from asset classes previously seen as hard-to-access in a direct and fractional manner, including Venture Capital, Mid Cap, Real Estate, and Art & Collectibles, all of which are now made investible through tokenization, a blockchain-powered alternative to traditional asset securitisation. 
"Empowering both issuers and investors to create and have access to unique, often frontier, investment opportunities has been a core part of Sygnum's mission since day one. With Desygnate and SygnEx, we bring a blockchain-powered business solution to market which opens up a world of new opportunities for capital market participants to do business." – Mathias Imbach, Sygnum's Group CEO Designate