President Rouhani, who also chairs the Economic Coordination Unit, recently announced that the country needs a new strategy for mining crypto-currencies. Iran is wavering between promoting and banning parts of the crypto ecosystem.
According to the Iranian portal arzdigital, Hassan Rouhani made a statement to the national central bank (CBI), the energy department and the ministries for information and communication technology. He called for a thorough plan to be drawn up with regard to the crypto-currency economy.
Iran's volatile relationship with crypto-currencies
Iran has a fluctuating relationship with crypto-currencies. The mood changes between classifying digital currencies as illegal offers and introducing regulations to create a favorable market environment for the local crypto ecosystem.
Only recently, the Iranian parliament published a draft law proposing to apply strict guidelines regarding crypto exchanges and currency exchange. The new parliamentary law would require crypto exchanges operating in the country to first register with the CBI. This measure would possibly prevent too much capital from leaving the country.
US President Donald Trump had recently announced that Iranians could use digital assets to circumvent sanctions. Iran, however, has been a leader in recognising mining as a legitimate industry. The country's government issues licenses that grant companies the rights to mine and sell digital assets. According to an industry report, about 1,000 such licenses were issued after only six months.
Mining is an industry in Iran
In addition to the dominant role of China, Iran occupies a position among the five nations that follow in the mining of crypto-currencies. Its share of the Bitcoin hashrate is around 4 percent, according to calculations by Cambridge University, which represents a doubling since early September 2019. Only five nations have a higher share of the Bitcoin hashrate, namely China (65 percent), the USA (7 percent), Russia (7 percent), Kazakhstan (6 percent) and Malaysia (4 percent). Data is collected by geographically locating the IP addresses, which provides information on the country in which the miners operate.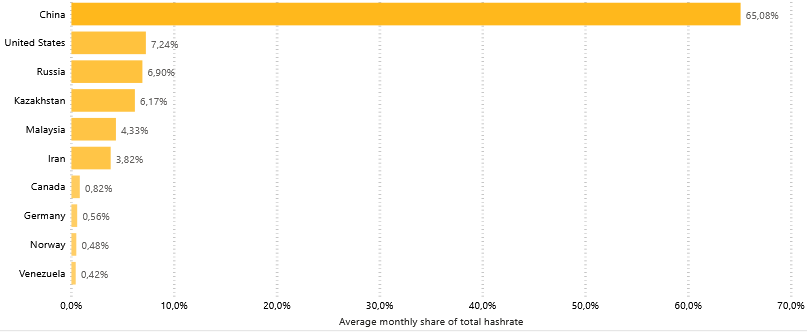 Ukraine is also engaged in mining
Ukraine is also thinking about using surplus energy to invest in the mining of digital currencies. The Ministry of Energy of Ukraine is considering using surplus energy from power plants in the country for mining of digital currencies, such as Bitcoin.
https://cvj.ch/aktuell/news/energieministerium-der-ukraine-erwaegt-kraftwerke-fuer-krypto-mining-einzusetzen/