The current war in Eastern Europe is not only a turning point for global politics, but is also affecting people at home and abroad, in addition to the Russian economy. With Ukraine, the world's first nation-state is reaching out to the crypto community to request cross-border donations in an airdrop campaign.
As the fighting rages, the Ukrainian government is communicating with its people and the international community on Twitter. Among other things, it has been calling for crypto donations for the past week. In a surprising turn of events, the government announced a token airdrop for all donation addresses after a few days, with relief funds doubling within a short period of time. Although the airdrop has been canceled since then, the example of Ukraine underscores the immense potential of blockchain technology for fundraising – irrespective whether donators were acting altruistically or merely hoping for a lucrative airdrop.
50 million USD in crypto donations
In its initial announcement, the Ukrainian government published donation addresses for Bitcoin (BTC), Ethereum-based tokens (ERC20), and Polkadot (DOT). This brought the campaign close to 25 million USD after a few days. What came as a surprise to many was the announcement of an official government airdrop. Since El Salvador made Bitcoin legal tender in 2021, this represents the first major interaction of a sovereign nation-state with the crypto community.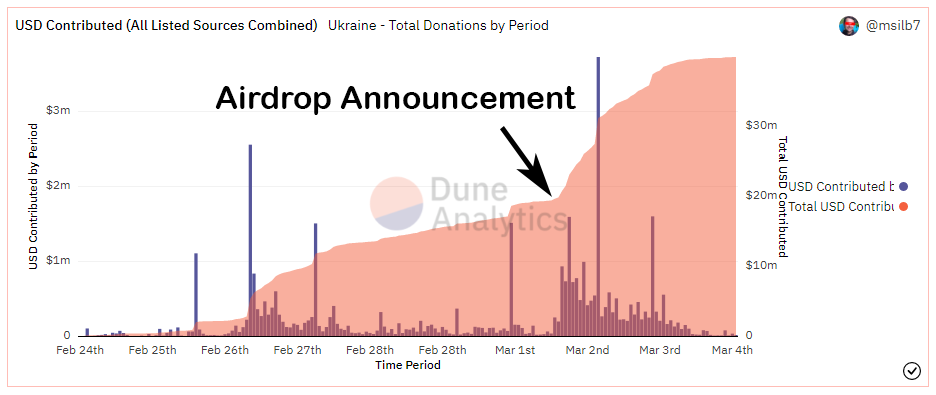 The snapshot was announced on the morning of March 2 to reward all donators with a token drop and incentivize more donations. As can be seen in the graph above, this led to a rapid doubling of Ethereum-based donations from 20 to 40 millions. Together with aid on Bitcoin and Polkadot, Ukraine has received over 55 million USD in crypto-donations – a significant amount compared to the 20 million USD from the United Nations (UN).
Abuse of the support campaign
A few hours before the announced date, tokens of the "Peaceful World" project were sent to all donors. As it quickly turned out, this airdrop was not an official token of the Ukrainian government. Rather, a team of scammers abused the fundraiser to circulate their own cryptocurrency and extract money from gullible users' pockets.
Shockingly, some of the biggest crypto media outlets fell into the scammers' trap and misidentified the airdrop as an official Ukrainian government campaign. As a result, the token recorded a trading volume of half a million USD after an hour, before the reports were corrected and the malicious intentions of the token creators were pointed out.
Ukraine airdrop canceled
These malicious projects and the concern of endangering the assets of innocent people finally caused the Prime Minister of Ukraine to cancel the planned action at short notice. He let it be known that there would be no more plans for their own cryptocurrency. Instead, a sale of non-fungible tokens (NFTs) would be organized to financially support the Ukrainian army.
After careful consideration we decided to cancel airdrop. Every day there are more and more people willing to help Ukraine to fight back the agression. Instead, we will announce NFTs to support Ukrainian Armed Forces soon. We DO NOT HAVE any plans to issue any fungible tokens

— Mykhailo Fedorov (@FedorovMykhailo) March 3, 2022