In an open letter to the Swiss Financial Market Supervisory Authority (FINMA), the Bitcoin Association Switzerland (BAS) is formulating a recommendation to amend the Money Laundering Ordinance presented in February. It calls for all financial market players to be treated equally.
On 7 February 2020, FINMA published a proposed ordinance and several partial ordinance revision projects, including the FINMA Anti-Money Laundering Ordinance (GWV-FINMA). The BAS refers to a specific detail concerning crypto-currencies.
Regulation shows differences between virtual and traditional currencies
The proposed Article 51a GWV-FINMA would create a legal distinction between virtual currencies and traditional currencies. It would set different limits for the identification of parties in an exchange transaction. This contradicts the principle of technology neutrality to which FINMA usually adheres. It is also unclear what the term "virtual currency" refers to. It is unclear whether FINMA defines virtual currencies as referring exclusively to crypto-currencies, or possibly also to upcoming digital currencies from central banks (CBDC), such as a digital dollar.
BAS Recommendation to delete Article 51a
In order to counteract unequal treatment and ambiguities, the FOA recommends that FINMA delete Article 51a or amend Article 51 accordingly. The new threshold value of CHF 1,000 should apply to all currencies in order to maintain technical neutrality and avoid unnecessary uncertainties.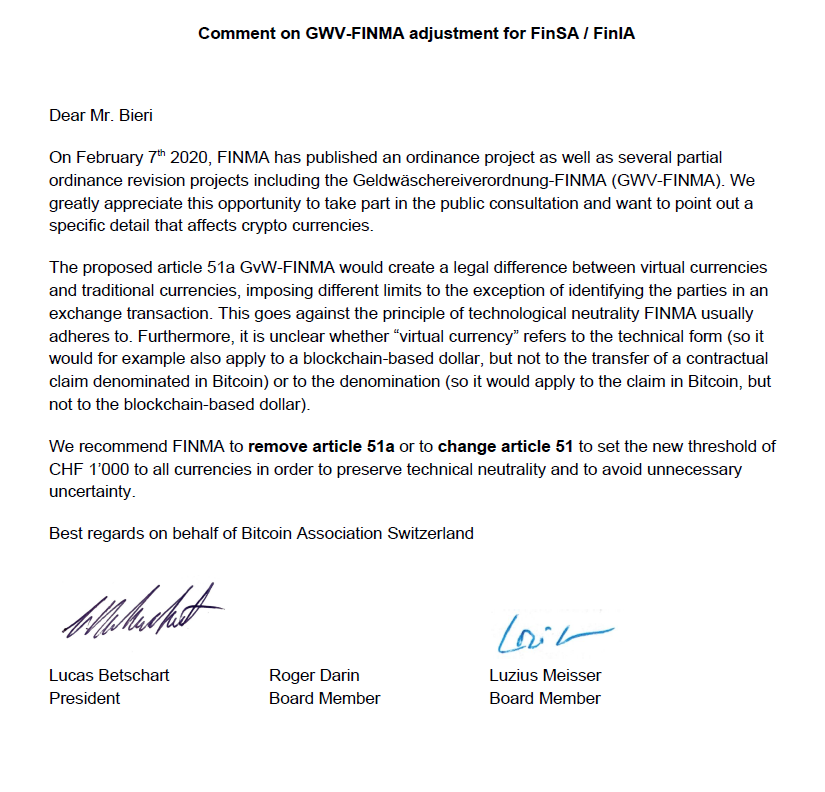 About Bitcoin Association Switzerland
The Bitcoin Association Switzerland, founded at the end of 2013, is the oldest Fintech association in Switzerland and one of the oldest Bitcoin associations still active in the world. Its purpose is to form an active community of enthusiasts who organize events, resolve outstanding legal issues and educate the public by providing a contact point for media inquiries.