The Swiss startup Grizzly.fi was one of the first projects to introduce an overcollateralized stablecoin as a digital Swiss franc (CHF). The stablecoin can be minted against Bitcoin or Ether collateral similar to MakerDAO's DAI. Within a week, the token became the largest CHF stablecoin by circulating supply.
The Swiss franc is generally considered one of the safest currencies in the world and is viewed by investors as a safe haven in turbulent times. Given the current inflation rates and the easy accessibility of stablecoins, investors are looking for safe alternatives to their national currencies. This circumstance helped the overcollateralized Swiss franc stablecoin DCHF to get off to a successful start.
A digital Swiss franc
The DeFi Franc (DCHF) is the second product that the Swiss startup is launching. DCHF is an Ethereum-based stablecoin backed by ETH and WBTC. Users can obtain the token through its own lending platform and borrow DCHF for a 0% interest rate.
"We hope to drive innovation by providing investors with an inflation proof stablecoin pegged to the Swiss Franc. With a strong economy, low debt, and sizeable foreign investment, the currency is an appealing alternative to USD pegged stablecoins." – Oliver Kol, Co-Founder Grizzly.fi
The platform allows borrowing at a minimum collateral ratio of 110%, which corresponds to a loan-to-value ratio of 90%. This makes borrowing relatively capital-efficient and similar to MakerDAO's overcollateralized stablecoin model.
Lively interest for the CHF stablecoin
The fact that there is demand for a digital Swiss franc became apparent within a few days. As can be seen on the project page, there are already 14.5 million DCHF in circulation, which were borrowed against 26 million USD in Ether and Bitcoin; a considerable sum for a five-day-old protocol.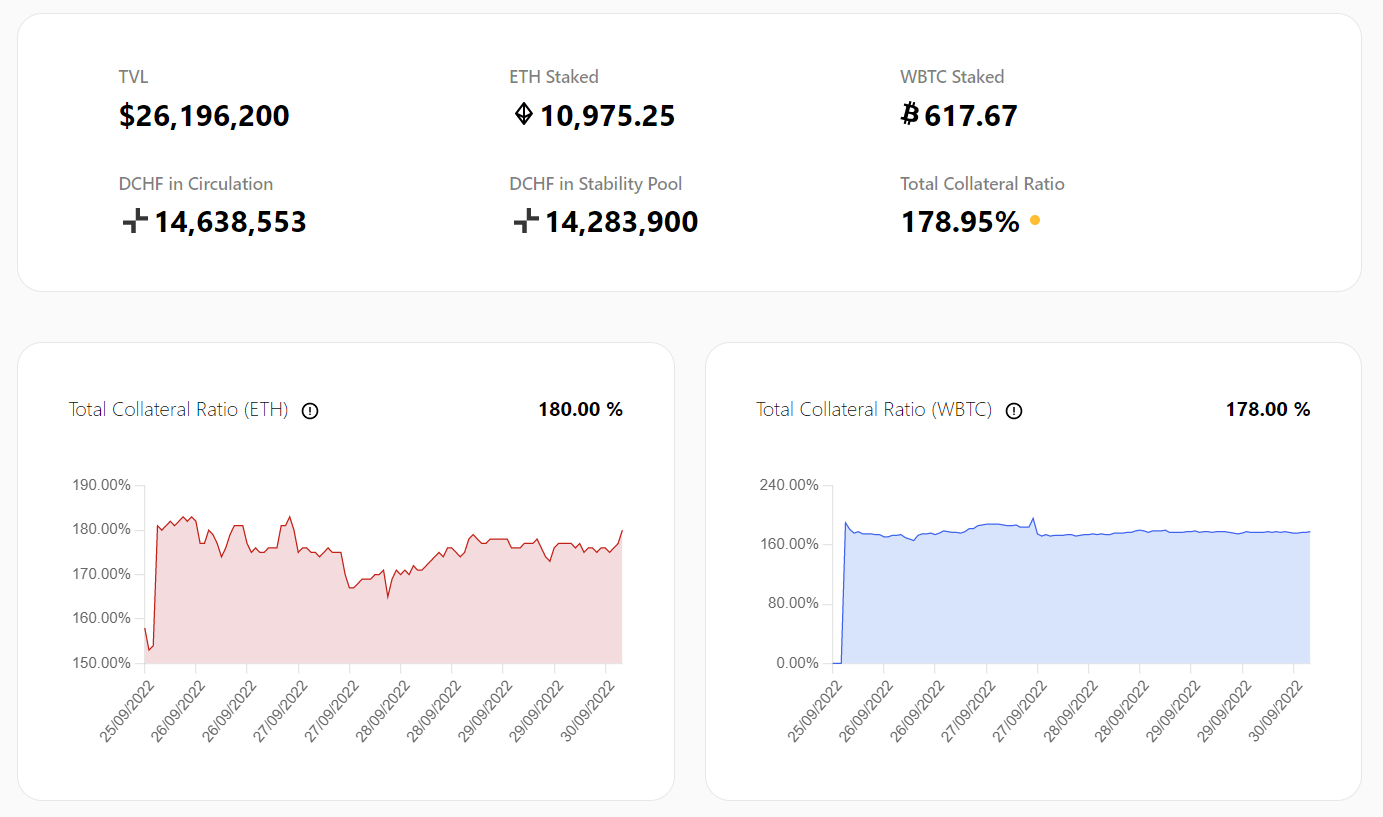 This makes DeFi Franc the largest CHF stablecoin in circulation. Previously, Yearns Iron Bank CHF (ibCHF) took first place with 9 million circulating tokens, followed by Bitcoin Suisse's centrally backed XCHF with 3.1 million. Thus, the first digital franc surpasses the 10 million mark and enters the competitive stablecoin market, which was previously dominated exclusively by dollars and euros.