A survey conducted by Deloitte as part of the Global Blockchain Survey 2020 attests to the increasing relevance of emerging technology in companies.
The survey was aimed at gaining a better insight into the general perception of and investment in blockchain technology. The authors of the study concluded that progress has been made in the past year in the introduction and implementation of real blockchain-enabled solutions in a wide range of companies and sectors.
Attitudes towards blockchain have obviously and measurably changed as managers and business leaders implement block-chain-enabled solutions, whether through the use of digital assets in particular or through innovative applications of block chains in general.
Out of 1,488 senior executives surveyed for the study, around 39 percent confirmed that they use the blockchain in their own company. This figure is an increase of 16 percent compared to the 2019 survey results. If only companies that generate sales in excess of $100 million are considered the figure is 41 percent.
83 percent of those surveyed stated that without the introduction of the new technology, there is a risk of losing a competitive advantage in the near future.
Significant increase in importance expected in the coming years
The study also clearly shows how much the use of block chain can increase in the coming years. Nine out of ten respondents think that the block chain technology will become more important in the next three years. Part of the study included respondents from Brazil, Canada, China, Germany, Hong Kong, Ireland, Israel, Mexico, Singapore, South Africa, Switzerland, the United Arab Emirates, the United Kingdom and the United States. In addition, the respondents had to have a "broad understanding" of block chain and digital assets as a criterion.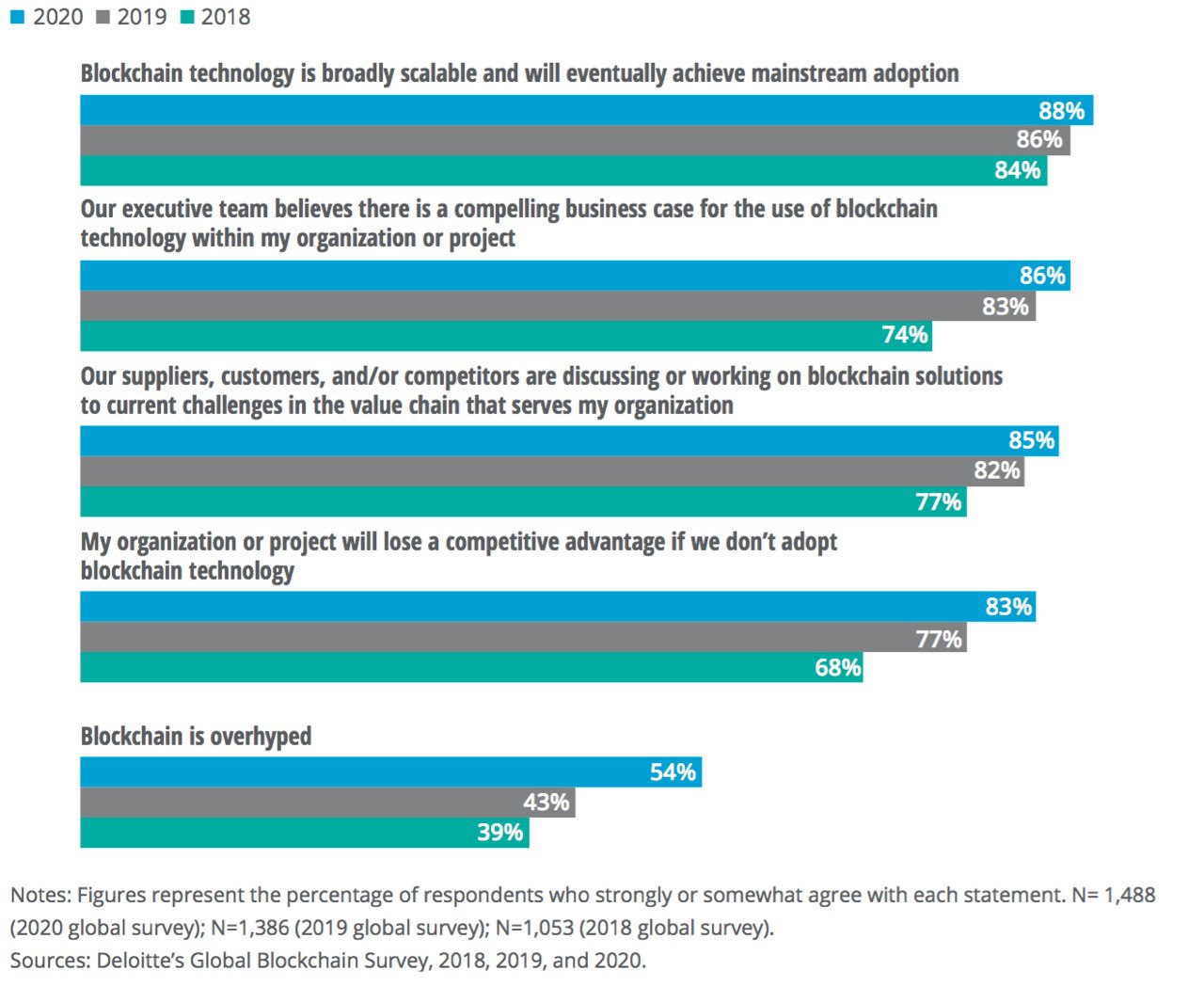 Once recognized only as the foundation for crypto-currency, blockchain is now accepted by leading companies as a robust solution that enables advances in 3D printing, AI, digital security and more.
Digital assets as an alternative or replacement for Fiat currencies
When asked whether digital assets will be important in the future, around 89 percent said these would be very or somewhat important for their own industry over the next three years. Another 53 percent said that digital assets will generally be very important. In Asia, respondents were even more convinced of digital assets, with around 94 percent expecting them to serve as an alternative or replacement for classic Fiat currencies in the next five to ten years.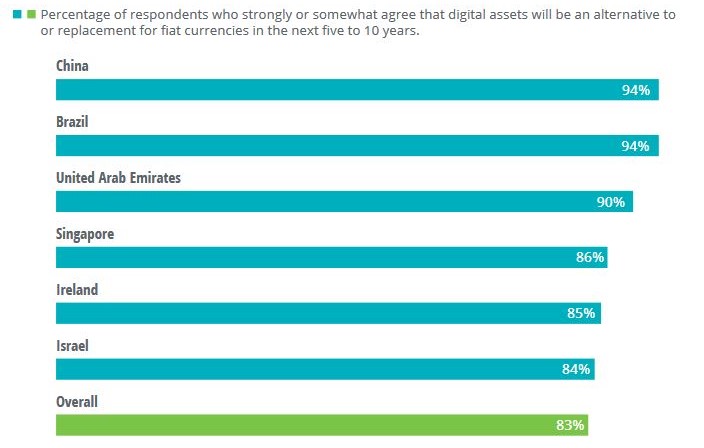 Also the setting behavior is changed by the block chain. As Deloitte reported, 82 percent of respondents said they would hire people with block chain expertise within the next 12 months.