Sidechains aim to resolve Ethereum's often cited limitations like poor user experience caused by delayed transactions, slow speed, limited throughput, and lack of community governance. An introduction to the leading sidechain Polygon and its MATIC token.
A sidechain is a separate blockchain that works in conjunction with an associated mainchain. It has its own consensus mechanism and is connected to the mainnet through a two-way peg (meaning that coins can be transferred to and from the mainchain to the sidechain). The Matic Network announced its rebranding to Polygon Network in February 2021, and positioned itself in the race to be the first fully live interoperability solution.
Polygon network and the MATIC token
The Polygon project is one of the most recent attempts at improving blockchain interoperability and scaling through an Ethereum Virtual Machine (EVM) compatible sidechain. The network brings scaling solutions to Ethereum by using a bridge, which allows assets to be moved between the mainchain and a proof-of-stake based side chain. Its architecture is split up into a four-layer system, composed of the Ethereum layer, a security level, the polygon network layer, and an execution layer. The result is a solution for faster and lower cost transactions.
A single Polygon sidechain should be able to achieve 65'536 transactions per block (currently, Ethereum can complete around 714.29 transactions per block for basic transactions). It is possible that it will be able to complete millions of transactions on multiple chains in the near future. Due to these factors, the Polygon network is likely to become the de facto avenue for retail users to gain exposure to Layer 2 options.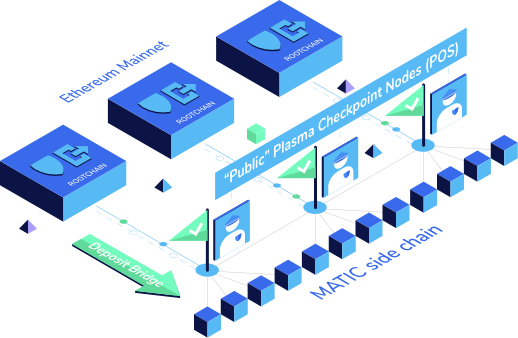 Much like Ether (ETH), the MATIC coin is used to pay transaction fees, to vote on improvement proposals, and for staking purposes. An explosion in DeFi activity has also seen many native Ethereum protocols launch on the network in order to please their users. Recently, Aave (a protocol to earn interest on deposits and borrow assets) launched on the Polygon network, moving more than 60'000 users from Ethereum to the Layer 2 network, with approximately $12 billion deposited and $7 billion borrowed. Curve (a decentralised exchange) also recently launched on Polygon and offers additional MATIC coins when you offer liquidity through their pools.
These two protocols have been early movers and are therefore very likely to have an edge over platforms not operating on Polygon. My personal experience with the Polygon network has been that it is user friendly and can facilitate substantial savings in terms of transaction fees.
Alternative scalability solutions
The key to all interoperability solutions is how well they enable a scalable sidechain alternative to Ethereum: Does the solution address transaction speed, throughput, and community governance issues? With Polygon, a roadmap about how or when its interoperability solution will be fully live is yet to be seen. Their announcements with partners do indicate, however, that things are developing and taking shape.
It is also important to keep an eye out for alternative interoperability offerings, e.g. Polkadot and Cosmos, and look at how they compare. This is important in order to be able to understand how this sector is evolving and to stay up to date on what entrants are promising.
Polygon has said that it aims to address some perceived limitations of projects such as Polkadot and Cosmos. This includes Polygon's goal to be approachable for everyone who is already building apps on Ethereum, to be the practical choice for sovereign platforms to engage with, and to be flexible to allow scalability solutions.
---
Copyright © 2021 | Crypto Broker AG | All rights reserved.
All intellectual property, proprietary and other rights and interests in this publication and the subject matter hereof are owned by Crypto Broker AG including, without limitation, all registered design, copyright, trademark and service mark rights.
Disclaimer
This publication provided by Crypto Broker AG, a corporate entity registered under Swiss law, is published for information purposes only. This publication shall not constitute any investment  advice respectively does not constitute an offer, solicitation or recommendation to acquire or dispose of any investment or to engage in any other transaction. This publication is not intended for solicitation purposes but only for use as general information. All descriptions, examples and calculations contained in this publication are for illustrative purposes only. While reasonable care has been taken in the preparation of this publication to provide details that are accurate and not misleading at the time of publication, Crypto Broker AG (a) does not make any representations or warranties regarding the information contained herein, whether express or implied, including without limitation any implied warranty of merchantability or fitness for a particular purpose or any warranty with respect to the accuracy, correctness, quality, completeness or timeliness of such information, and (b) shall not be responsible or liable for any third party's use of any information contained herein under any circumstances, including, without limitation, in connection with actual trading or otherwise or for any errors or omissions contained in this publication.
Risk disclosure
Investments in virtual currencies are high-risk investments with the risk of total loss of the investment and you should not invest in virtual currencies unless you understand and can bear the risks involved with such investments. No information provided in this publication shall constitute investment advice. Crypto Broker AG excludes its liability for any losses arising from the use of, or reliance on, information provided in this publication.