An overview of the trading activities on the cryptomarkets. Studies on traded volumes, supply and demand situations, as well as periodic technical analysis of the most important crypto-currencies and indices, including the perspective of
Crypto Finance AG
Senior Trader Patrick Heusser.
Technical Analysis
Good Morning!
What a monthly candle close!
Bitcoin BTC$ (4h)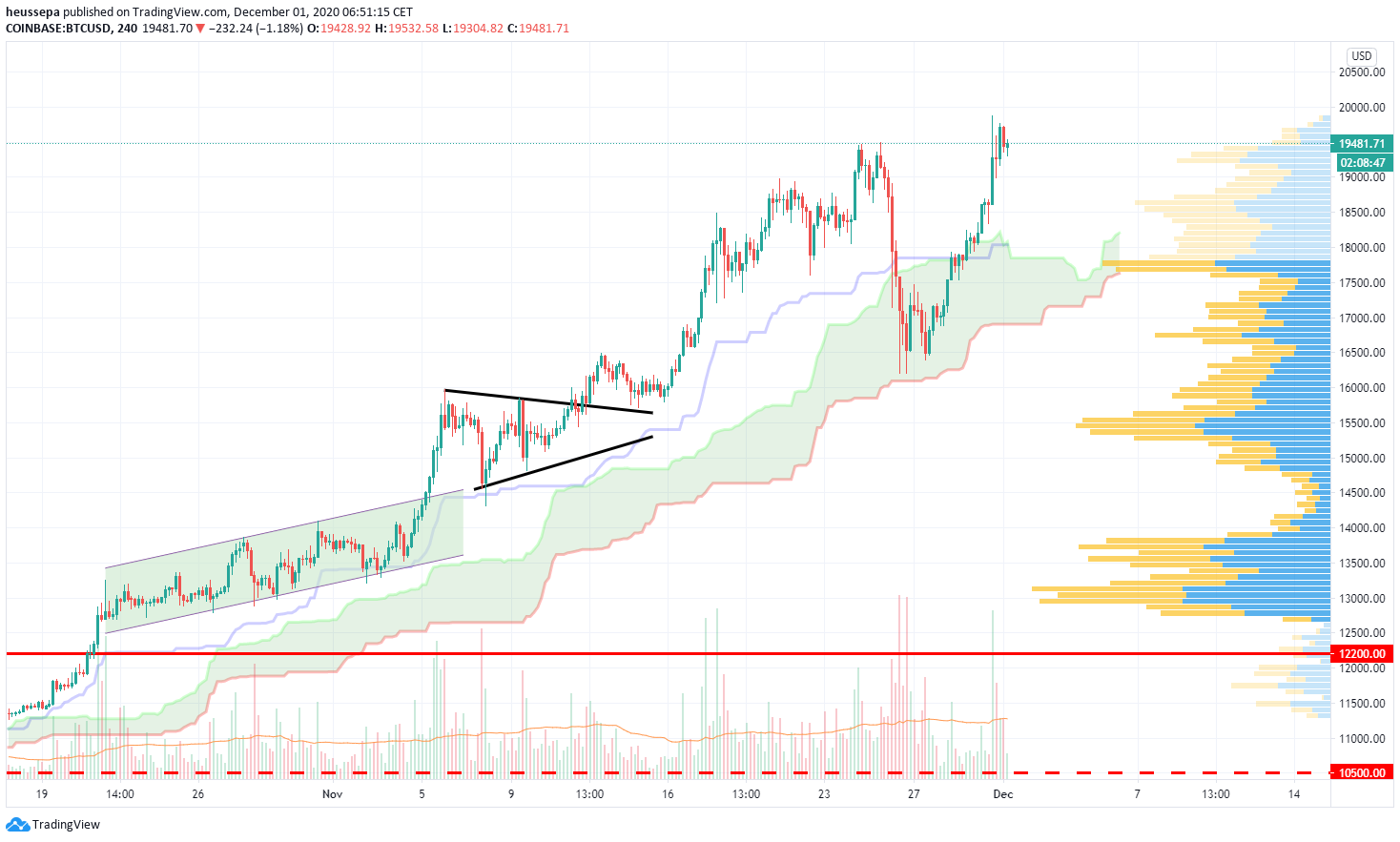 The Thanksgiving drop scared quite a few people. In case you were actively engaged during that time, you probably started feeling uneasy around the 16.2k level. But at the same time, large OTC desks started to support the bid and absorbed a great deal of selling pressure. It could have been from large customer limit buy orders or a risk/reward play to take in some at those levels with a tight stop below 15.5k.
Everyone who had the guts was rewarded – even on the weekend, and especially on Monday when we almost reached 20k on the Coinbase chart. Some profit taking happened up there, but things are holding up surprisingly well.
On the technical side of the chart: 16k looked like a good support level in combination with the Ichimoku cloud. Also, on the way up, the baseline (blue line) provided some initial resistance, and then when we went through, there was no holding back in terms of price.
I will start to feel uneasy when prices go below 17.5k. Some people expect fireworks above the 20k (ATH) level, but I am not so sure due to the streched derivatives situation (wide term basis and elevated funding levels on the perpetual futures). However, I would not mind a surprise.
In terms of the big picture, I am still looking for that blow-off top to fully reduce my longs. Wish me luck in having the guts to actually press the sell button then…
Ethereum ETH$ (4h)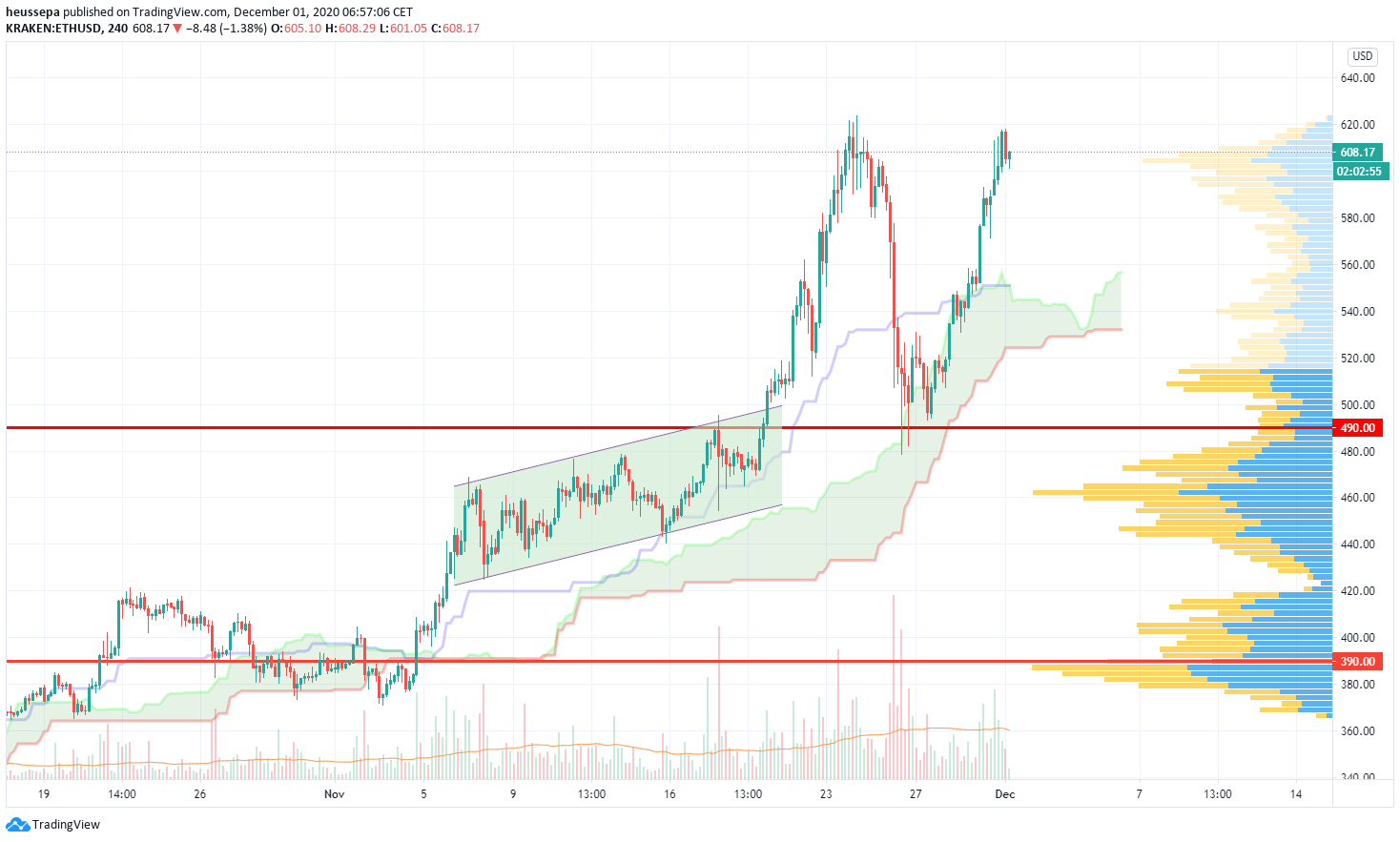 The zig-zag volatility ETH is showing is remarkable. It is still a "wanted" asset, which we figured out during last week's trading. If you need to buy a good amount of ETH, you will soon discover that no-one wants to give it up.
It is a tough one on the chart. Since correlation is yet again pretty high among the top 10 cryptocurrencies, we have support on the downside at around $550 (big one at $490). On the topside, we just need to take out $620 (which will probably happen in combination with BTC$ breaking 20k), and pop up higher into the $700 area.
Ethereum/Bitcoin ETHBTC (4h)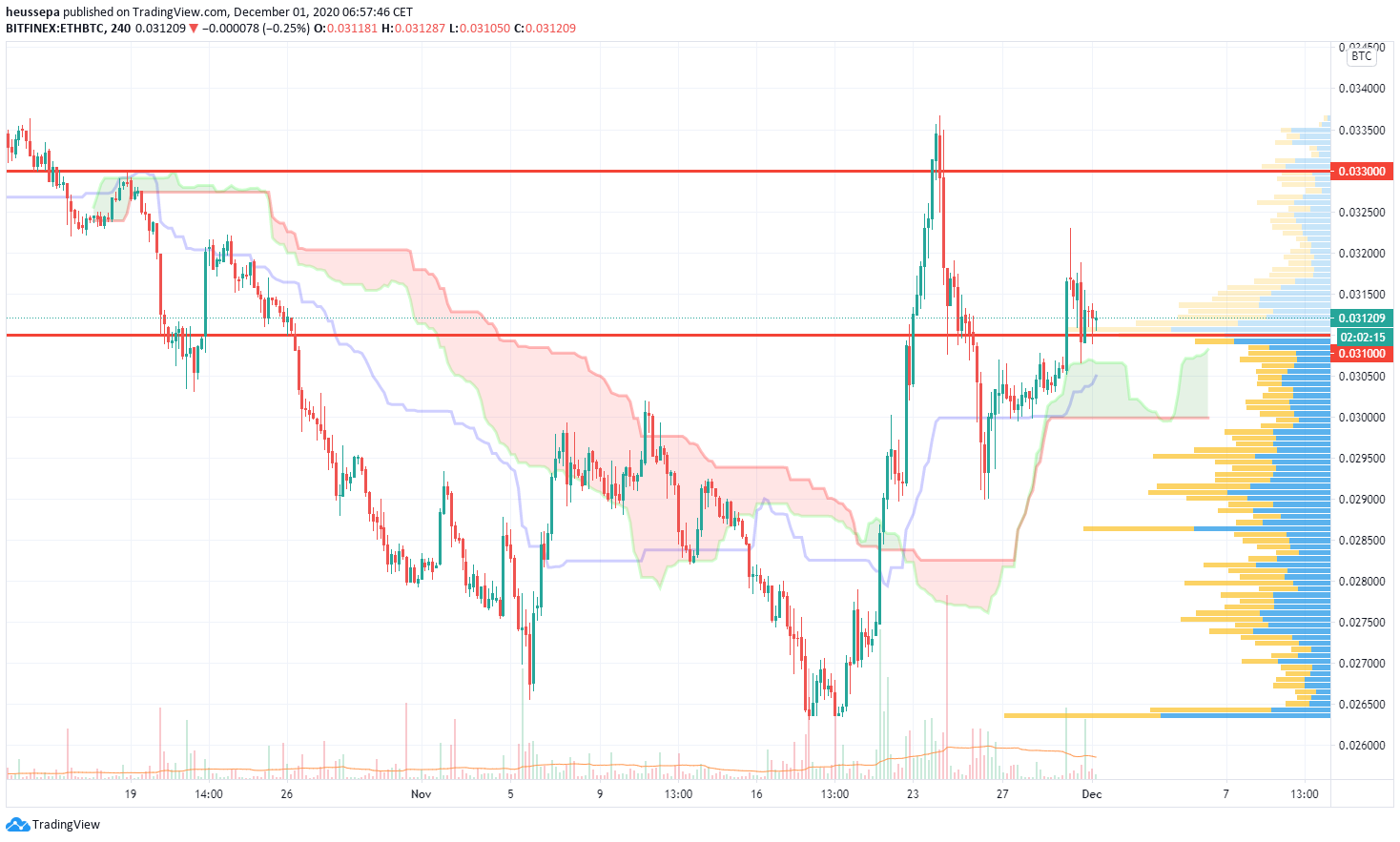 That was a hard-to-read move. Due to the price volume chart (on the right-hand side), I am expecting to stay within the 0.031 – 0.033 range. It looks like a good risk/reward trade to get some ETH vs BTC on board.
AAVE$ (4h)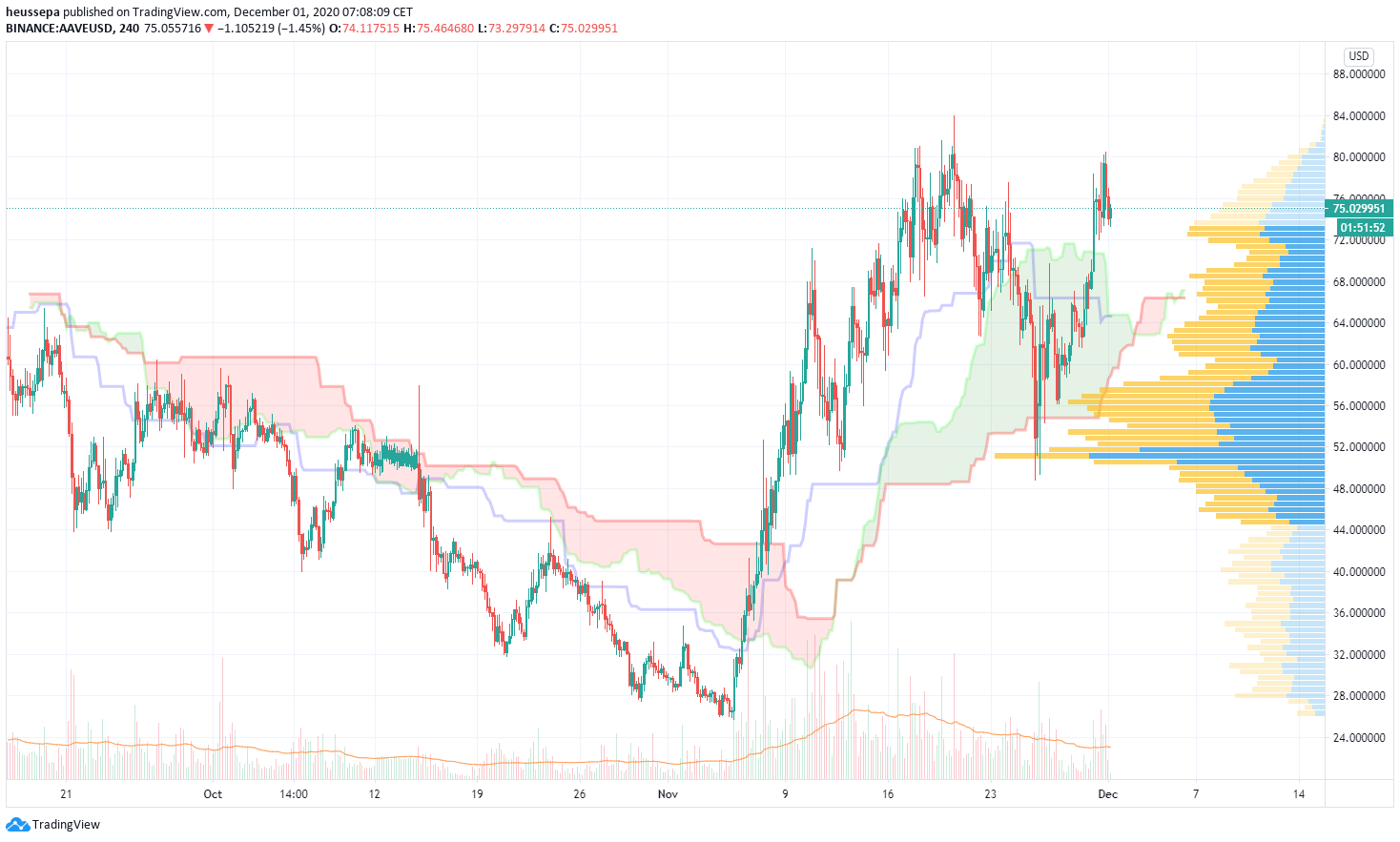 I called this one correctly, but it was a tough one to play. The dip was slightly more aggressive than what I initially thought it would be. But $52 (currently) looks like a really good support level.
The topside is still kept up by the $83-$84 resistance. But my guess is that this will not last long. Blue chip DeFi tokens are doing well and have started to become a wanted asset for traders/investors who want to diversify their BTC & ETH portfolio a bit more.
COMP$ (4h)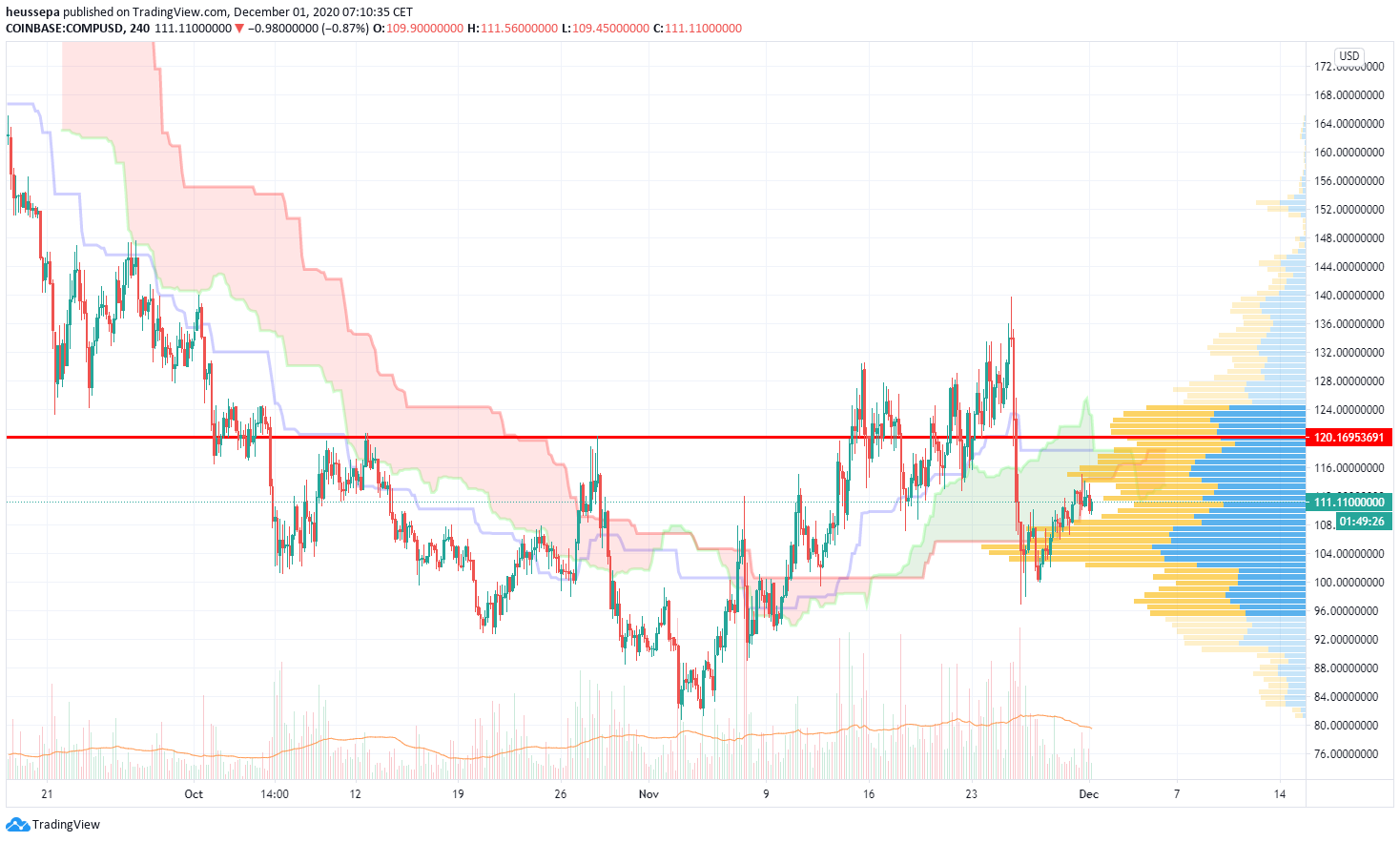 This is one of the few blue chip DeFi tokens that is not playing along. We traded yet again well below $120, and even the $109 level. I will stay away until I see a clear push through the $120 level before I go long again.
LINK$ (4h)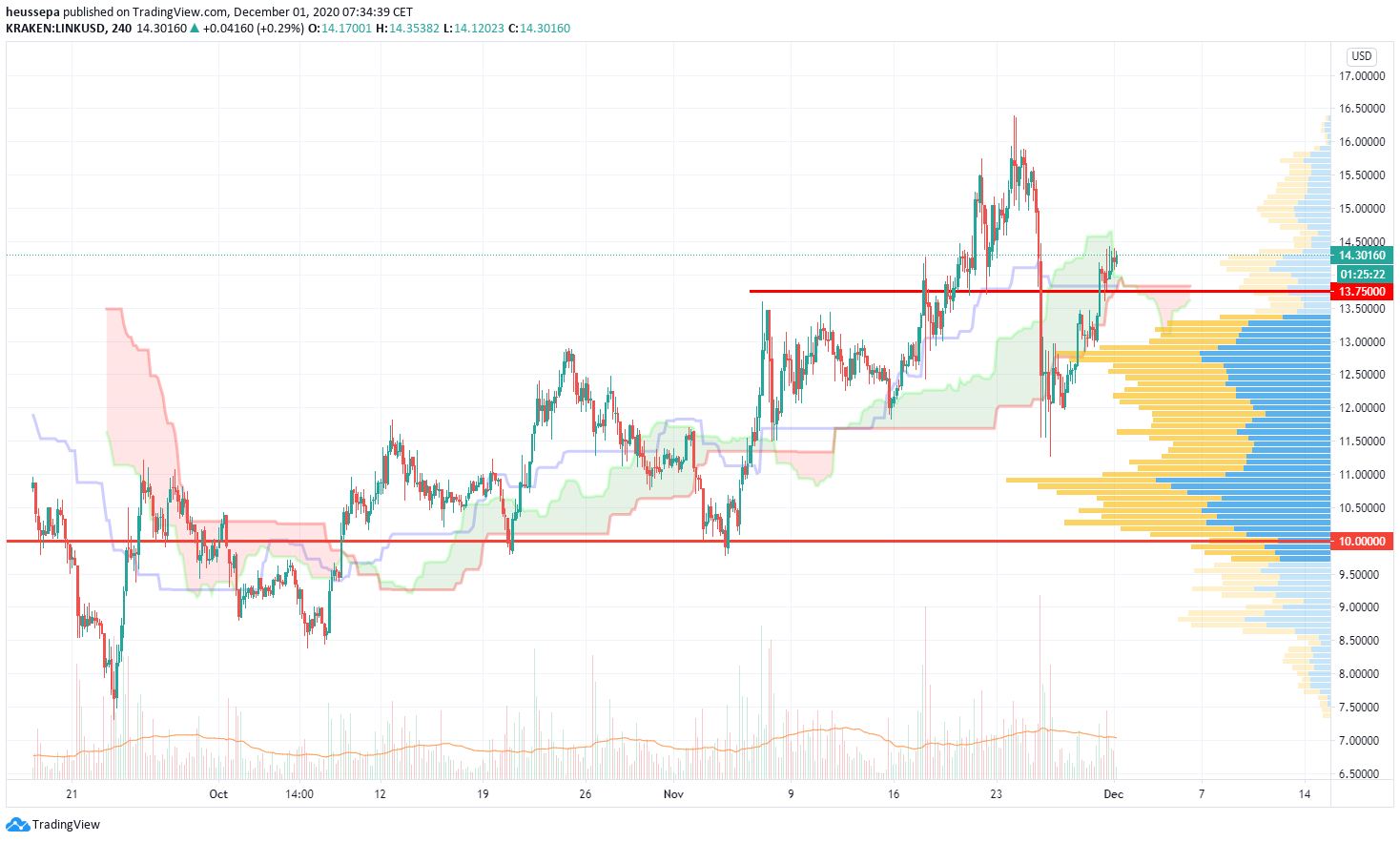 This is another tough one with a massive retracement from the $16 level down to $11.50. I still see the $13.75 as the support/resistance flip line level. To me, this level gained some increased importance in combination with the Ichimoku cloud.
I am still positive towards LINK and am looking for a break of the $16.50 top.
SNX$ (4h)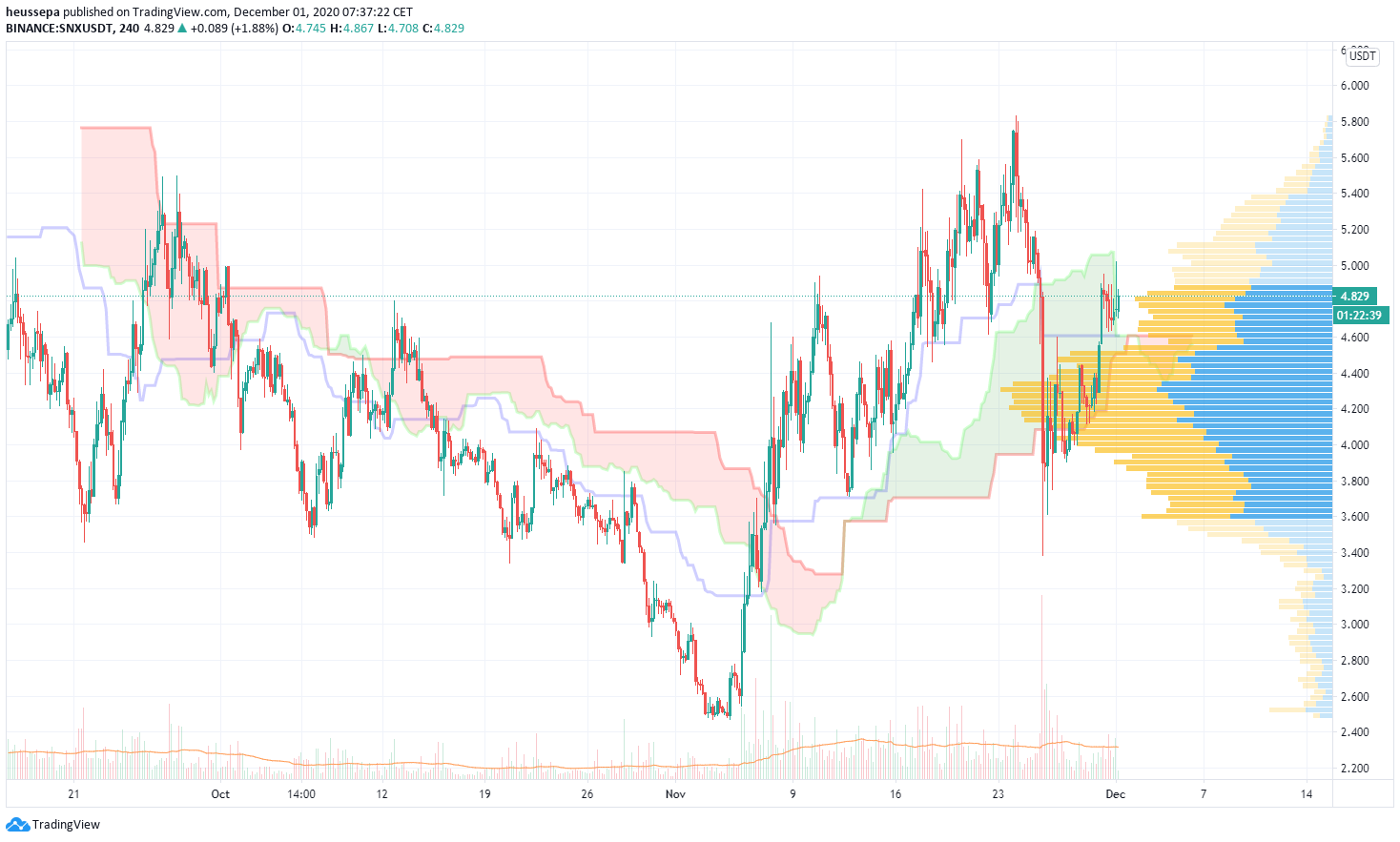 I missed the re-buy after I cashed out at $4.50. I am still bullish on it, but hesitating to buy just now. I'll keep it on my radar.
YFI$ (4h)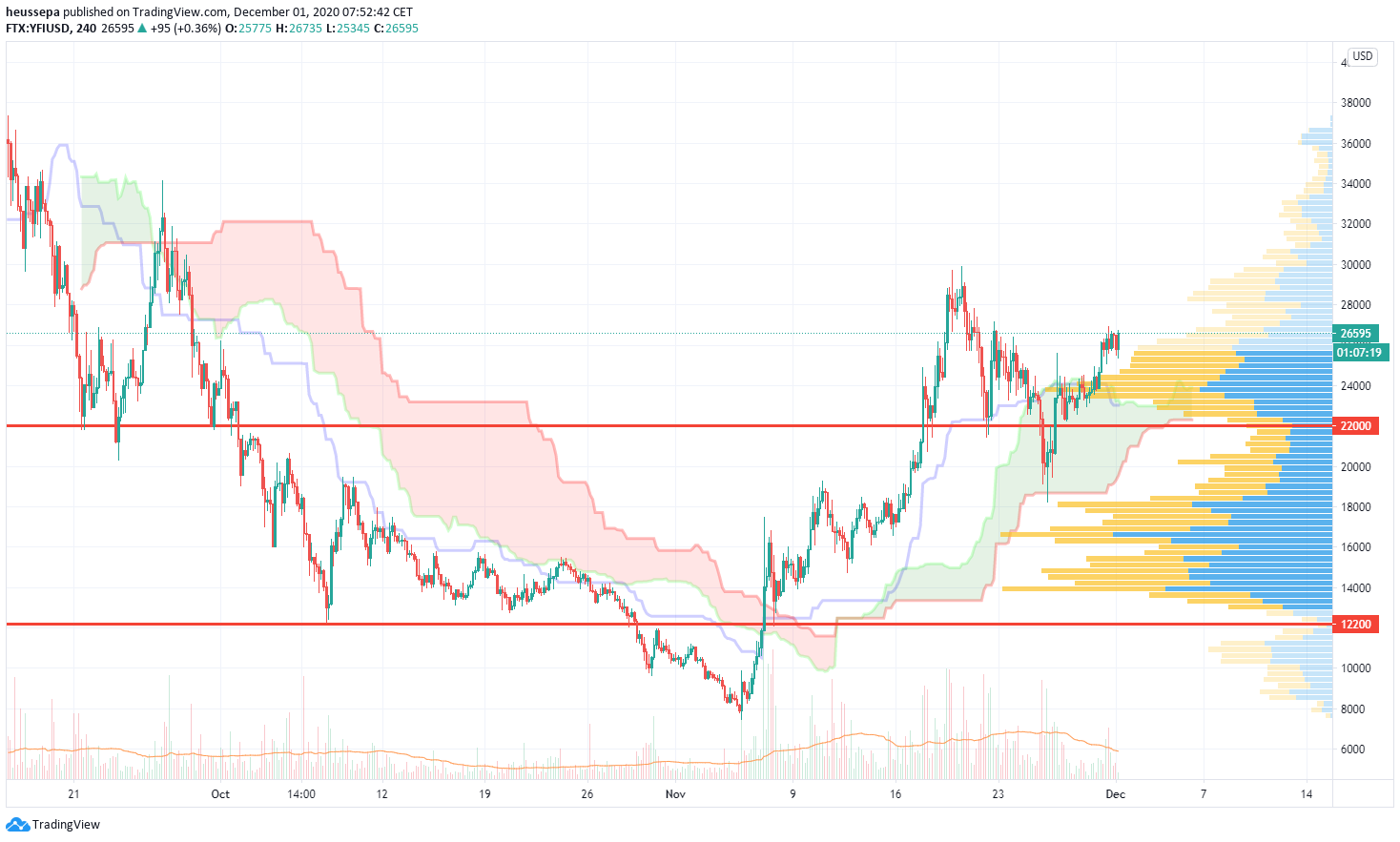 This one is doing really well. I think we have a good chance of breaking through the $30k level very soon.
Copyright © 2020 | Crypto Broker AG | All rights reserved.
All intellectual property, proprietary and other rights and interests in this publication and the subject matter hereof are owned by Crypto Broker AG including, without limitation, all registered design, copyright, trademark and service mark rights.
Disclaimer
This publication provided by Crypto Broker AG, a corporate entity registered under Swiss law, is published for information purposes only. This publication shall not constitute any investment  advice respectively does not constitute an offer, solicitation or recommendation to acquire or dispose of any investment or to engage in any other transaction. This publication is not intended for solicitation purposes but only for use as general information. All descriptions, examples and calculations contained in this publication are for illustrative purposes only. While reasonable care has been taken in the preparation of this publication to provide details that are accurate and not misleading at the time of publication, Crypto Broker AG (a) does not make any representations or warranties regarding the information contained herein, whether express or implied, including without limitation any implied warranty of merchantability or fitness for a particular purpose or any warranty with respect to the accuracy, correctness, quality, completeness or timeliness of such information, and (b) shall not be responsible or liable for any third party's use of any information contained herein under any circumstances, including, without limitation, in connection with actual trading or otherwise or for any errors or omissions contained in this publication.
Risk disclosure
Investments in virtual currencies are high-risk investments with the risk of total loss of the investment and you should not invest in virtual currencies unless you understand and can bear the risks involved with such investments. No information provided in this publication shall constitute investment advice. Crypto Broker AG excludes its liability for any losses arising from the use of, or reliance on, information provided in this publication.