An overview of the trading activities on the cryptomarkets. Studies on traded volumes, supply and demand situations, as well as periodic technical analysis of the most important crypto-currencies and indices, including the perspective of professional Traders.
Good Morning!
China's property developer crisis started by Evergrande has spilled over into crypto at lighting speed. There has been a typical "risk-off" move across equity/commodity and crypto.
Correlation was very high during the selling waves. If you look at the three indices from FTX: the ALT, MID, and SHIT indices all showed the same pattern on the way down. We are returning to what I have in the past called "Have your shopping list ready" scenario, so that you can buy up the tokens from projects you have done thorough research on and that fundamentally look good to you.
Bitcoin BTC (4h)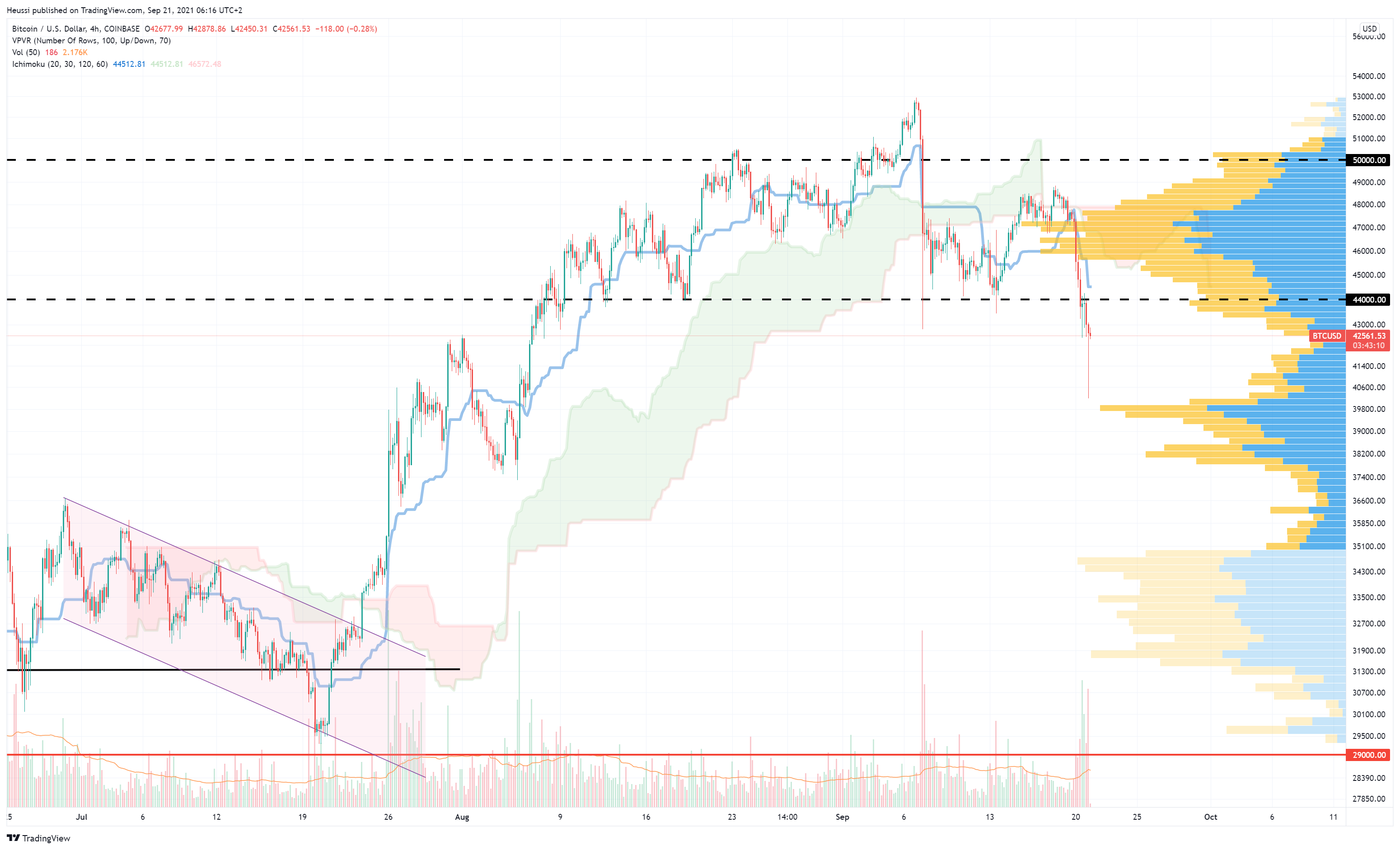 It is really tough to say where we might go from here. As a first observation: I like the long wick down and the fast recovery. If we are able to close above $43k over the next 3-4 hours, it would confirm a nice bounce with more potential back into the previous range of $44-50k.
If not, the $40k level is well protected by large buying orders in pretty much every order book I can see via the Okotoki app. But in case it fails, we will move back down into the $33k region rather quickly. My guess is that we will grind sideways with an upward tendency. This view is more macro driven than what can be seen on the chart.
I believe that the developer crisis in China will fade out over time and contagion should be limited. Then again, if China's issue spreads we can look forward to the magical back-stops of the most prominent central banks around the globe. Either way, it shows once again that crypto as an asset class has a high correlation to the TradFi market – especially during "risk-off" scenarios.
---
Copyright © 2021 | Crypto Broker AG | All rights reserved.
All intellectual property, proprietary and other rights and interests in this publication and the subject matter hereof are owned by Crypto Broker AG including, without limitation, all registered design, copyright, trademark and service mark rights.

Disclaimer
This publication provided by Crypto Broker AG, a corporate entity registered under Swiss law, is published for information purposes only. This publication shall not constitute any investment  advice respectively does not constitute an offer, solicitation or recommendation to acquire or dispose of any investment or to engage in any other transaction. This publication is not intended for solicitation purposes but only for use as general information. All descriptions, examples and calculations contained in this publication are for illustrative purposes only. While reasonable care has been taken in the preparation of this publication to provide details that are accurate and not misleading at the time of publication, Crypto Broker AG (a) does not make any representations or warranties regarding the information contained herein, whether express or implied, including without limitation any implied warranty of merchantability or fitness for a particular purpose or any warranty with respect to the accuracy, correctness, quality, completeness or timeliness of such information, and (b) shall not be responsible or liable for any third party's use of any information contained herein under any circumstances, including, without limitation, in connection with actual trading or otherwise or for any errors or omissions contained in this publication.

Risk disclosure
Investments in virtual currencies are high-risk investments with the risk of total loss of the investment and you should not invest in virtual currencies unless you understand and can bear the risks involved with such investments. No information provided in this publication shall constitute investment advice. Crypto Broker AG excludes its liability for any losses arising from the use of, or reliance on, information provided in this publication.