An overview of the trading activities on the cryptomarkets. Studies on traded volumes, supply and demand situations, as well as periodic technical analysis of the most important crypto-currencies and indices, including the perspective of professional Traders.
Good Morning!
At the time of writing, Bitcoin (BTC) is trading at $38,400 (-13.57% in 7 days), Ethereum (ETH) is trading at $2,530 (-14.97% in 7 days), the Ethereum vs. Bitcoin (ETH/BTC) spread is trading at 0.0658 (-1.69% in 7 days), and Solana (SOL) is trading at $83.15 (-15.73% in 7 days).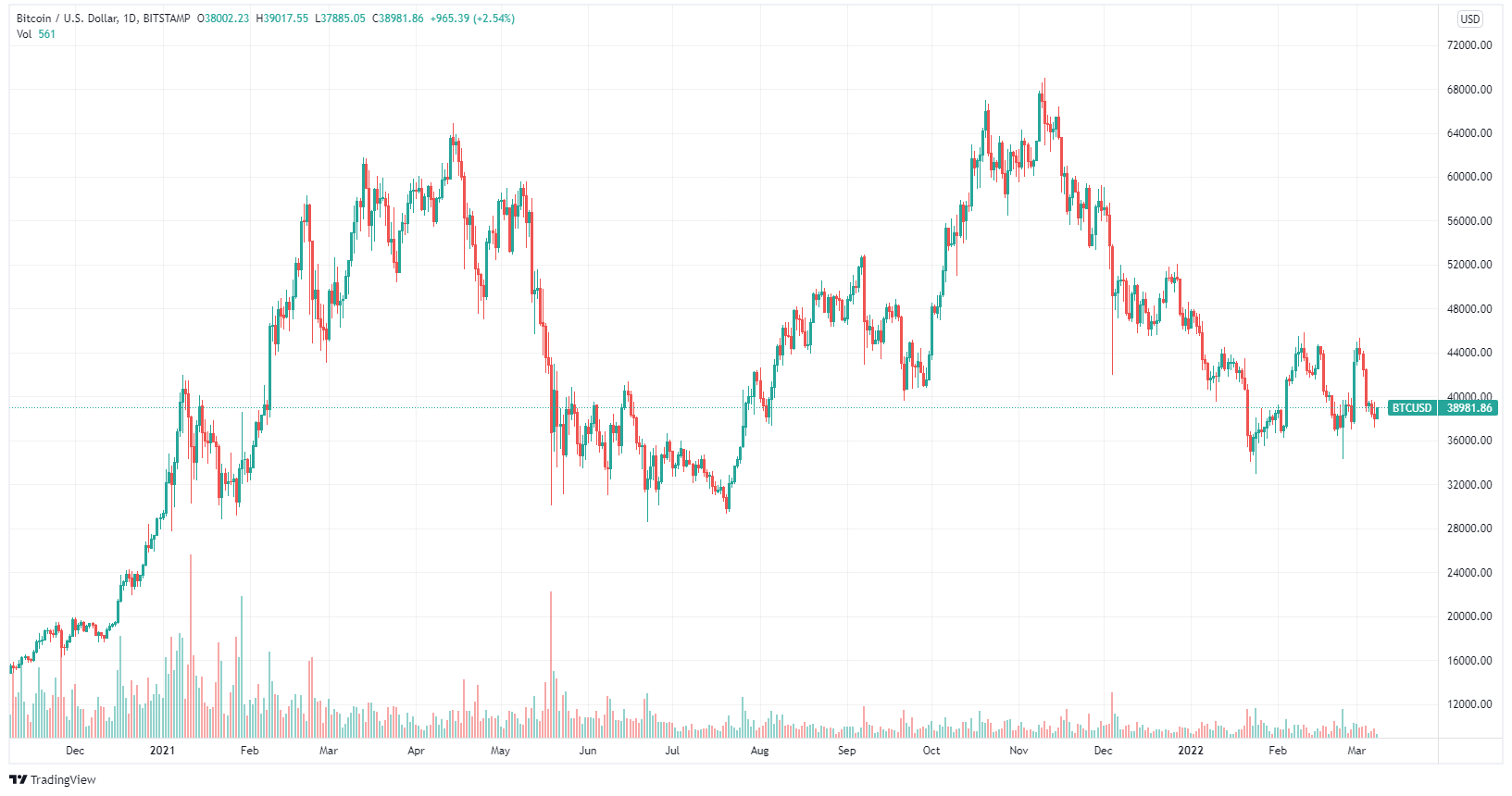 Macro uncertainty
As price actions are driven by macroeconomic factors, the global economy is leading to stagflation: a time of slow economic growth and rising inflation.
Rising Commodity Prices: Crude Oil $120+, Gold above $2,000 / oz, etc.
The CBOE Volatility Index (VIX) is trading at $36.46 (+57% in 1 month)
EUR / CHF reached 1 for the first time since peg removal in 2015 (-9% in 1 year)
Given the current high inflation environment, central banks are facing new problems, and may not be able to add additional monetary stimulus to support. While the March 25bp rate hike is almost a given, we are likely to see at least a 5-fold rate hike this year. I suspect that growth projections for 2022 around the world will need to be revised downwards drastically; hence, a major rotation from risky to safe assets.
What's in store for cryptocurrencies in the near future?
As the world continues to witness Ukraine's continued efforts to prevent the Russian advance, crypto continues to settle. Bitcoin is fluctuating between $35k and $45k with strong realised volatility (3-month daily RV: 3.5%), and is outperforming Ethereum. I believe this trend will continue. Investors are not taking any directional bets, and are now waiting for the big events to come.
BTC overall volumes and open interest profiles continue to be low; similarly, funding rates are nearly flat. While at-the-money (ATM) implied volatility is trending higher (3-month ATM IV: 71.9%), all skew profiles show greater interest in put. I still believe that the right play – once again – is to be long volatility and delta-neutral (straddle, long call short-perp, etc.) as uncertainty has not disappeared yet.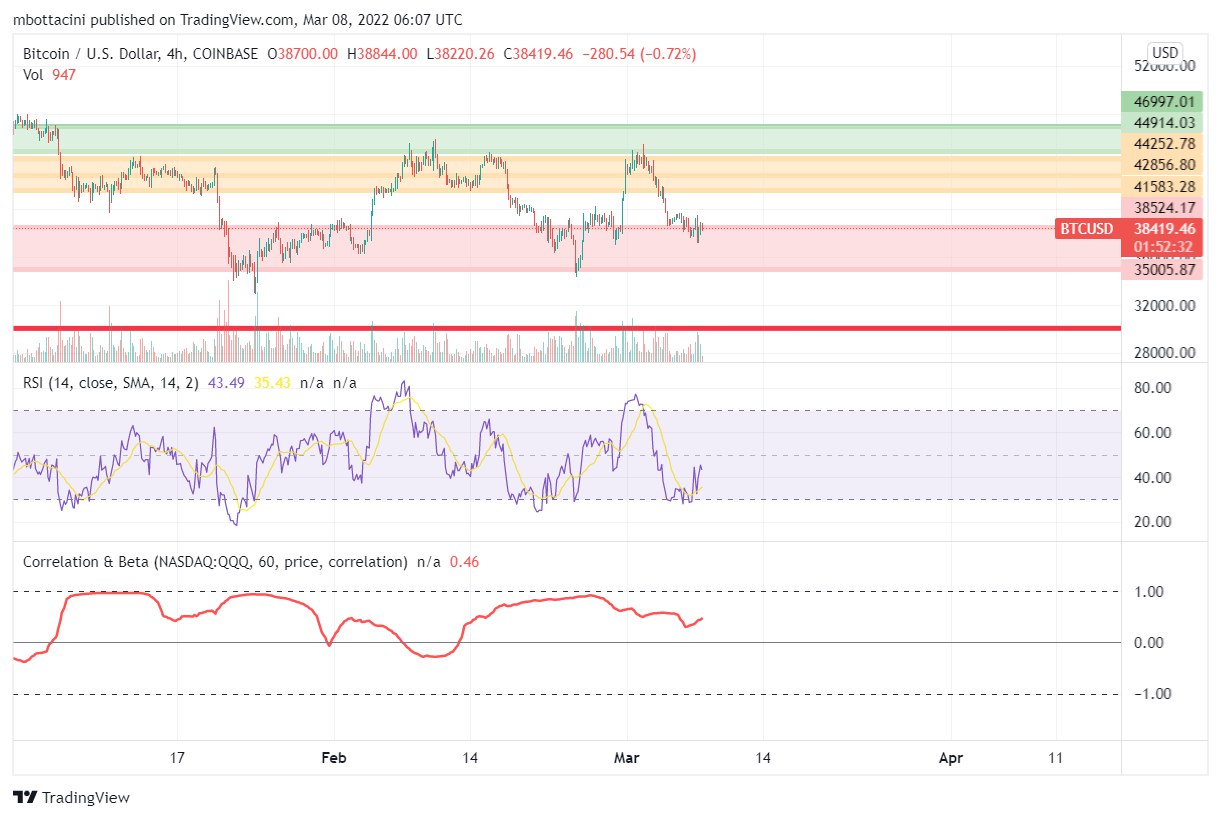 In other news
Happy Trading!
---
Copyright © 2021 | Crypto Broker AG | All rights reserved.
All intellectual property, proprietary and other rights and interests in this publication and the subject matter hereof are owned by Crypto Broker AG including, without limitation, all registered design, copyright, trademark and service mark rights.

Disclaimer
This publication provided by Crypto Broker AG, a corporate entity registered under Swiss law, is published for information purposes only. This publication shall not constitute any investment  advice respectively does not constitute an offer, solicitation or recommendation to acquire or dispose of any investment or to engage in any other transaction. This publication is not intended for solicitation purposes but only for use as general information. All descriptions, examples and calculations contained in this publication are for illustrative purposes only. While reasonable care has been taken in the preparation of this publication to provide details that are accurate and not misleading at the time of publication, Crypto Broker AG (a) does not make any representations or warranties regarding the information contained herein, whether express or implied, including without limitation any implied warranty of merchantability or fitness for a particular purpose or any warranty with respect to the accuracy, correctness, quality, completeness or timeliness of such information, and (b) shall not be responsible or liable for any third party's use of any information contained herein under any circumstances, including, without limitation, in connection with actual trading or otherwise or for any errors or omissions contained in this publication.

Risk disclosure
Investments in virtual currencies are high-risk investments with the risk of total loss of the investment and you should not invest in virtual currencies unless you understand and can bear the risks involved with such investments. No information provided in this publication shall constitute investment advice. Crypto Broker AG excludes its liability for any losses arising from the use of, or reliance on, information provided in this publication.