An overview of the trading activities on the cryptomarkets. Studies on traded volumes, supply and demand situations, as well as periodic technical analysis of the most important crypto-currencies and indices, including the perspective of professional Traders.
Technical Analysis
Good Morning!
Don't forget: You don't need to jump on every trade. Practice patience during a choppy consolidation.
Bitcoin BTC (4h)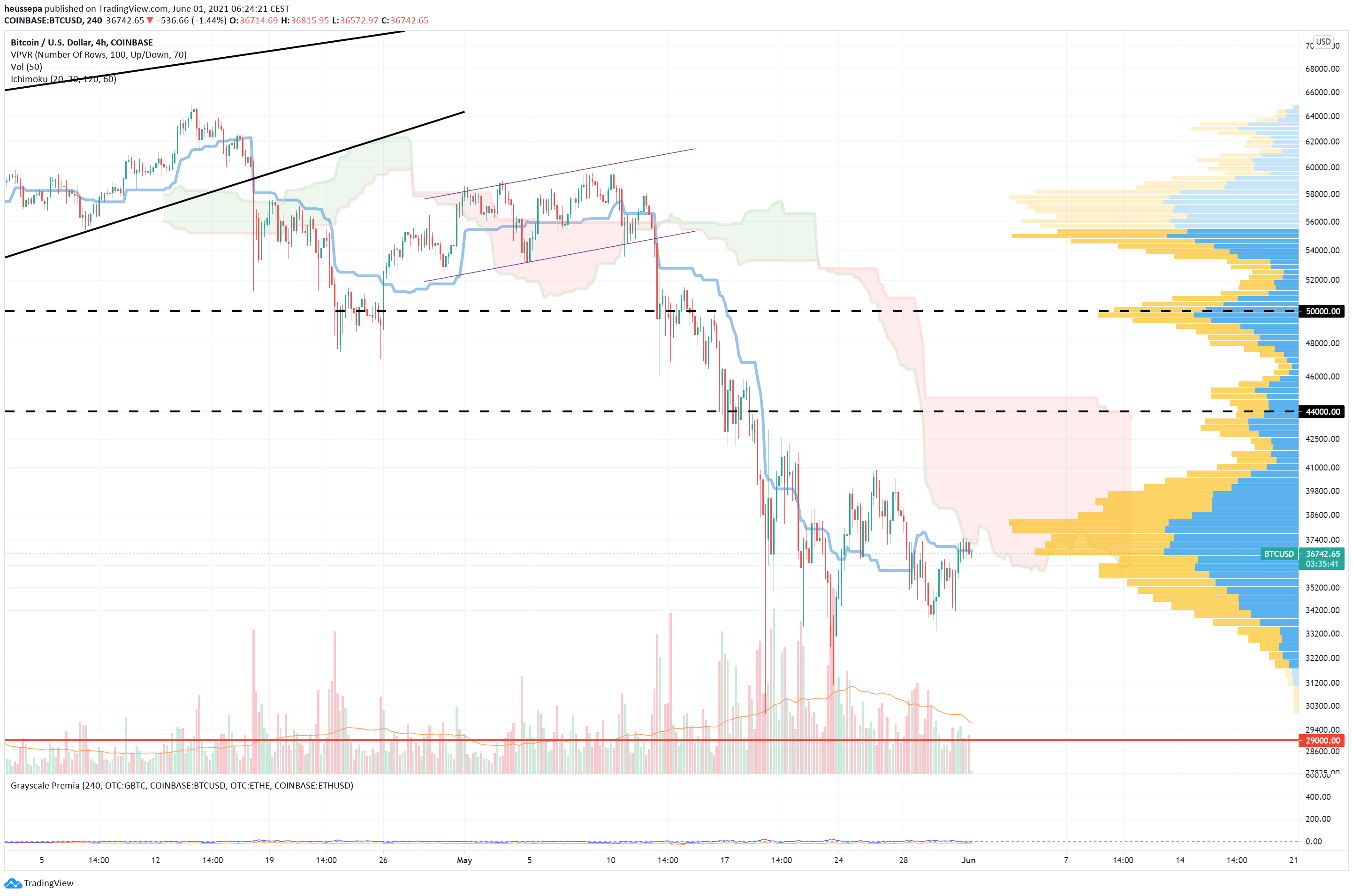 The zig-zag price behaviour is beating up retail traders pretty badly. We have no clear wave structure and we are dancing around the baseline (blue line), which is acting a bit like a short-term bullish/bearish line. Volume is decreasing in the current consolidation phase, which is also a sign of retail punter fatigue. The good thing is that it gives me a little more confidence that we might be in an early consolidation phase.
To gain more bullish confidence I need to see the following:
The price needs to hold above the baseline
Overall (the currently bearish cloud: red) needs to slim down
The price needs to push into the cloud … and stay there
If we get to that stage, we are two-thirds through the consolidation. If we do not make it to that stage… 29'000 USD is imminent.
P.S. If you want to look at a really scary chart, check out the BTC monthly chart and display it non-logarithmically.
Ethereum ETH (4h)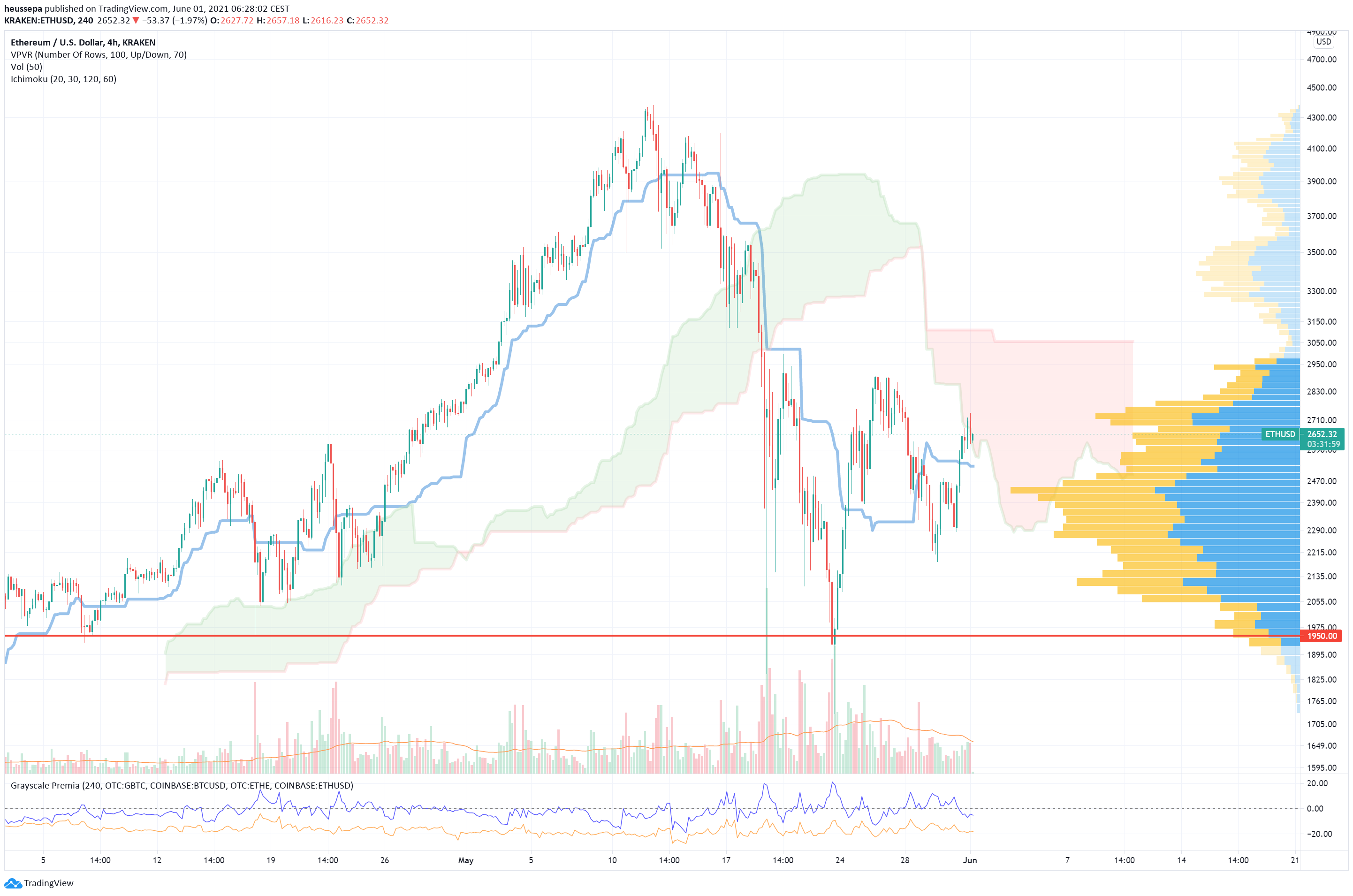 You can pretty much copy and paste what I just said about BTC. The only thing that is different is that it looks like we are already a little bit further into the bullish consolidation. We are above the baseline, and the price already went into the cloud.
But the cloud is still wide, and we need more price bars above the baseline and within the cloud. If the price cannot hold within the cloud, say hello to the 2'000 USD level again.
P.S. The monthly chart contains a warning sign: a longlegged doji (Japanese candlestick pattern).
Ethereum/Bitcoin ETHBTC (4h)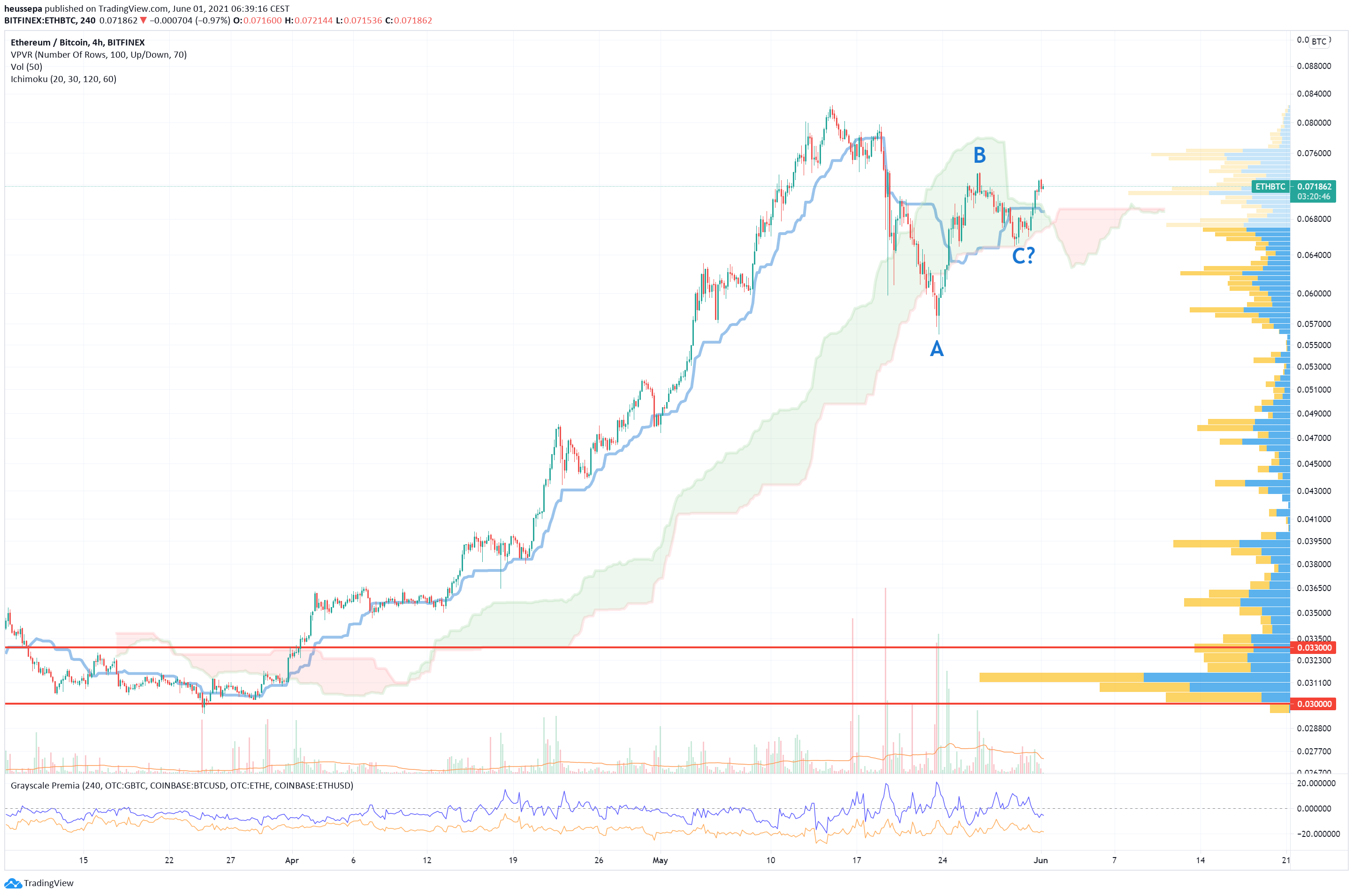 This is one of the few charts I glanced at this morning that actually looks pretty promising to the upside.
In terms of the indicators we were looking at on the other two charts, we are almost good to go higher.
Price is above the baseline
Price went through the cloud
The cloud is still bearish, but very thin and flip-flopping
If you are an Elliot Wave kind of person, you can count the correction from the top as an irregular ABC correction with the C not being lower than the A.
In my view, the uptrend will be confirmed if we push higher than the peak of B and then stay above the cloud until we reach the local ATH.
---
Copyright © 2021 | Crypto Broker AG | All rights reserved.
All intellectual property, proprietary and other rights and interests in this publication and the subject matter hereof are owned by Crypto Broker AG including, without limitation, all registered design, copyright, trademark and service mark rights.
Disclaimer
This publication provided by Crypto Broker AG, a corporate entity registered under Swiss law, is published for information purposes only. This publication shall not constitute any investment  advice respectively does not constitute an offer, solicitation or recommendation to acquire or dispose of any investment or to engage in any other transaction. This publication is not intended for solicitation purposes but only for use as general information. All descriptions, examples and calculations contained in this publication are for illustrative purposes only. While reasonable care has been taken in the preparation of this publication to provide details that are accurate and not misleading at the time of publication, Crypto Broker AG (a) does not make any representations or warranties regarding the information contained herein, whether express or implied, including without limitation any implied warranty of merchantability or fitness for a particular purpose or any warranty with respect to the accuracy, correctness, quality, completeness or timeliness of such information, and (b) shall not be responsible or liable for any third party's use of any information contained herein under any circumstances, including, without limitation, in connection with actual trading or otherwise or for any errors or omissions contained in this publication.
Risk disclosure
Investments in virtual currencies are high-risk investments with the risk of total loss of the investment and you should not invest in virtual currencies unless you understand and can bear the risks involved with such investments. No information provided in this publication shall constitute investment advice. Crypto Broker AG excludes its liability for any losses arising from the use of, or reliance on, information provided in this publication.