An overview of the trading activities on the cryptomarkets. Studies on traded volumes, supply and demand situations, as well as periodic technical analysis of the most important crypto-currencies and indices, including the perspective of
Crypto Finance AG
Senior Trader Patrick Heusser.
Good Morning!
The Bitcoin (BTC) and Ethereum (ETH) market remains calm and is trading within a narrow trading range and with low implied volatilities. The trading action and market moves are definitively to be found in the altcoins.
BTC$ (daily)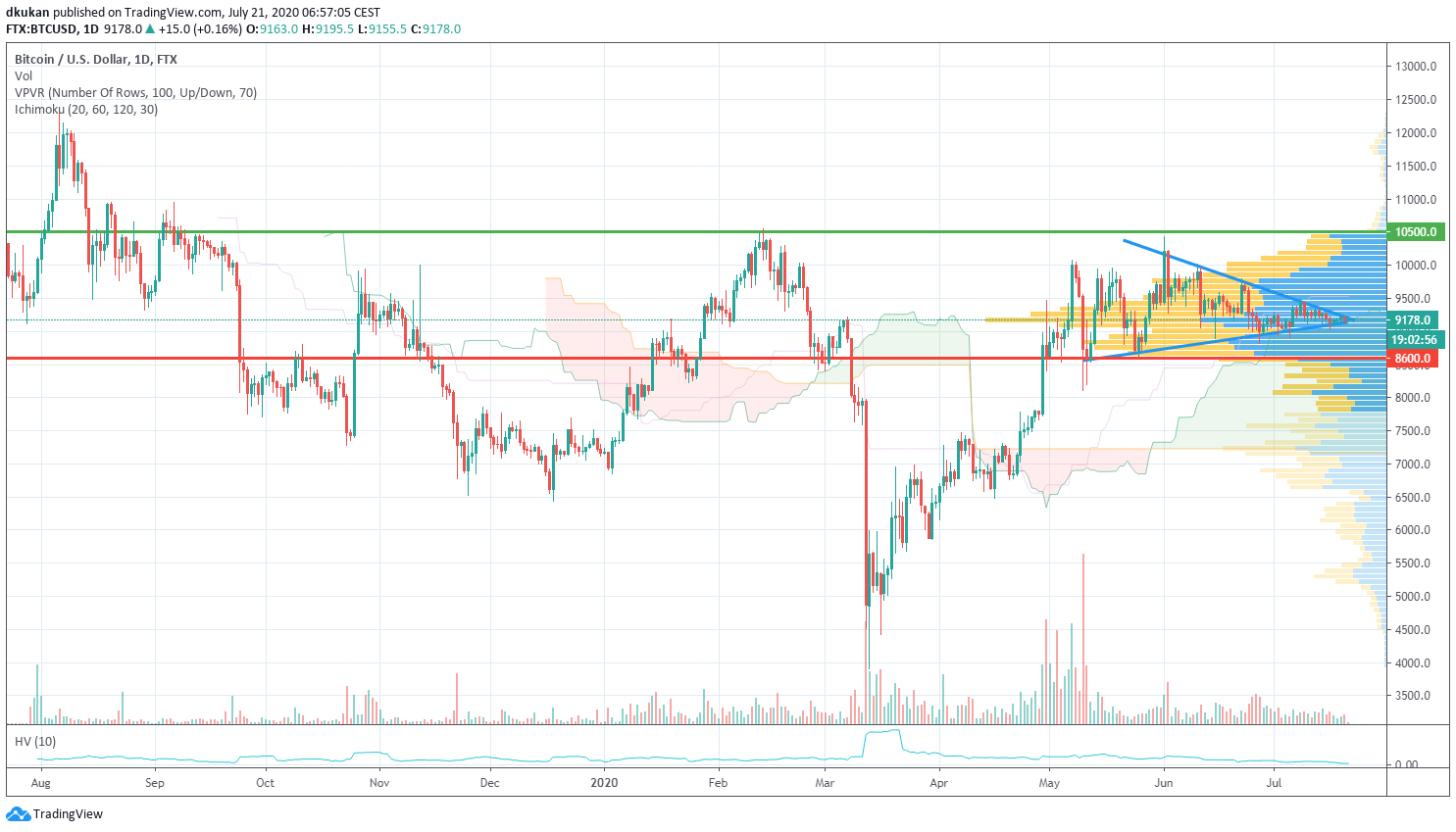 The market environment has not changed a great deal over the past few days. Overall, the situation has stayed the same. Over the past ten days, BTC$ has on average moved less than 1% (up or down). Last time we were in this situation was in November 2018: BTC$ sold off nearly 50% just shortly after. Implied volatilities correctly reflect the current situation, with low at the money volatility, steep term, and skew structure. We still have short-term support at 9,000 and resistance at 9,800. The more important longer-term support is at 8,600 and resistance at 10,500.
BTC$ (4h)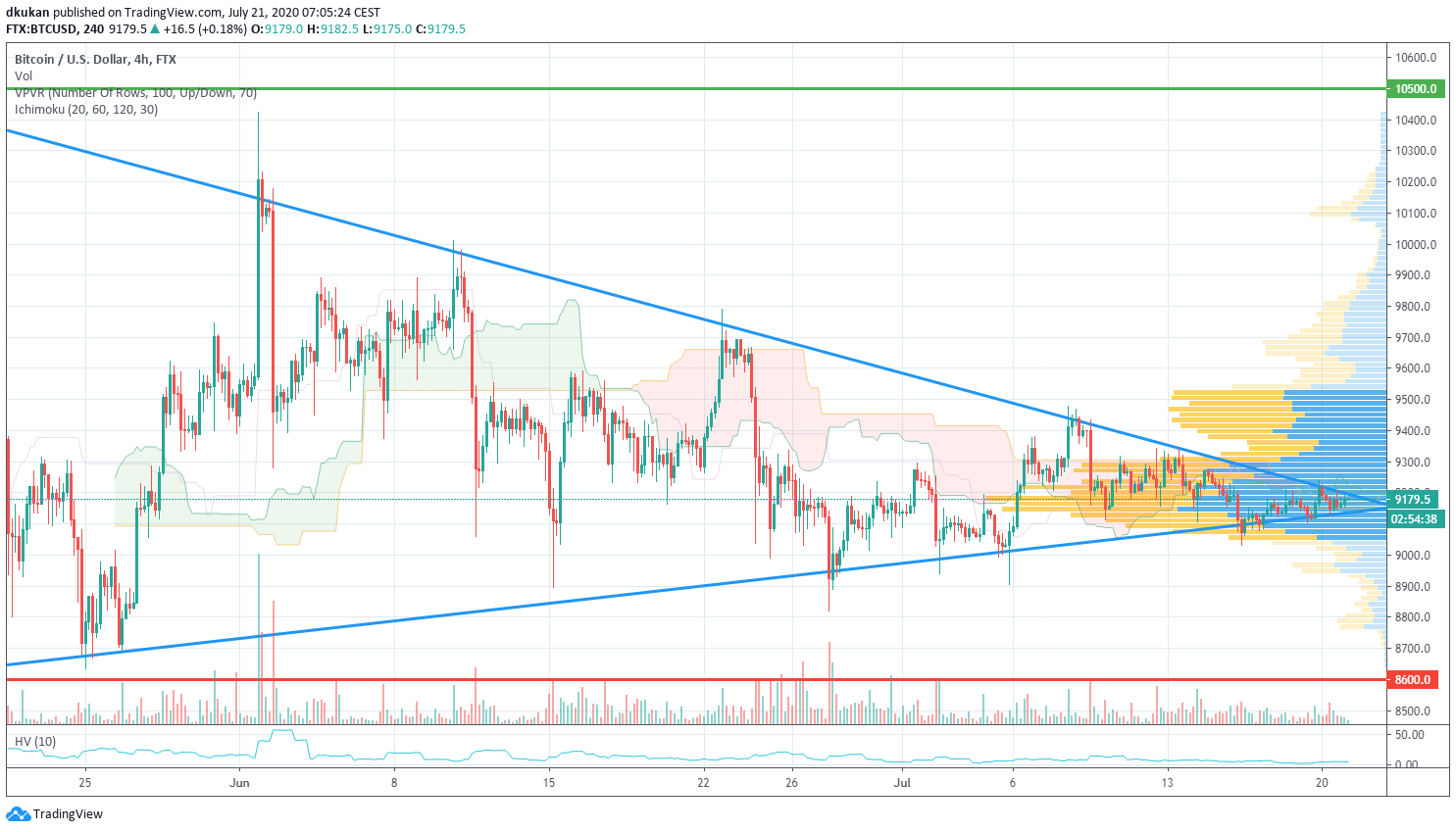 Looking at the formation of the triangle we should soon expect a breakout to either the downside or the upside. The new trading range could be between 8,500 and 10,500 for a while until major positions have been built up again and there is a clearer trend.
ETH/BTC (4h)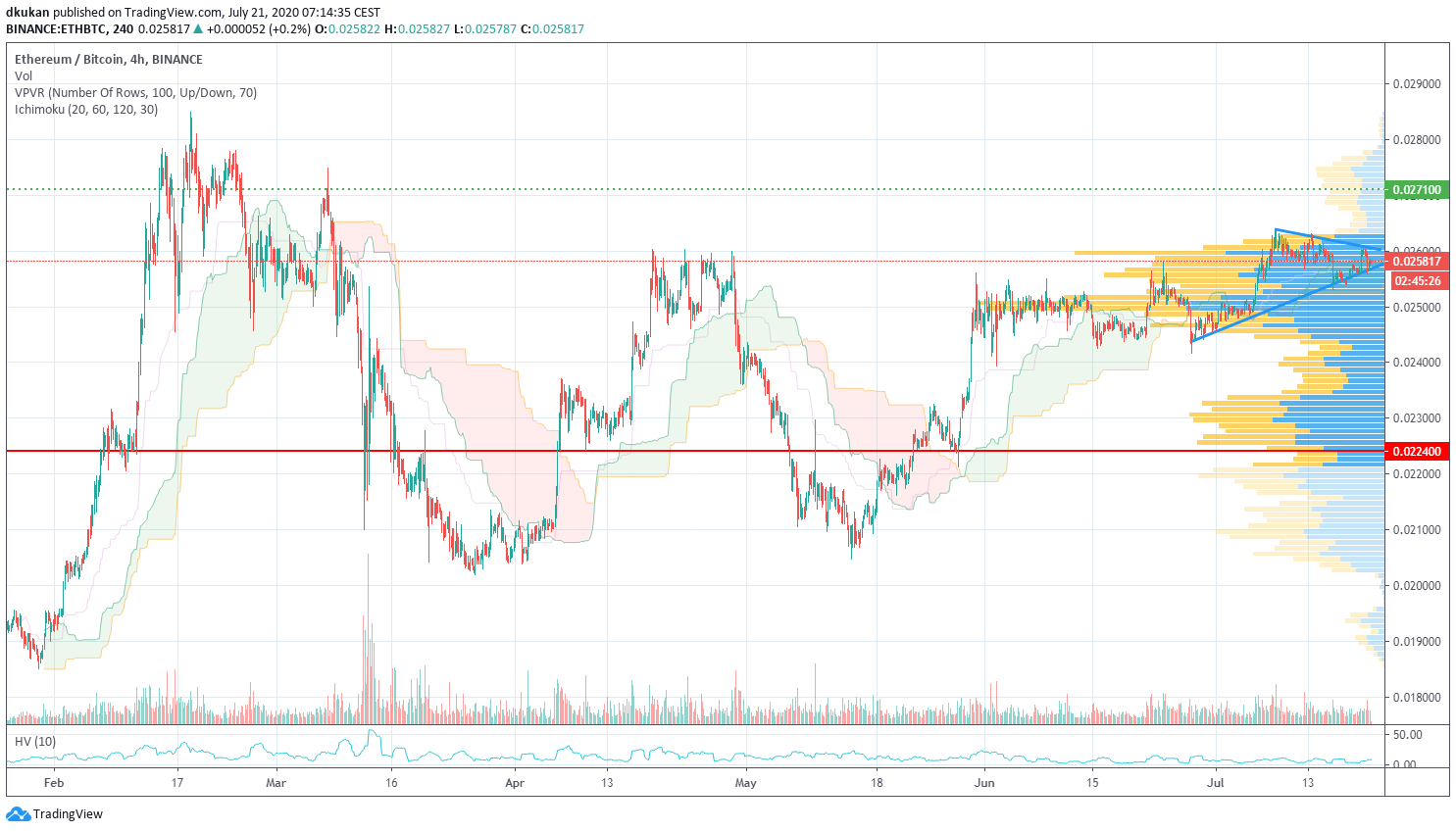 The patterns look the same, and the trading range is getting narrower every day. The chance of a small breakout remains high. Short-term support is around 0.2475 and resistance at 0.275.
In general, BTC and the top altcoins have not set the trend over the last few weeks. The attractiveness is still there due to several small and mid-coins. DeFi is currently the space to be in.
MID/BTC (4h)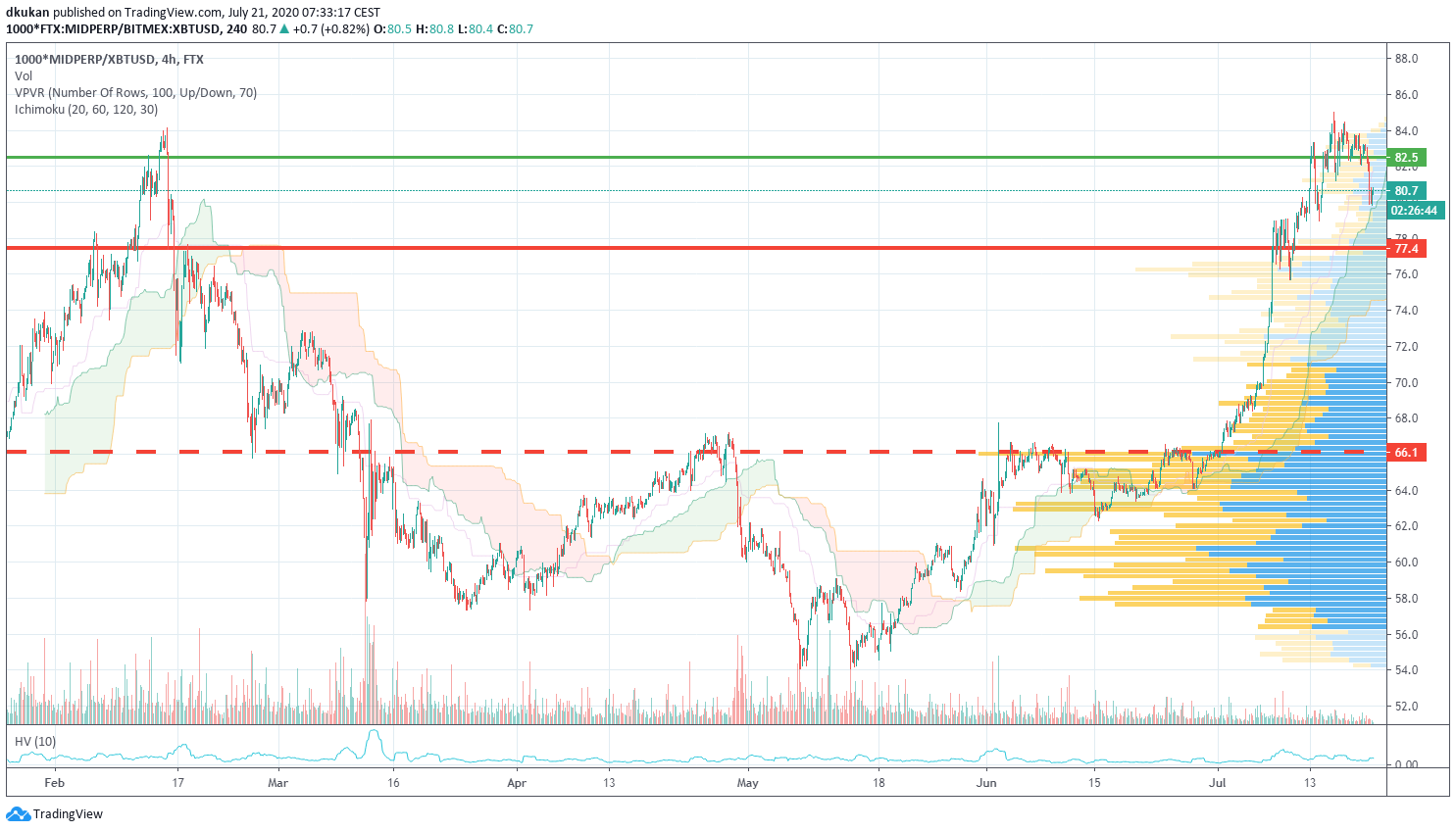 Since the beginning of July, the Mid Index outperformed BTC greatly by nearly 20%. A smaller correction and healthy consolidation took place over the past few trading days. There is a new short-term trading range between 77.5 and 82.50, and long-term support remains at 66.
SHIT/BTC (4H)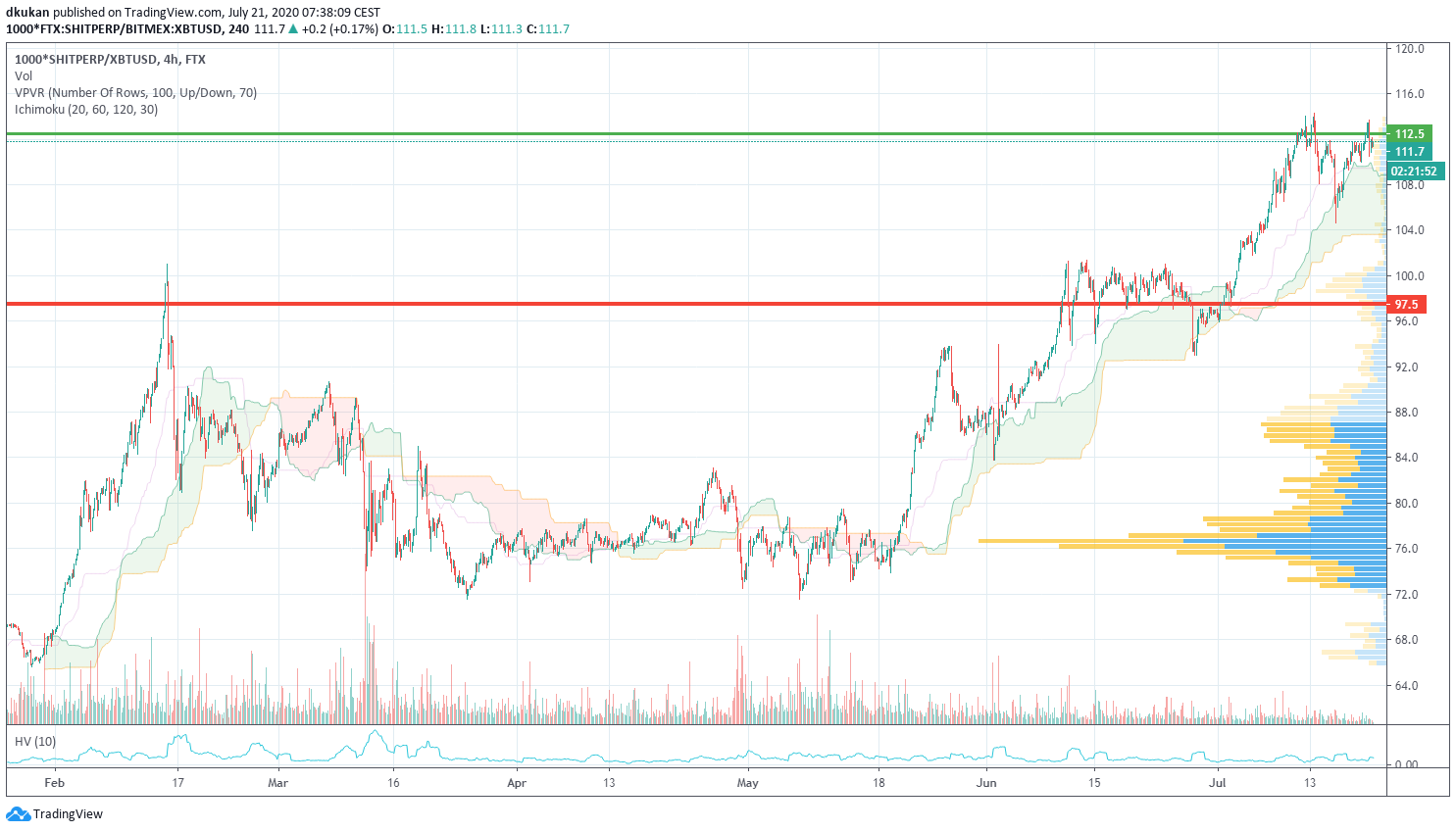 We have seen impressive performance since mid-May 2020, when the DeFi space hype hit. The Shit Index outperformed BTC by over 30% within two months. Short-term consolidation and correction between 97.5 and 112.5 is to be expected.
I wish you a successful trading day!
technical analysis
technical analysis technical analysis