An overview of the trading activities on the cryptomarkets. Studies on traded volumes, supply and demand situations, as well as periodic technical analysis of the most important crypto-currencies and indices, including the perspective of professional Traders.
Technical Analysis
Good Morning!
Since Bitcoin (BTC) and Ether (ETH) are currently not playing, I have picked a token for today that is on fire: Solana (SOL).
Solana SOL (daily)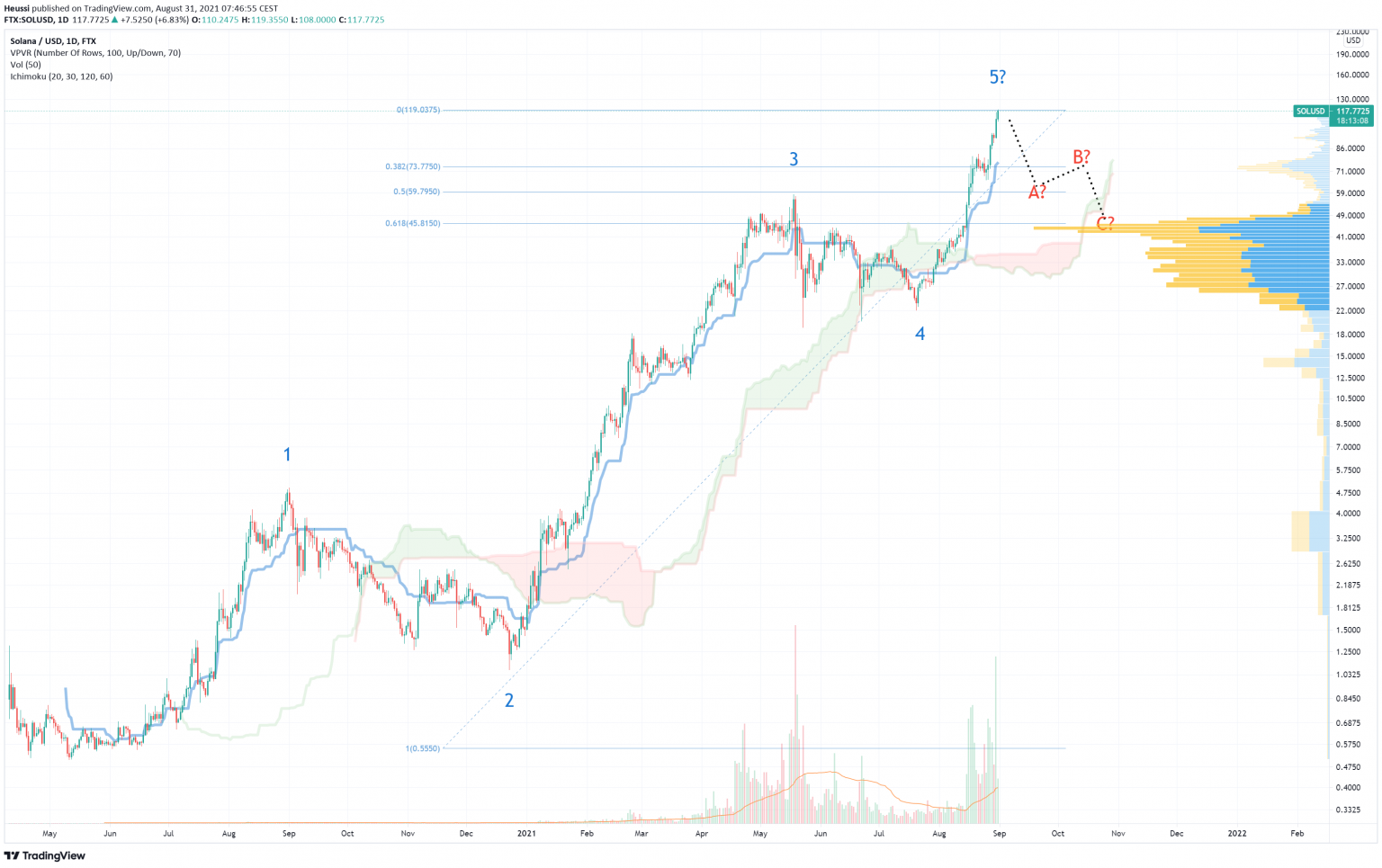 Are we in a 5-wave sequence? Yes, possibly. But it is hard to say where that Wave 5 might top out. If we assume that we are close to the top, then drawing Fibonacci levels can help in finding the area where the ABC-correction might stop.
The 61.8% Fibonacci retracement level makes some sense to me as it falls on the biggest liquidity pool we have seen since the coin was launched: 45 USD. Yes, it sounds brutal, but corrections between 50-70% are not unusual in crypto. Having said that, the Solana ecosystem is on fire and seems to be getting a great deal of risk capital, which has left the Ethereum chain. This is due to the same old problem with Ethereum: the high fees.
Solana SOL (4h)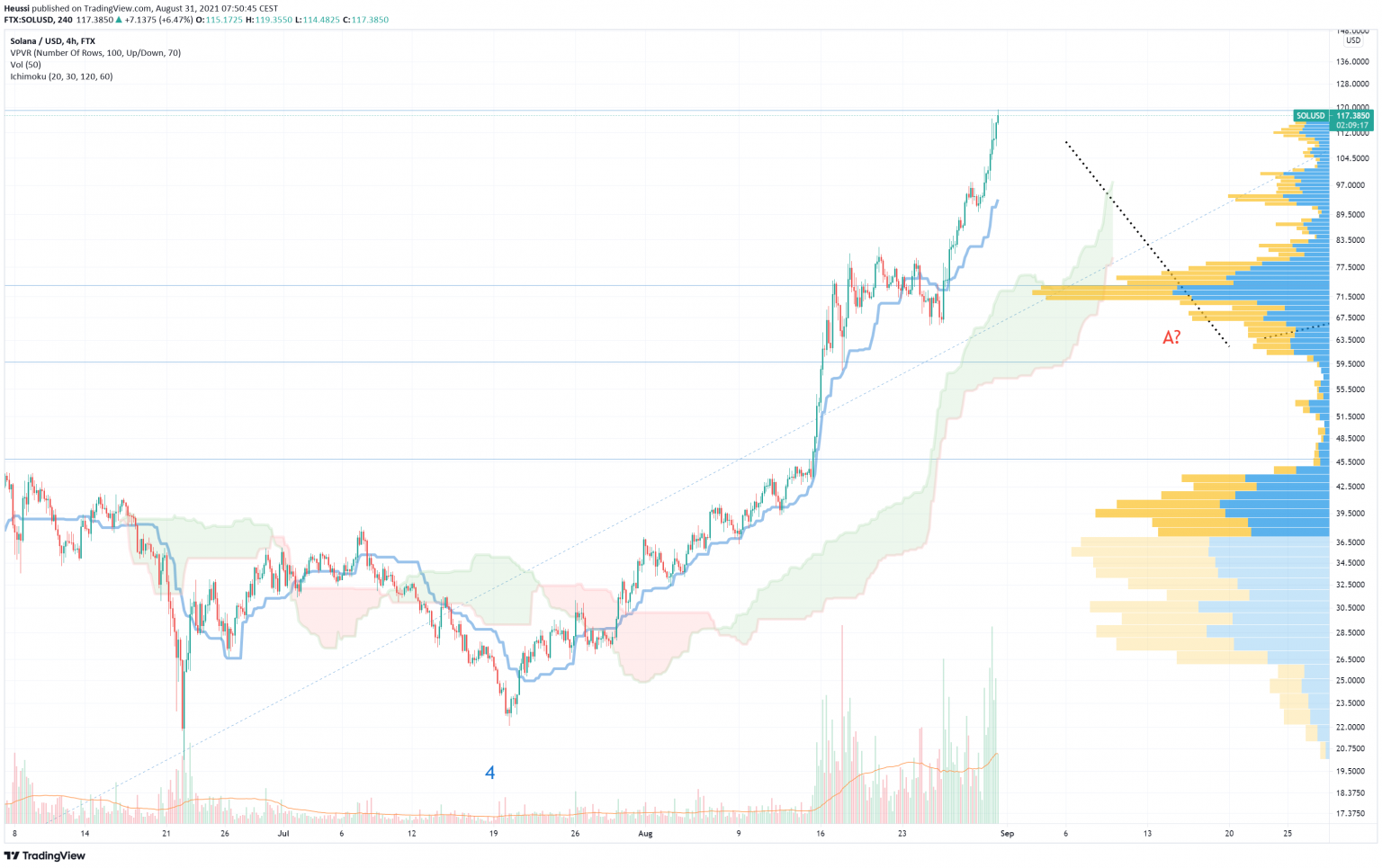 When I zoom in to the 4h chart, I see, as a first good support level, the 72 USD area. This area also sticks out as it is a large liquidity pool level. Additionally, we have the upper band of the Ichimoku cloud coming in there as first support. Maybe this could be the point where the market forms an "A".
There is a high dose of speculation in my analysis (which is usually the case when I try to use the Elliot-Wave theory). I will follow this coin closely and keep you posted if I see a major change in my outlook.
Happy Trading!
---
Copyright © 2021 | Crypto Broker AG | All rights reserved.
All intellectual property, proprietary and other rights and interests in this publication and the subject matter hereof are owned by Crypto Broker AG including, without limitation, all registered design, copyright, trademark and service mark rights.
Disclaimer
This publication provided by Crypto Broker AG, a corporate entity registered under Swiss law, is published for information purposes only. This publication shall not constitute any investment  advice respectively does not constitute an offer, solicitation or recommendation to acquire or dispose of any investment or to engage in any other transaction. This publication is not intended for solicitation purposes but only for use as general information. All descriptions, examples and calculations contained in this publication are for illustrative purposes only. While reasonable care has been taken in the preparation of this publication to provide details that are accurate and not misleading at the time of publication, Crypto Broker AG (a) does not make any representations or warranties regarding the information contained herein, whether express or implied, including without limitation any implied warranty of merchantability or fitness for a particular purpose or any warranty with respect to the accuracy, correctness, quality, completeness or timeliness of such information, and (b) shall not be responsible or liable for any third party's use of any information contained herein under any circumstances, including, without limitation, in connection with actual trading or otherwise or for any errors or omissions contained in this publication.
Risk disclosure
Investments in virtual currencies are high-risk investments with the risk of total loss of the investment and you should not invest in virtual currencies unless you understand and can bear the risks involved with such investments. No information provided in this publication shall constitute investment advice. Crypto Broker AG excludes its liability for any losses arising from the use of, or reliance on, information provided in this publication.