An overview of the trading activities on the cryptomarkets. Studies on traded volumes, supply and demand situations, as well as periodic technical analysis of the most important crypto-currencies and indices, including the perspective of professional Traders.
Good Morning!
Bitcoin (BTC) is currently trading at $22.9k (+7.49% in 7 days), Ethereum (ETH) is trading at $1.58k (+9.95% in 7 days), and the ETH/BTC spread is trading at 0.06928 (+1.25% in 7 days).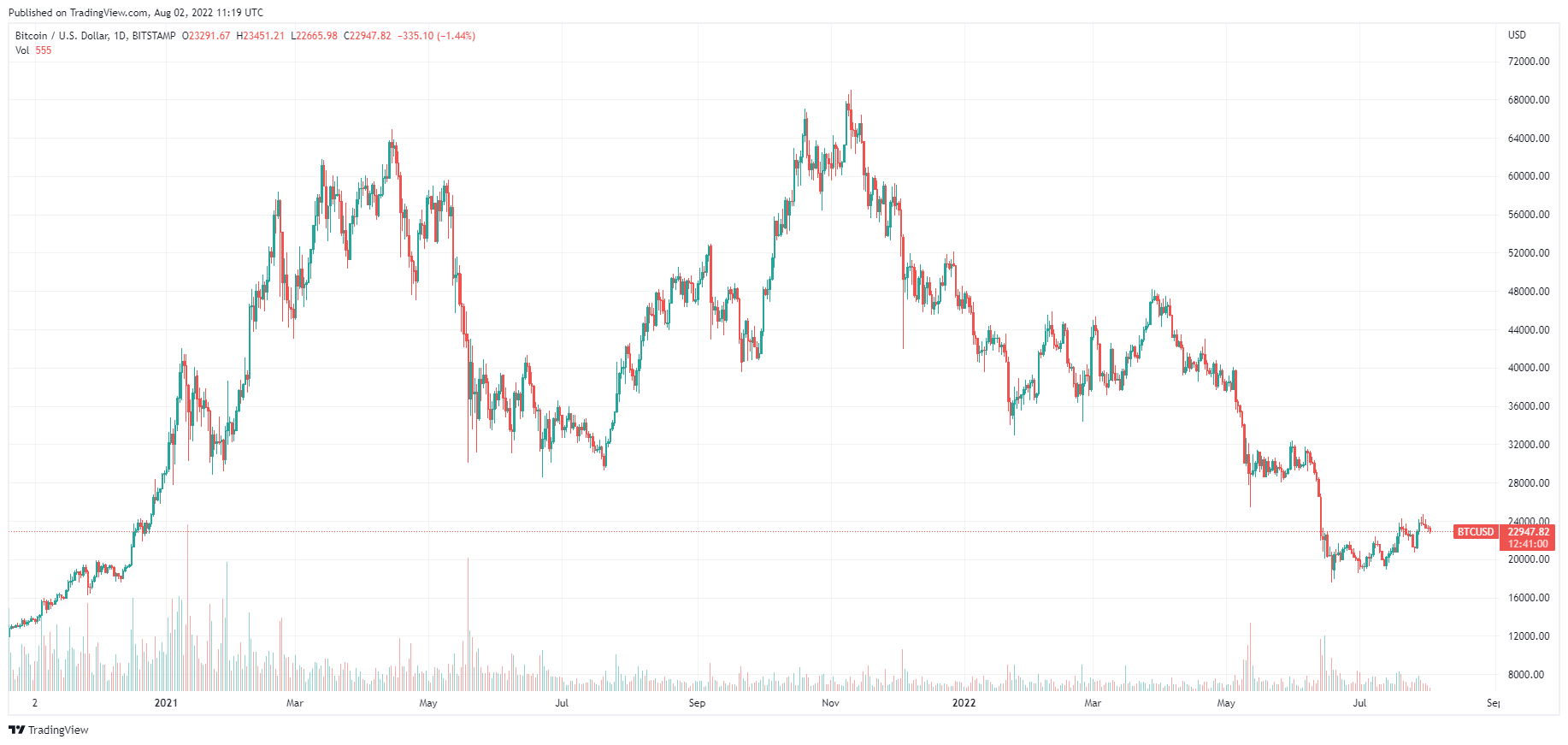 This week, the focus is on the labour market data in the US. Last week, the U.S. GDP turned out negative for the second quarter in a row, and this is still not being defined as a technical recession (yet). Also last week, the leading PMIs of various countries were below 50, and therefore in contraction territory. This means that the global macro environment is continuing to weaken. Here are the upcoming macro figures:
Wednesday, August 3: US ISM (prev. 55.3; exp. 53.5)
Thursday, August 4: Bank of England rate decision (prev. 1.25%; exp. 1.75%) and US initial jobless claims (prev. 256k; exp. 259k)
Friday, August 5: US nonfarm payrolls (prev. 381k, exp. 223k)
This week is all about negative divergences in the RSI.
Bitcoin BTC/USD (4h)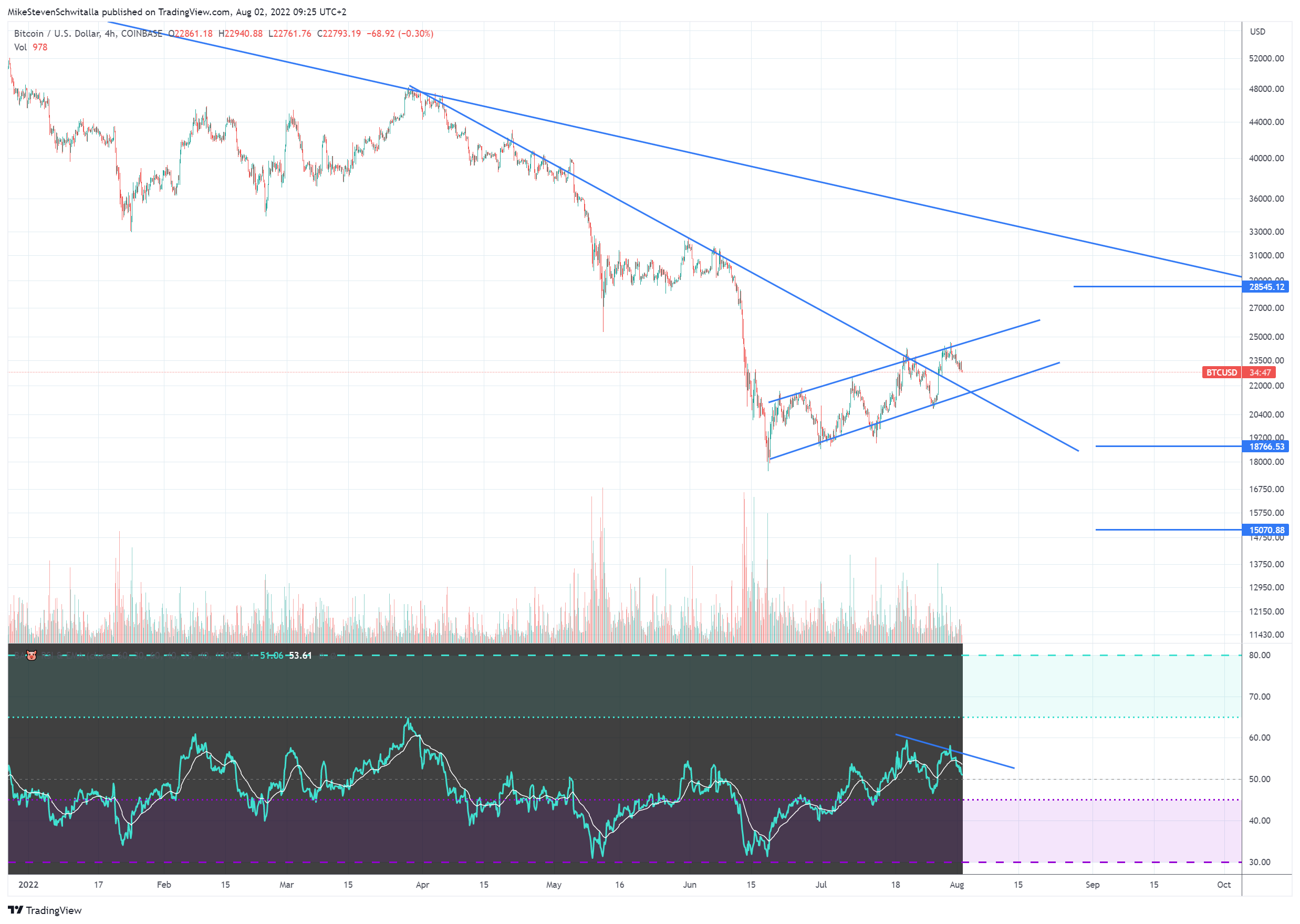 Bitcoin managed to break the downtrend to the upside last week. However, the momentum does not look sustainable, and a negative divergence has also formed in the RSI. Therefore, I continue to believe that BTC will fall well below USD 20,000, and USD 15,000 is my medium-term price target.
Supports: USD 22,000, 18,750, 15,000
Resistances: USD 28,500, downtrend
Ethereum ETH/USD (4h)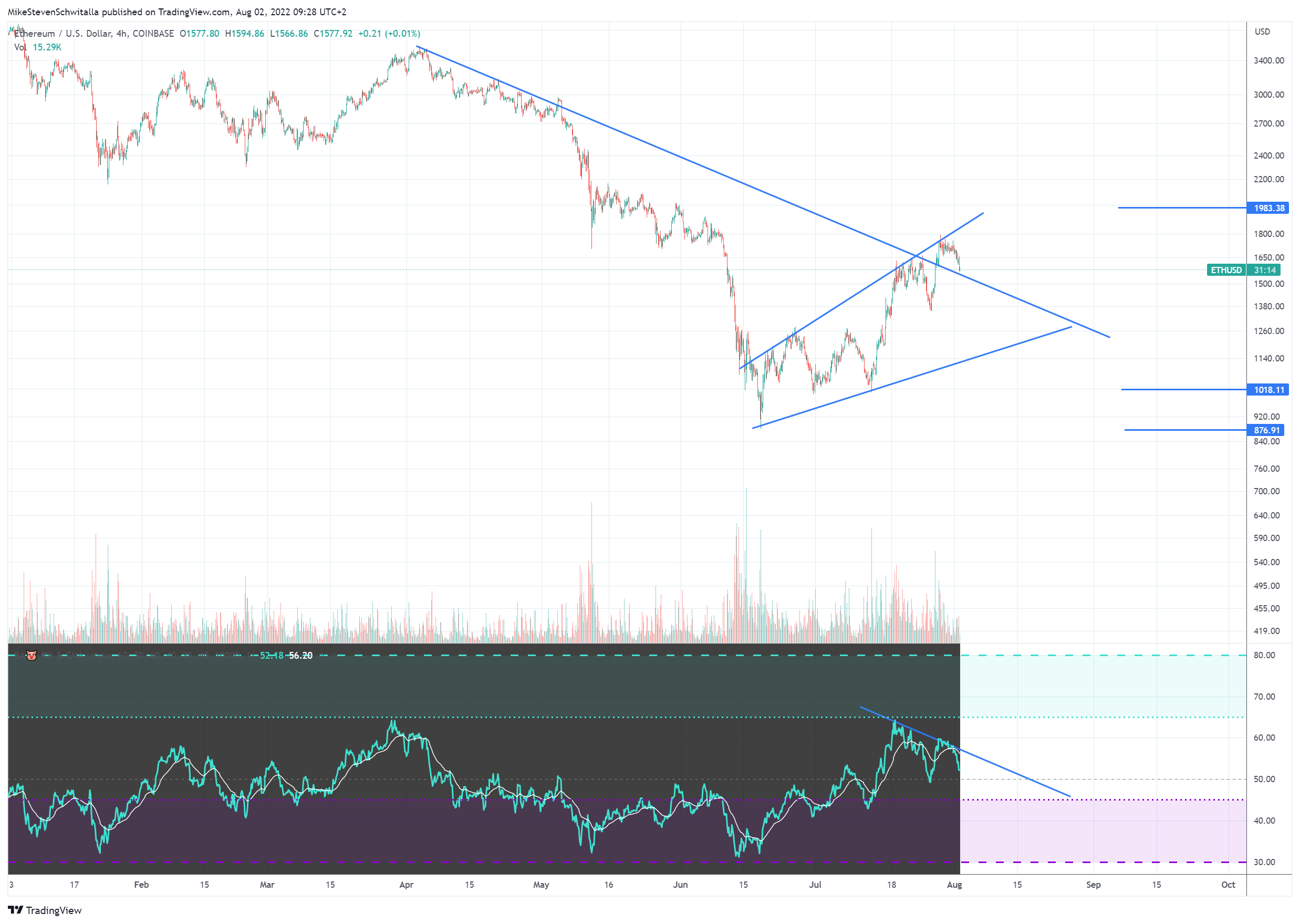 In ETH, the divergence in the RSI is strong. Therefore, I expect a setback to USD 1,380 or even lower to USD 1,000.
Supports: USD 1,380, USD 1,000, USD 875
Resistances: USD 1,985
Brent Crude Oil (daily)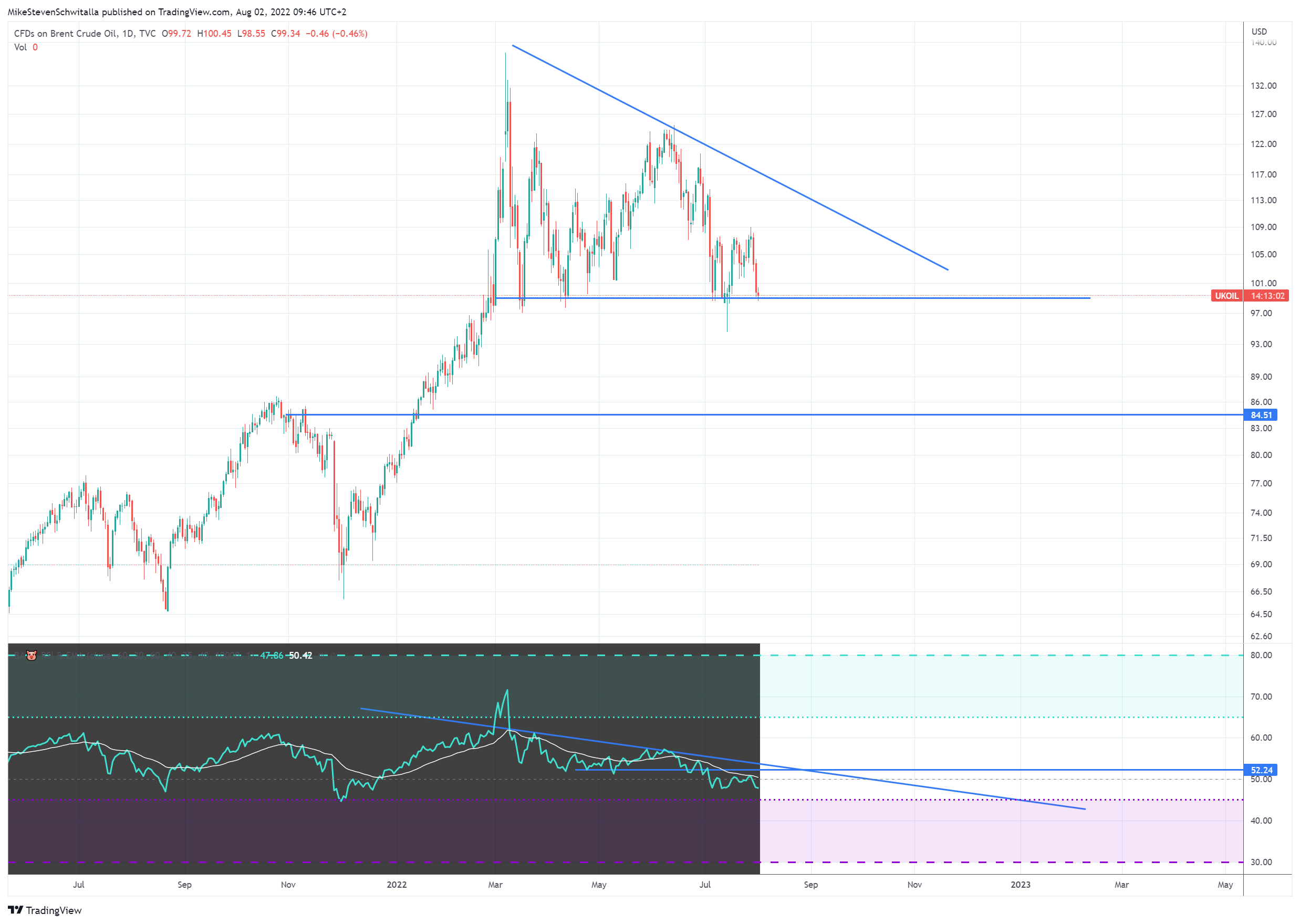 Oil also looks vulnerable, and could soon break through the support at USD 100 to the lower side. This is also indicated by the RSI, which is already significantly lower. In the medium-term, I see oil 15% lower at USD 85.
Supports: USD 100, USD 85
Resistances: downtrend, USD 120, USD 140
Happy Trading!
---
Copyright © 2021 | Crypto Broker AG | All rights reserved.
All intellectual property, proprietary and other rights and interests in this publication and the subject matter hereof are owned by Crypto Broker AG including, without limitation, all registered design, copyright, trademark and service mark rights.

Disclaimer
This publication provided by Crypto Broker AG, a corporate entity registered under Swiss law, is published for information purposes only. This publication shall not constitute any investment  advice respectively does not constitute an offer, solicitation or recommendation to acquire or dispose of any investment or to engage in any other transaction. This publication is not intended for solicitation purposes but only for use as general information. All descriptions, examples and calculations contained in this publication are for illustrative purposes only. While reasonable care has been taken in the preparation of this publication to provide details that are accurate and not misleading at the time of publication, Crypto Broker AG (a) does not make any representations or warranties regarding the information contained herein, whether express or implied, including without limitation any implied warranty of merchantability or fitness for a particular purpose or any warranty with respect to the accuracy, correctness, quality, completeness or timeliness of such information, and (b) shall not be responsible or liable for any third party's use of any information contained herein under any circumstances, including, without limitation, in connection with actual trading or otherwise or for any errors or omissions contained in this publication.

Risk disclosure
Investments in virtual currencies are high-risk investments with the risk of total loss of the investment and you should not invest in virtual currencies unless you understand and can bear the risks involved with such investments. No information provided in this publication shall constitute investment advice. Crypto Broker AG excludes its liability for any losses arising from the use of, or reliance on, information provided in this publication.