Recurring market commentary on what's happening in the crypto markets, summarized by the Crypto Broker team at Crypto Finance AG.
Good Morning!
The altcoin market is showing positive signs at the beginning of the year. This is after BTC was favoured throughout November and December (as shown by its dominance). Solana and Lido DAO are two of the candidates that suffered the most in December but are now off to a good start.
BONK: Solana-native Dogecoin competitor
The heavily FTX-linked coin suffered severely in November and December. Vitalik's tweet, suggesting the chain has a bright future now that the opportunistic money is gone, marked a temporary bottom at around $8 on December 29th. Since then, SOL is up 45%, with 36% having being gained in the last week.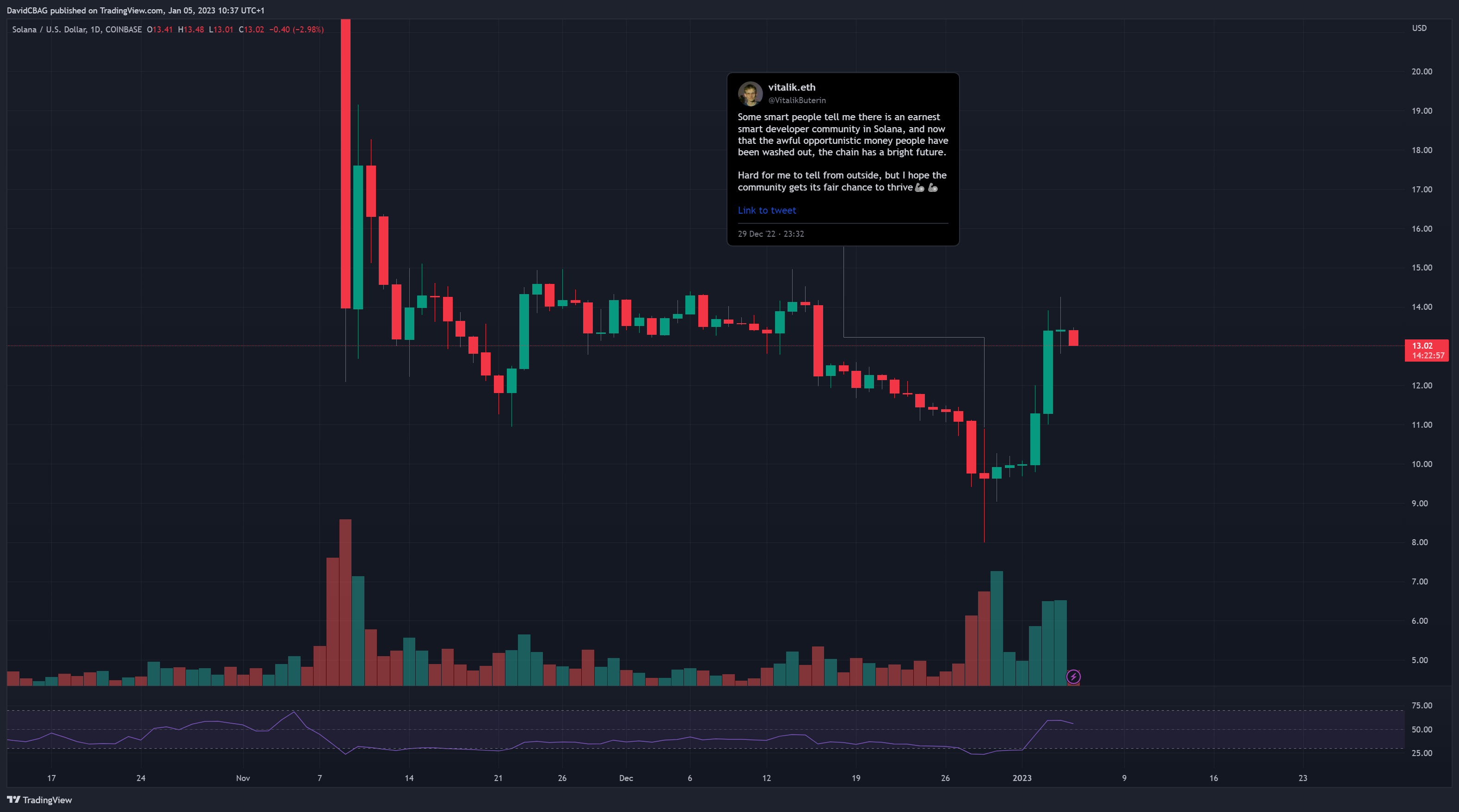 Solana is also the first chain to release a memecoin in 2023. BONK, the first Solana dog coin, was airdropped to the Solana community and went bonkers. It has gone up 2,410% in the last seven days. If you are an early Solana user, check your phantom wallets for a potential airdrop…
Liquid staking derivatives take off
The combination of renewed interest in liquid staking derivatives for 2023 and a short squeeze caused the price of LDO to gain 34% in the last seven days. On December 8th, Ethereum developers announced that the network's software update will take place in March, allowing for the withdrawal of staked ETH. As withdrawals are enabled, the hope is that more users will stake ETH, especially through liquid derivatives. Currently 29% of all 15.9m staked ETH is done through Lido. Lido dominates the liquid staking market with 88% of the market share.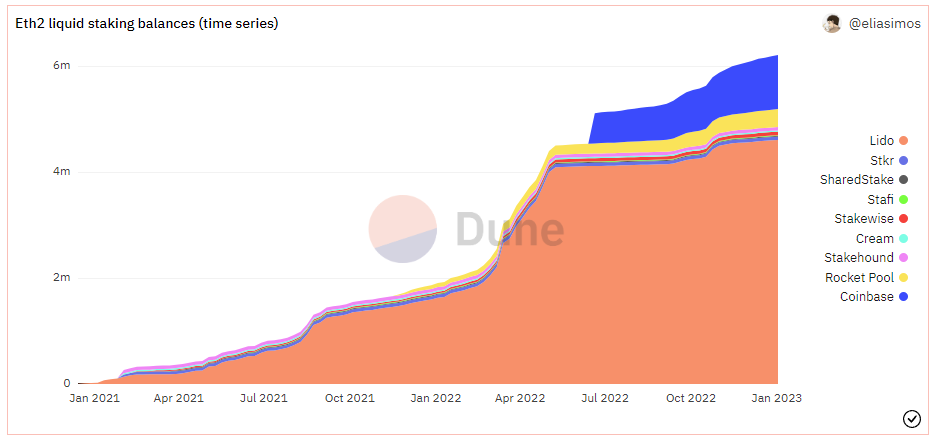 Fed not done with rate hikes
On the macro side: FOMC meeting minutes were released on Wednesday and was much of a non-event with the expected statements. The main points from officials: further rate increases are necessary, rate cuts should not happen in 2023, and flexibility and optionality in policy decisions will be necessary.
Further important events to follow at the beginning of the year:
12 Jan - Dec CPI
26 Jan - Q4 GDP
27 Jan - Dec Core PCE
1 Feb - FOMC Rate Decision
Happy Trading!
---
Copyright © 2021 | Crypto Broker AG | All rights reserved.
All intellectual property, proprietary and other rights and interests in this publication and the subject matter hereof are owned by Crypto Broker AG including, without limitation, all registered design, copyright, trademark and service mark rights.

Disclaimer
This publication provided by Crypto Broker AG, a corporate entity registered under Swiss law, is published for information purposes only. This publication shall not constitute any investment  advice respectively does not constitute an offer, solicitation or recommendation to acquire or dispose of any investment or to engage in any other transaction. This publication is not intended for solicitation purposes but only for use as general information. All descriptions, examples and calculations contained in this publication are for illustrative purposes only. While reasonable care has been taken in the preparation of this publication to provide details that are accurate and not misleading at the time of publication, Crypto Broker AG (a) does not make any representations or warranties regarding the information contained herein, whether express or implied, including without limitation any implied warranty of merchantability or fitness for a particular purpose or any warranty with respect to the accuracy, correctness, quality, completeness or timeliness of such information, and (b) shall not be responsible or liable for any third party's use of any information contained herein under any circumstances, including, without limitation, in connection with actual trading or otherwise or for any errors or omissions contained in this publication.

Risk disclosure
Investments in virtual currencies are high-risk investments with the risk of total loss of the investment and you should not invest in virtual currencies unless you understand and can bear the risks involved with such investments. No information provided in this publication shall constitute investment advice. Crypto Broker AG excludes its liability for any losses arising from the use of, or reliance on, information provided in this publication.