Recurring market commentary on what's happening in the crypto markets, summarized by the Crypto Broker team at Crypto Finance AG.
Good morning!
Crypto investors were delighted with the long-awaited ruling on the SEC case against Ripple. The SEC's allegations of illegal securities offering resulted in a partial win for Ripple. At one point yesterday, XRP jumped by over 100% against the USD, demonstrating the relief following the multi-year court case, even though it was only a partial victory for Ripple. After the initial spike, the market calmed down slightly, and XRPUSD is currently trading 66% higher post the court ruling.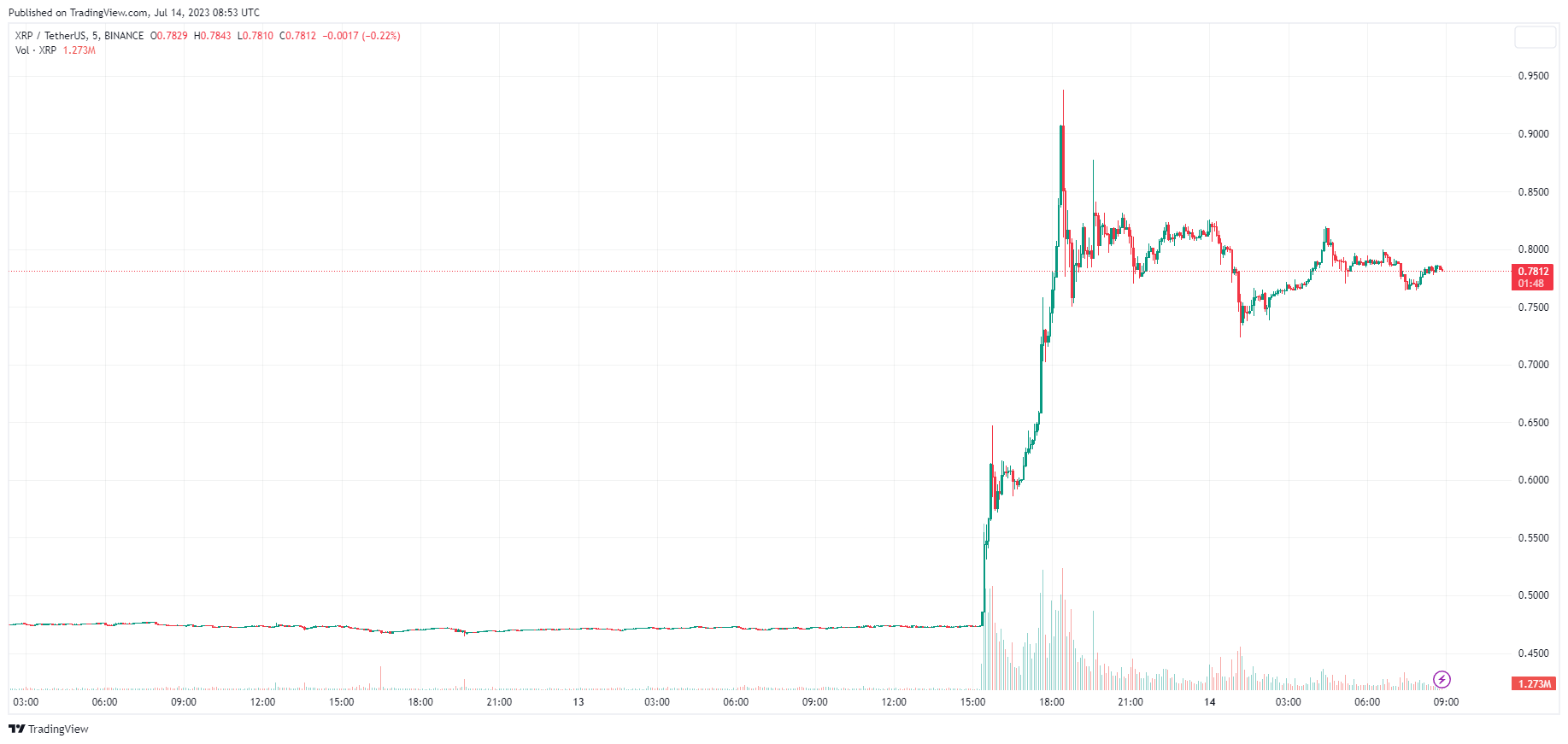 Abonnieren Sie unseren Newsletter
Die besten Artikel der Woche direkt in ihre Mailbox geliefert.
Other altcoins follow the XRP surge
The entire crypto market surged on the news. Coins previously mentioned as securities by the SEC, such as SOL (+28%), ADA (+25%), and MATIC (+25%), profited the most in terms of week-on-week performance. Bitcoin and Ethereum felt less of an impact but are still trading higher, with BTCUSD breaking the $31,000 resistance level and ETHUSD trading above $2,000 again. Coinbase, which also faces ongoing cases against the SEC for unregistered security offerings, rallied 25% yesterday on the news.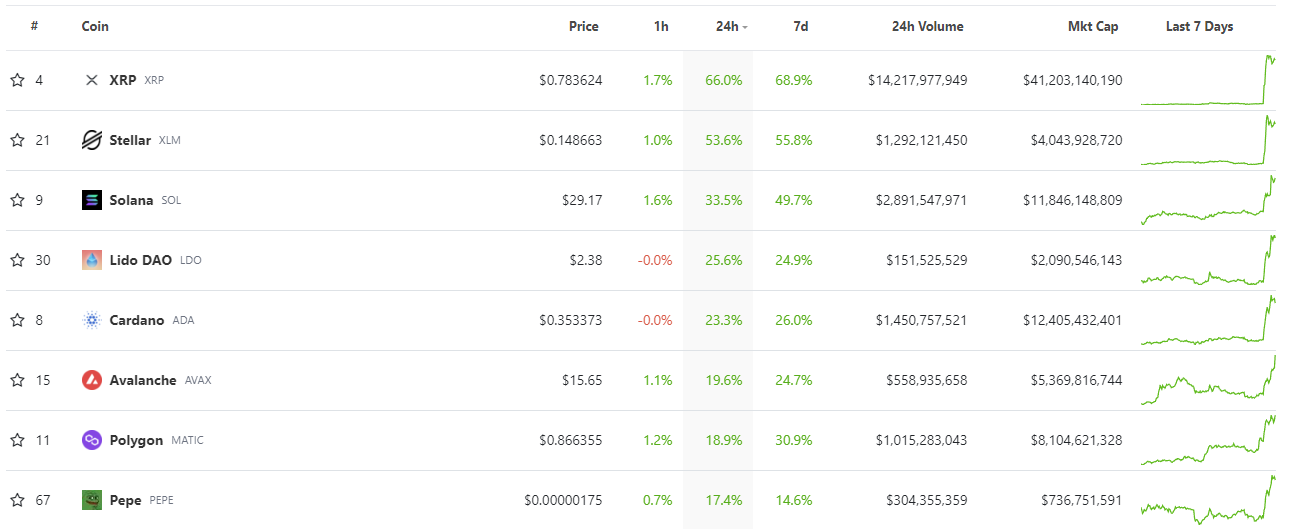 So, what's the fuss about? The U.S. judge ruled that Ripple's sale of XRP on public exchanges did not violate federal securities law. However, the ruling was specific to the Ripple case: the judge stated that Ripple's XRP sales on public exchanges were "blind bid/ask transactions" where buyers could not be sure if they were buying from Ripple or someone else in the market.
Only a partial victory for Ripple
Furthermore, investors buying XRP on public exchanges could not reasonably establish a direct connection between Ripple's efforts and the expected profits from their investment in XRP. In the case where Ripple sold XRP via private placement to hedge funds and other sophisticated investors, the court ruled that it was indeed an unregistered sale of securities.
It seems a bit peculiar that this ruling is being called a "landmark victory for Ripple" on social media and in many articles published shortly after the ruling. While it was indeed a partial victory for Ripple and the crypto landscape, it was also confirmed that XRP is considered a security, at least under certain circumstances. It is important to remember that this was just one court ruling, and others will need to confirm or challenge it.
More significant would be the enactment of proper legislation for cryptocurrencies in the U.S. Nevertheless, since the crypto market has been inundated with negative news for so long, receiving some positive news has been a significant relief for everyone involved.
Happy Trading!
---
Copyright © 2021 | Crypto Broker AG | All rights reserved.
All intellectual property, proprietary and other rights and interests in this publication and the subject matter hereof are owned by Crypto Broker AG including, without limitation, all registered design, copyright, trademark and service mark rights.

Disclaimer
This publication provided by Crypto Broker AG, a corporate entity registered under Swiss law, is published for information purposes only. This publication shall not constitute any investment  advice respectively does not constitute an offer, solicitation or recommendation to acquire or dispose of any investment or to engage in any other transaction. This publication is not intended for solicitation purposes but only for use as general information. All descriptions, examples and calculations contained in this publication are for illustrative purposes only. While reasonable care has been taken in the preparation of this publication to provide details that are accurate and not misleading at the time of publication, Crypto Broker AG (a) does not make any representations or warranties regarding the information contained herein, whether express or implied, including without limitation any implied warranty of merchantability or fitness for a particular purpose or any warranty with respect to the accuracy, correctness, quality, completeness or timeliness of such information, and (b) shall not be responsible or liable for any third party's use of any information contained herein under any circumstances, including, without limitation, in connection with actual trading or otherwise or for any errors or omissions contained in this publication.

Risk disclosure
Investments in virtual currencies are high-risk investments with the risk of total loss of the investment and you should not invest in virtual currencies unless you understand and can bear the risks involved with such investments. No information provided in this publication shall constitute investment advice. Crypto Broker AG excludes its liability for any losses arising from the use of, or reliance on, information provided in this publication.