Index Performance
Index performance was roughly 22%, with the dominating Entertainment sector gaining 42% relative to the Index. Other sectors, e.g. Internet of Things (IoT) and Platform are also the monthly winners. The losing sector is Store of Value (SoV), with an underperformance of 19% relative to Index. In May 2020, the Index saw a trading bandwidth of approx. 30%.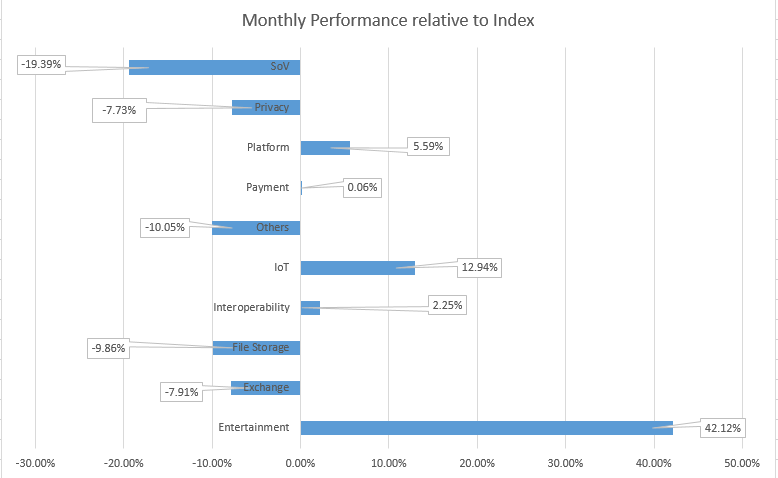 SoV (Store of Value)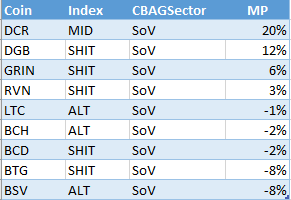 DCR (Decred) is a hybrid proof-of-work and proof of stake cryptocurrency. The project funds its own developments from a decentralised treasury. The genesis block launched in February 2016, with a maximum supply of 21 million native tokens.
File Storage

BT (BitTorrent) is a TRON token for native use in the BTT application. Its investor is the TRON Foundation in Beijing, China. The private sale launched in January 2018, and the public sale started in January 2019. Overall supply is capped at 990 billion TRC-10 tokens.
Entertainment

THETA had a mainnet 2.0 launch, which was the reason behind the massive rally.
Payment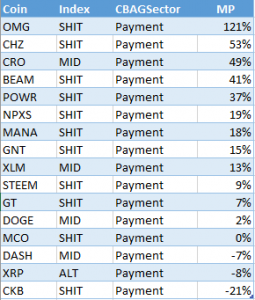 OMG (OMG Network) is a new rebranding name (called OmiseGO in the past). OMG is a Layer 2 scaling protocol for Ethereum. Its proof of concept started in January 2018, with several additional steps on their roadmap. OMG is based (and organised) out of Singapore with a global investor base.
IoT (Internet of Things)

NANO is a decentralised next-generation digital currency focussed on addressing the inefficiencies in existing cryptocurrencies. The genesis block was created in October 2015, with an outstanding supply of 133,248,289 native tokens. NANO is run out of the US (California) by the NANO Foundation. Its investors are based in China, Singapore, and the United States. Over 5% of the capped supply is in the hands of the founders and the project, and the remaining tokens have been distributed via AirDrops and Rewards.
Exchange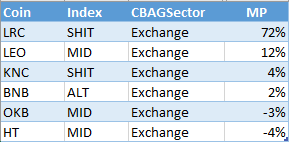 LRC (Loopring) is an open protocol for building high-performance decentralised order book exchanges on Ethereum. LRC released Version 1 in December 2017. There have been more than three releases so far, the last of which was deployed in December 2019. In general, the LRC tokens (ERC-20) are used for protocol pool staking. Any user can stake for a minimum of 90 days in order to receive the proportional share of the fee. Overall supply is capped at 1.4 billion with a deflationary emission type.
Interoperability

ATOM (Cosmos) is an interoperable blockchain protocol facilitating the transfer of data between existing chains. The framework features a Byzantine Fault Tolerant consensus algorithm, which was developed by Tendermint to secure the protocol. It is a native token with a proof of stake consensus algorithm. The organisation is located in the US and Switzerland.
Platform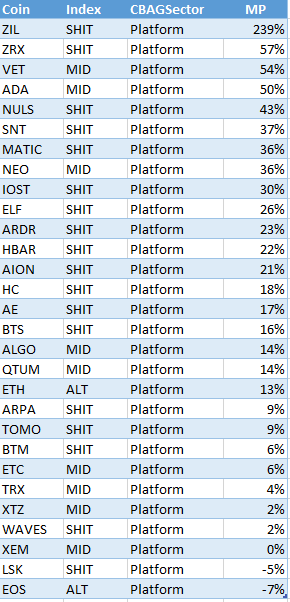 ZIL (Zilliqa) is a Singapore-based blockchain platform that launched in 2017. It was one of the first to use "sharding" technology to solve the common blockchain hurdle of scalability. ETC (Ethereum Classic) had a hard fork upgrade called Phoenix.
Privacy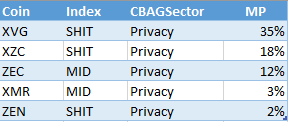 XVG (Verge) is a rebranded privacy focused cryptocurrency formerly known as "Dogecoin Dark". The genesis block was created in September 2014, with a maximum supply of 16.5 billion native tokens. Consensus algorithm is based on proof of work with a 30-second block time and a block reward of 730 tokens.
---
Copyright © 2021 | Crypto Broker AG | Alle Rechte vorbehalten.
Diese Publikation und ihr Inhalt, einschliesslich aller Namen, Logos, Designs und Marken sowie aller damit verbundenen Immaterialgüter- und sonstigen Rechte sind Eigentum der Crypto Broker AG oder Dritter. Sie dürfen ohne deren vorherige Zustimmung nicht vervielfältig oder weiterverwendet werden.

Haftungsausschluss
Alle Angaben in dieser Publikation erfolgen ausschliesslich zu allgemeinen Informationszwecken. Die in dieser Publikation zur Verfügung gestellten Informationen stellen keine Anlageberatung dar und sind auch nicht als solche beabsichtigt. Diese Publikation stellt kein Angebot und keine Empfehlung oder Aufforderung für eine Anlage in ein Finanzinstrument einschliesslich Kryptowährungen und dergleichen dar und ist auch nicht als solches Angebot, Empfehlung oder Aufforderung beabsichtigt. Diese Publikation ist nicht für Werbezwecke bestimmt, sondern dient nur der allgemeinen Information. Die in der Publikation enthaltenen Inhalte stellen die persönliche Meinung der jeweiligen Autoren dar und sind nicht als Entscheidungsgrundlage geeignet oder beabsichtigt. Alle Beschreibungen, Beispiele und Berechnungen in dieser Publikation dienen nur der Veranschaulichung. Obwohl bei der Erstellung dieser Publikation mit üblicher Sorgfalt darauf geachtet wurde, dass die Angaben zum Zeitpunkt der Veröffentlichung zutreffend und nicht irreführend sind, übernimmt die Crypto Broker AG keinerlei Gewähr oder Garantie, weder ausdrücklich noch stillschweigend, in Bezug auf die darin enthaltenen Informationen, deren Marktfähigkeit oder Eignung für einen bestimmten Verwendungsweck oder hinsichtlich ihrer Genauigkeit, Richtigkeit, Qualität, Vollständigkeit oder Aktualität. Die Crypto Broker AG schliesst jede Haftung und Verantwortlichkeit für die Verwendung der in der Publikation enthaltenen Informationen, auch durch Dritte, im Zusammenhang mit Handels- oder anderweitigen Aktivitäten aus und ebenso für allfällige Fehler oder Unvollständigkeiten, welche in dieser Publikation enthalten sind.

Risikohinweis
Anlagen und Investitionen, insbesondere in Kryptowährungen, sind grundsätzlich mit Risiko verbunden. Der Totalverlust des eingesetzten Kapitals kann nicht ausgeschlossen werden. Kryptowährungen sind sehr volatil und können daher in kurzer Zeit extremen Kursschwanken ausgesetzt sein. Eine Nutzung der Informationen aus dieser Publikation erfolgt ausschliesslich und einzig auf eigenes Risiko des Nutzers. Ein Nutzer sollte sich in jedem Fall vor einer Anlage- und Investitionsentscheidung über die damit verbundenen Risiken im Klaren sein und sich bei Bedarf geeignet beraten lassen.