Recurring market commentary on what's happening in the crypto markets, summarized by the Crypto Broker team at Crypto Finance AG.
Good Morning!
Today is the last trading day of 2021, and there is a great likelihood that we will see the largest December options expiry of the year. The entire week was driven by the open interest around the BTC $50,000 and ETH $4,000 levels, with a trading range of approx. 12%. At the beginning of the week, BTC traded at $52,000 and ETH at $4,140, but the market then started to weaken towards the expiry, going below $50,000 and $4,000 again.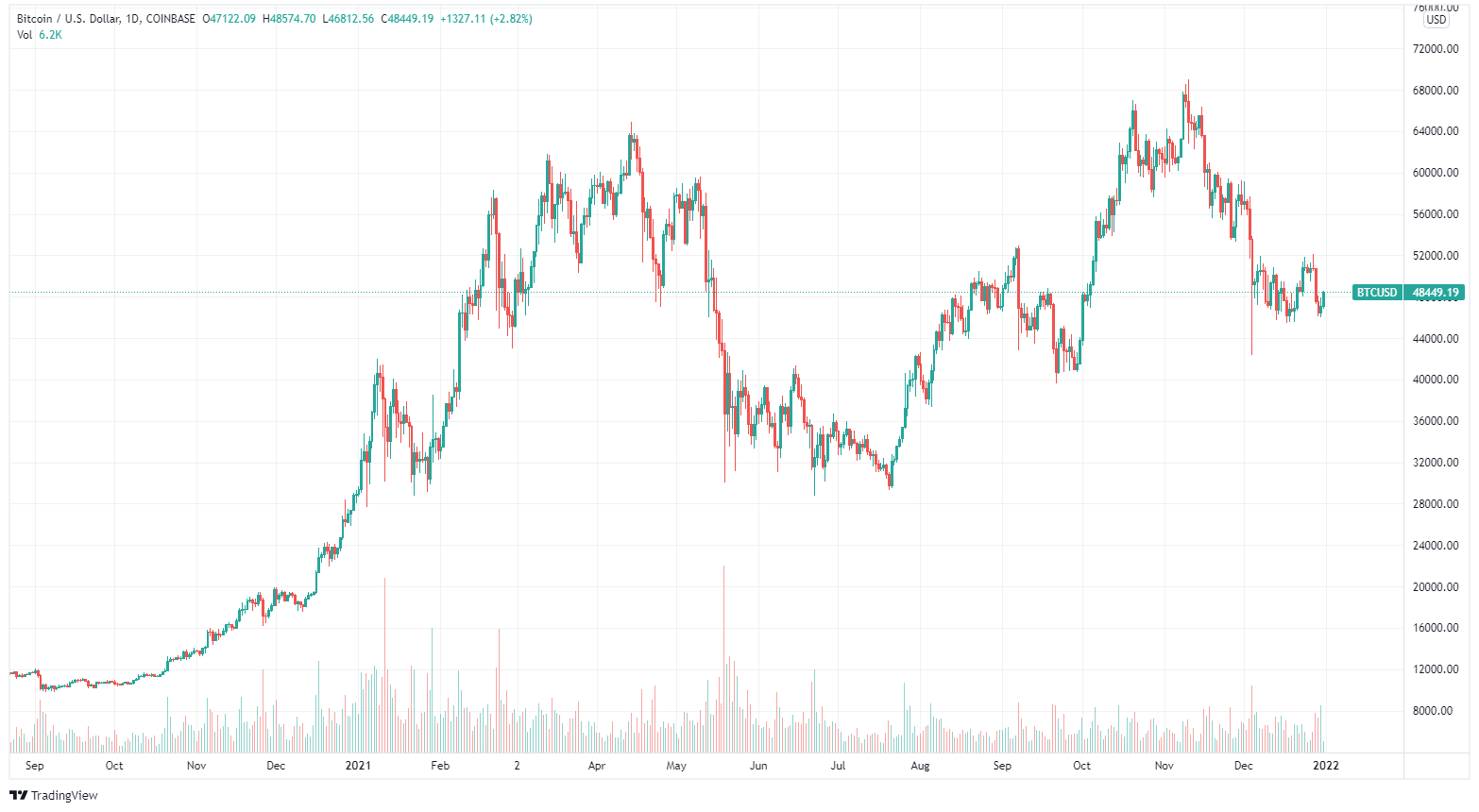 The overall trading volume has increased slightly, whereas implied volatilities further softened across all maturities. Currently, BTC three-month ATM Vol is trading at 75.4%, six-month ATM Vol at 77.4%, ETH three-month ATM Vol at 86.9%, and six-month ATM Vol at 87.3%. We have not been seeing any huge excesses in implied volatilities for BTC and ETH since mid-year, and the trading range has remained rather narrow.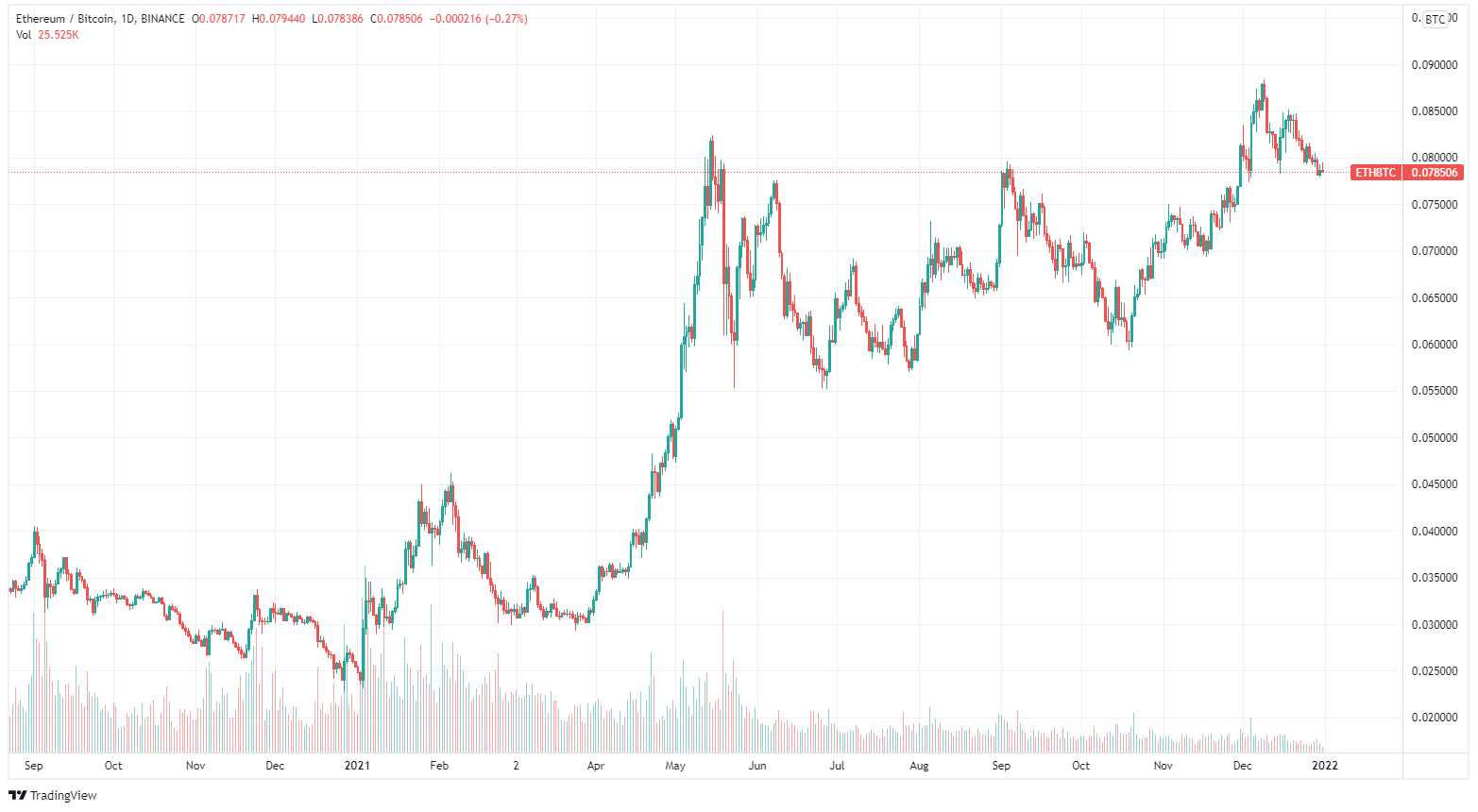 The ETHBTC spread has weakened to just below the 0.08 level despite the huge buying interest in ETH throughout the entire week. I actually expected ETH to outperform BTC towards the year-end, which has definitively not been the case. Other layer 1 coins had to step in and take the lead in altcoins, e.g. ALGO and ATOM.
Exciting year for crypto
Overall, 2021 has been a big year for crypto: the total market cap reached $3 trillion! The rise in market cap came as global venture capital funds invested roughly $30 billion in the crypto market. The largest investment was a $1 billion funding round raised by crypto derivatives exchange FTX; Custodian New York Digital Investment Group invested $1 billion; MoonPay secured a funding of $500 million, and the NFT platform Dapper Labs raised $350 million. Despite the unexpected crackdown on cryptocurrencies in China, investments continued, also touching the NFT space. The Metaverse is definitively not a buzzword anymore; it will be occupying and astonishing us in the new year.
For years now, I have not only been following the work being done around crypto from UNIC (University of Nicosia), I have also participated in their online course offerings. Their latest was an introduction to DeFi where you earned an NFT certificate after passing the exam. UNIC's next future target is to make a substantial investment in the Metaverse space and educate everyone who is interested. Exactly the same way they did for blockchain, cryptocurrencies, and the digital space in general. The Metaverse is just at the beginning, and common know-how is still quite low.
Happy Trading, and a Happy New Year!
---
Copyright © 2021 | Crypto Broker AG | All rights reserved.
All intellectual property, proprietary and other rights and interests in this publication and the subject matter hereof are owned by Crypto Broker AG including, without limitation, all registered design, copyright, trademark and service mark rights.

Disclaimer
This publication provided by Crypto Broker AG, a corporate entity registered under Swiss law, is published for information purposes only. This publication shall not constitute any investment  advice respectively does not constitute an offer, solicitation or recommendation to acquire or dispose of any investment or to engage in any other transaction. This publication is not intended for solicitation purposes but only for use as general information. All descriptions, examples and calculations contained in this publication are for illustrative purposes only. While reasonable care has been taken in the preparation of this publication to provide details that are accurate and not misleading at the time of publication, Crypto Broker AG (a) does not make any representations or warranties regarding the information contained herein, whether express or implied, including without limitation any implied warranty of merchantability or fitness for a particular purpose or any warranty with respect to the accuracy, correctness, quality, completeness or timeliness of such information, and (b) shall not be responsible or liable for any third party's use of any information contained herein under any circumstances, including, without limitation, in connection with actual trading or otherwise or for any errors or omissions contained in this publication.

Risk disclosure
Investments in virtual currencies are high-risk investments with the risk of total loss of the investment and you should not invest in virtual currencies unless you understand and can bear the risks involved with such investments. No information provided in this publication shall constitute investment advice. Crypto Broker AG excludes its liability for any losses arising from the use of, or reliance on, information provided in this publication.