Recurring market commentary on what's happening in the crypto markets, summarized by the Crypto Broker team at Crypto Finance AG.
Good Morning!
The speed of the crypto/NFT/digital asset space is moving too fast for me…
Experimenting with NFTs
This Sunday, I tried getting into the Wilder World project. I had had them on my radar for a while (it all started with wheels and kicks), and a few days ago, they started their launch of cribs (however, this is not live yet). Here's an example of some wheels: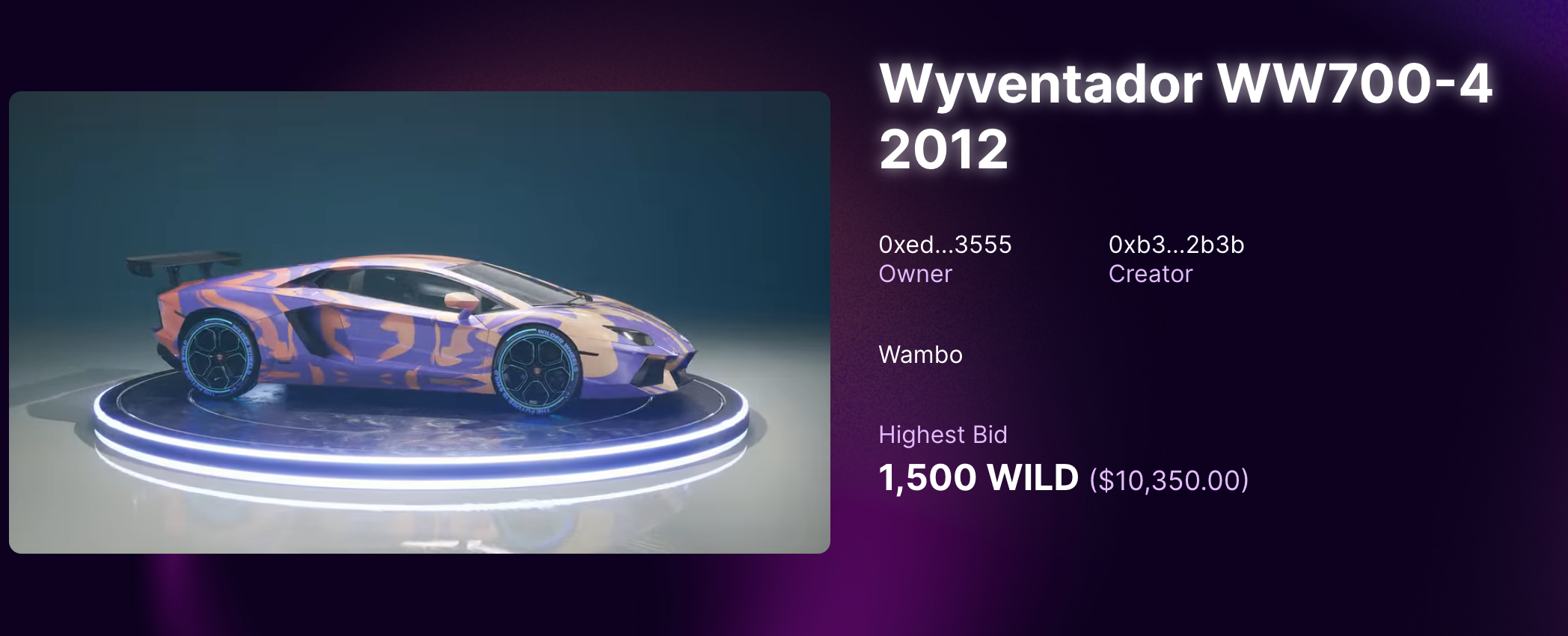 I actually liked the idea of "designing" my own NFT (in this case, my Wilder Wheels). The project interested me not because of price speculation, but because I could create a digital object, which could potentially be useful at a later stage of the project. But, as mentioned earlier, I am too slow for this ecosystem, and I was unable to follow through with my Sunday plan. Apparently, the first minting batch is already done (and there are none left), so I will need to wait for the next one.
The Metaverse
I am still trying to wrap my head around the "Metaverse" in terms of what could have value in the longer term and which projects are the first glimpse into my kids' and grandkids' futures. What will they be doing with all of this in 10-20 years? One thing is clear to me: non-fungible tokens (NFTs) are here to stay. And I am not just talking about simple images (profile pictures), but digital objects that may or may not have a specific use case in a not yet fully developed Metaverse. Having said that, maybe I should not just be looking at the projects that create NFTs, but also at the infrastructure providers that make the Metaverse possible…
Virgil Abloh was a pioneer in music, art, and fashion. Most people don't know he was also ahead of the curve on Web3.

Shared with permission from his team, here is an early iteration of a DAO he envisioned.https://t.co/nb0hSmnAi9

— Fred Ehrsam (@FEhrsam) November 29, 2021
Virgil Abloh was an artist and designer who truly understood how to bring power back to the artist. Unfortunately, he died yesterday at the age of 41.
Have a good Monday!
---
Copyright © 2021 | Crypto Broker AG | All rights reserved.
All intellectual property, proprietary and other rights and interests in this publication and the subject matter hereof are owned by Crypto Broker AG including, without limitation, all registered design, copyright, trademark and service mark rights.

Disclaimer
This publication provided by Crypto Broker AG, a corporate entity registered under Swiss law, is published for information purposes only. This publication shall not constitute any investment  advice respectively does not constitute an offer, solicitation or recommendation to acquire or dispose of any investment or to engage in any other transaction. This publication is not intended for solicitation purposes but only for use as general information. All descriptions, examples and calculations contained in this publication are for illustrative purposes only. While reasonable care has been taken in the preparation of this publication to provide details that are accurate and not misleading at the time of publication, Crypto Broker AG (a) does not make any representations or warranties regarding the information contained herein, whether express or implied, including without limitation any implied warranty of merchantability or fitness for a particular purpose or any warranty with respect to the accuracy, correctness, quality, completeness or timeliness of such information, and (b) shall not be responsible or liable for any third party's use of any information contained herein under any circumstances, including, without limitation, in connection with actual trading or otherwise or for any errors or omissions contained in this publication.

Risk disclosure
Investments in virtual currencies are high-risk investments with the risk of total loss of the investment and you should not invest in virtual currencies unless you understand and can bear the risks involved with such investments. No information provided in this publication shall constitute investment advice. Crypto Broker AG excludes its liability for any losses arising from the use of, or reliance on, information provided in this publication.