Recurring market commentary on what's happening in the crypto markets, summarized by the Crypto Broker team at Crypto Finance AG.
Good Morning!
At the time of writing, Bitcoin (BTC) is trading at $39.6k (-2.8% in 7 days), Ethereum (ETH) is trading at $2.9k (-2.9% in 7 days), and the spread ETH/BTC is trading at 0.074 (-0.86% in 7 days). The rebound yesterday, led by stock markets, was not enough to turn the market positive over the course of the week.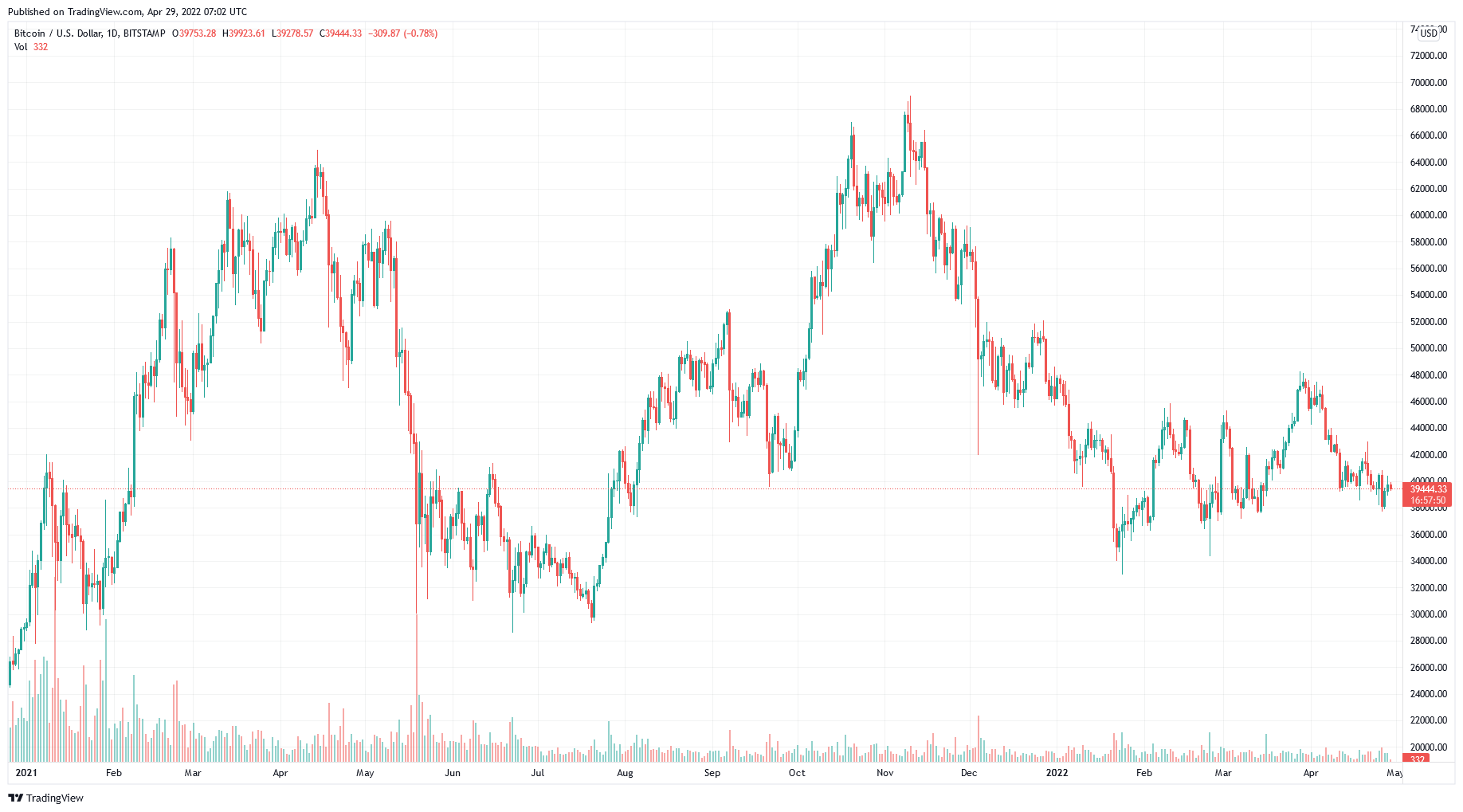 Crypto markets could not escape global macro trends this week as correlation with equity markets remains high. Although some large companies like Meta and Microsoft beat expectations during the ongoing earning season, the general market sentiment is driven by fear. The main areas of concern persist and even seem to be becoming worse.
Global developments
The authorities in Beijing ordered mass COVID testing of all its residents. As a result, people started panic buying groceries as they fear that a "Shanghai-like" lockdown will be imminent. The futures markets in the US are now pricing high chances of two rate hikes, totaling 125bps for the FED's May and June meeting, driving the Greenback to higher levels than during the market turbulences in March 2020. With the EUR/USD trading as low as 1.053 (a level not seen since 2017) and the ECB lagging the FED by far in terms of tightening, inflation expectations in the Eurozone are rising. Additionally, Russia announced that they will halt gas supplies to Poland and Bulgaria, amplifying the risk of a complete gas embargo, which would inevitably lead to a recession in Germany.
Crypto news over the week
Happy Trading!
---
Copyright © 2021 | Crypto Broker AG | All rights reserved.
All intellectual property, proprietary and other rights and interests in this publication and the subject matter hereof are owned by Crypto Broker AG including, without limitation, all registered design, copyright, trademark and service mark rights.

Disclaimer
This publication provided by Crypto Broker AG, a corporate entity registered under Swiss law, is published for information purposes only. This publication shall not constitute any investment  advice respectively does not constitute an offer, solicitation or recommendation to acquire or dispose of any investment or to engage in any other transaction. This publication is not intended for solicitation purposes but only for use as general information. All descriptions, examples and calculations contained in this publication are for illustrative purposes only. While reasonable care has been taken in the preparation of this publication to provide details that are accurate and not misleading at the time of publication, Crypto Broker AG (a) does not make any representations or warranties regarding the information contained herein, whether express or implied, including without limitation any implied warranty of merchantability or fitness for a particular purpose or any warranty with respect to the accuracy, correctness, quality, completeness or timeliness of such information, and (b) shall not be responsible or liable for any third party's use of any information contained herein under any circumstances, including, without limitation, in connection with actual trading or otherwise or for any errors or omissions contained in this publication.

Risk disclosure
Investments in virtual currencies are high-risk investments with the risk of total loss of the investment and you should not invest in virtual currencies unless you understand and can bear the risks involved with such investments. No information provided in this publication shall constitute investment advice. Crypto Broker AG excludes its liability for any losses arising from the use of, or reliance on, information provided in this publication.