Recurring market commentary on what's happening in the crypto markets, summarized by the Crypto Broker team at Crypto Finance AG.
Market commentary
Good Morning!
Regulatory clarity is closely linked to the institutional adoption of crypto/digital assets.
China bans crypto again
What happened on Friday after the news came out that the CCP (China Central Party) was allegedly banning all crypto-related transactions and labelling them as illegal was in fact not new "news". See the following Twitter thread of Matthew Graham (CEO of Sino Capital):
my current and best understanding is this is not a change in regulatory policy however it is a notice that is newly posted on the PBOC website pic.twitter.com/8r0FcxsROA

— Matthew Graham (@mattysino) September 24, 2021
It is also worthy to note that China has been banning crypto for several years now. John Street Capital put a nice info wall together where you can see the timeline of the various actions taken (2013, 2017, 2018, 2019, and 2021). The price corrections were smaller after every announcement.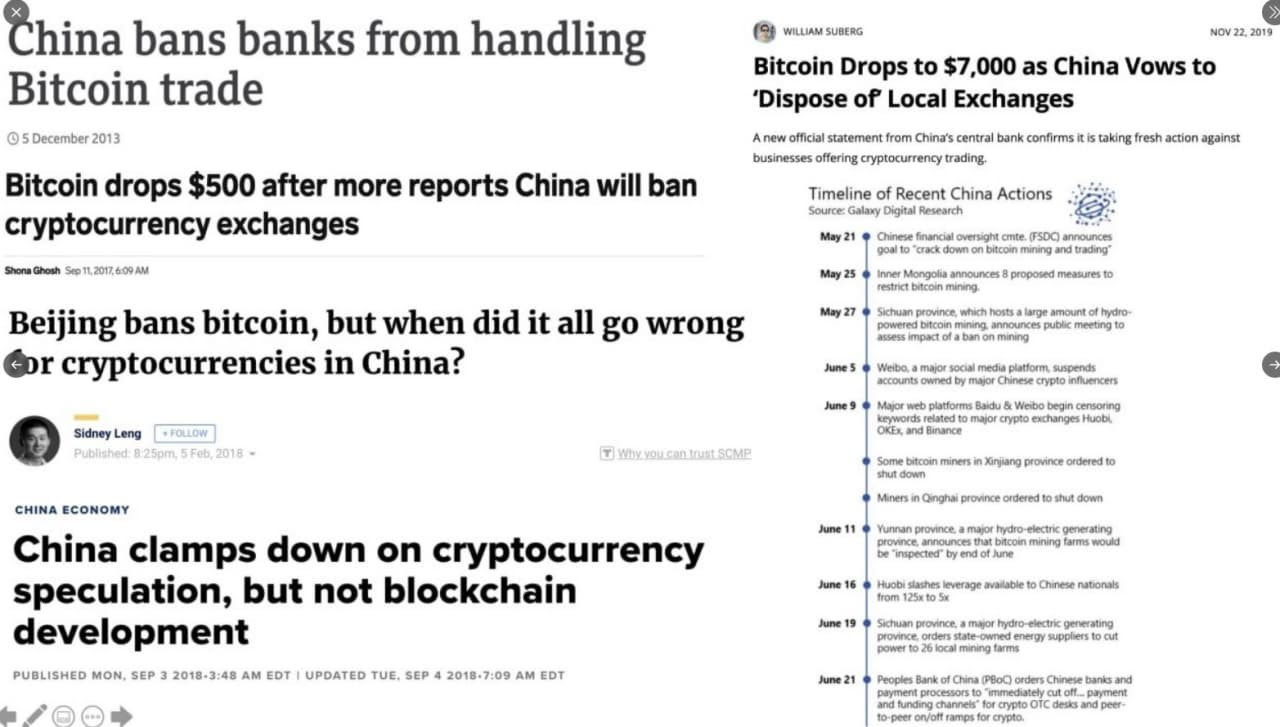 Now, let me reference back to my initial point: regulatory clarity is closely linked to institutional adoption.
Global crypto regulation
China has made it clear that it is not in favour of crypto. At least they have provided regulatory clarity in their jurisdiction. I do not regard China as a trendsetter, and therefore I do not see there being a very high risk that other regulators will follow suit. The reason why prices are still reacting negatively to the news is that the overall crypto market loses buying power when Chinese retail investors are banned from it.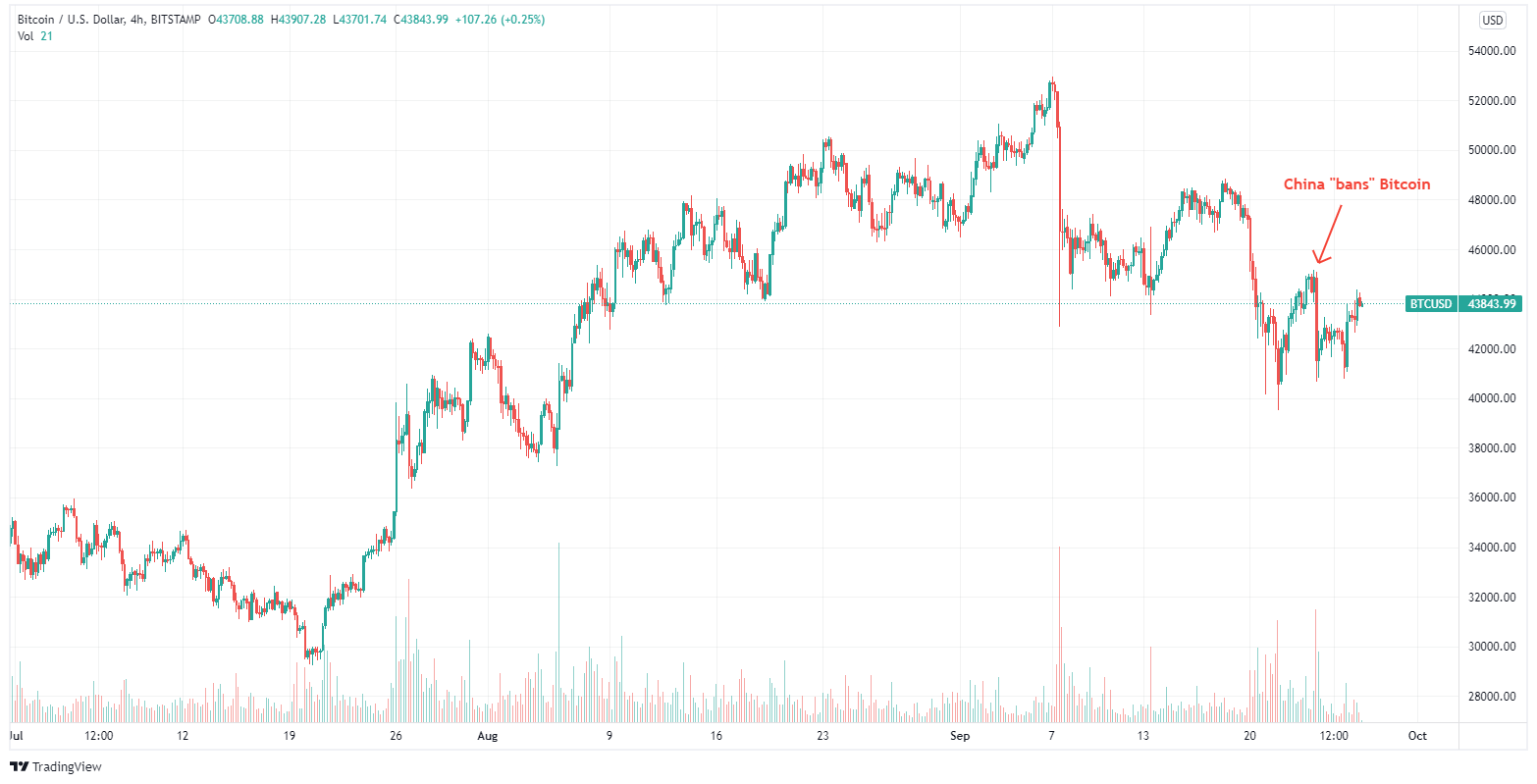 In general, we need to keep an eye out for emerging markets with similar capital restrictions (non-free floating currencies) like China, and follow their progress. In addition, we (obviously) also need to watch the decisions made by the US and Europe.
Also, it is important not to forget that we should not underestimate the power of retail investors. If regulatory clarity moves forward for this segment and many of the emerging market countries citizen start to flip some of their earnings into crypto (instead of into black market US dollars), prices will go up despite the lack of institutional investors.
---
Copyright © 2021 | Crypto Broker AG | All rights reserved.
All intellectual property, proprietary and other rights and interests in this publication and the subject matter hereof are owned by Crypto Broker AG including, without limitation, all registered design, copyright, trademark and service mark rights.
Disclaimer
This publication provided by Crypto Broker AG, a corporate entity registered under Swiss law, is published for information purposes only. This publication shall not constitute any investment  advice respectively does not constitute an offer, solicitation or recommendation to acquire or dispose of any investment or to engage in any other transaction. This publication is not intended for solicitation purposes but only for use as general information. All descriptions, examples and calculations contained in this publication are for illustrative purposes only. While reasonable care has been taken in the preparation of this publication to provide details that are accurate and not misleading at the time of publication, Crypto Broker AG (a) does not make any representations or warranties regarding the information contained herein, whether express or implied, including without limitation any implied warranty of merchantability or fitness for a particular purpose or any warranty with respect to the accuracy, correctness, quality, completeness or timeliness of such information, and (b) shall not be responsible or liable for any third party's use of any information contained herein under any circumstances, including, without limitation, in connection with actual trading or otherwise or for any errors or omissions contained in this publication.
Risk disclosure
Investments in virtual currencies are high-risk investments with the risk of total loss of the investment and you should not invest in virtual currencies unless you understand and can bear the risks involved with such investments. No information provided in this publication shall constitute investment advice. Crypto Broker AG excludes its liability for any losses arising from the use of, or reliance on, information provided in this publication.