Recurring market commentary on what's happening in the crypto markets, summarized by the Crypto Broker team at Crypto Finance AG.
Good morning!
At the moment, Bitcoin (BTC) is trading at $28.9k (-3.7% in 7 days), Ethereum (ETH) is trading at $1.75k (-13% in 7 days), and the spread ETH/BTC is trading at 0.0612 (-8.7% in 7 days).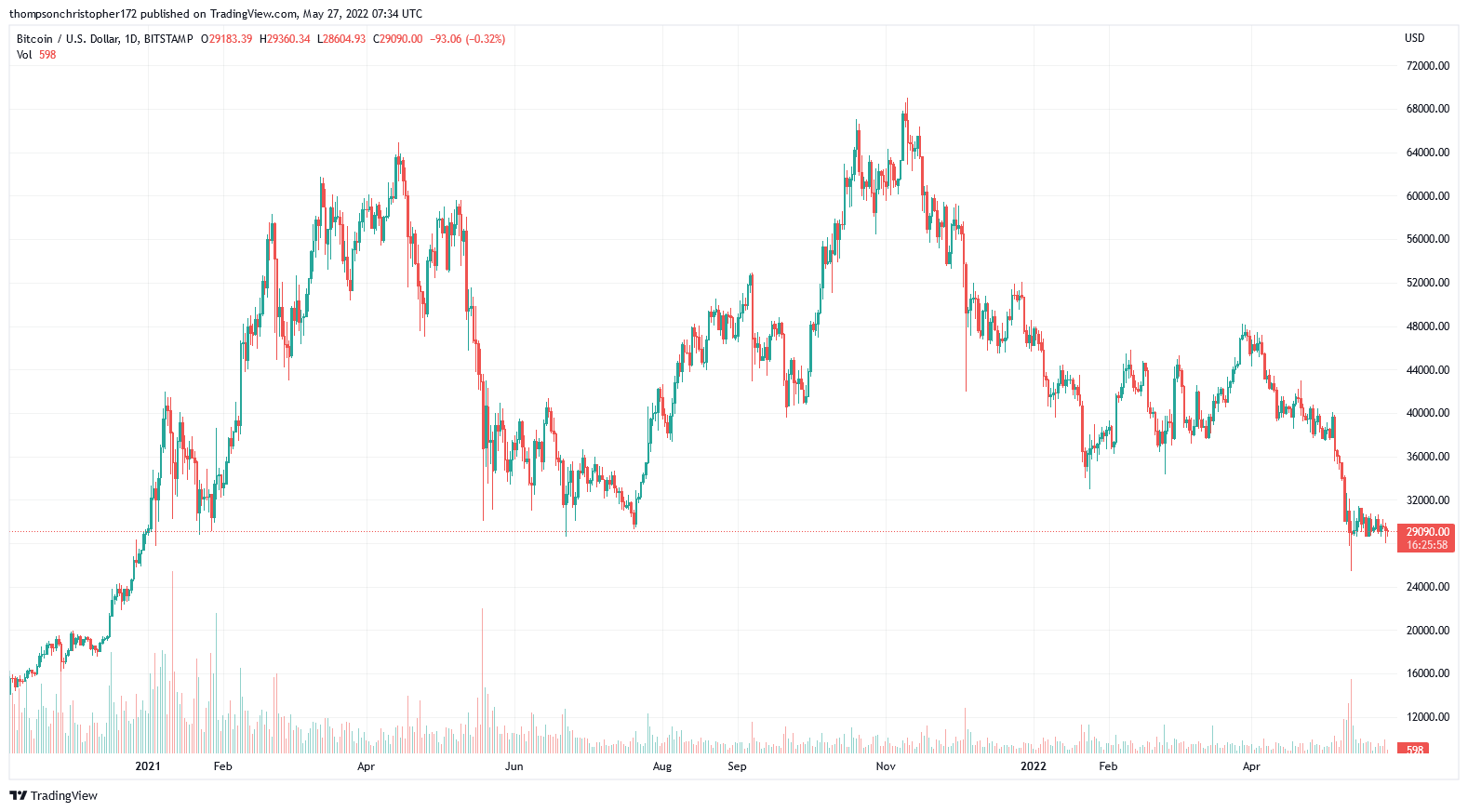 The downtrend in the crypto markets continued this week, with no signs of an imminent rebound as investors stay put. Ethereum's underperformance comes as its Beacon Chain, which will introduce PoS to ETH, faced issues, and experienced a seven-block reorg. A reorg is a potentially high security risk and makes investors nervous that the merge might be delayed further.
Crypto and stock markets decouple
The broader crypto market and stocks slightly diverged this week. The S&P 500 is up 4% since last week's close as the FED minutes show that they might not keep up the current pace of monetary tightening. Weak figures from the US housing markets, new homes sales MoM in April printed at 591k vs. the expected 750k, giving some indications that the US economy is cooling down. It also supports the view of a less hawkish FED for the rest of the year. The 10-year US yield is trading lower as well, and is currently at 2.74%
A more positive news is that Andreessen Horowitz recently announced a new fund for crypto and blockchain startups. The fund is set to dedicate $1.5 billion to seed investments, and $3 billion to venture investments. Despite the down of Bitcoin and Ethereum other layer 1 PoS cryptocurrencies suffered also really hard, with Solana trading more than 19% lower over the week, Avalanche 25%, and NEAR 17%. The relative weakness of all the altcoins pushed the BTC market cap dominance to 46.8%, the highest reading in 7 months.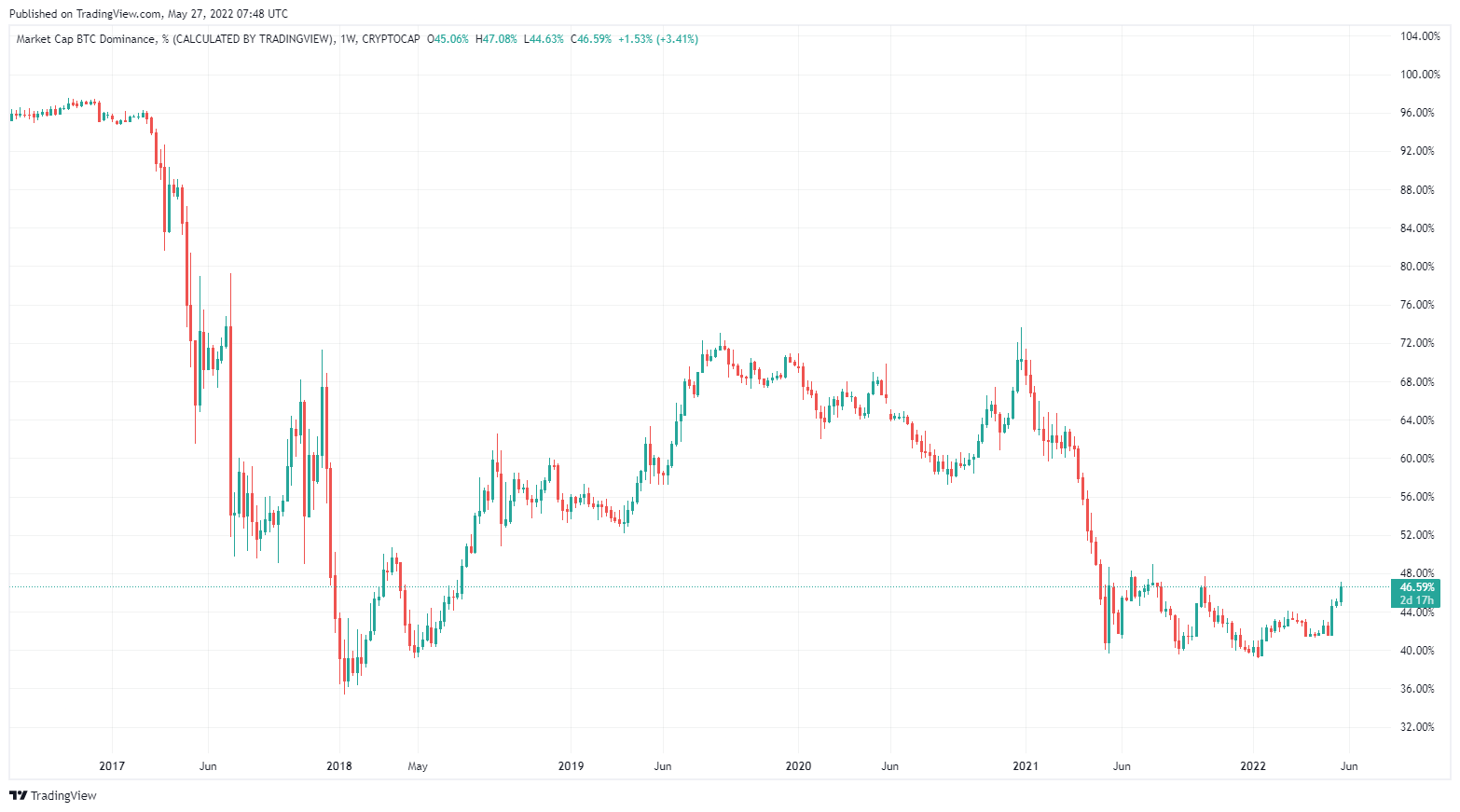 Happy Trading!
---
Copyright © 2021 | Crypto Broker AG | All rights reserved.
All intellectual property, proprietary and other rights and interests in this publication and the subject matter hereof are owned by Crypto Broker AG including, without limitation, all registered design, copyright, trademark and service mark rights.

Disclaimer
This publication provided by Crypto Broker AG, a corporate entity registered under Swiss law, is published for information purposes only. This publication shall not constitute any investment  advice respectively does not constitute an offer, solicitation or recommendation to acquire or dispose of any investment or to engage in any other transaction. This publication is not intended for solicitation purposes but only for use as general information. All descriptions, examples and calculations contained in this publication are for illustrative purposes only. While reasonable care has been taken in the preparation of this publication to provide details that are accurate and not misleading at the time of publication, Crypto Broker AG (a) does not make any representations or warranties regarding the information contained herein, whether express or implied, including without limitation any implied warranty of merchantability or fitness for a particular purpose or any warranty with respect to the accuracy, correctness, quality, completeness or timeliness of such information, and (b) shall not be responsible or liable for any third party's use of any information contained herein under any circumstances, including, without limitation, in connection with actual trading or otherwise or for any errors or omissions contained in this publication.

Risk disclosure
Investments in virtual currencies are high-risk investments with the risk of total loss of the investment and you should not invest in virtual currencies unless you understand and can bear the risks involved with such investments. No information provided in this publication shall constitute investment advice. Crypto Broker AG excludes its liability for any losses arising from the use of, or reliance on, information provided in this publication.