Recurring market commentary on what's happening in the crypto markets, summarized by the Crypto Broker team at Crypto Finance AG.
Market commentary
Good Morning!
The market was hit by some more bad news at the beginning of the week. And this put the market into "risk-off" mode. This time it was about the insolvency of the second-largest property developer in China: the Evergrande Group. The company is snowed under by its crushing debt of $300 billion and its fear of the fallout of several bond payments. Overall uncertainty is still swirling around as a payment deadline was surpassed yesterday, and they have still not confirmed publicly whether payment has been made or not – or if payment is planned. Some analysts compare the situation to that of the Lehman Brothers crisis back in 2008. Others judge the situation as a local-only issue, where a government bailout would be easy.
After its recent shutdown in China, the mining industry has already managed to recover a bit, and the hashrate (TH/s) of the Bitcoin network has definitively stabilised after the massive drop. It has even started to increase over the last couple of weeks.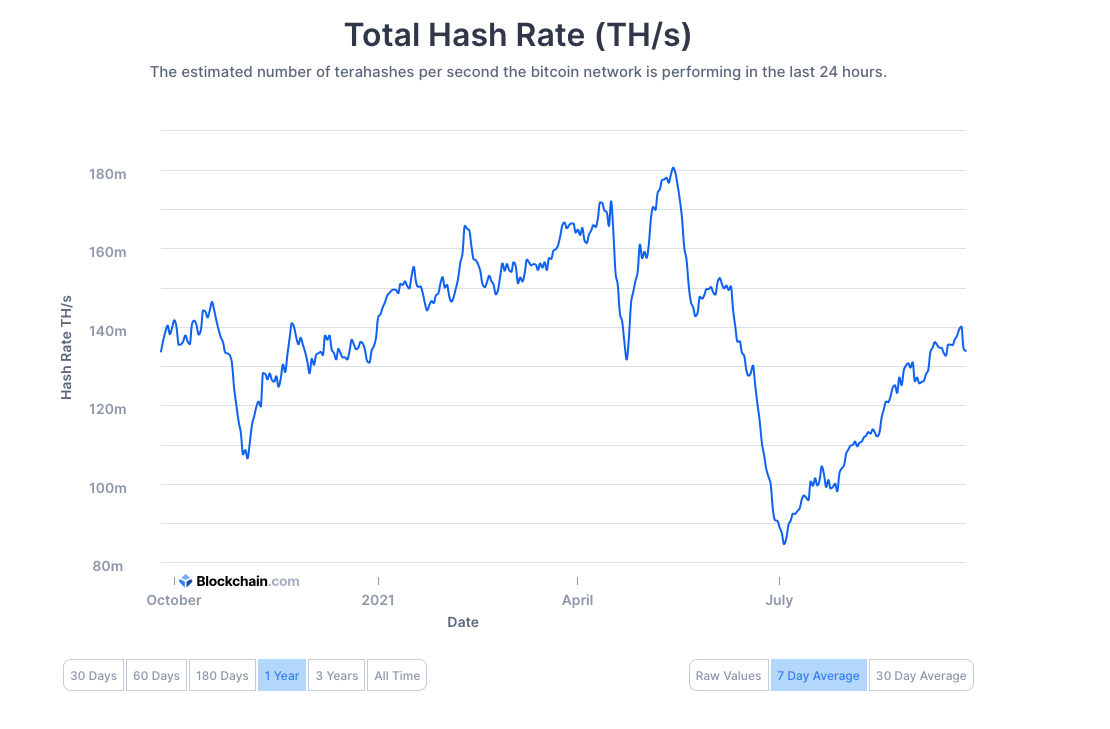 But now back to the market. Bitcoin (BTC) dropped to $40,000 and then recovered towards $44,500 at the end of the week. Short-term volatility decreased before the September expiry, and overall funding rates traded slightly negatively.
Bitcoin BTC (daily)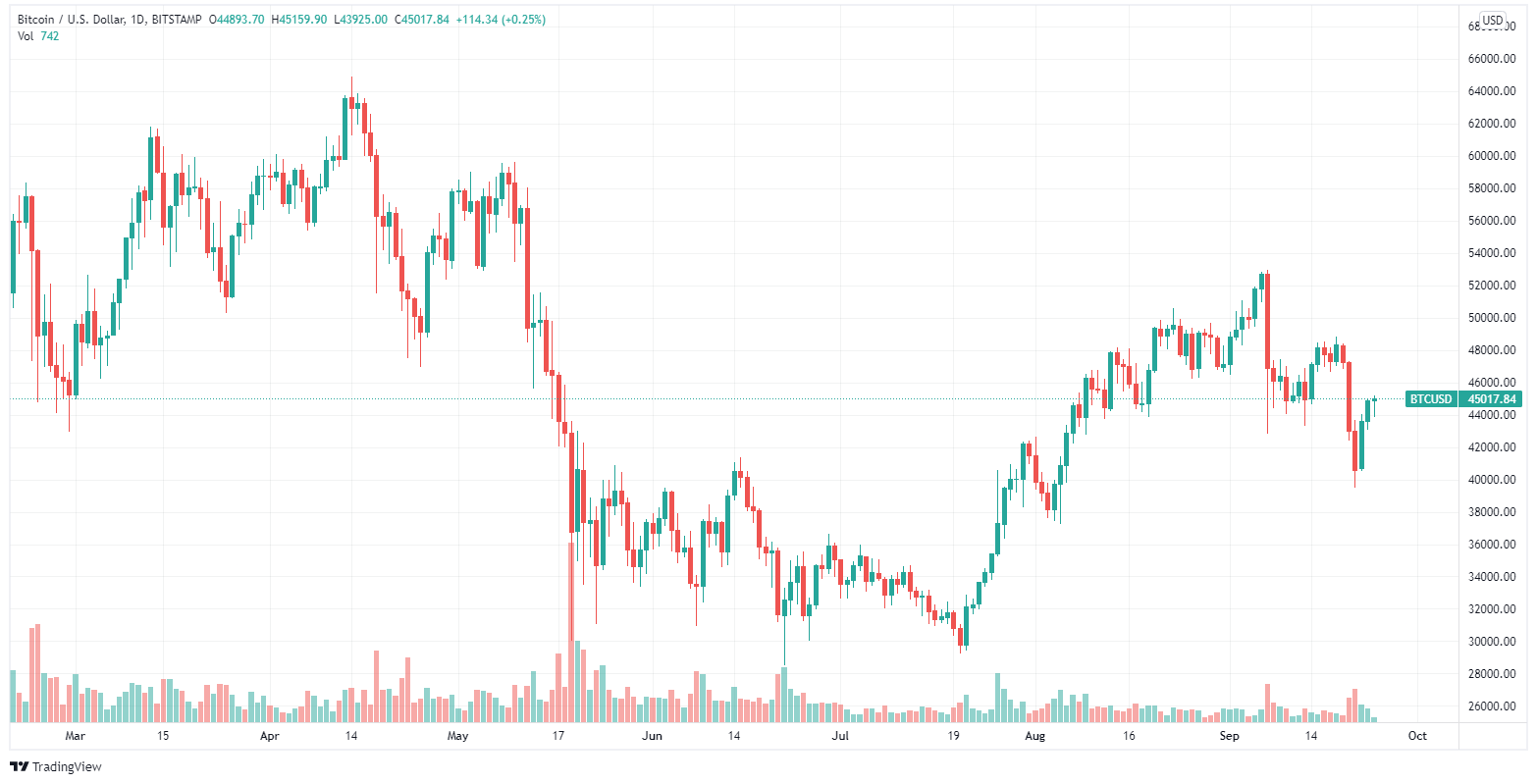 Outstanding derivatives positions are at a record high, which means that larger expiry moves are to be expected between the support level of $40,000 and the resistance of $50,000. Ethereum (ETH) saw similar market moves, and the ETHBTC spread has returned to trading at the resistance level of 0.069. Our desk has experienced massive flows in ETH as investors have been taking short-term trading positions.
Ethereum ETH (daily)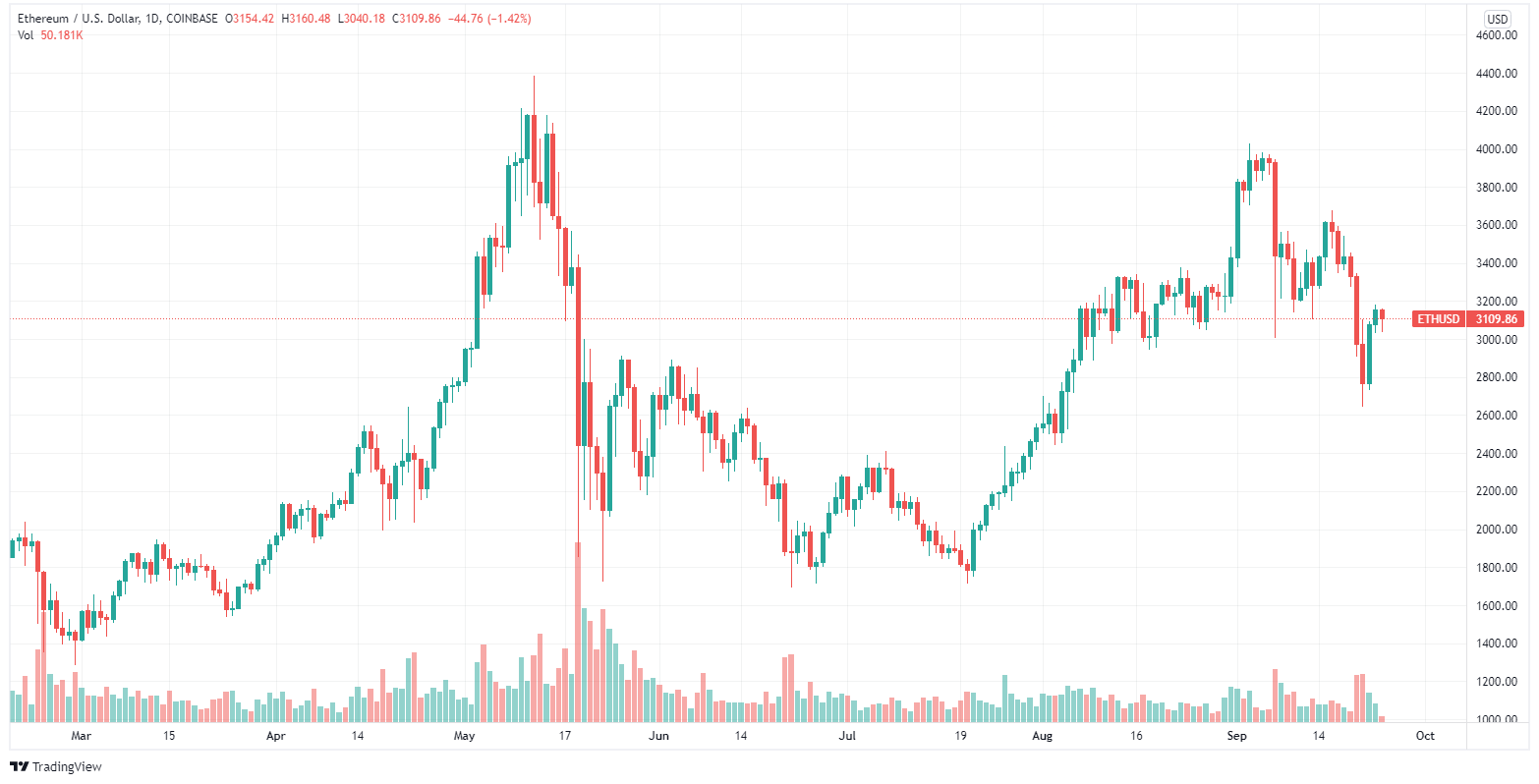 All eyes are on China, but it is also important to mention the fact that the Federal Reserve signalled the possibility of six or seven rate hikes up through 2024.
Happy Trading!
---
Copyright © 2021 | Crypto Broker AG | All rights reserved.
All intellectual property, proprietary and other rights and interests in this publication and the subject matter hereof are owned by Crypto Broker AG including, without limitation, all registered design, copyright, trademark and service mark rights.
Disclaimer
This publication provided by Crypto Broker AG, a corporate entity registered under Swiss law, is published for information purposes only. This publication shall not constitute any investment  advice respectively does not constitute an offer, solicitation or recommendation to acquire or dispose of any investment or to engage in any other transaction. This publication is not intended for solicitation purposes but only for use as general information. All descriptions, examples and calculations contained in this publication are for illustrative purposes only. While reasonable care has been taken in the preparation of this publication to provide details that are accurate and not misleading at the time of publication, Crypto Broker AG (a) does not make any representations or warranties regarding the information contained herein, whether express or implied, including without limitation any implied warranty of merchantability or fitness for a particular purpose or any warranty with respect to the accuracy, correctness, quality, completeness or timeliness of such information, and (b) shall not be responsible or liable for any third party's use of any information contained herein under any circumstances, including, without limitation, in connection with actual trading or otherwise or for any errors or omissions contained in this publication.
Risk disclosure
Investments in virtual currencies are high-risk investments with the risk of total loss of the investment and you should not invest in virtual currencies unless you understand and can bear the risks involved with such investments. No information provided in this publication shall constitute investment advice. Crypto Broker AG excludes its liability for any losses arising from the use of, or reliance on, information provided in this publication.