Recurring market commentary on what's happening in the crypto markets, summarized by the Crypto Broker team at Crypto Finance AG.
Good Morning!
Bitcoin reached a new all-time high of $67,000, just after the first US Bitcoin ETF received the regulatory green light. During its initial trading days, "BITO" registered a daily trading volume of more than $1bn, which is an extraordinary trading volume! So far, the outstanding position (AuM) of the issuer is approximately $600m.
RECORD BREAKER: $BITO assets up to $1.1b after today, making it the fastest ETF to get to $1b (2 days) breaking $GLD's 18yr old record (3 days), which is poetically apropos. https://t.co/yGXyfwaogD

— Eric Balchunas (@EricBalchunas) October 20, 2021
Another issuer, Valkyrie, is expected to receive the approval to launch a CME future-based ETF on Bitcoin today. There has been a great deal of discussion about a future-based ETF drastically reducing performance due to the future rollovers being traded with a premium (contango). Over the course of the week, I have had several discussions about the pros and cons, but at the end of the day, the dice have fallen, and the product has been well accepted. Soon a spot-based ETF will be launched, and in my opinion, an Ethereum ETF will follow shortly. This may in fact explain the rise in ETH.
Bitcoin, Ethereum and Altcoins
Most altcoins are still struggling to keep up the pace to perform as well as bitcoin. Bitcoin (BTC) is currently trading below its all-time high between $62,500 and $63,500.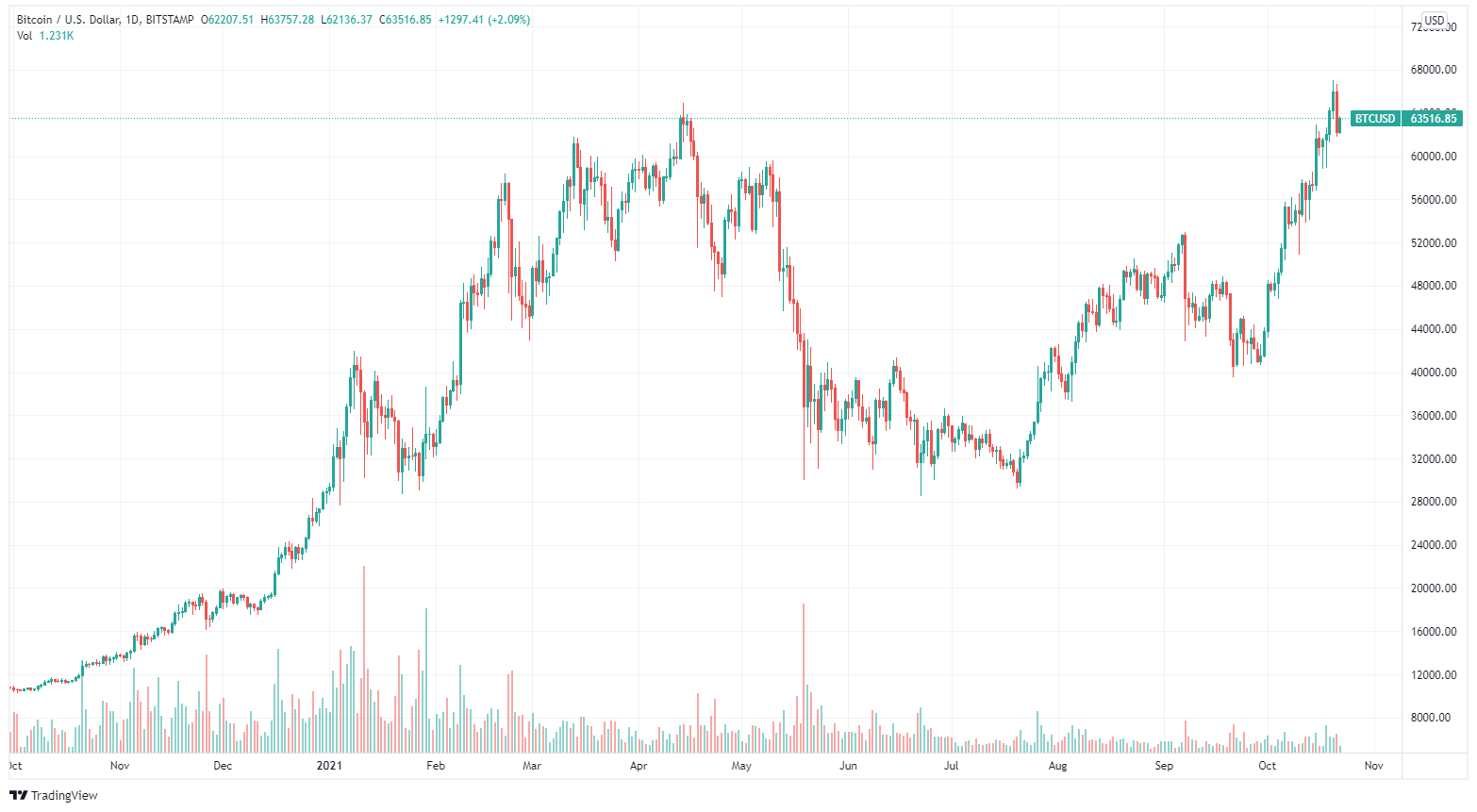 Meanwhile, Ethereum (ETH) is trading near a new all-time high of $4,150. Since the beginning of October, the spread between the two assets has been trading between the support level of 0.06 and the resistance level of 0.07.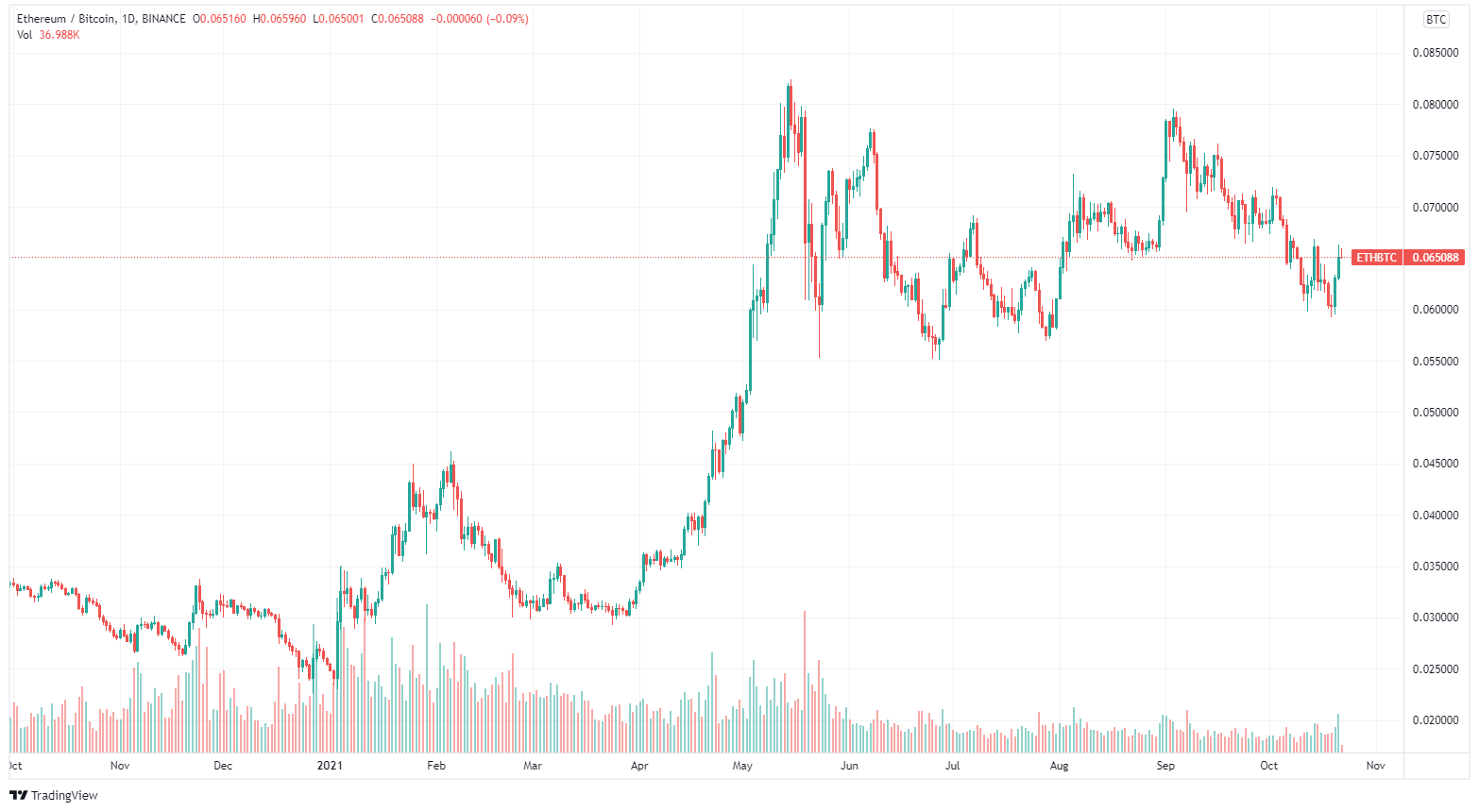 In general, the market is stretched, and leverage has been built up consistently. It looks like there is a small shortage of USD in the system, which has made the overnight funding rate increase to almost 30% annualised. Overall market capitalisation in cryptocurrencies reached a new all-time high of $2.7tn.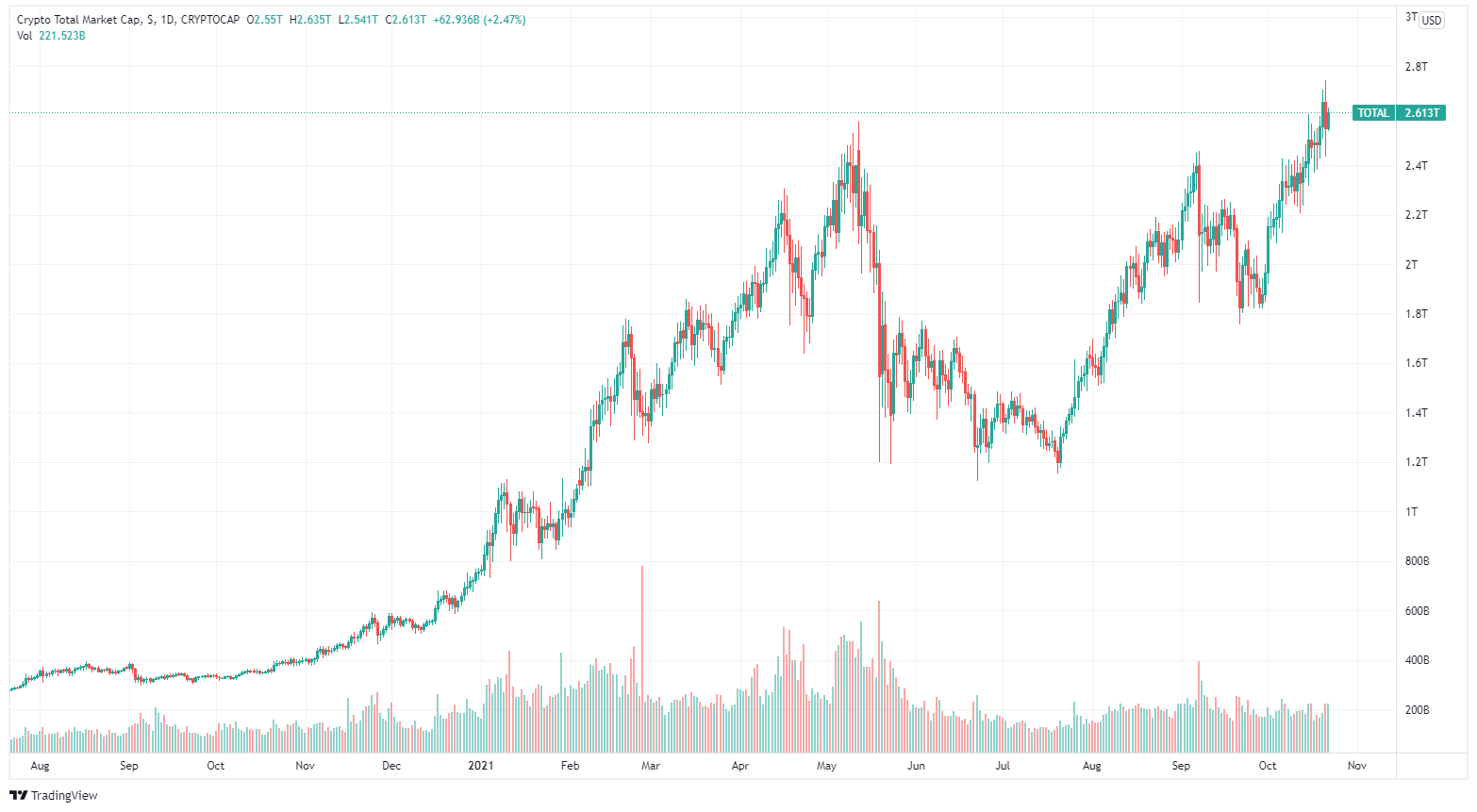 The week also uncovered additional surprises for the crypto community/industry:
BAKKT, the crypto exchange (digital asset platform), which is primarily owned by Intercontinental Exchange, began trading on Monday after completing its SPAC merger. Unfortunately, the shares slid at the beginning of the market session. Currently, the share is trading at $8.25 (the IPO price was $10).
CBOE is moving to build a digital asset derivatives marketplace with the ErisX acquisition.
Crypto exchange FTX has reached a $25bn valuation with a Series B1, raising $420m followed by the mega-round of $900m earlier this year.
The above and other fascinating news items this week clearly confirm that the growing acceptance of cryptocurrencies is continuing on a global scale.
---
Copyright © 2021 | Crypto Broker AG | All rights reserved.
All intellectual property, proprietary and other rights and interests in this publication and the subject matter hereof are owned by Crypto Broker AG including, without limitation, all registered design, copyright, trademark and service mark rights.

Disclaimer
This publication provided by Crypto Broker AG, a corporate entity registered under Swiss law, is published for information purposes only. This publication shall not constitute any investment  advice respectively does not constitute an offer, solicitation or recommendation to acquire or dispose of any investment or to engage in any other transaction. This publication is not intended for solicitation purposes but only for use as general information. All descriptions, examples and calculations contained in this publication are for illustrative purposes only. While reasonable care has been taken in the preparation of this publication to provide details that are accurate and not misleading at the time of publication, Crypto Broker AG (a) does not make any representations or warranties regarding the information contained herein, whether express or implied, including without limitation any implied warranty of merchantability or fitness for a particular purpose or any warranty with respect to the accuracy, correctness, quality, completeness or timeliness of such information, and (b) shall not be responsible or liable for any third party's use of any information contained herein under any circumstances, including, without limitation, in connection with actual trading or otherwise or for any errors or omissions contained in this publication.

Risk disclosure
Investments in virtual currencies are high-risk investments with the risk of total loss of the investment and you should not invest in virtual currencies unless you understand and can bear the risks involved with such investments. No information provided in this publication shall constitute investment advice. Crypto Broker AG excludes its liability for any losses arising from the use of, or reliance on, information provided in this publication.