Recurring market commentary on what's happening in the crypto markets, summarized by the Crypto Broker team at Crypto Finance AG.
Good Morning!
The overall market changed overnight. The market reacted promptly to uncertainty in traditional markets and took a dive down close to the important support levels of $38,000 (BTC) and $2,850 (ETH). Prior to the correction, the market seemed to be building up a solid foundation in order to start an upwards move again, but we have seen many examples of rapid changes in crypto in the past, so this sudden sell-off should not come as a surprise to anyone.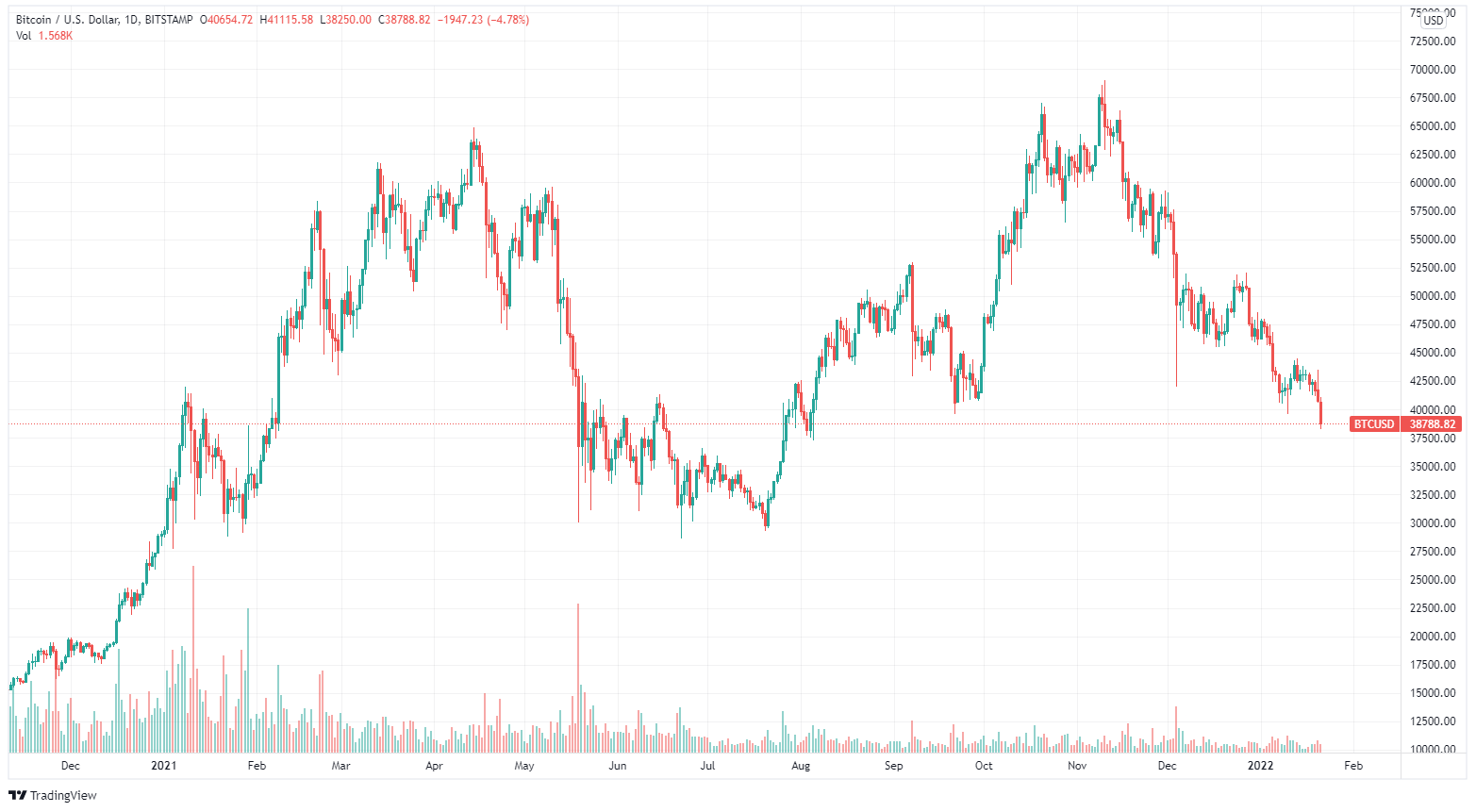 The first few days of the week saw a rather quiet market. This gave the team and I the chance to discuss the news below. All of the news items figure as a puzzle piece in our domestic and international expansion plans. The options vault protocols gained on TVL (total value locked) over the course of the last two weeks. Friktion, one of the largest platforms currently counts around $119m, and Katana is at $38m.
Interesting DeFi protocols
There are also other places to trade options in DeFi, e.g. Zeta Markets and Opyn are both on the rise. The purpose of these platforms is to earn passive income regardless of whether it's a bull or a bear market. Aave has launched its permissioned DeFi platform (Aave Arc) for institutions, and Fireblocks, an institutional crypto custody firm, has become the first whitelister of Aave Arc. The platform is aimed at institutions that want to participate in the DeFi sector in a compliant manner.
Institutions that have undergone financial due diligence are now able to borrow and lend cryptocurrencies in an automatic way. Fireblocks, as the whitelister, will run due diligence on institutions that are looking to enter the business through the platform. The following four assets are supported; ETH, WBTC (wrapped BTC), USDC (stablecoin), and AAVE (its native token).
Other developments
Crypto.com admitted that over $30m was stolen by hackers. The cryptocurrency exchange lost the amount in bitcoin and ether after the hack, which occurred on January 17th. In other news, one of Reddit's cofounders predicts play-to-earn crypto will be the only type of game people will play in five years. He also expects that most people will unknowingly participate in DAOs (Decentralised Autonomous Organisations) five years down the line.
Fusang, a blockchain-powered marketplace, plans to kick off Asia's first securities token offering with $10m. The sale will be in the Malaysian offshore centre of Labuan. Fusang is planning to sell 2.5 million of its own tokens at $4 each, and to list them on its own digital securities exchange in early February after the new lunar year. Institutional and retail investors, including those in Hong Kong, will be able to access the securities token offering (STO) through the exchange website. The tokens will be listed in the 1st quarter, giving investors dividend rights.
Happy Trading!
---
Copyright © 2021 | Crypto Broker AG | All rights reserved.
All intellectual property, proprietary and other rights and interests in this publication and the subject matter hereof are owned by Crypto Broker AG including, without limitation, all registered design, copyright, trademark and service mark rights.

Disclaimer
This publication provided by Crypto Broker AG, a corporate entity registered under Swiss law, is published for information purposes only. This publication shall not constitute any investment  advice respectively does not constitute an offer, solicitation or recommendation to acquire or dispose of any investment or to engage in any other transaction. This publication is not intended for solicitation purposes but only for use as general information. All descriptions, examples and calculations contained in this publication are for illustrative purposes only. While reasonable care has been taken in the preparation of this publication to provide details that are accurate and not misleading at the time of publication, Crypto Broker AG (a) does not make any representations or warranties regarding the information contained herein, whether express or implied, including without limitation any implied warranty of merchantability or fitness for a particular purpose or any warranty with respect to the accuracy, correctness, quality, completeness or timeliness of such information, and (b) shall not be responsible or liable for any third party's use of any information contained herein under any circumstances, including, without limitation, in connection with actual trading or otherwise or for any errors or omissions contained in this publication.

Risk disclosure
Investments in virtual currencies are high-risk investments with the risk of total loss of the investment and you should not invest in virtual currencies unless you understand and can bear the risks involved with such investments. No information provided in this publication shall constitute investment advice. Crypto Broker AG excludes its liability for any losses arising from the use of, or reliance on, information provided in this publication.