Recurring market commentary on what's happening in the crypto markets, summarized by the Crypto Broker team at Crypto Finance AG.
Market commentary
Good Morning!
Generally speaking, interest has shifted away somewhat from bitcoin and ether towards altcoins. However, the overall trading volume, funding rate, and implied volatility in bitcoin and ether has not changed a great deal over the last couple of days. A smaller consolidation took place, which can be considered healthy as long as we hold the support levels of $40,000 in bitcoin and $2,900 in ether.
Investors have been favouring several altcoins in particular, e.g. XRP, DOT, and ADA.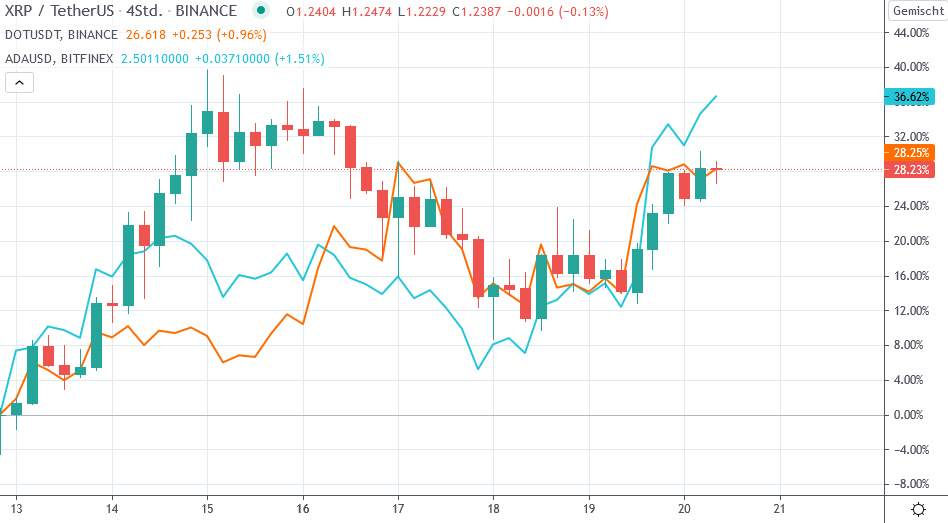 XRP holders are slowly stepping up to intervee in the SEC lawsuit against Ripple, and the payment platform is gearing up to grow its CBDC (Central Bank Digital Currency) business with a new white paper.
Cardano (ADA) has become the 3rd largest cryptocurrency as developers look to ride the DeFi boom. Additionally, ADA will debut on the coin cloud platform.
Polkadot (DOT) was hammered in the correction, but is showing sign of a bigger recovery. There is still quite a big gap between the traded level and the all-time high.
Another project named Solana is demonstrating a fantastic run since the beginning of the year. It is therefore one of the hottest coins for long-term investors.
The altcoin bullrun will most likely continue as long as bitcoin holds the current level, as well as the supporting levels.
China continues to crack down on crypto companies
Despite all investment in the digital space recently bad news continues to come out of China, which is something we have been getting for quite some time now, e.g. crackdown on mining. The Shenzhen office of the People's Bank of China (PBOC) has reportedly set out to correct the business activities of about a dozen companies allegedly engaged in cryptocurrency transactions. According to Chinese media, the entities have been targeted in a crackdown on crypto trading in the city. They have basically stopped coin trading in Shenzhen!
Happy Friday!
---
Copyright © 2021 | Crypto Broker AG | All rights reserved.
All intellectual property, proprietary and other rights and interests in this publication and the subject matter hereof are owned by Crypto Broker AG including, without limitation, all registered design, copyright, trademark and service mark rights.
Disclaimer
This publication provided by Crypto Broker AG, a corporate entity registered under Swiss law, is published for information purposes only. This publication shall not constitute any investment  advice respectively does not constitute an offer, solicitation or recommendation to acquire or dispose of any investment or to engage in any other transaction. This publication is not intended for solicitation purposes but only for use as general information. All descriptions, examples and calculations contained in this publication are for illustrative purposes only. While reasonable care has been taken in the preparation of this publication to provide details that are accurate and not misleading at the time of publication, Crypto Broker AG (a) does not make any representations or warranties regarding the information contained herein, whether express or implied, including without limitation any implied warranty of merchantability or fitness for a particular purpose or any warranty with respect to the accuracy, correctness, quality, completeness or timeliness of such information, and (b) shall not be responsible or liable for any third party's use of any information contained herein under any circumstances, including, without limitation, in connection with actual trading or otherwise or for any errors or omissions contained in this publication.
Risk disclosure
Investments in virtual currencies are high-risk investments with the risk of total loss of the investment and you should not invest in virtual currencies unless you understand and can bear the risks involved with such investments. No information provided in this publication shall constitute investment advice. Crypto Broker AG excludes its liability for any losses arising from the use of, or reliance on, information provided in this publication.