Recurring market commentary on what's happening in the crypto markets, summarized by the Crypto Broker team at Crypto Finance AG.
Good Morning!
I know that you probably heard it over a hundred times over the weekend… But it does look like the SEC will approve the first ETF on Bitcoin Futures.
Are ETFs on bitcoin futures suitable for retail clients?
There has been a broad discussion about whether or not this product really suits retail customers. Especially from a performance point of view, you can argue that it is not perfect. I am referring here to the negative carry that most likely would prevail if the underlying asset was in a bull market. In a normal market, the expected conditions would be that the negative carry would be around 5-10% on an annual basis. If you add that to the TER (total expense ratio), it ends up being an expensive product (compared to just spot buying bitcoin and self-storing it).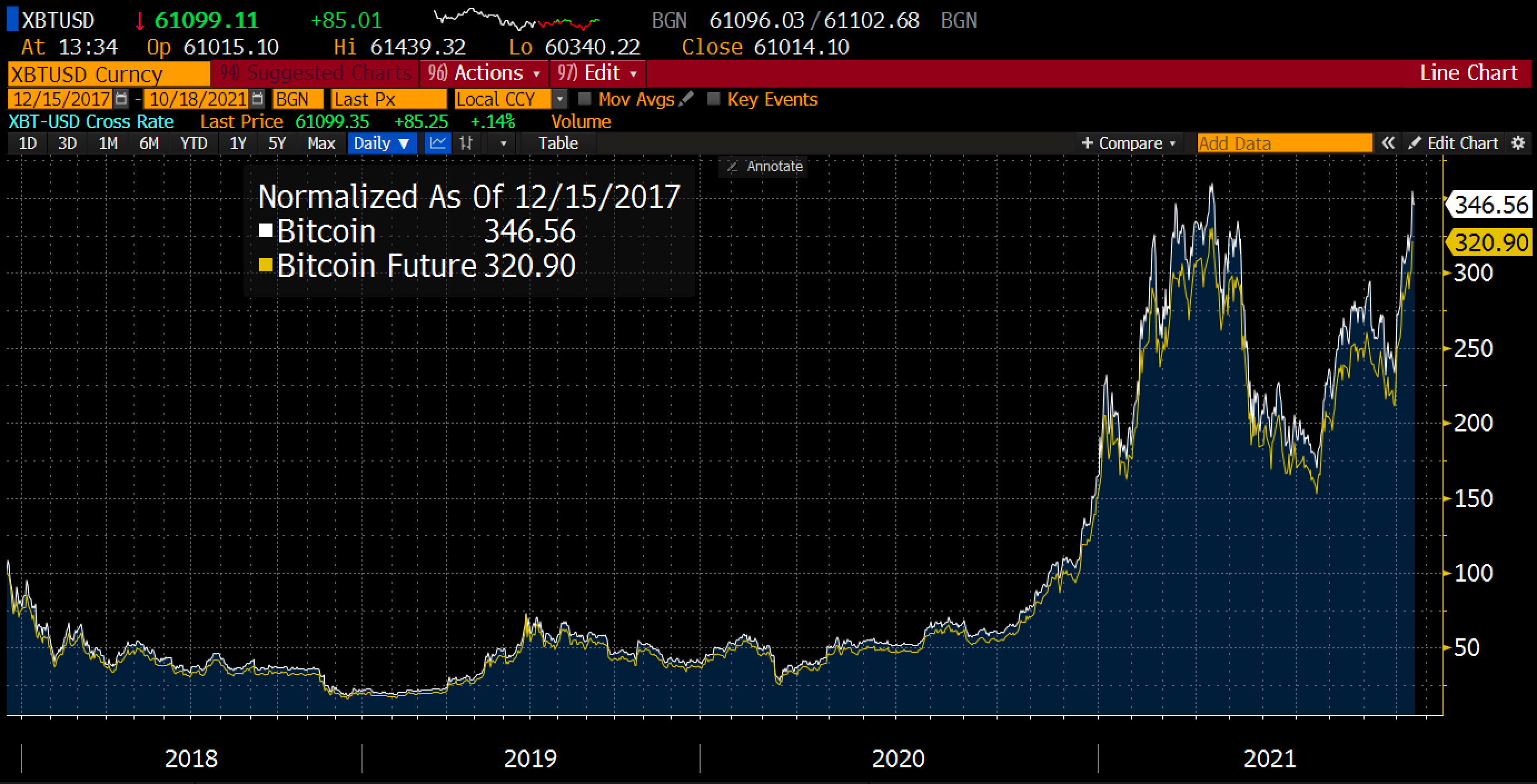 I think there are better products out there if you are a retail investor and would like to get exposure, but not physically buy bitcoin, and instead get it through a traditional product. E.g. the Grayscale Bitcoin Trust (GBTC), which is currently trading at a 15% discount to the spot price.
A big step forward for the crypto industry
But I do not want to make this short market commentary a rant against the SEC. I think it is a pretty big step forward for them and also for the crypto industry. I believe the SEC needs more certainty that the largest crypto spot exchanges are playing by "their" rules to approve a spot-based ETF. But don't forget: crypto moves about 10x faster than the traditional financial world. So, let's give the regulatory body a bit of time to catch its breath.
---
Copyright © 2021 | Crypto Broker AG | All rights reserved.
All intellectual property, proprietary and other rights and interests in this publication and the subject matter hereof are owned by Crypto Broker AG including, without limitation, all registered design, copyright, trademark and service mark rights.

Disclaimer
This publication provided by Crypto Broker AG, a corporate entity registered under Swiss law, is published for information purposes only. This publication shall not constitute any investment  advice respectively does not constitute an offer, solicitation or recommendation to acquire or dispose of any investment or to engage in any other transaction. This publication is not intended for solicitation purposes but only for use as general information. All descriptions, examples and calculations contained in this publication are for illustrative purposes only. While reasonable care has been taken in the preparation of this publication to provide details that are accurate and not misleading at the time of publication, Crypto Broker AG (a) does not make any representations or warranties regarding the information contained herein, whether express or implied, including without limitation any implied warranty of merchantability or fitness for a particular purpose or any warranty with respect to the accuracy, correctness, quality, completeness or timeliness of such information, and (b) shall not be responsible or liable for any third party's use of any information contained herein under any circumstances, including, without limitation, in connection with actual trading or otherwise or for any errors or omissions contained in this publication.

Risk disclosure
Investments in virtual currencies are high-risk investments with the risk of total loss of the investment and you should not invest in virtual currencies unless you understand and can bear the risks involved with such investments. No information provided in this publication shall constitute investment advice. Crypto Broker AG excludes its liability for any losses arising from the use of, or reliance on, information provided in this publication.