Recurring market commentary on what's happening in the crypto markets, summarized by the Crypto Broker team at Crypto Finance AG.
Good Morning!
At the time of writing, Bitcoin (BTC) is trading at $41.3k (-4.88% in 7 days), Ethereum (ETH) is trading at $3.1k (-3.53% in 7 days), and the spread ETH/BTC is trading at 0.0754 (+1.53% in 7 days).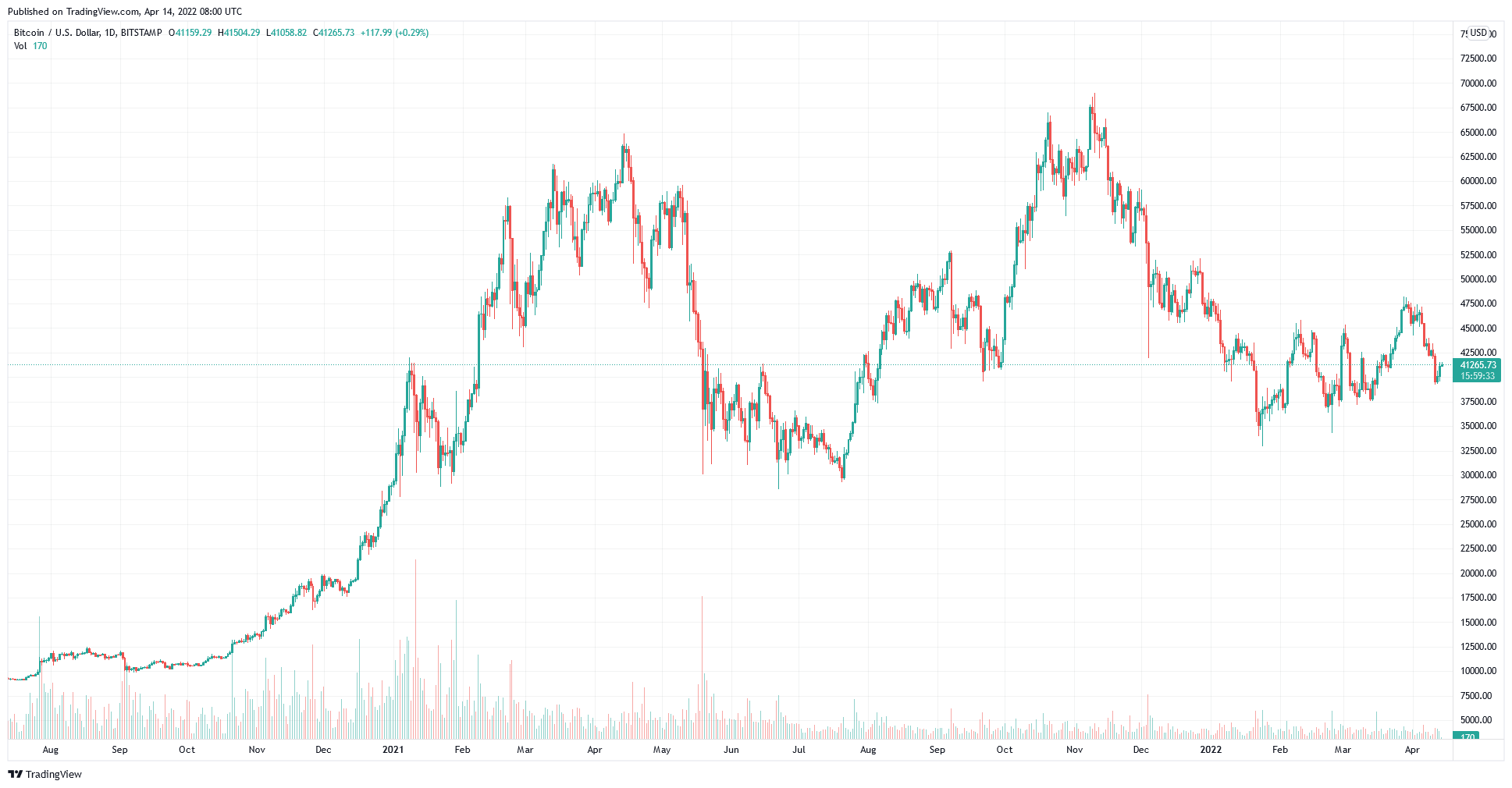 Crypto markets have been sluggish this week. The only two major cryptocurrencies (market cap > 10bn$) in positive territory over the past seven days are Near (NEAR) and Shiba Inu Coin (SHIB). The latter profited from its addition to the trading platform Robinhood. Bitcoin 2022 and Solana Miami ended last week, and left a bitter aftertaste: many in the industry were disappointed as there were no breaking news. Unlike last year when El Salvador announced it would accept bitcoin as legal tender.
Pressure on bond prices
Headlines this week were dominated by inflation and pressure on bond prices. US inflation came out slightly hotter than expected with 1.2% Month over Month (Mom) and 8.5% Year over Year (YoY) in March: the highest reading in more than 40 years. As a consequence, the FED finally moved away from its "inflation is transitory" stance, and the market is now pricing in a 50bps rate hike for both May and June with high probability. Core inflation (e.g. food and energy) was slightly lower than expected at 0.3% MoM and 6.5% YoY, and might have helped to stabilise the market.
Other central banks are following the FED with 50bps rate hikes, incl. the Reserve Bank of New Zealand and the Bank of Canada just yesterday. The European Central Bank's decision on rates is scheduled for today in the afternoon, but there is no expectation of a change in interest rates.
Hawkish statements
Any news of higher than expected inflation or hawkish statements from central bank officials are pushing risk-on assets lower. For growth stocks, the link between higher rates and the valuation of future cash flows is clear. For cryptocurrencies, the relation between rates and prices is not as straightforward.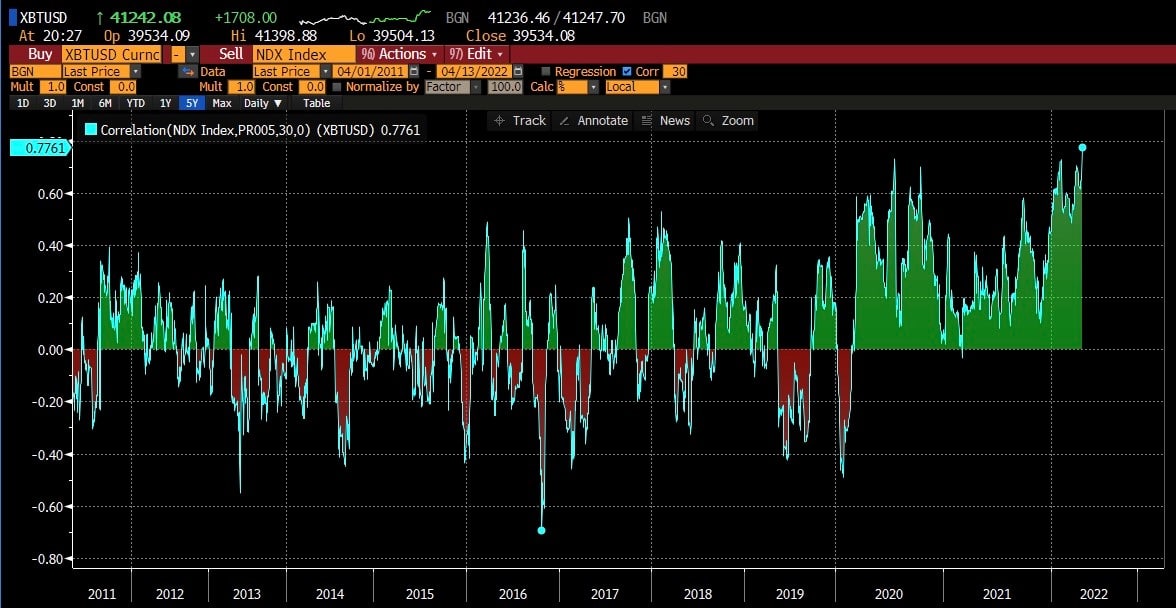 What can be observed from the recent past is that they behave more and more alike in terms of the 30-day correlation between BTC and the NASDAQ marking an all-time high at 0.77. The crypto market seems to be in a waiting position. News surrounding the Ethereum merge might serve as the needed catalyst to break out from current levels. Hopefully to the upside.
Happy Trading!
---
Copyright © 2021 | Crypto Broker AG | All rights reserved.
All intellectual property, proprietary and other rights and interests in this publication and the subject matter hereof are owned by Crypto Broker AG including, without limitation, all registered design, copyright, trademark and service mark rights.

Disclaimer
This publication provided by Crypto Broker AG, a corporate entity registered under Swiss law, is published for information purposes only. This publication shall not constitute any investment  advice respectively does not constitute an offer, solicitation or recommendation to acquire or dispose of any investment or to engage in any other transaction. This publication is not intended for solicitation purposes but only for use as general information. All descriptions, examples and calculations contained in this publication are for illustrative purposes only. While reasonable care has been taken in the preparation of this publication to provide details that are accurate and not misleading at the time of publication, Crypto Broker AG (a) does not make any representations or warranties regarding the information contained herein, whether express or implied, including without limitation any implied warranty of merchantability or fitness for a particular purpose or any warranty with respect to the accuracy, correctness, quality, completeness or timeliness of such information, and (b) shall not be responsible or liable for any third party's use of any information contained herein under any circumstances, including, without limitation, in connection with actual trading or otherwise or for any errors or omissions contained in this publication.

Risk disclosure
Investments in virtual currencies are high-risk investments with the risk of total loss of the investment and you should not invest in virtual currencies unless you understand and can bear the risks involved with such investments. No information provided in this publication shall constitute investment advice. Crypto Broker AG excludes its liability for any losses arising from the use of, or reliance on, information provided in this publication.