Recurring market commentary on what's happening in the crypto markets, summarized by the Crypto Broker team at Crypto Finance AG.
Market commentary
Good Morning!
The overall situation for Bitcoin (BTC) is calming down now towards the weekend, and the trading range is currently moving within the $2'000 level.
Bitcoin BTC (daily)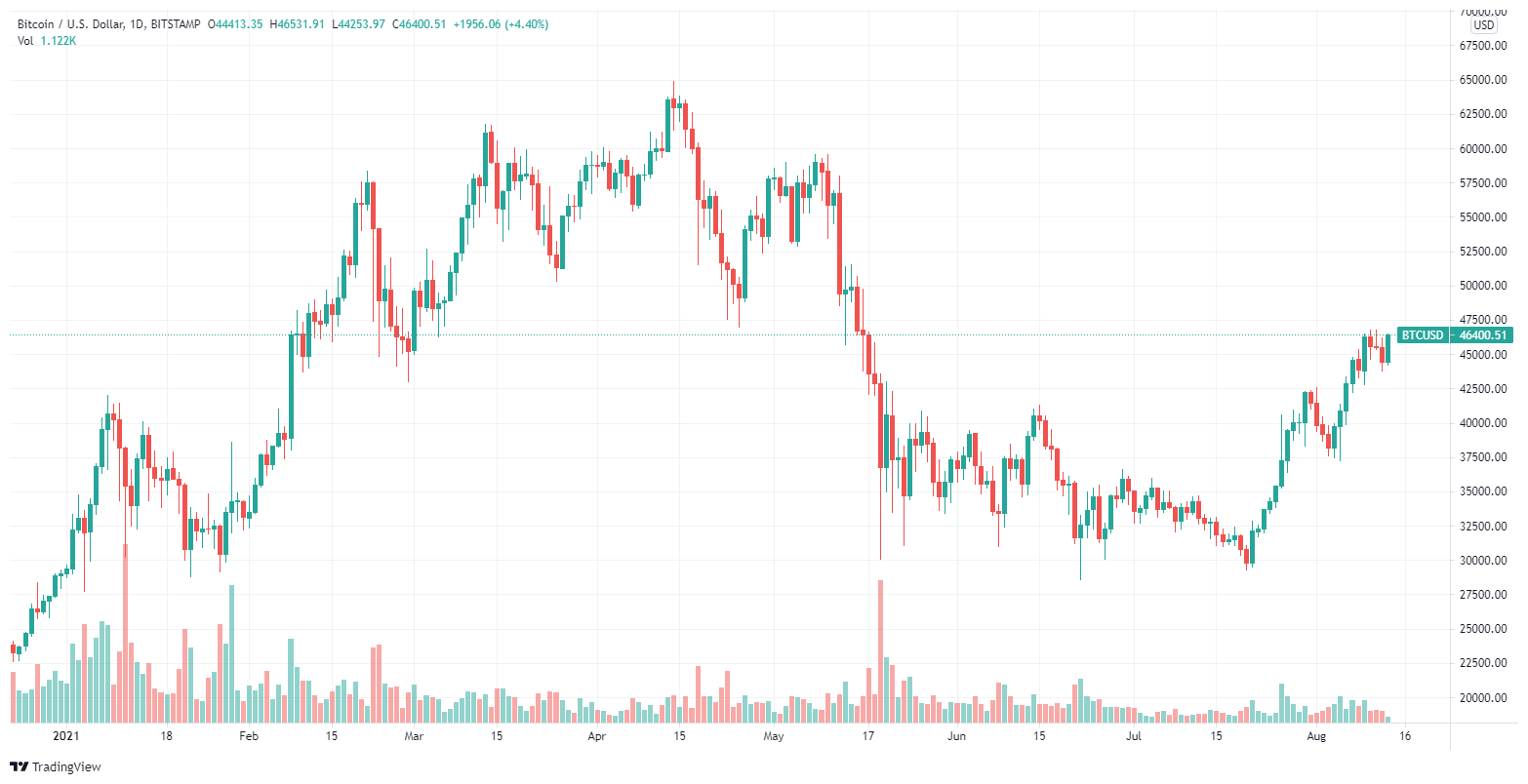 Ethereum (ETH) is definitively in the spotlight. This is due to the traded volume and the open interest of derivatives products. In general, the spread between both coins is still trading at the resistance level of 0.069. Currently, the most prominent option strike in ETH is the $5'000 strike; in bitcoin it is still the $50'000 strike.
Ethereum ETH (daily)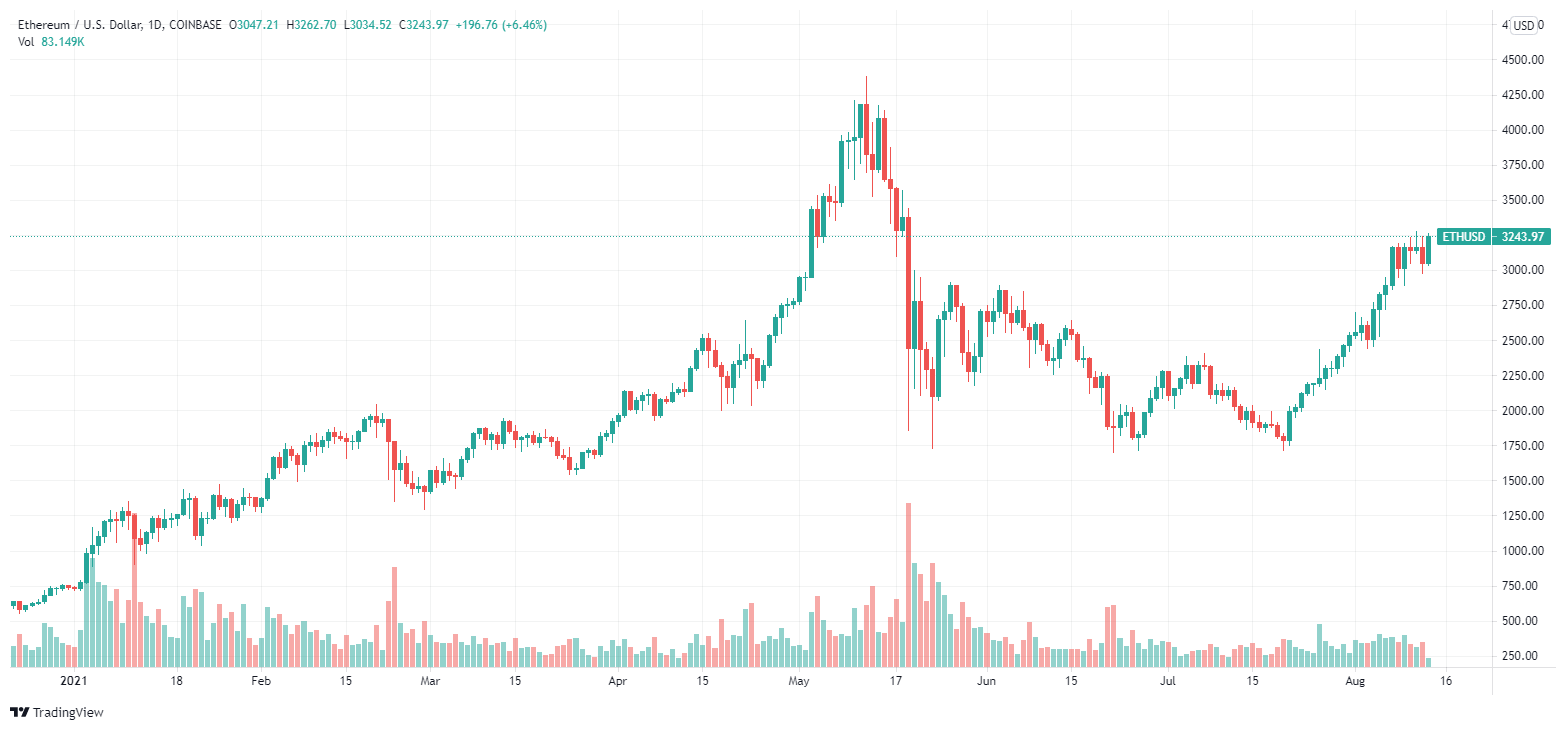 Altcoins have found solid ground, and some of them have even started to rally, catching up a bit to the performance BTC and ETH experienced a couple of days ago. So far, the constituents of the Mid and Shit indices of the FTX exchange are showing the potential to break through the resistance level if the overall market holds and does not retest the lows we saw at the end of July.
Altcoin Segments (BTC, ALTPERP, MIDPERP, SHITPERP, DEFIPERP)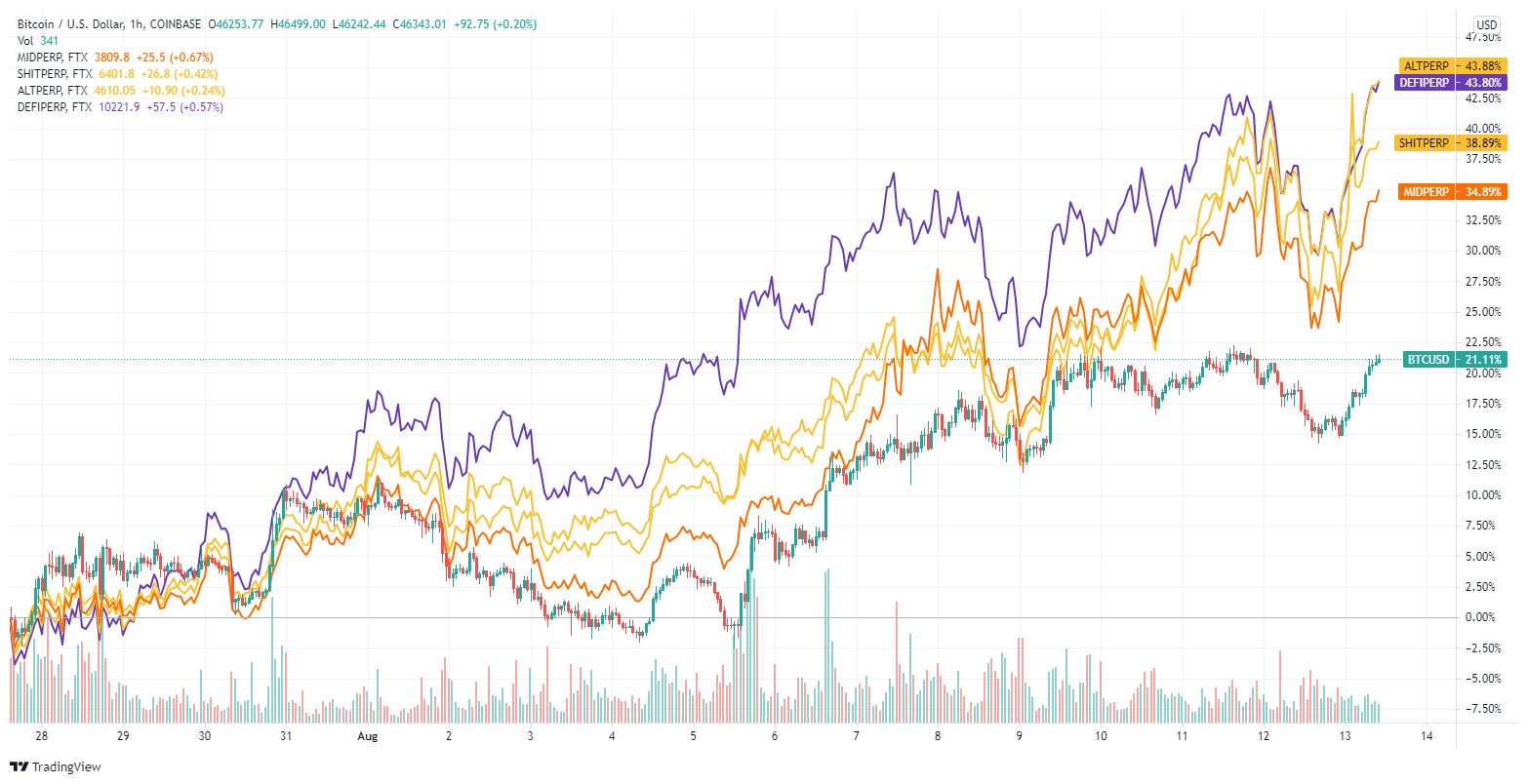 The raising of investments in the cryptocurrency space continues. FalconX, a digital asset and cryptocurrency financial services company, which provides institutional trading, credit, and clearing across major venues, announced a $210m Series C financing round. This now leaves FalconX at a valuation of $3.75bn!
Happy Trading!
---
Copyright © 2021 | Crypto Broker AG | All rights reserved.
All intellectual property, proprietary and other rights and interests in this publication and the subject matter hereof are owned by Crypto Broker AG including, without limitation, all registered design, copyright, trademark and service mark rights.
Disclaimer
This publication provided by Crypto Broker AG, a corporate entity registered under Swiss law, is published for information purposes only. This publication shall not constitute any investment  advice respectively does not constitute an offer, solicitation or recommendation to acquire or dispose of any investment or to engage in any other transaction. This publication is not intended for solicitation purposes but only for use as general information. All descriptions, examples and calculations contained in this publication are for illustrative purposes only. While reasonable care has been taken in the preparation of this publication to provide details that are accurate and not misleading at the time of publication, Crypto Broker AG (a) does not make any representations or warranties regarding the information contained herein, whether express or implied, including without limitation any implied warranty of merchantability or fitness for a particular purpose or any warranty with respect to the accuracy, correctness, quality, completeness or timeliness of such information, and (b) shall not be responsible or liable for any third party's use of any information contained herein under any circumstances, including, without limitation, in connection with actual trading or otherwise or for any errors or omissions contained in this publication.
Risk disclosure
Investments in virtual currencies are high-risk investments with the risk of total loss of the investment and you should not invest in virtual currencies unless you understand and can bear the risks involved with such investments. No information provided in this publication shall constitute investment advice. Crypto Broker AG excludes its liability for any losses arising from the use of, or reliance on, information provided in this publication.