Recurring market commentary on what's happening in the crypto markets, summarized by the Crypto Broker team at Crypto Finance AG.
Good Morning!
Here's the thing about the current setup: if you're NOT long bitcoin (BTC), you can only lose…
Frontrun of potential ETF approval?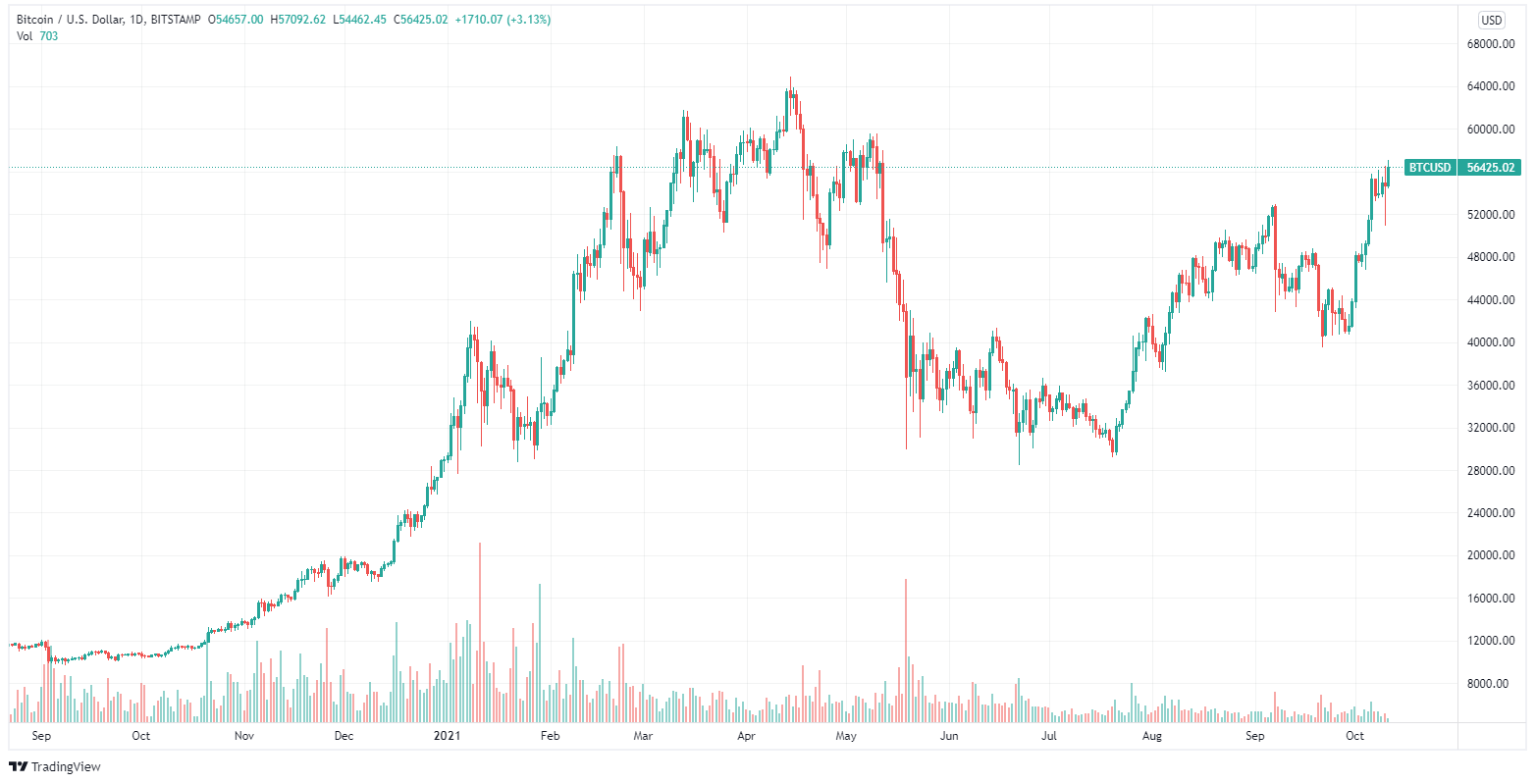 I think the current structure is a front running of the potential ETF approval in the US. Initially, we saw it through spot buying (no change in funding on the perps), and then, at the end of last week, the funding started to tick higher led by the CME bitcoin futures front contract. We anticipated that the funding over this weekend would remain elevated due to the extra day on the back of Columbus Day.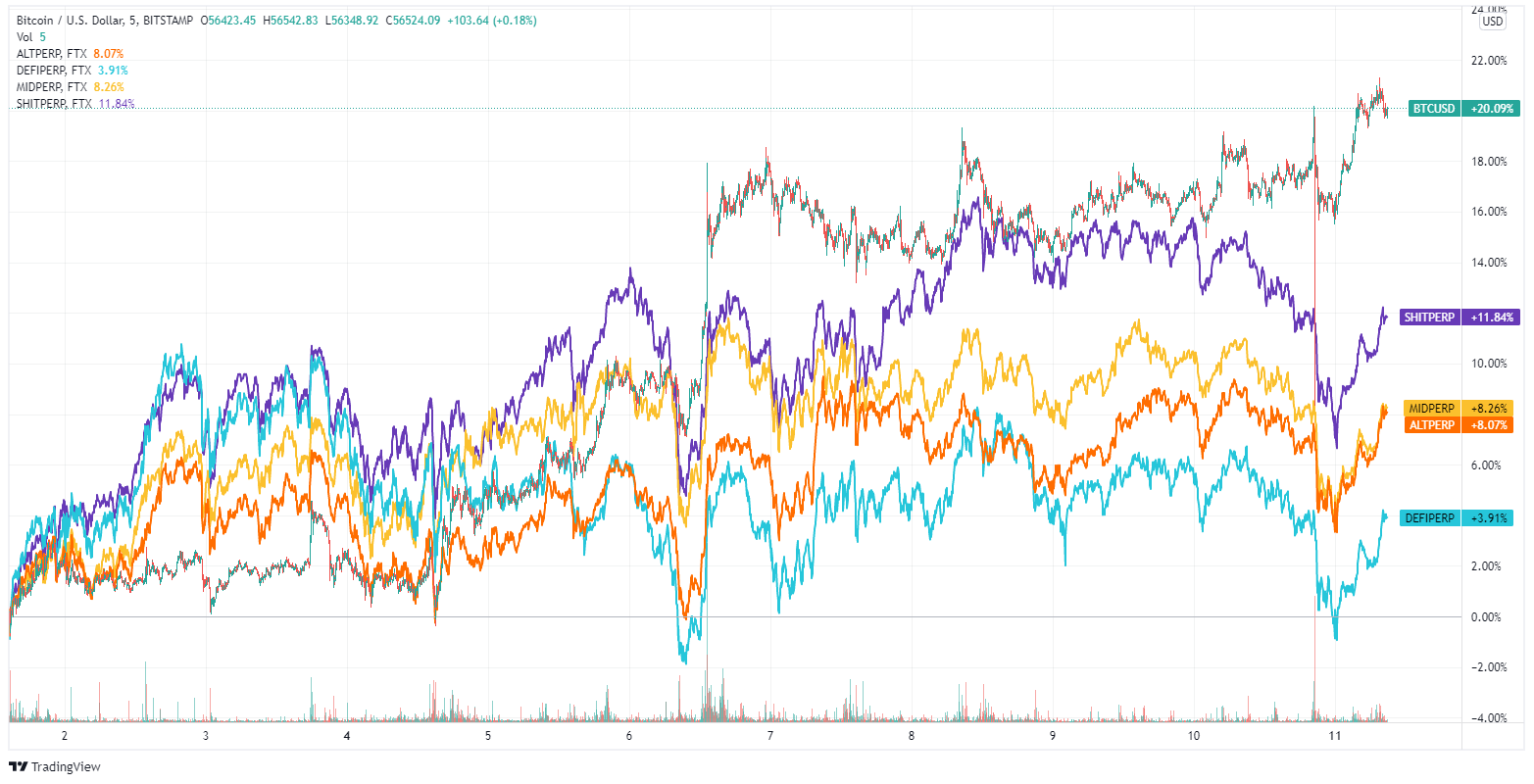 Altcoins stood completely still, except for a few exceptions, e.g. SHIB, ATOM, and DOT. This is the vacuum that bitcoin creates when it starts marching higher. It sucks in all of the liquidity and leaves no air for other coins. The twist: in the event that there is no ETF approval in the near future, bitcoin will move lower, but altcoins will most probably outperform on the downside.
There is a good side to all of this, I believe…
Altcoin "shopping list"
It could end up leading to one of those days where you need to take out your shopping list and buy those altcoins you really like (and did research on). The way retail flow works is that it will always overshoot on both sides. In traditional finance, you would talk about overshooting the fair value mark, but that is hard to gauge in crypto. Altcoins in particular get smacked around hard due to low liquidity and the fact that they are driven predominately by retailers.
I have no feeling for (or indication of) what the odds are for an ETF approval this year (or even this month). I am also not sure how much is already priced in. But in case you see bitcoin coming down due to an ETF announcement, quickly start looking out for your favourite altcoins.
---
Copyright © 2021 | Crypto Broker AG | All rights reserved.
All intellectual property, proprietary and other rights and interests in this publication and the subject matter hereof are owned by Crypto Broker AG including, without limitation, all registered design, copyright, trademark and service mark rights.

Disclaimer
This publication provided by Crypto Broker AG, a corporate entity registered under Swiss law, is published for information purposes only. This publication shall not constitute any investment  advice respectively does not constitute an offer, solicitation or recommendation to acquire or dispose of any investment or to engage in any other transaction. This publication is not intended for solicitation purposes but only for use as general information. All descriptions, examples and calculations contained in this publication are for illustrative purposes only. While reasonable care has been taken in the preparation of this publication to provide details that are accurate and not misleading at the time of publication, Crypto Broker AG (a) does not make any representations or warranties regarding the information contained herein, whether express or implied, including without limitation any implied warranty of merchantability or fitness for a particular purpose or any warranty with respect to the accuracy, correctness, quality, completeness or timeliness of such information, and (b) shall not be responsible or liable for any third party's use of any information contained herein under any circumstances, including, without limitation, in connection with actual trading or otherwise or for any errors or omissions contained in this publication.

Risk disclosure
Investments in virtual currencies are high-risk investments with the risk of total loss of the investment and you should not invest in virtual currencies unless you understand and can bear the risks involved with such investments. No information provided in this publication shall constitute investment advice. Crypto Broker AG excludes its liability for any losses arising from the use of, or reliance on, information provided in this publication.