Recurring market commentary on what's happening in the crypto markets, summarized by the Crypto Broker team at Crypto Finance AG.
Market commentary
Good Morning!
The week started so well…
Bitcoin (BTC) traded above $52'000, and Ethereum (ETH) scratched the $4'000 mark. One day later, we saw a bloodbath throughout the entire market.
Bitcoin BTC (daily)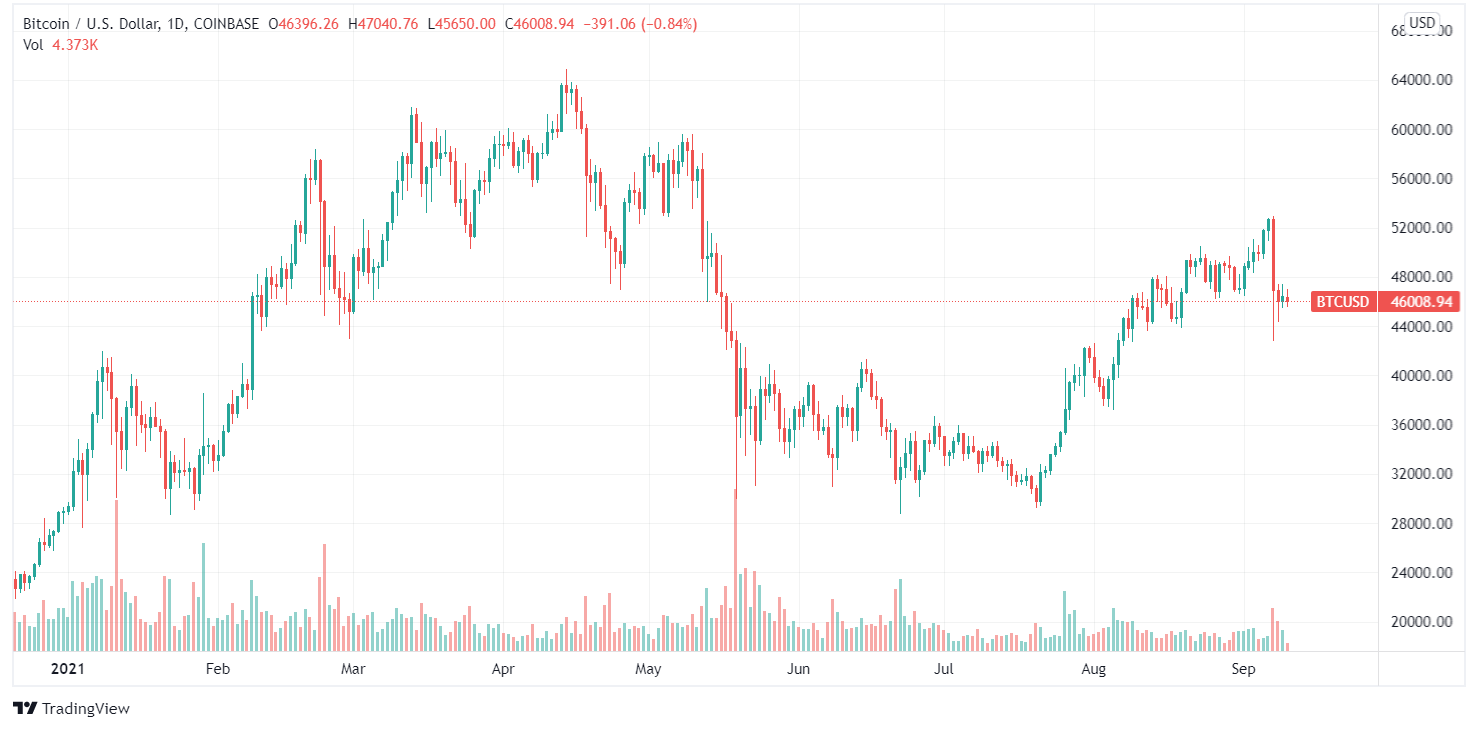 BTC plunged almost 17%, the alts on average 24%, and the small caps in part well over 30%. The market tried to explain this sell-off in various ways. From "buy the rumour sell the fact" for El Salvador news, the high leverage in the market, to the potential conflict between Coinbase and the SEC. I distance myself here from any possible explanations. Because I am not good at telling stories.
What was amazing was how the options market reacted. With such market movements, the volatility term structure normally becomes inverse (short-term implied vol trades higher than later maturities). Not so this time. Neither in BTC nor ETH was the structure inverse.
On the client side, we also saw moderate buying interest at low price levels. Later this week, we recovered some of the price declines.
Solana SOL (daily)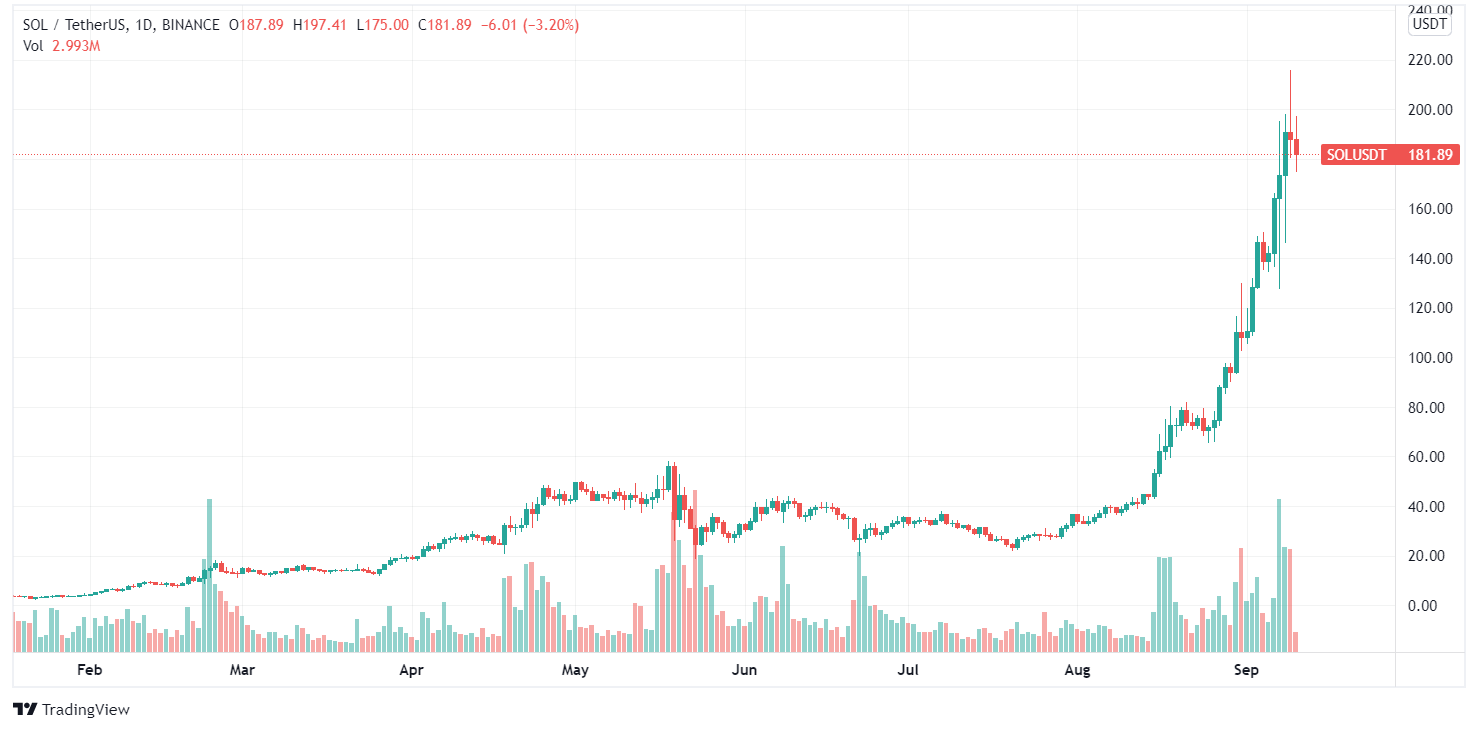 The high-flyer from August also performed excellently after this sell-off. Solana (SOL) even climbed to a new all-time high of over USD 210. Crypto wizard Sam Bankman-Fried also supports Solana with his statements, and sees Solana's recent rise as sustainable. In the short term, I disagree. But more on this in the TA-Tuesday next week.
Happy Friday!
---
Copyright © 2021 | Crypto Broker AG | All rights reserved.
All intellectual property, proprietary and other rights and interests in this publication and the subject matter hereof are owned by Crypto Broker AG including, without limitation, all registered design, copyright, trademark and service mark rights.
Disclaimer
This publication provided by Crypto Broker AG, a corporate entity registered under Swiss law, is published for information purposes only. This publication shall not constitute any investment  advice respectively does not constitute an offer, solicitation or recommendation to acquire or dispose of any investment or to engage in any other transaction. This publication is not intended for solicitation purposes but only for use as general information. All descriptions, examples and calculations contained in this publication are for illustrative purposes only. While reasonable care has been taken in the preparation of this publication to provide details that are accurate and not misleading at the time of publication, Crypto Broker AG (a) does not make any representations or warranties regarding the information contained herein, whether express or implied, including without limitation any implied warranty of merchantability or fitness for a particular purpose or any warranty with respect to the accuracy, correctness, quality, completeness or timeliness of such information, and (b) shall not be responsible or liable for any third party's use of any information contained herein under any circumstances, including, without limitation, in connection with actual trading or otherwise or for any errors or omissions contained in this publication.
Risk disclosure
Investments in virtual currencies are high-risk investments with the risk of total loss of the investment and you should not invest in virtual currencies unless you understand and can bear the risks involved with such investments. No information provided in this publication shall constitute investment advice. Crypto Broker AG excludes its liability for any losses arising from the use of, or reliance on, information provided in this publication.